Theme
This was by far my most favorite party ever. We decided to keep the intimate theme again after the previous year's Tea Party success. However, I'm quite sure I worked harder on this party than any other I've done. A ladybug birthday party. Who'd think it could require much work? Just wait until you see the cutting by hand I subjected myself to. Insanity. Pure insanity.
My husband purchased live ladybugs as a natural pest control back when he was single and somehow, over a few glasses of wine one night, we concocted this whole ladybug release party idea. Sounded cute but I had no idea just how rewarding it would be when all was said and done.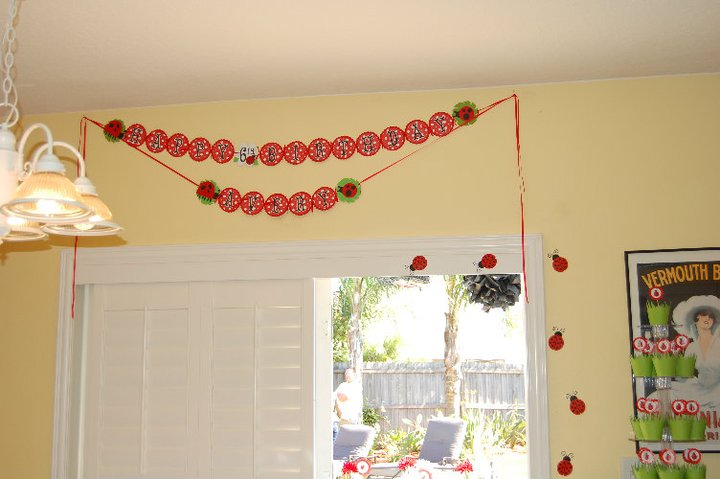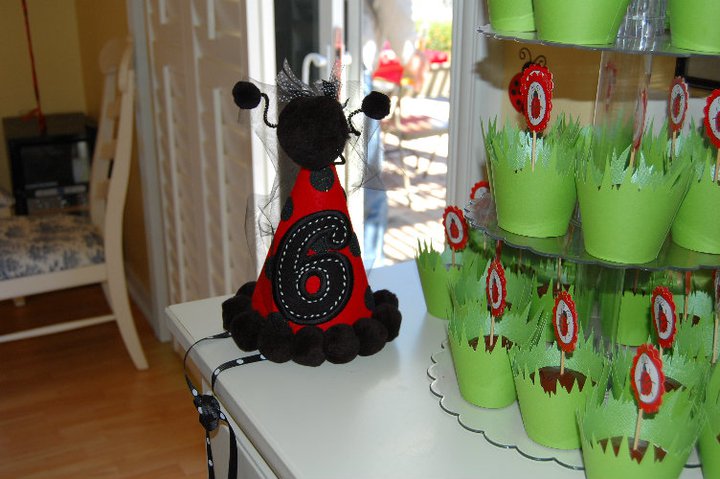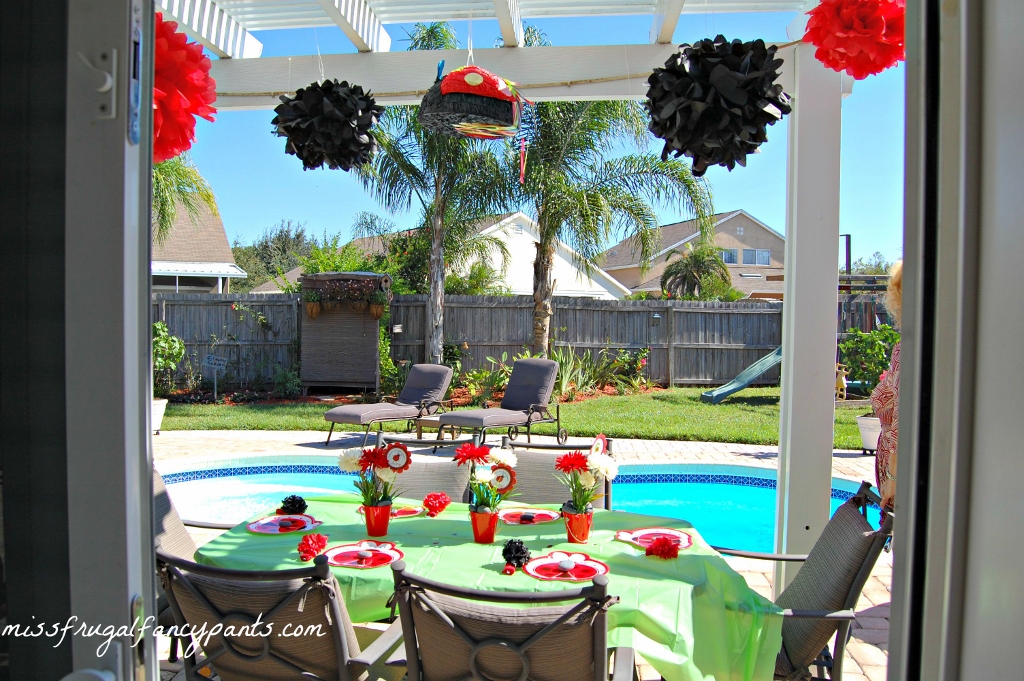 Décor
I became borderline, certifiably wacko with this party. I was constantly overrun with excitement over the dumbest, smallest details that no one would care about but me. Shocker. I will say that this Ladybug Birthday Party was not just my personal favorite, but our family's favorite. My husband and daughter love the outdoors and truly enjoyed the gardening and other outdoor projects to prep for this party. The combined efforts gave us memories to last a lifetime and you just can't ask for more than that! Here's my list of details:
–          Ladybug Birthday Banner from Etsy
–          Ladybug Birthday Hat from Etsy (Similar one Here)
–          Ladybug Custom Dress from Etsy
–          Signs – My husband, his father and my daughter made the signs for the front and back yards from scrap wood and concrete textured spray paint
–          Tablecloth w/ Ribbon Trim – I try to always use a white tablecloth indoors and occasionally add ribbon trim with washable fabric glue
–          Plastic Tablecloths for Outdoor Tables – I hate plastic tablecloths but sometimes, they just make sense. They cost about $1 each at Wal-Mart
–          Paper Poms (hanging from pergola and as napkin rings at the place settings for the kids) – I stock up on all colors of tissue paper when I find them on clearance at Target or random discount stores like Tuesday Morning or TJ Maxx (Tutorial Here for making Poms)
–          Ladybug Pinata (this was actually a last minute addition from my mom), Ladybug Plates & Napkins from Birthday Express
–          Red & White Silk Gerber Daisies from Michaels – I was able to purchase these in advance (since I tend to plan these parties at least 6 months out) so I got them on sale for about $1.50 per cluster and pulled them apart to mix and match in the arrangements
–          Little Red Pails (for centerpeices) & Larger Red Bins (to hold activity supplies) from Target's dollar bins
–          Printables for Cupcake Toppers, Centerpieces, Gift Bags and Wall art (notice the ladybugs crawling up the wall) from Firefly Invitations (I made stickers out of some of them by using a Xyron sticker maker that I borrowed from a friend)
–          Front Door Mat from Tuesday Morning (purchased on a whim by my husband…how's that for perfection?)
–          Cupcake Wrappers – don't ask. I had a graphic designer co-worker curve a piece of grass artwork to be the approximate size of the wrappers and then traced them by hand onto thick, textured green scrapbook paper. Then I cut them by hand. Every. Single. Blade. I cut those suckers daily for WEEKS! I felt like Edward Scissorhands by the time I was done. I don't recommend this brand of crazy to anyone, however, I was rather pleased with the outcome!
–          Cupcakes – I baked them. Hard to be more frugal than Betty Crocker BOGO at Publix!
–          Round Straw Placemats – available at Target but I found mine for $1 each at a local discount store
–          Fake Grass from Michaels  – I honestly can't recall the exact cost of these but I know I used a coupon!
–          Black gift bags from Michaels
–          Ladybug Wooden Appliques from Michaels – these were around $.50 each on sale
–          Ladybug Masks from Michaels or Joanns in the dollar bins
–          Paints & Paintbrushes – already had on hand
–          Small clay pots, dirt and seeds from Home Depot  – This little project was under $10
–          Live Ladybugs from local Nursery – $30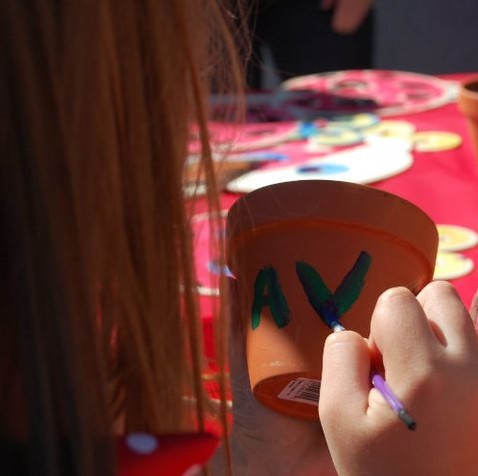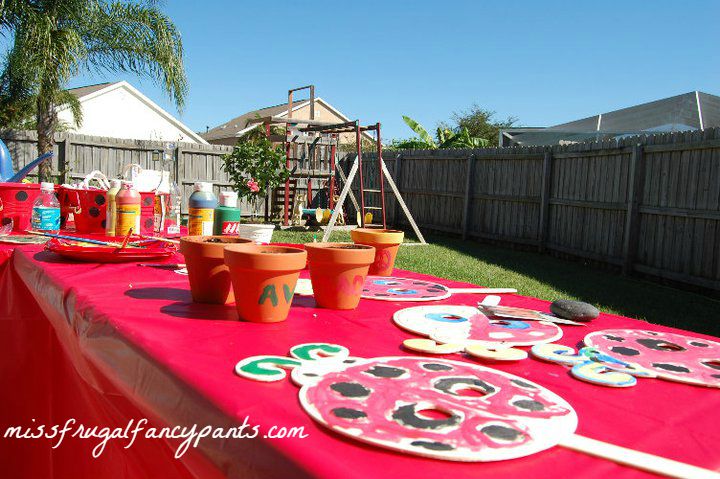 Food
I kept the food pretty simple this time. The focus was more on the kids enjoying being outdoors so I wanted easy finger foods that didn't have to be eaten immediately. The fat girl fancy side of me always likes to cater to the adults as well because I just don't think it's right to expect them to sit around watching their kids…at your house…and be forced to eat cold hot dogs, Doritos and candy…or worse yet, nothing. Rant aside, I made a few no-fuss salad dishes and dips, ordered sandwich and chicken finger platters from Publix and I always try to put out fruit or veggies to encourage the little ones to snack on healthier stuff. And as I mentioned above, I baked cupcakes to save on a fancy schmancy cake that would have gotten lost in all of my other details.
Pizazz
The activities were sort of afterthoughts this time around. I happened to come across the ladybug masks and realized that for $1 each, it would be foolish not to add them to the mix. All I had to do was put out paints, paintbrushes and smocks I already had and it was instant entertainment.
My husband came up with the idea of having the girls plant something which was easily incorporated into the theme by having them paint their own pots prior to planting their seeds.
And again, not a fan of wasteful favors so I purchased a pack of plain black gift bags from Michaels (just a few bucks after using a coupon) and applied stickers to customize them. The bags were empty so that each guest could use them to bring their masks and planted seedlings home.
We purchased 1,500 live ladybugs from a local nursery. You keep them in the fridge until you are ready to release them so we were able to buy them in advance. Each guest had their own container to release and oh, what a sight this was! They were so lost in the moment. There were a few squeals but they were all mesmerized. And elated. And innocent. Such a sweet moment for all of the parents to watch a technology overloaded generation simply enjoy nature. Totally unplugged.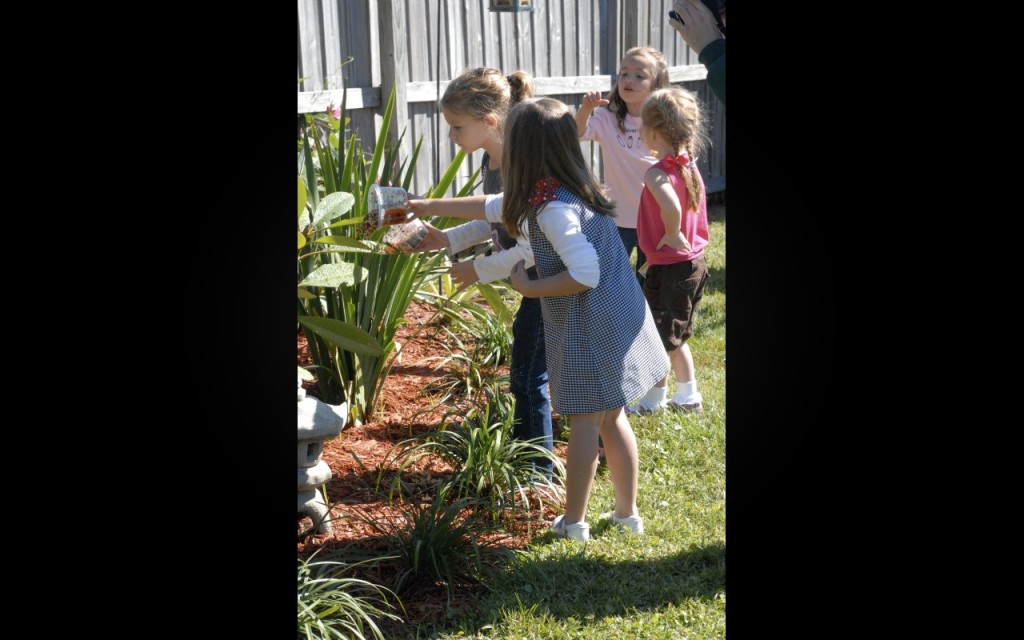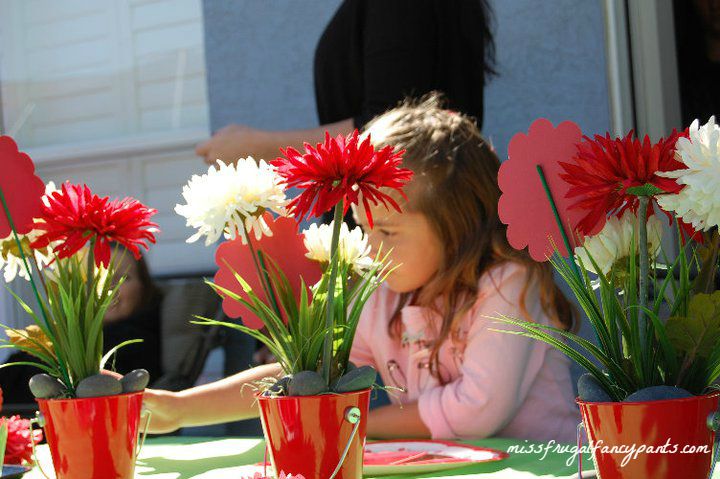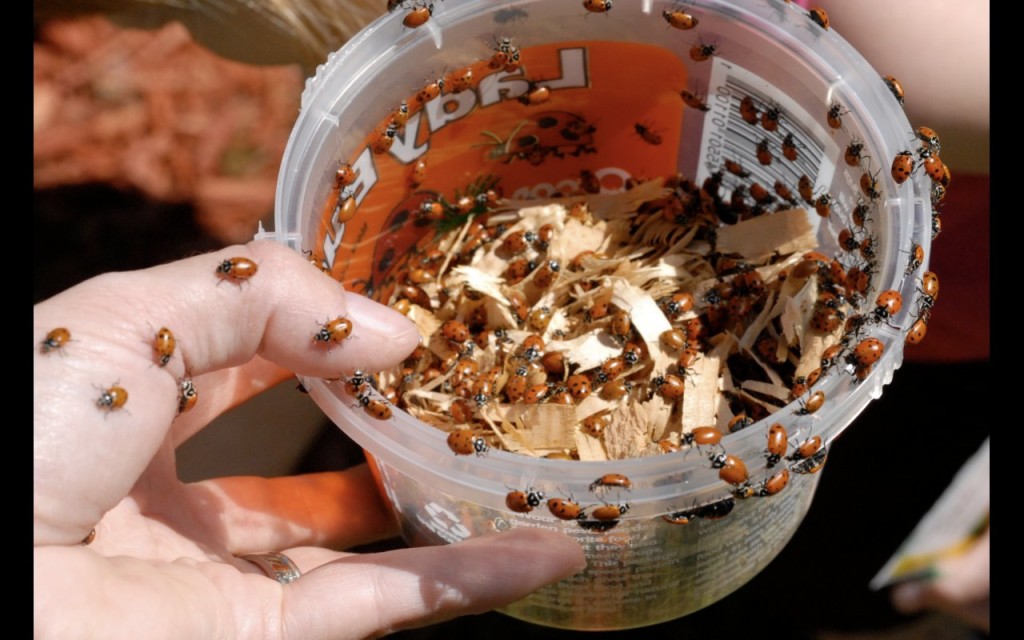 I truly hope this inspires you to do a nature-themed party for your little ones. I'm DEFINITELY replicating this for my younger daughter in a few years…just not so sure we'll have those cupcake wrappers…