I know I've been MIA for a while but after one too many unfinished projects began to pile up, and subsequently miss holiday deadlines, I decided to take a blogging break until I could get caught up to life. Once I realized how little time I had between St. Patrick's Day and Easter, I made a decision to give Easter the shaft this year. We weren't planning to host so I figured I could let it slide.
Wrong.
I got sick on St. Patrick's Day and never did any of the fun stuff, like turning the toilet water green, for my 3 year old. I had a whole list of fun stuff planned for that day and am still so frustrated that none of it happened, I'm honestly considering having a St. Paddy Redo in a few weeks. She'll never know the difference, right? And she'll at least have fun memories of green toilets and milk. And Guiness Cupcakes.
Moving on to Easter, I truly just didn't think I cared this year. But the angry, little leprechaun on my shoulder kept laying the guilt on thick. My 11-year old still loves all holidays and the 3-year old deserves the same magic her older sister always had.
I told you I'd reuse the coffee filter garland wreath from Valentine's Day for Easter since without the wreath form, it naturally looked like an egg. I originally thought I'd add something extra cute to jazz it up but this is it. Sorry, Charlie. Last minute decorating isn't really my thing. It stresses me out and I'm not sure about you, but I'm full up on most days.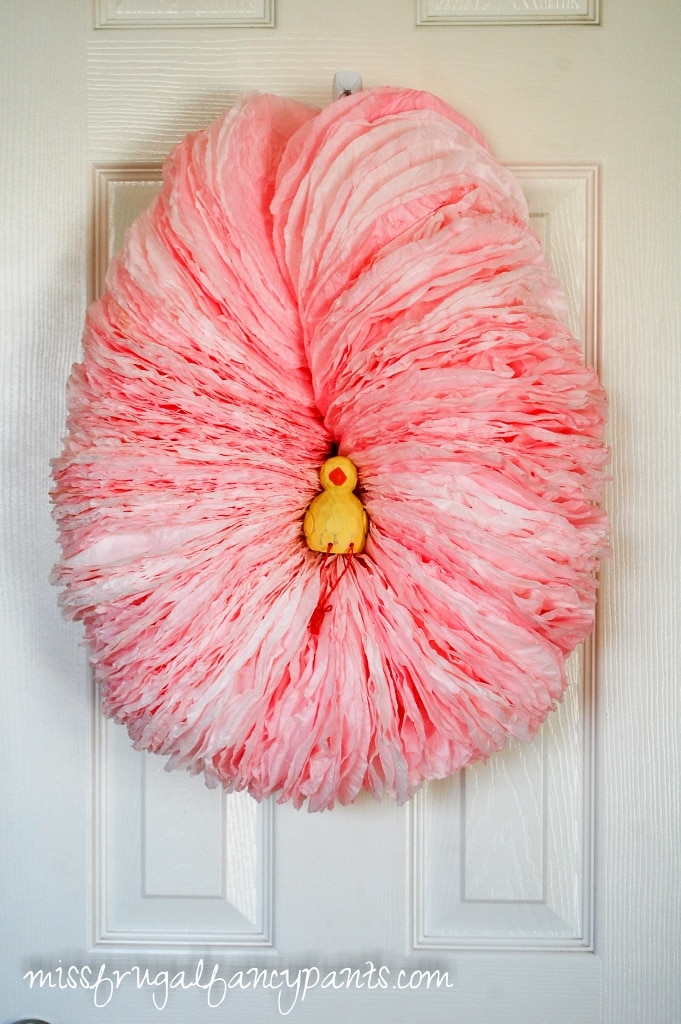 I stuck this little wooden chick in the center and called it a day. I've had the lil' guy in our Easter stash for years so while I know I could do better here, I'm content with the freebie this year. Check out the Valentine's post for the tutorial.
We don't have a ton of Easter decorations but we do have enough to turn something into a slightly obnoxious space. Especially since nothing seems to go together. I've done some DIY craft projects with my older daughter in the past, we have some random items my mom has gifted me over the years and I've slowly accummulated a few more items that made sense.
Since this was a last minute make do decorating session, I decided to keep it super simple. And I adore these sisal rabbits from my mom.
I love the look of having this little vignette in lieu of an over the top house takeover by the Easter Bunny. I get the takeovers. But when you are feeling anything but enthused to create more work for yourself, I'd say this is a winner.
I pulled this stuff out to "decorate" just before I had to leave for carline this afternoon and accidentally left myself just enough time to grab a bundle of fresh tulips.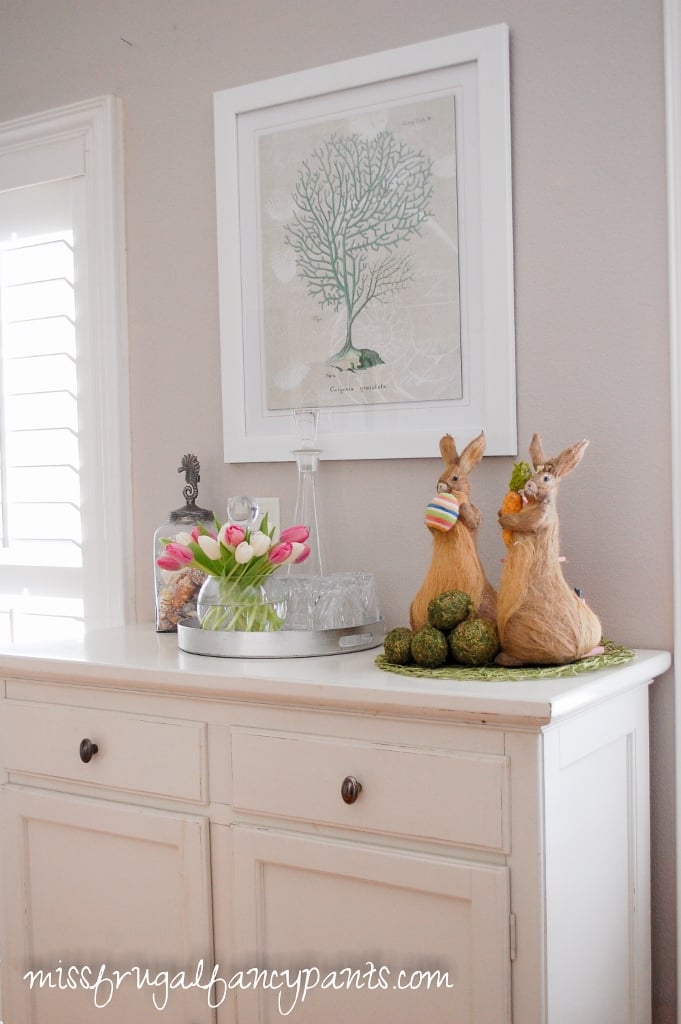 Spring = Tulips. Duh.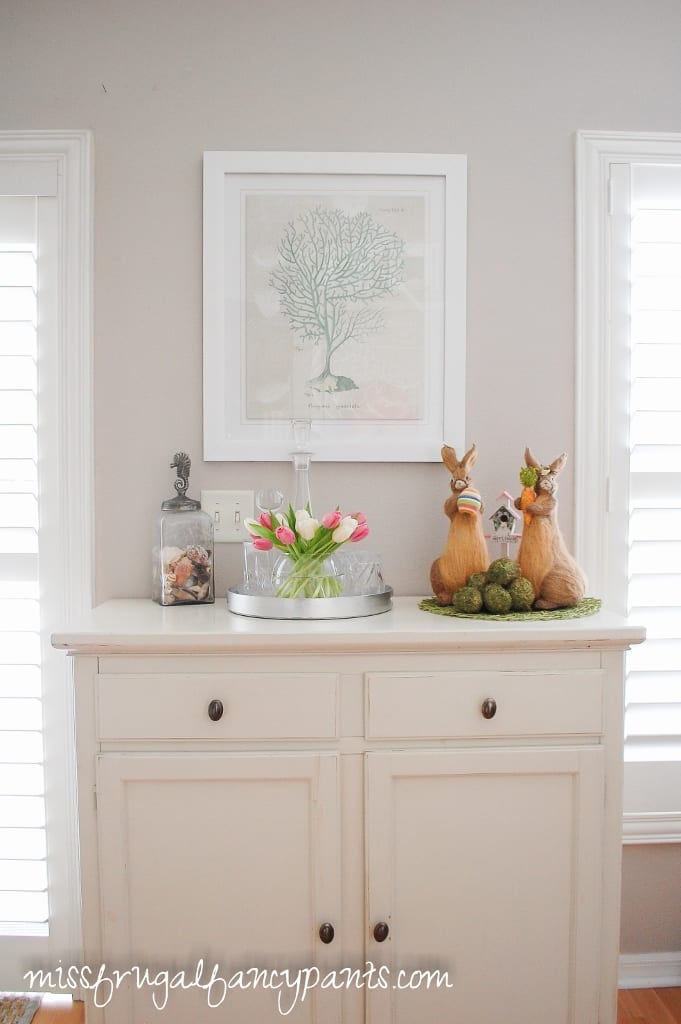 But then I noticed my dining table needed a lil' something so the flowers found a new home.
I love these white ceramic bunnies, too. I snagged these at Tuesday Morning a few years ago but I think I've seen them resurface.
The Easter Bunny leaves baskets on the dining table, so I figured it only made sense to show him we cared.
The last thing I put up this year was this gorgeous and FREE printable from Anika at Place of My Taste. Go here to download one of three versions of this printable. I downloaded the plain one and added my own "Happy Easter" to it. It's now my husband's favorite Easter decoration. How can you not love this beauty?!?!?
I've got my recipes picked out for our little family brunch and am looking forward to a downsized, simplified Easter this weekend. How about you?