I occasionally refer to one or two of my equally party obsessed friends when I'm sharing my own parties with you, but I have one friend, in particular, who really isn't equally obsessed. She's waaaay beyond. She lives for the thrill of pulling together over-the-top parties and unlike me, she generally does most of it fairly last minute, into the wee hours of the night. I call her crazy, she calls it amazing. Potato, po-TAH-to.
Meet Lauren, Miss Party Pants…
She's crafty, theme-obsessed, meticulous and brilliant. Oh, and she has lots of red hair to which I like to attribute her flaming personality.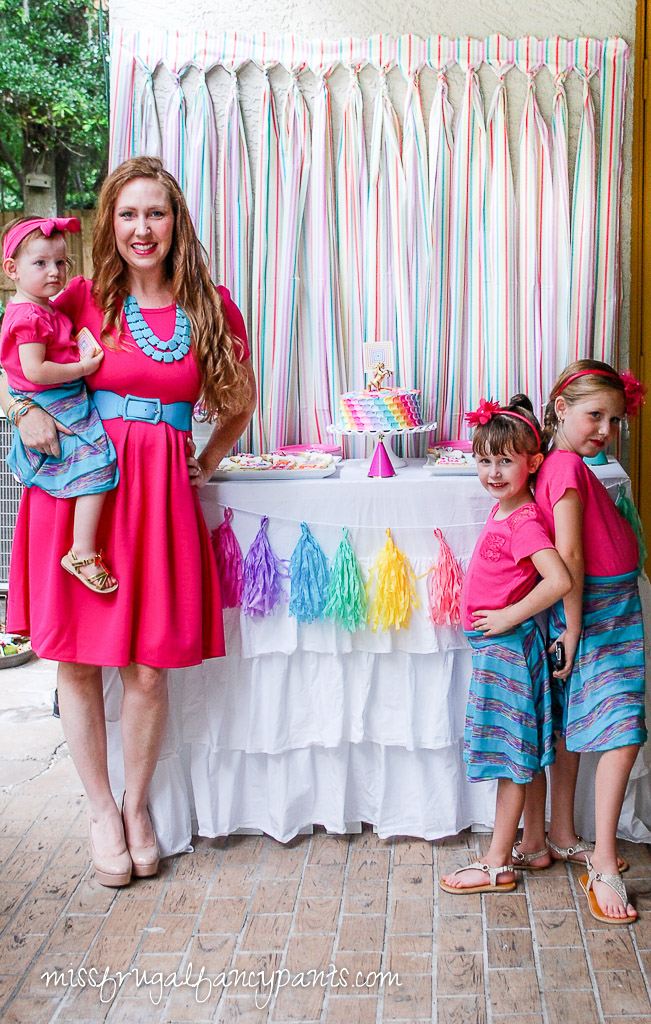 Hi ya'll! Nice to be here – this is my first ever blog post so bear with me! The fact that Kara just called me brilliant still has me in shock – we've known each other forever and exchange party advice, decorating knowledge and "friendly" jabs on the weekly (Okay, that's a lie. We are totally mean to each other because our sarcasm keeps us on our toes and makes us laugh.). I'm excited to share some of my parties with everyone.
First of all, I'm LuLaRoe obsessed. Before I share my amazing birthday party with you all, perhaps I should give you a proper LuLaRoe introduction. Lula-what??? I know, I know…I didn't know how to pronounce it when I first heard of it either…the company name is LuLaRoe (pronounced Loo-La-Row). And what EXACTLY is it you ask? I can help you with that too. LuLaRoe is a unique company that offers women's and children's clothing via home-based sales…you need to know a LuLaroe fashion consultant in order to buy the clothing, either at a "pop-up party" (basically a party at someone's home where the clothes are brought in on racks, or online via Facebook/Facebook Live sales or Periscope sales).
The company makes leggings (oh, the buttery soft leggings, you've seriously never worn anything like them), dresses, skirts, tops, athletic wear and cover ups. The clothing is touted as affordable, modest, fashionable and simply comfortable.
LuLaRoe Fun Facts
Sizes range from XXS-3XL for adults and 2T to Junior 14 (styles fit a variety of shapes and sizes)

A vast array of fabrics are used and you will hardly ever see the same pattern! Only 2,750 items are cut from the same fabric, then split between various style making approximately 172 available in each size! If you see it once, you may never see that same style and print again!

Easy wash and hang, no wrinkles, no ironing!

The name LuLaRoe is a combination of the names Lucy, Lola, and Monroe, three of the founder's granddaughters

There are 29 styles of clothing items, all named after the founder's daughters and relatives (Cassie, Jill, Amelia, Nicole, Ana, Madison, Lola, Lucy, Irma, Sarah, Monroe…and more!) Sidenote – frequent shoppers call each clothing article lovingly by name as if it were their new best friend.
So now that you have the background story on what LuLaRoe actually IS, let me tell you about the WHY. Why did I decide to throw my very own LuLaRoe themed birthday party (I mean, who throws their own parties anyway)? I did, I mean I do…I mean it was one of my most genius ideas ever.  I'm one foot in the party planning business and one foot out…meaning I have a full-time real job, but party planning is my passion. I do it on the side, sometimes for fun, sometimes for a profit, but always for the thrill of the party theme! Between throwing over-the-top parties for my 3 daughters and always helping a friend, relative, neighbor with their bridal shower, baby shower, retirement party, etc, it was time I actually worked my butt off for myself.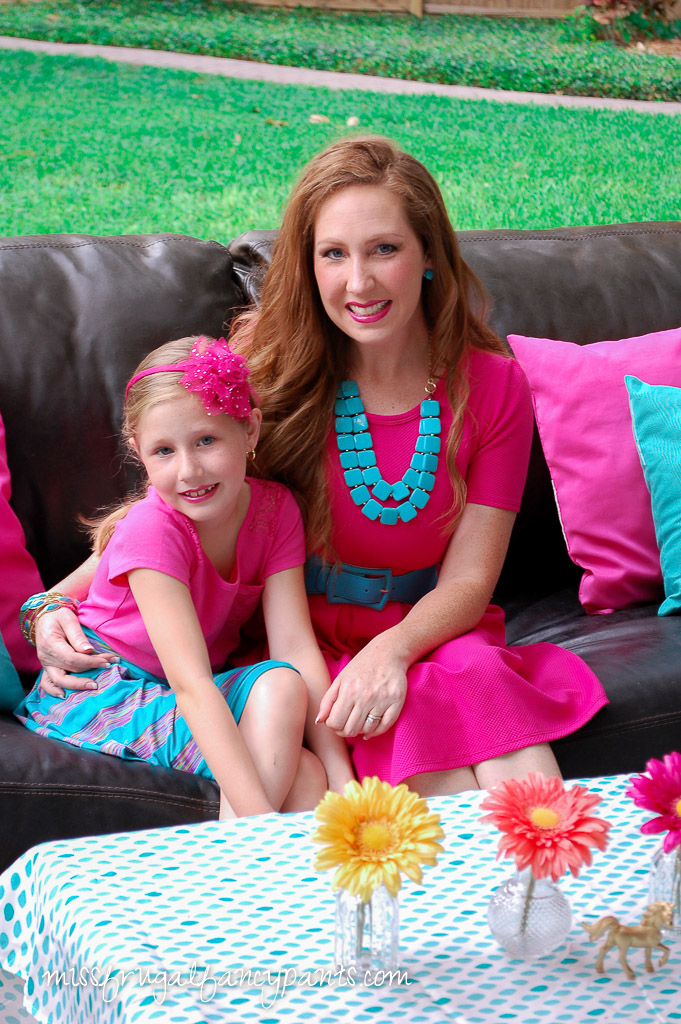 I had recently learned about LuLaRoe and decided it would be a great event to introduce all of my girlfriends to the clothing I had come to love. A little wine, a couple friends (fine, like 40 friends) and a lot of shopping sounded right up my alley for a fun party for myself. Not to mention that as a party hostess I received free clothes for hosting the party, that was a bonus. But I was thrilled to have my very own themed cake and cookies.
So onto the party details…I invited two different LuLaRoe consultants to my house to set up their racks of inventory. Because my house is literally the size of a shoe-box I knew my furniture had to go…but how fun to make an outdoor living room space on my back porch? My husband is a saint for moving our entire living room and dining room outside for me. And notice the LuLaRoe colored flowers and complimentary pillows. Of course that wasn't by accident. I knew if I was having a LuLaRoe themed party I was using all those beautiful rainbow colors in the company's logo.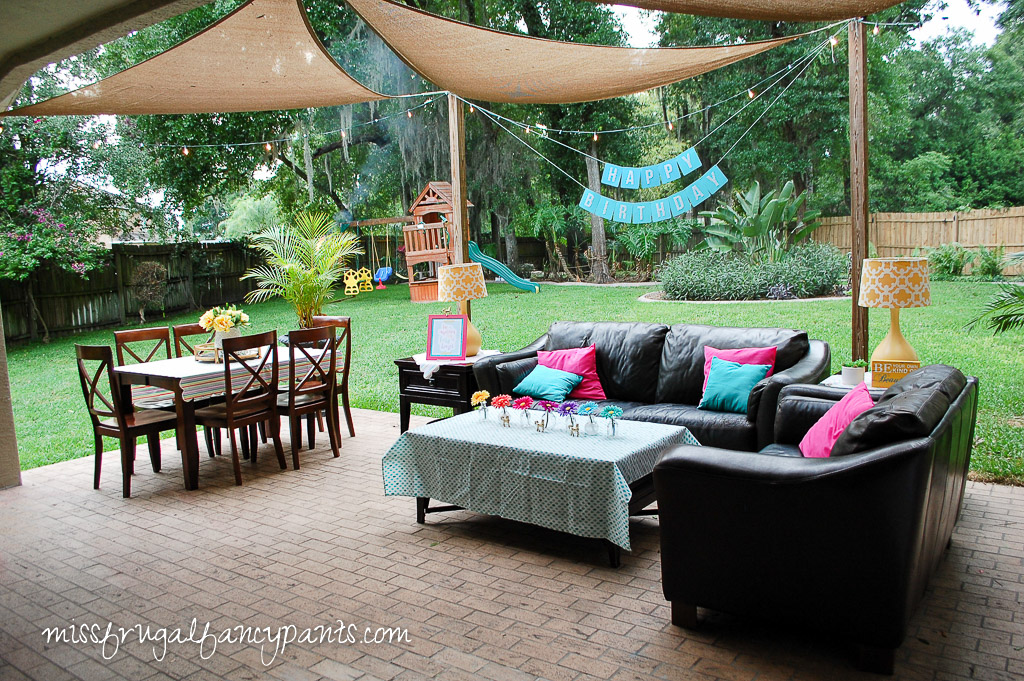 I always plan a themed dessert table for every party I throw. With a backdrop. And an amazing cake. And these delicious sugar cookies. With my white dessert stands. That's my dessert table recipe and I don't deviate.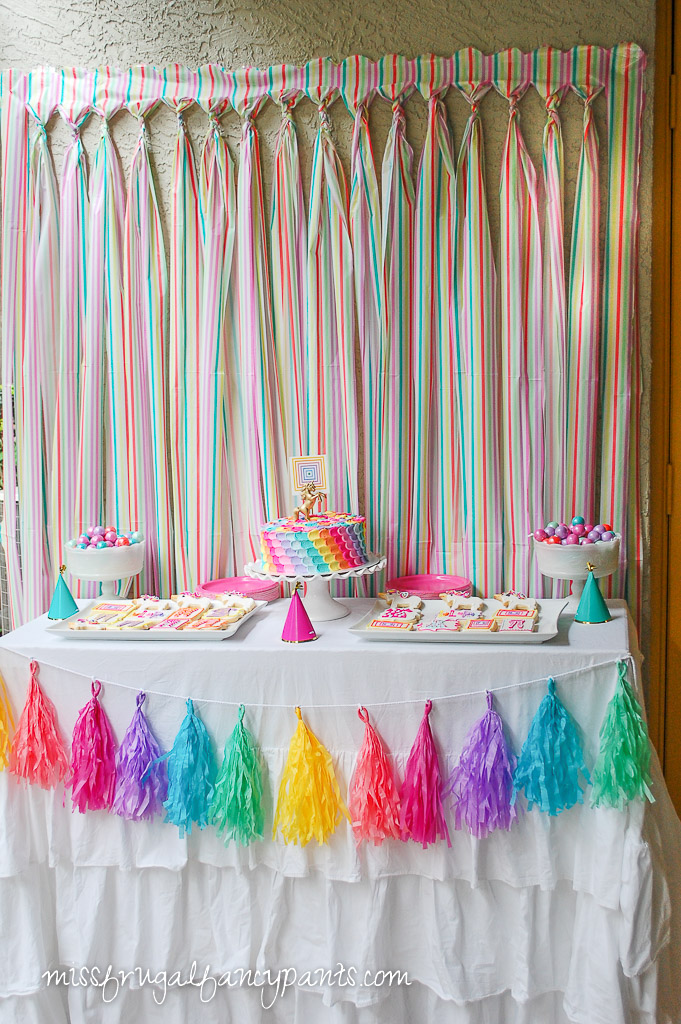 For the backdrop I found the most awesome striped plastic table cloths from Target (their party aisle over the last year has exploded and when I walk down it I should just throw money in the air singing "Target take all my money!") I couldn't just hang the plastic table cover behind the dessert table, that wasn't fancy enough for me. I found a tutorial on Pinterest for making a ribbon-like backdrop and followed it, and it turned out great (actually I just lied…my awesome friend Kristi made that backdrop once I showed her the tutorial, she helps me with allllllllll my party crafts and we share the same party brain, so I owe her a shout out!)
Shout out to Kristi, as she enjoys her wine at a typical LuLaRoe party…We love Kristi.
I also found the adorable paper tassels at Target and strung a few different strands together to get the rainbow tassel effect.
Let's talk the cake! OMG – the cake!! A petal cake has been on my party wish list forever and I am thrilled that Amber at Amboo Bakes understood my vision. LuLaRoe logo colors with a simple unicorn topper and LuLaRoe logo. She nailed it! Amber also made the absolutely adorable LuLaRoe cookies…leggings and dresses and unicorns, oh my! They were perfectly beautiful and tasty!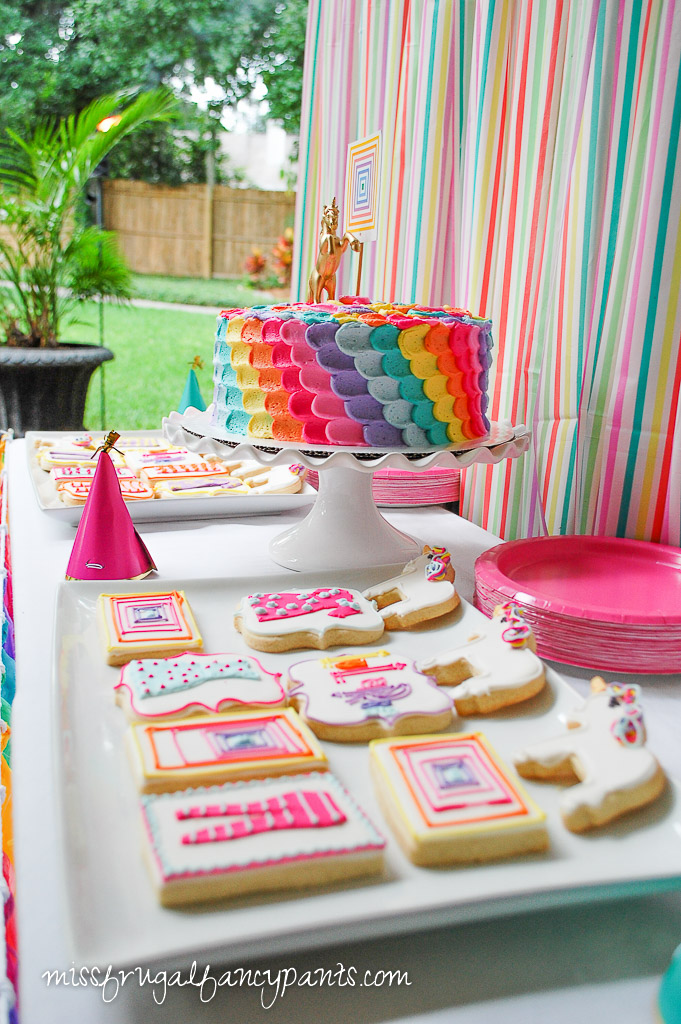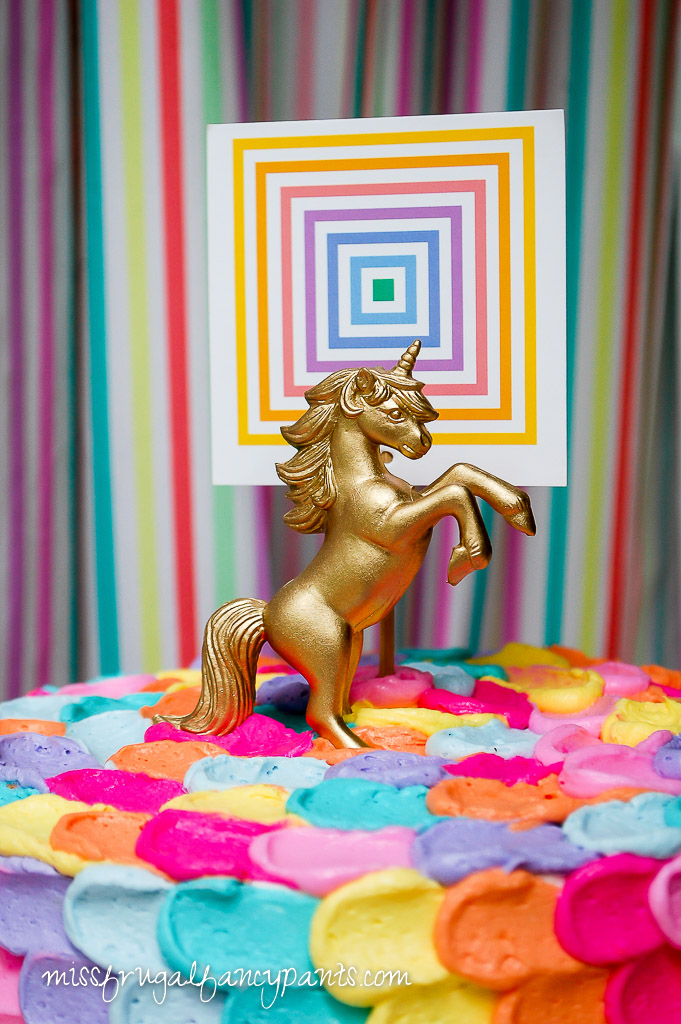 Since I just mentioned unicorns let me explain this decor item and why it was incorporated into my party. In the LuLa-Land world the term "unicorn" is widely popular. When a print becomes so popular and sought after it is called a "unicorn print" because finding it is almost like finding a real unicorn, it's rare!
There are Facebooks groups and albums dedicated to Lula-lovers posting pictures of their sought after patterns and HUGE rushes on sales claiming to have unicorns. In a recent sale that I was in there were over 75 "SOLD" comments within 2 minutes for 1 pair of sought after unicorn leggings. And there was only one winner. Insanity. And when you're the winner and wearer of those unicorn prints you wear them proud …like a lion … which would eat a unicorn. Just sayin'. So naturally, unicorns were incorporated into my party decor. I purchased toy unicorns from Amazon and spray painted them gold, then found the free unicorn print on Pinterest and framed it. Easy!
I love to use simple frames with cute signage at all my parties. It's an inexpensive way to put more of the theme to use (and I use the same frames over and over, thanks IKEA!) LuLaRoe is all about making women feel beautiful and confident and I also wanted to have fun with the shopping aspect of my party. I made each of these signs with my favorite Rhonna Designs app on my phone and printed them at home. 
***UPDATE*** After an overwhelming request for these printables, Kara has listed a handful of her own versions in her Etsy shop which is called The Laughing Seahorse. She will also take custom requests if you want something that isn't listed.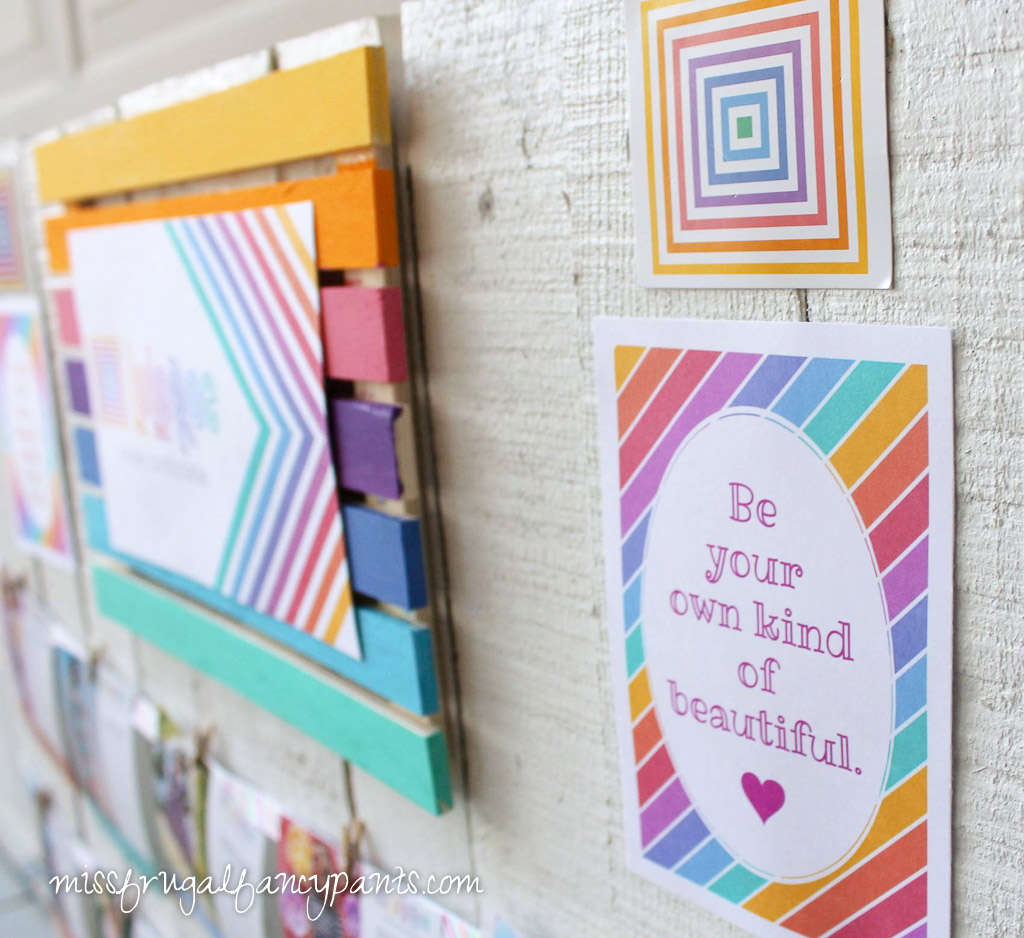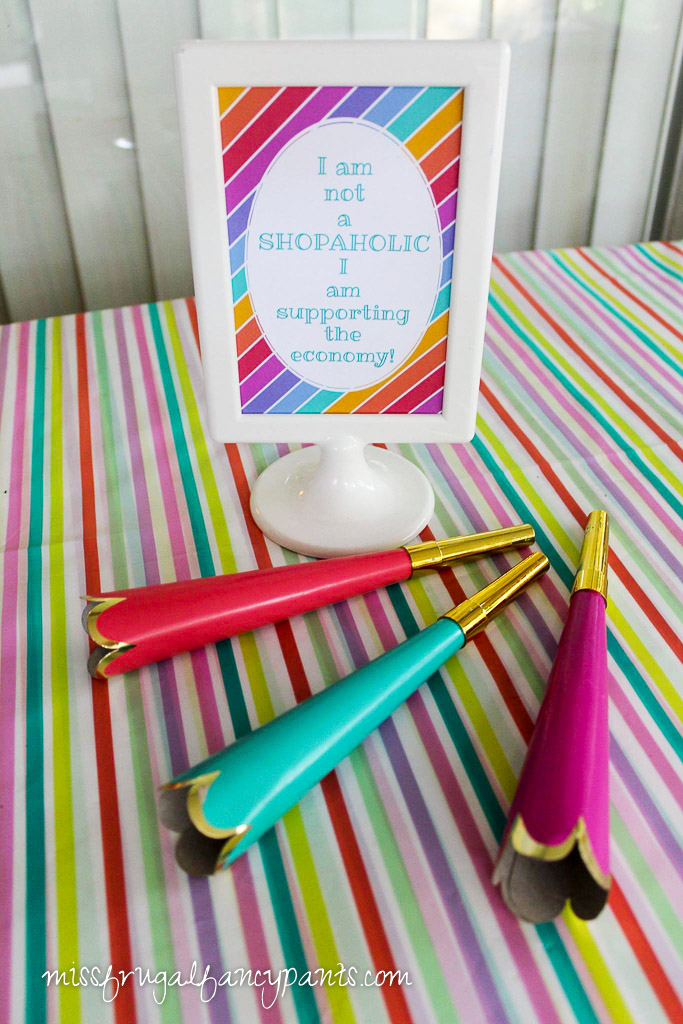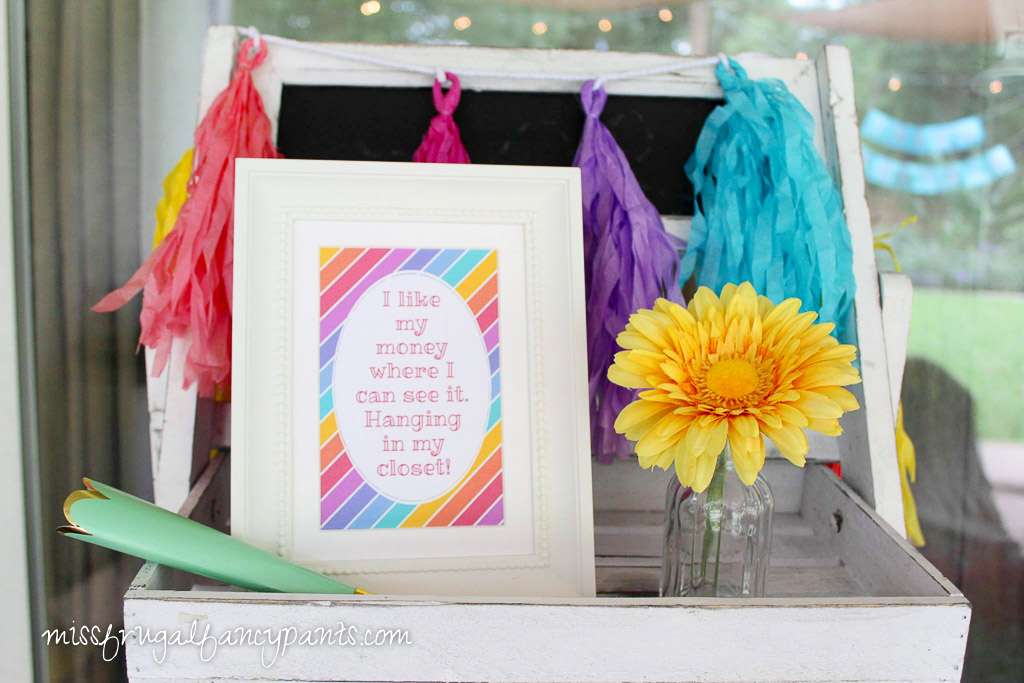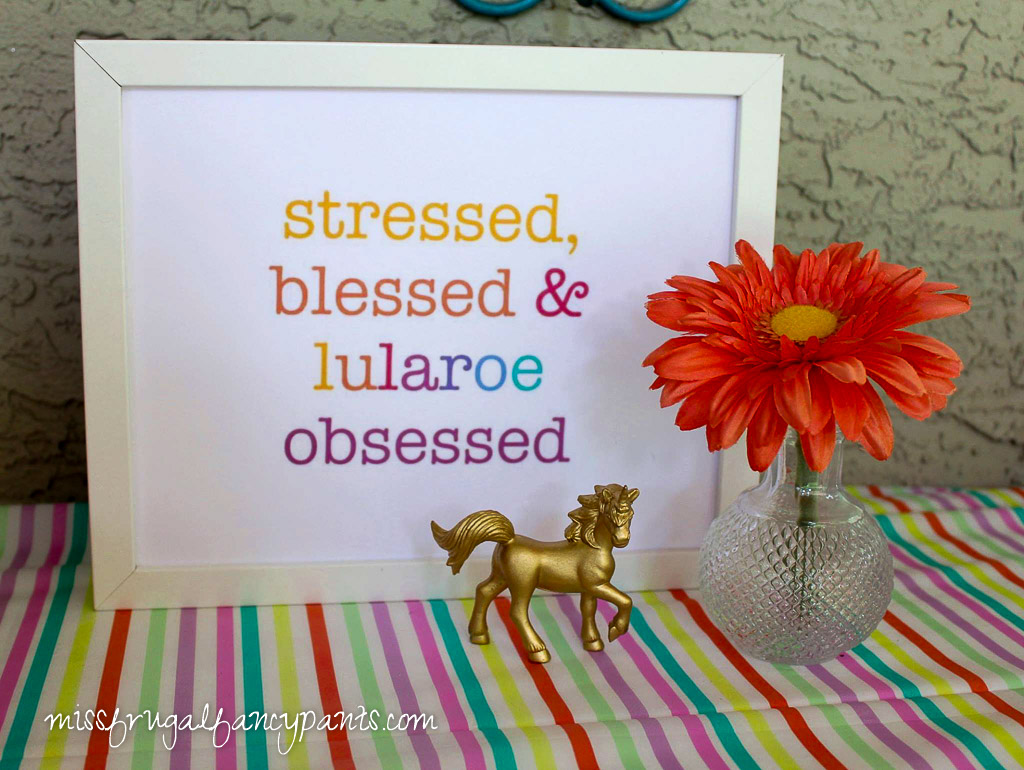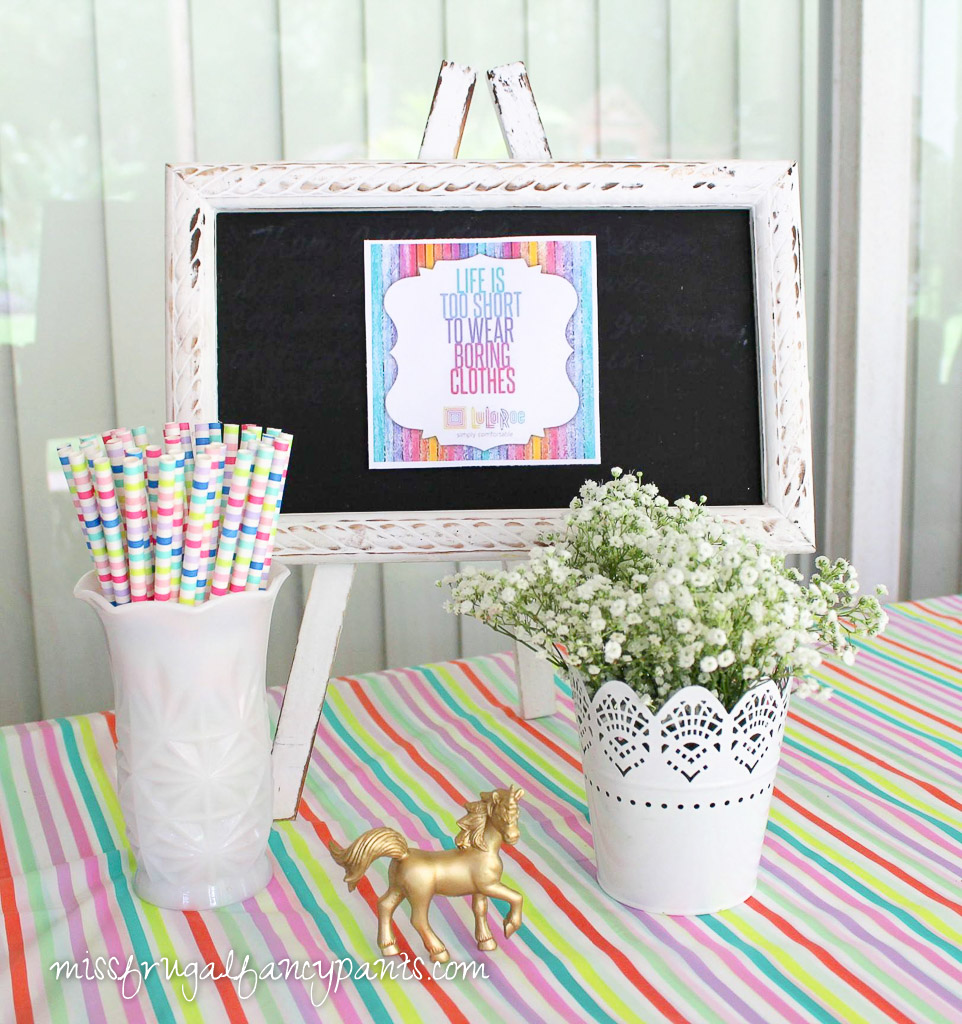 Most of the friends attending my party had never been introduced to LuLaRoe, so I had the last minute idea to have my husband turn a wood pallet sign into an informational display board. I wanted my friends to quickly see the different clothing styles and sizing charts. I printed the photos via Persnickety Prints (love them!) adhered the photos with coordinating stripe ribbon and tiny clothespins. I even created a Lula-Lingo sign because learning the terminology can be a little tricky for beginning shoppers.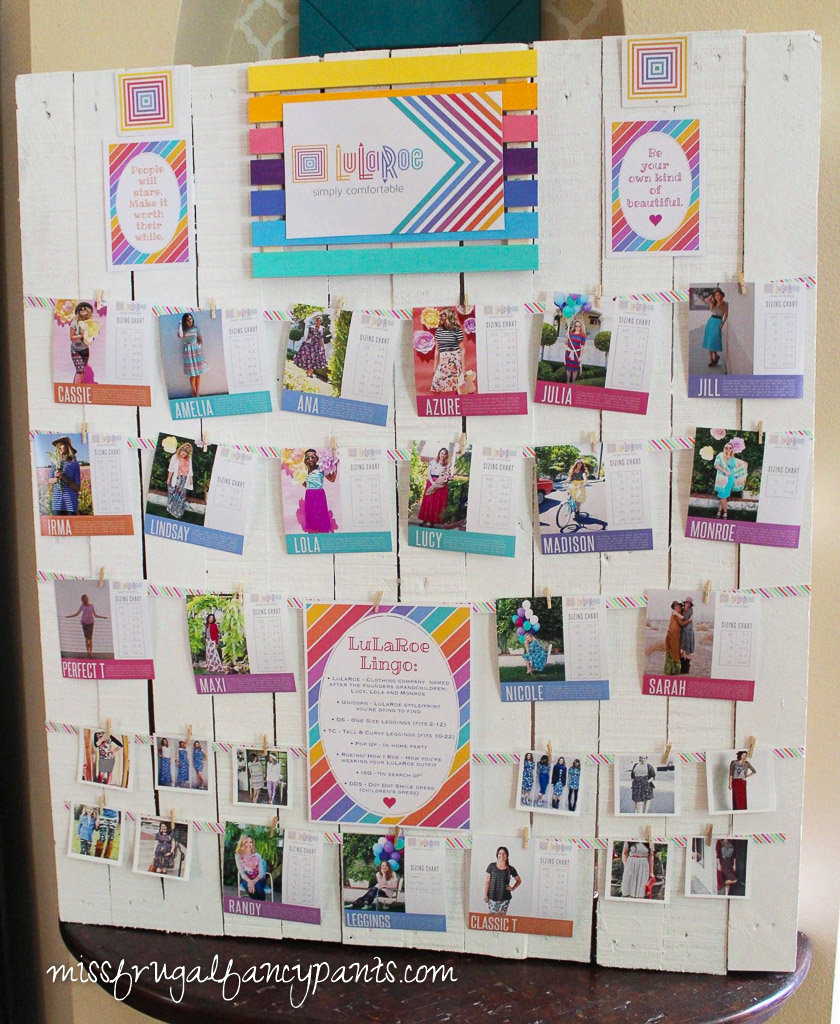 I found this wood sign in the wood section of my craft store and painted it to match the LuLaRoe logo colors, then just printed out the logo to be adhered to it. It was the perfect finishing touch for my palette project.
My friends and family arrived, oohed and ahhed over all the party details (and they may have said I was a little insane to throw my own party), we all poured a glass of wine and the shopping began! My entire living and dining room were full to the brim of clothing racks, baskets of leggings, and excited shoppers! Every single bedroom and bathroom in my house were used as changing rooms and the excitement was real!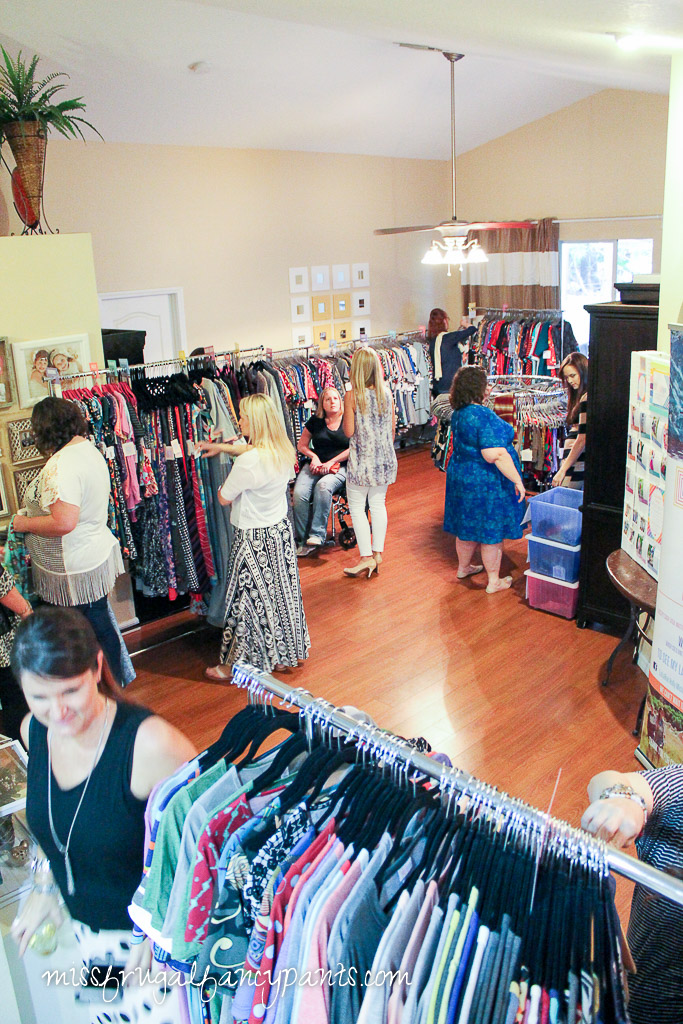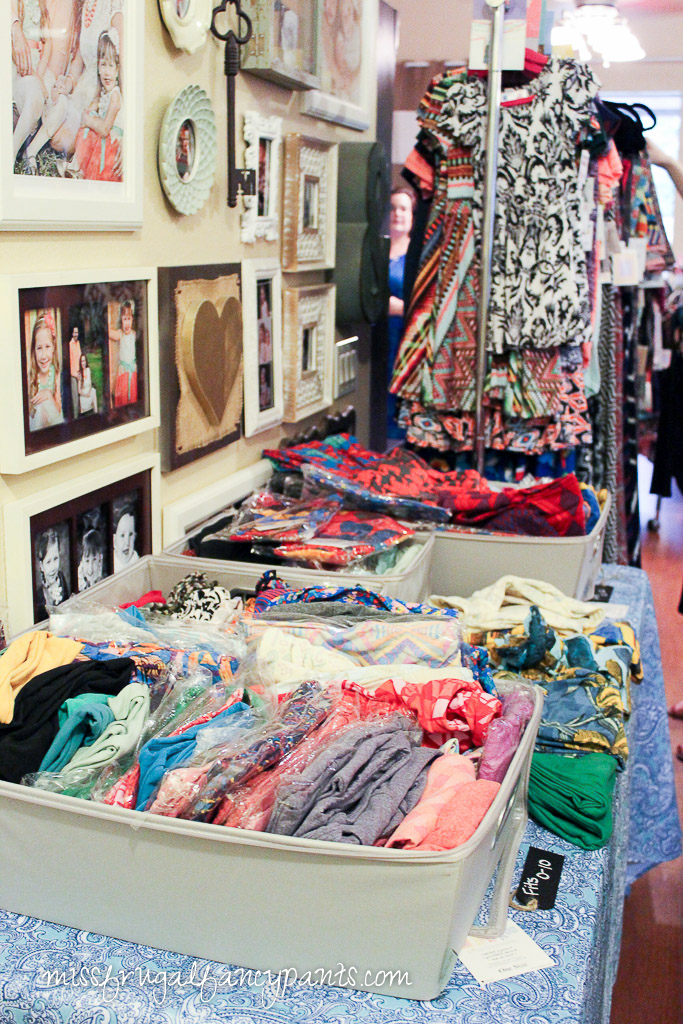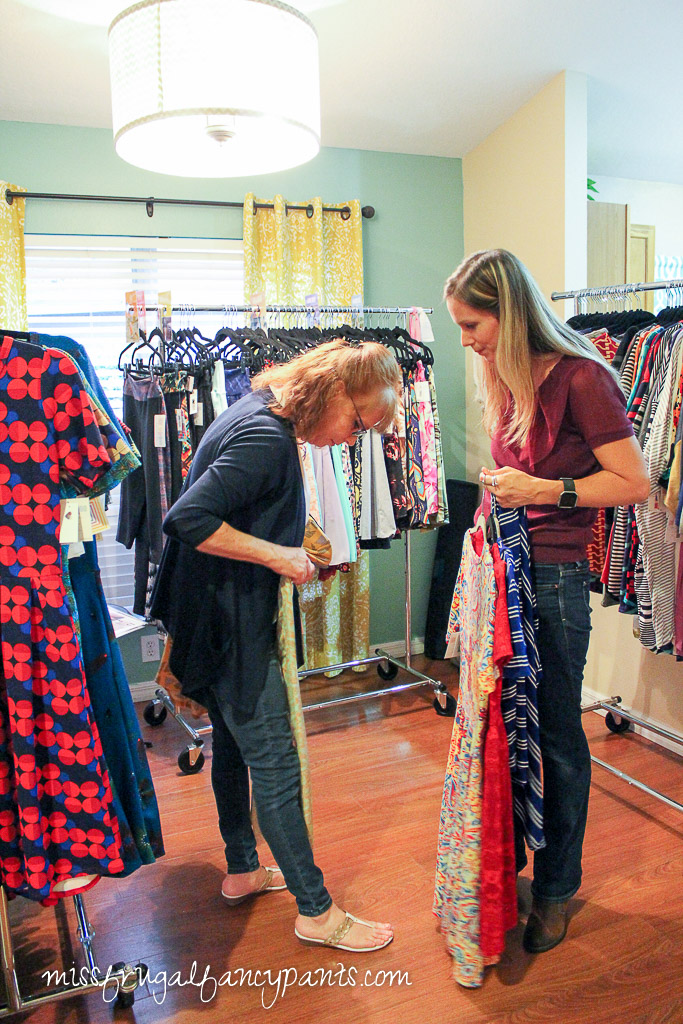 I'm a big shopper so naturally my friends are too, about 75 pieces were sold at my party between 2 different consultants! As a LuLaRoe party hostess you receive FREE clothing (my incentive was one free clothing item for every 10 items that were sold)! I made out like a bandit and picked out the most beautiful pieces.
The beauty of LuLaRoe is that once you try on the items and find your size it's so easy to find consultant groups on Facebook and order (even after my party, LuLaRoe packages arrive on the weekly to my house). It's a total obsession and I love it, because with 3 kids, a crazy busy social life and a full time job I rarely have the time to go clothing shopping for myself. The clothes are one of a kind, comfortable, stylish and I personally love the thrill of finding new patterns but knowing that I don't have to worry about the fit because the fabrics and styles are so forgiving and fit a variety of sizes.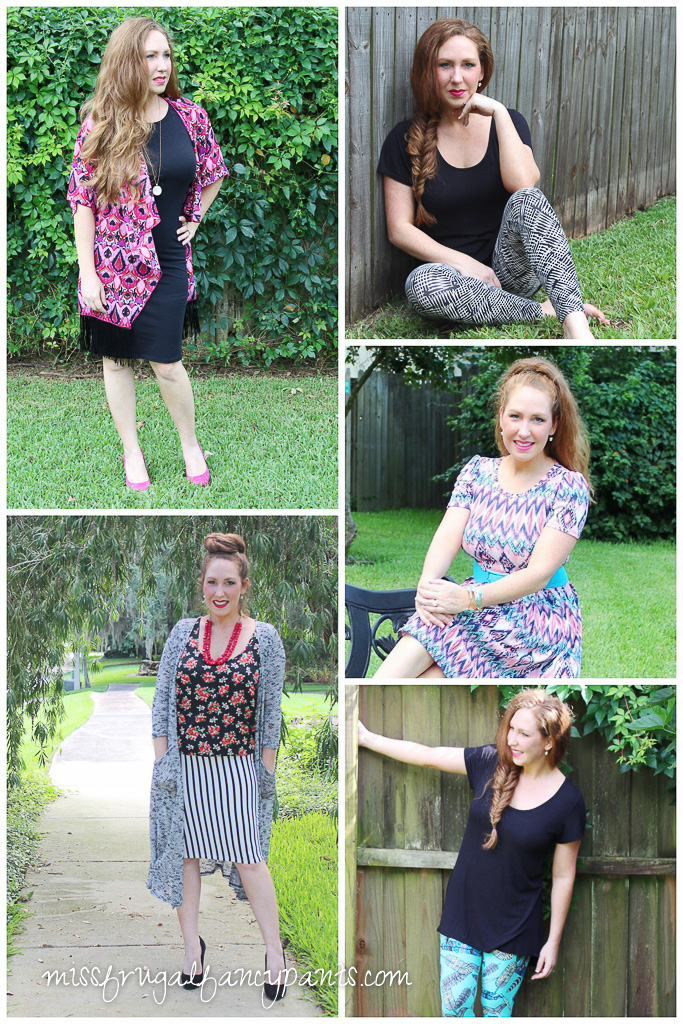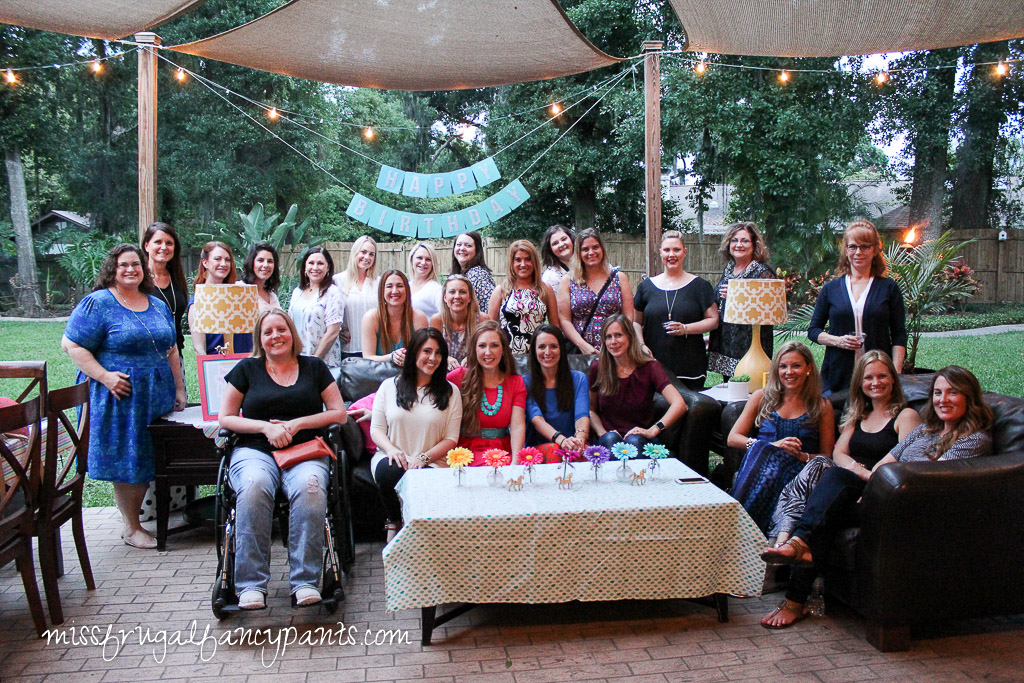 The consultants that helped me host my LuLaRoe birthday party are fabulous friends as well as dedicated fashion consultants that make each person's shopping experience a great one! Visit Sarah White and Audra Butler from SHOP LuLaRoe Modern Mamas LLC and Holly Skrenes from LuLaRoe with Holly Michelle, join their groups and shop away! Hurry, your unicorn could be waiting!
UPDATE: I'm excited to announce that I am now selling LuLaRoe, too! Please visit LuLaRoe // Lauren + Kevin and join our group.

Looking for colorful printables for your own party? Check out Kara's LuLaRoe inspired printables in her Etsy shop, The Laughing Seahorse.