Yes, you read that correctly.
Why, you ask? Why purple? Why polka dots? Because after years of delivering increasingly time-consuming parties to my older daughter, I was dumb enough to ask her what she wanted for her 7th birthday party. That's why.
And I'm still convinced she pulled this theme out of thin air to see how far I could be pushed.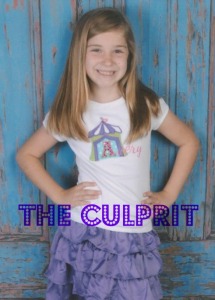 And here is your fair warning. If you don't actually read this post, I will not hold it against you. Look at the photos. Become entranced by their purple beauty and know that this post is simply a cathartic way of me putting this fiasco behind me.
The previous years were either my idea or taken from her current obsession and all made sense. You know: Elmo, Mermaids, Ladybugs. Normal requests. Normal parties.
This was the beginning of the end for our over the top parties. Thankfully, Jenni came through again with a Firefly Invitations creation to accommodate such a request.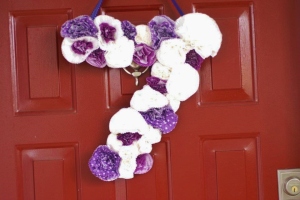 I spent countless hours online looking for all things carnival and praying some ready-made items might actually come in purple…with polka dots. Seriously. I'm also not kidding you when I tell you it took me almost a year to acquire everything for this party and solidified my husband's insistence that these parties come to a halt.
I actually considered making (or having my mother make) a canopy cover in purple polka dot for the tent we were putting outside. And to be honest, the only real reason that didn't happen was because it was nearly impossible to find purple and white polka dotted fabric at the time. Shocker, I know.
After spending half of my waking time online, the other half was going into every store possible that might sell fabric or any party supplies on an almost daily basis just hoping someone would stock something with purple polka dots. I wound up with a lot of random purple stuff and went to work on my friend's Cricut (I'm still waiting to be gifted my own) to make custom Carnival stuff in these ridiculous colors.
I truly did not enjoy this outlandish madness (in case you hadn't caught on yet). It was such a difficult task and brought out the worst of my OCD. I was dreaming/having nightmares of purple and polka dots for the better part of a year. No joke.
We came up with a list of carnival games that I could make out of the random purple stuff I found in dollar bins (buckets and such). I did eventually find some purple polka dotted fabric that we used to set the table (no clue how I forgot to take a photo of the table) and to make beanbags for bean bag toss. Epic, right?
My stepfather custom made purple ring toss thingies (he's the guy who could build a house with his left foot, remember?) and I painted veggie cans (I use those suckers for everything) for the kids to knock down with water guns. We also put out my daughter's personal claw machine…and yes, people…if your kids are nuts about those stupid, money sucking contraptions in all kid-friendly restaurants, do yourself a favor and buy this for them and let them get it out of their system.
The cupcake liner wreath was one of the easier little projects (see tutorial in my list below). I began my love/hate relationship with my friend's Cricut machine as I spent countless hours printing circus themed fonts to make signs. And tickets. Oh the tickets. Thought it would be cute to have the Cricut cut out a ton of little PURPLE tickets for the kids to redeem for games. I handstamped little circus tents to add some pizazz. Aaaaaand…I forgot to pass them out. Awesome.
Naturally, I was so exhausted by the time the day of the party came, I forgot to put half of the game stuff out and then never bothered to show the kids how to play or designate anyone else to help them. Oh. And don't forget about those forgotten tickets. Fail.
Despite the length of this post, I'll do you a solid and add my list of items to the verrrry end…
In the end, I was quasi successful in pulling off this insane theme. I think my daughter was happy but I realized I should have done a NORMAL party with a normal theme and she would have been just as happy (and she would have had less of a lunatic for a mom for all those months). Lesson learned.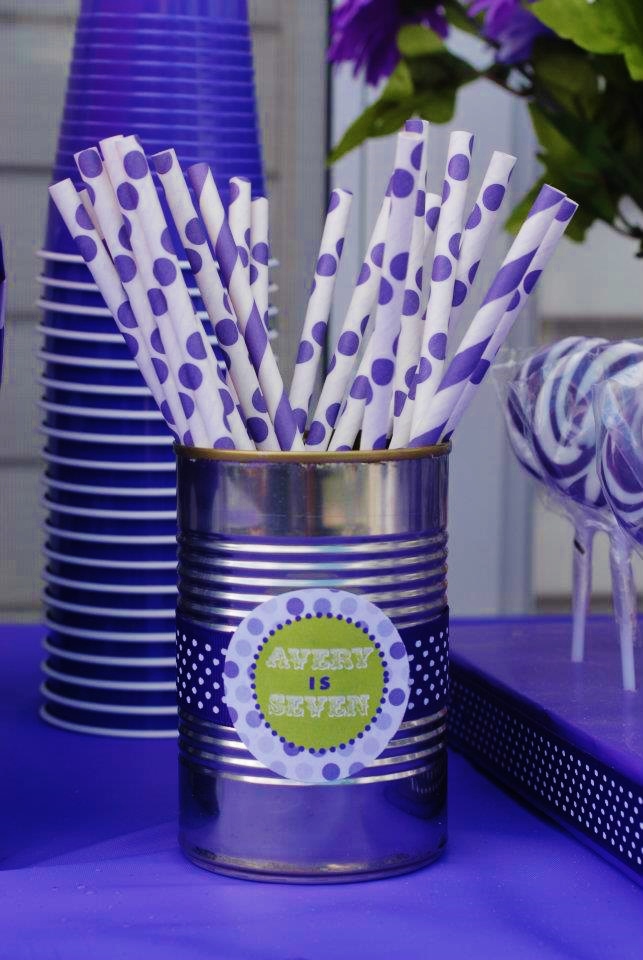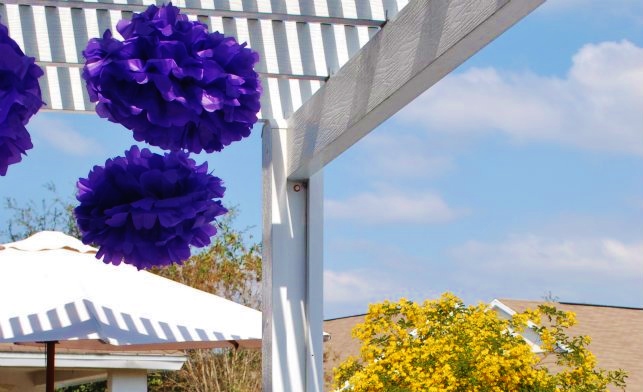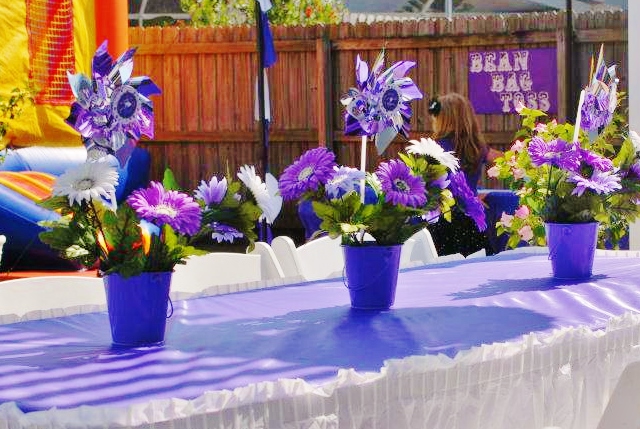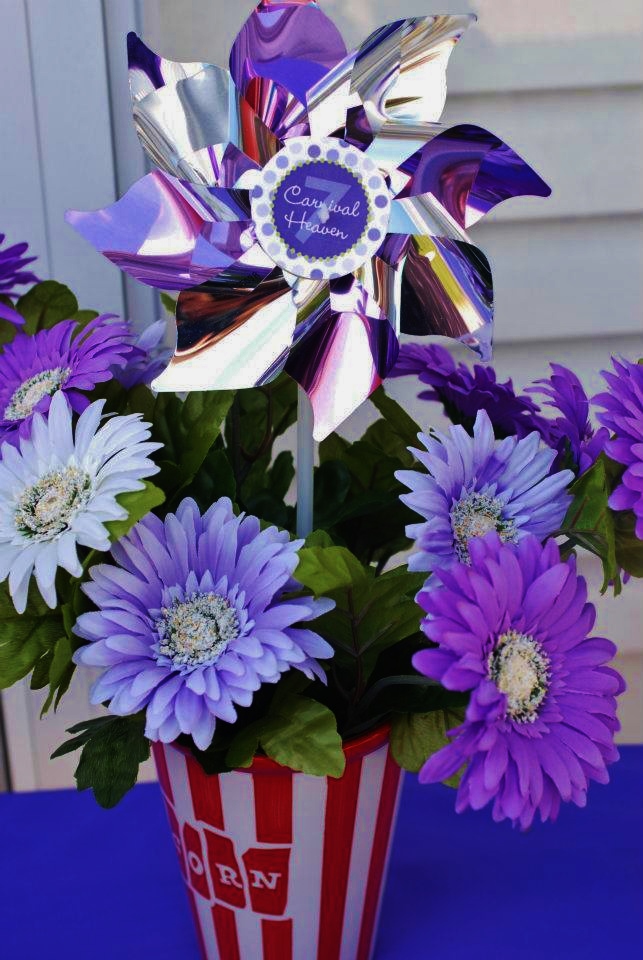 Needless to say, this was the last party for the older daughter until (we all decided) she hit big ages. 10, 13, 16, 18. The following year we surprised her by driving down to the Everglades to go see the Gator Boys (her favorite show). The year after that we took her to Sea World for the first time. The most stressful part of those parties was finding a good deal on a hotel to stay at for one night. Much more manageable than doing that other craziness yearly!
And then guess what happened? I found out I was pregnant and was going to be subjected to this all over again!!!
Purple Carnival Madness Items
Carnival Sign at front door: Printed signs, attached to card stock and a stake
Purple Pinwheels from Target dollar bins (talk about lucky)
Cupcake Wrapper Wreath: Tutorial Here http://www.creativejewishmom.com/2011/08/birthday-wreath-made-from-cupcake-liner-and-paper-plate-flowers-.html
Happy Birthday Banner: I used a circle cutter to make the entire banner from letters I printed & assorted scrapbook papers
Printable cupcake wrappers, toppers, centerpiece signs and stickers from Firefly Invitations
Lemonade Stand turned Ticket Booth: Crazy clearance (about $15) from Joanns (and purchased for more than just this party)
Paper straws from Etsy
Purple tableware from Party City
Plastic tablecloth skirt wraps
Polka dot wrapping paper to wrap a box to hold the beverage dispenser
Silk flowers from Michaels & Joanns (on sale)
Purple buckets and tin pails from Target dollar bins
Game signs made with wrapping paper covered foamcore and Cricut cut letters
Recycled Vegetable Cans (some spray painted purple, some not)
The infamous Claw Machine which we already had
Candy for the Claw Machine leftover from Halloween (my daughter's birthday is the week after Halloween)
Swirl Lollipops from Oriental Trading
Styrofoam covered in wrapping paper and ribbon to hold the lollipops
Purple Tissue Paper Poms: Tutorial Here
Popcorn Machine was borrowed from my mother
My mom, the thrift store maven found the popcorn bucket vase for under $1
Purple popcorn boxes from Oriental Trading
And sadly, there were a good handful of other items that didn't get photographed and I honestly can't remember what they were to list them. Just know that I was a clearance shopping gal for this frenzy.
Hope you enjoyed the madness!