As we near Fat Pants Day, I find myself hosting our first Thanksgiving Dinner together. We will have both families in our tiny little house. Eek! At nearly 40 guests, this should be an interesting soirée, to say the least. Whether you lean towards over the top formality or towards a super casual family dinner, planning is a must.
If you know me, you know that it's simply not in me to have people over and not do something "mildly" over the top. It truly is an illness. I swear there should be a 12 step program for people like me. But the truth is, it makes me happy.
All of it. Even if there isn't a single guest to notice or appreciate my efforts, I'm still thrilled to do it.
I envision something, I make some version of it happen because it's what I want to see. I love to have our friends and family in our home (just wish it were a smidge bigger…and by smidge I mean doubled in size.) I love the idea of making our own Norman Rockwell painting. I'm fully aware people will enjoy the holiday (or not) with or without ridiculous wedding festive decor. I realize no one will have a better time or develop a stronger bond because of my centerpiece.
But when you look around at your loved ones, in the home you see every day, there is something magical about watching them smile and listening to their chitter chatter with picturesque movie-like sets as the backdrop.
Most of us love the warm and fuzzy feeling we get from watching holiday films. My favorite Holiday movies are Home Alone (the original and Lost in New York) and The Holiday. Oh wait… and National Lampoon's Christmas Vacation. Okay, almost any movie that takes place around the holidays is probably on my favorites list. SO not a bad thing, fyi.
Old and new alike, they all have a ton of celebratory decor. As if everyone in the film has Martha's staff adorn their homes/apartments/flats. #itotallywishthatwasreallife
It would cost a small fortune to make our spaces into movie-like sets for every holiday but it is possible to inject some affordable Norman Rockwell scenery into our chaotic, real-life holidays if you plan properly.
Obviously, the crowd size, your budget and your desire will all affect how much you can pull off. There is nothing wrong with doing nothing but cooking. There is nothing wrong with hiring caterers and florists (and if you can afford to do this, please add me to your guest list). A simple centerpiece is the easiest way to go for most normal people. But I think we've established that there is nothing normal about the way I do things (much to my husband's dismay).
And so I give you my list of ideas and checklist for the holidays. This is more a Thanksgiving Checklist but can be equally useful for Christmas (or any other large gathering) since many families do a Turkey Day Round Two in December.
1. Determine Guest List/Number of Family Members
Yes, this seems obvious but it's easy to underestimate just how many people you may wind up feeding (and seating). Don't forget to figure out how many kids vs. adults so you can plan the dreaded kids' table or kids activities.
2. Send out Invitations (Optional)
I did this as soon as I found out we were hosting because 1) I'm crazy and have an unhealthy obsession with invitations and 2) I found this template for free on Moritz Fine Designs and swooned a tad.
But seriously, some people don't ever get invitations, especially in our techy age of Evites, etc. There is something special about getting a snail mail paper invite. Kind of Gatsby, right? Gheeze. I really do live in fantasyland, don't I? Crap.
3. Start a Food List
If you are hosting and doing all the cooking, God Bless. If you are like many of us with a giant crowd and doing the potluck buffet thing, get organized so that you don't wind up with 12 stuffings, a turkey and 14 pies.
It does happen.
And I'd sooner eat all 12 stuffings before I'd take my happy butt to the grocery store the day before Turkey Day to buy the makings for a green bean casserole. NOT gonna happen.
I decided to combine steps 2 & 3 this year by doing a double-sided invitation. I put a reference list on the back to help everyone figure out what they might want to bring. I will keep the master list and plan to touch base weekly (via group messages) leading up to the big day to prevent anyone from having to hit the store at the eleventh hour. #masochistanyone?
My hope is that the list helps prevent the 12 pie scenario and allows us to all get some Vitamin A, C, D or all of the above. Just a hope.
4. Plan Seating Arrangements
My mom always does a formally seated dinner with the china, chargers and tablecloths. My dad's family always did a buffet style casual meal, not unlike a typical Sunday dinner with a lot of extra food. My husband's family also does the latter (at least since I've been with him). I'm torn.
I adore the idea of having an elegant table setting, but I will never have a family gathering  small enough to pull off a movie like Turkey table. I'm compromising.
I'm setting up folding tables with folding chairs. They will have tablecloths and centerpieces (made from clearance items bought before Halloween. Sick.)
We will have disposable dinnerware because I don't know anyone who has china for 40. And no, I'm not putting said dinnerware anywhere but the buffet table. #butithoughtaboutit
I think I can accommodate 30 people at tables and possibly more. But since there will be football, I'm cool with the fact that some people (not naming names) will likely eat in my food forbidden family room.
To sum up seating, figure out what you have and what you need to purchase to accommodate guests. Start asking around early to see if you can borrow extra tables and chairs. If you need disposables, get your plates, cups, plasticware and napkins. I generally prefer to use porcelain white plates (I have these from Williams-Sonoma) and washable white napkins but I don't have enough to accommodate more than 20 guests.
5. Determine Decor (Optional) 
I had dreams of white pumpkins galore but since fake pumpkin sellers (Michael's & JoAnns) are sold out before Halloween, our "last-minute" hosting gig prevented me from obtaining my dream tablescape. I did snag some stuff on clearance and will make what I have work…and without ORANGE! But if you know you will host well in advance, buy early…like a year before when stuff goes on super sale or clearance. (If you are hosting Christmas this year, start planning and shopping for decor NOW!)
I did a mock table to be sure I had enough stuff to adorn multiple tables when the big fat day arrives. I used wheat grass and a mix of real and faux pumpkins and gourds with a burlap runner and an ivy garland. At regular prices, this simple tablescape could easily cost $100. Crazy. Because of items I had on hand and my clearance finds, it cost me $15 and everything is reusable except for the real pumpkins.
Disclaimer: My husband is not a fan of this tablescape. Says it needs orange. OMG. But in all honesty, this truly was a mock set up. I may make it better, I may make it worse. Stay tuned.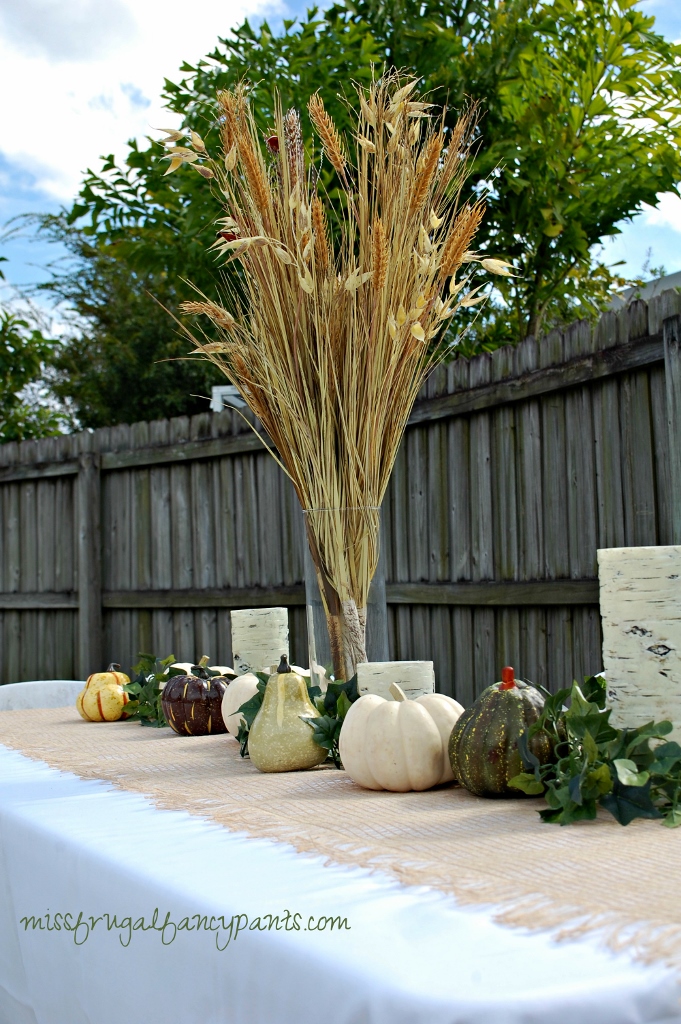 6. Make a Plan to Serve & Keep Food Warm
We have a typical single oven and are tasked with the turkey and some sides. We also live an hour away from most family which means many will want to warm dishes in our oven. EEK! My mom is close by so we will have her oven to heat some sides but we plan to fire up our grill to keep other dishes warm. I'm also strongly urging my husband to deep fry the turkey (in the yard) to free up the oven. Be creative.
7. Plan for the Kids
Because we have kids, we obviously have plenty to keep them busy while the adults socialize. For those hosting in a home sans young kids, consider setting up some sort of activities to keep them busy. Something as simple as coloring books and crayons will work but you can put Thanksgiving themed crafts out or an age appropriate game. I'm considering putting out our croquet set since the kids and the adults can have fun with that. I'll also do a thankful tree, which is a great activity to get everyone thinking!
8. Make Clean Up Easy with Take Out Boxes
My grandma started this in our family years ago and it's brilliant. The hosting family does not need 8,000 lbs of leftovers. And who doesn't want a turkey sandwich the next day? In my effort to be kind to our earth, I ordered these biodegradable clamshell boxes. Every single person can have their own leftover box which helps clean up the mess and helps ensure no food goes to waste. Another tip: Have guests take leftovers home in their own casserole dishes.
I'm sure I'll come up with 300 other random ideas before Thanksgiving Day but you can read all about that after the fact. 🙂
Do you have any tips or traditions to make hosting a big holiday easier or more fun?