As previously mentioned, I've been cut off from throwing obnoxious elaborate parties after our girls turn 7. I did manage to get the okay to squeeze in milestone birthdays, so there's that. 😉 Lucky number 13 for my firstborn was her first fancy party in years so I wanted to make it special for her. Fortunately for us, she wanted something small scale and opted for a slumber party with her closest friends which definitely helped reign in my usual over the top tendencies. She did ask for flowers … and pink and gold and champagne … just sayin'.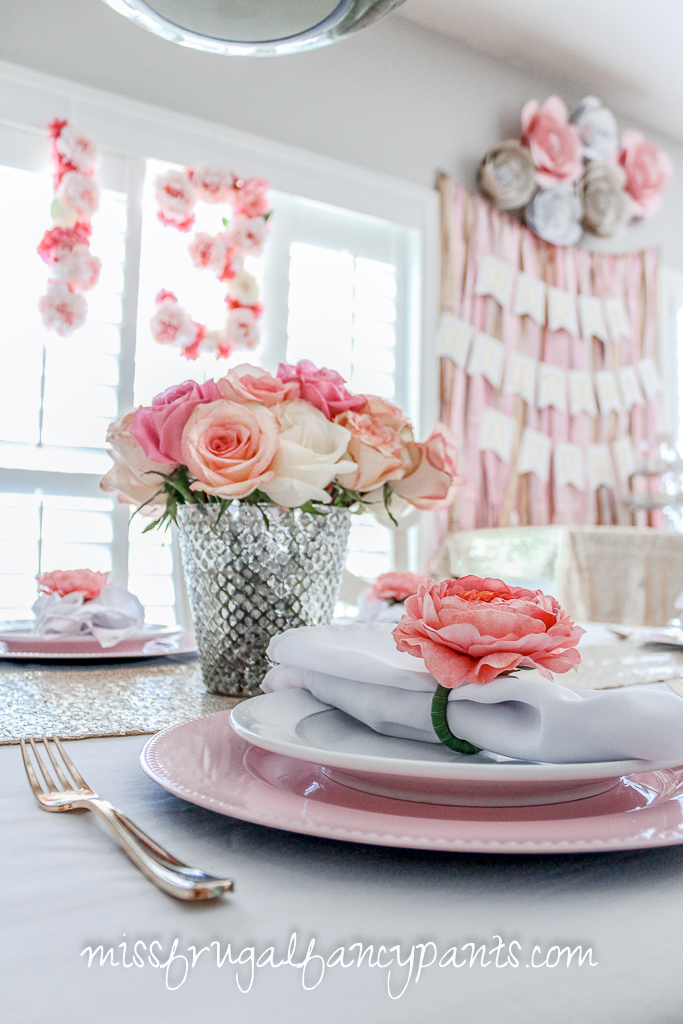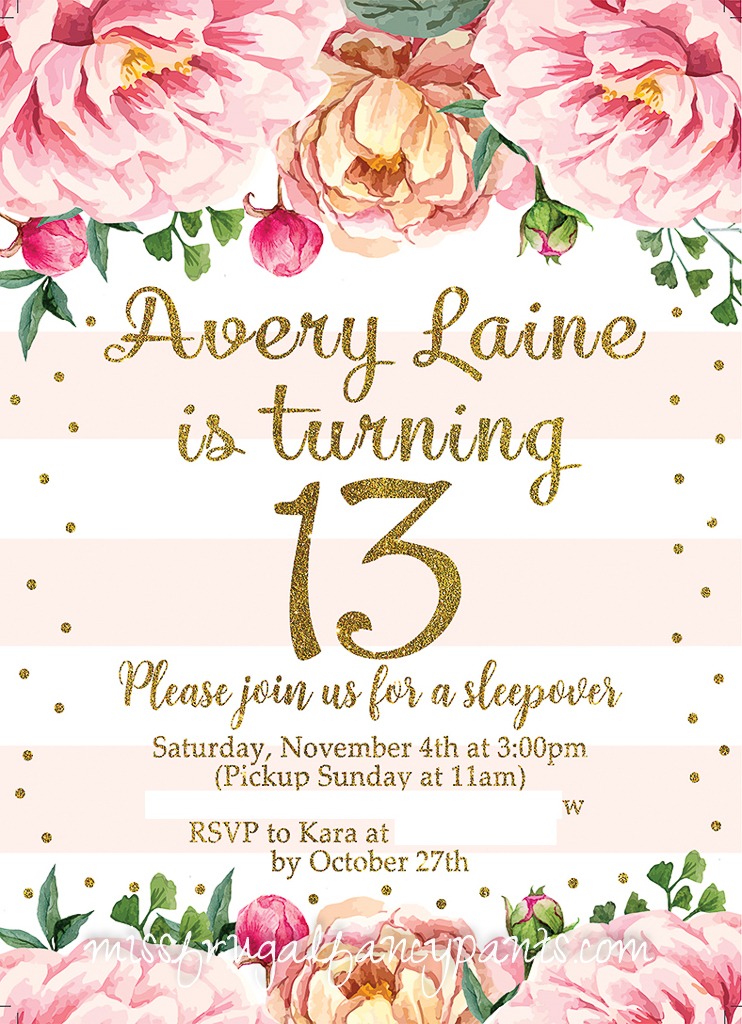 I had a zillion ideas in my head but once I dialed it back a few notches (or 20ish), here's what I did. 
For the table, I bought Dollar Tree chargers and spray painted them pink.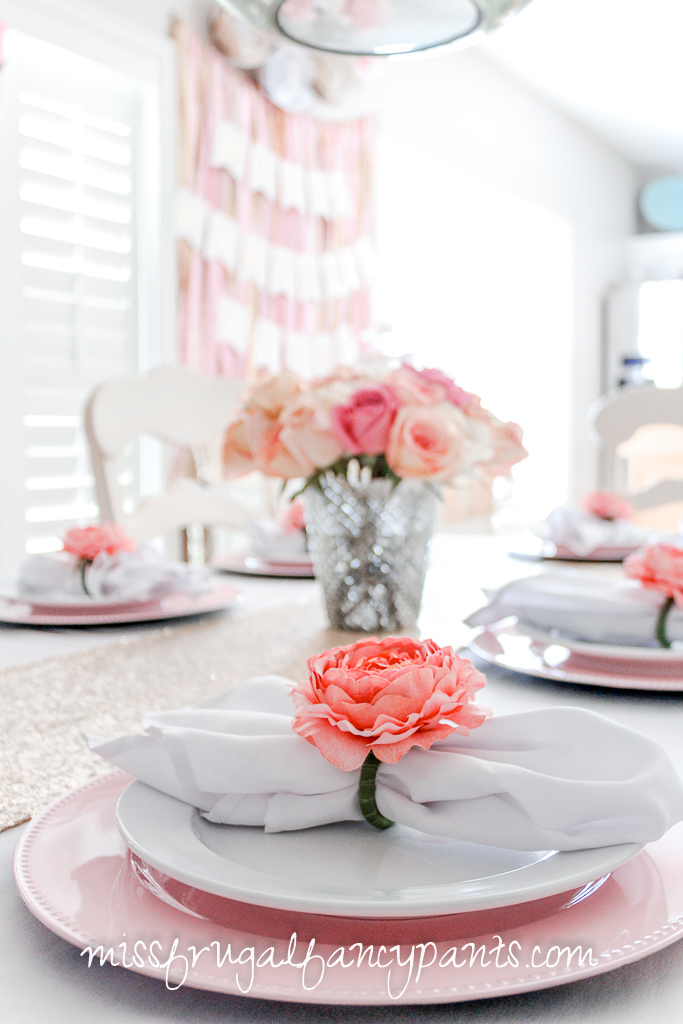 I used our everyday white plates with these adorable flower napkin rings, which I'd actually already purchased for my younger daughter's Lilly Pulitzer party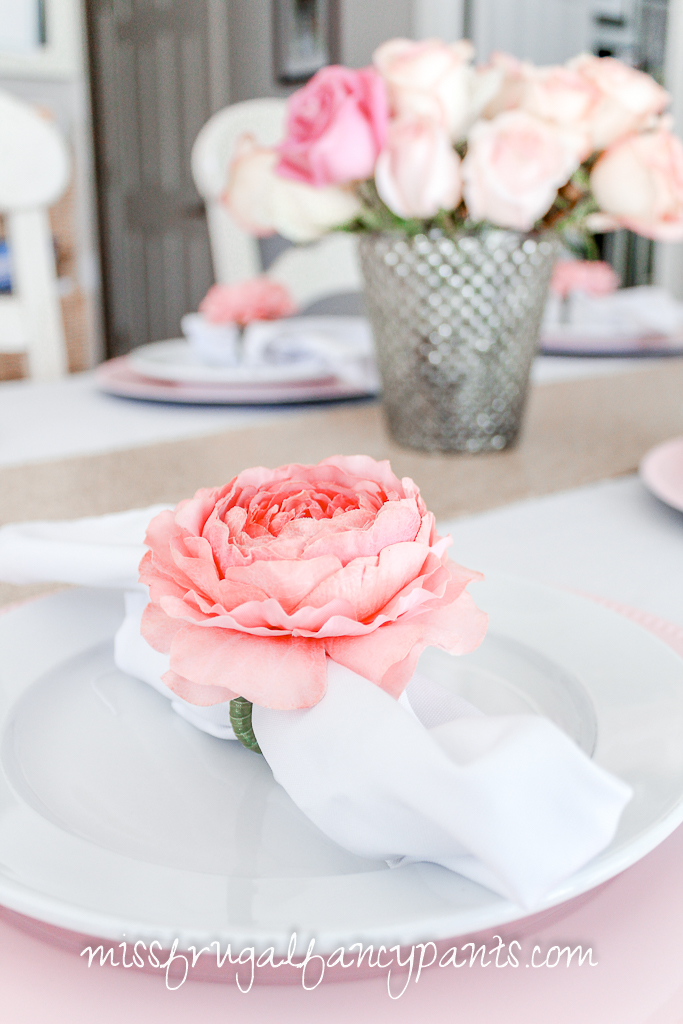 I did splurge and order some sequins runners from my favorite table linen source but it's okay because I've reused them numerous times. In case you're new here, ITEM COST ÷ # OF USES = LOWER COST PER EVENT (aka: ways we justify dumb purchases).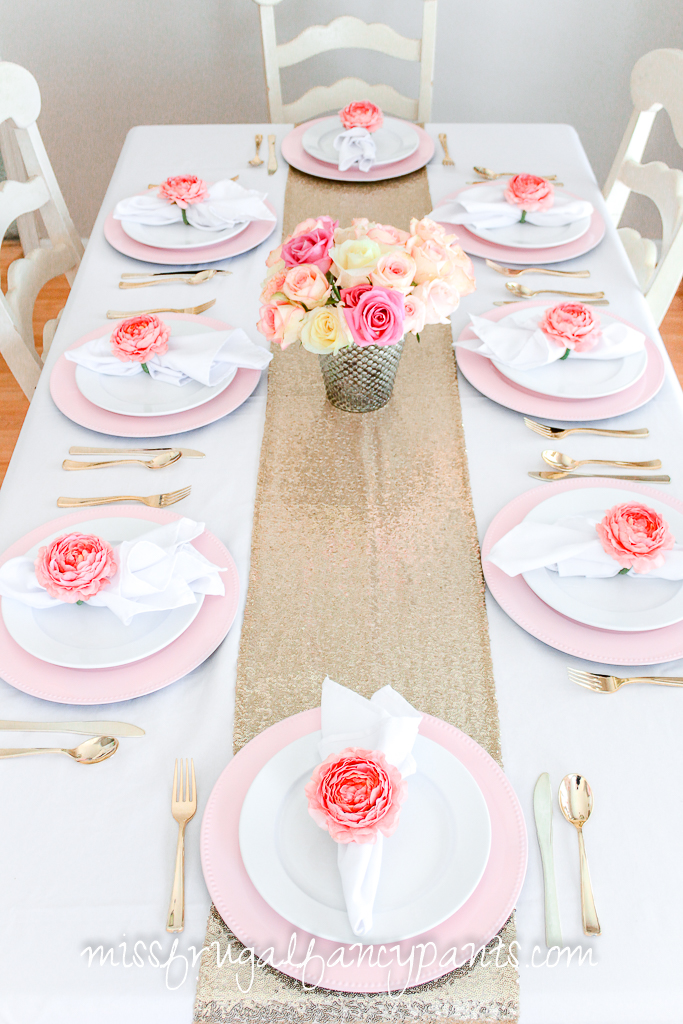 Oh! I forgot my favorite cheap trick from this shindig … With all the gold and champagne bling, I clearly couldn't use our silver(okay, stainless steel)ware. As much as I would have loved an excuse to purchase some gold flatware and come up with a "per event" charge, it wasn't in the budget this time. However,  I found gold plasticware and was blown away by how pretty it was! Seriously, some of the plasticware out there is so pretty, it's worth washing and reusing. I've seen impressive sets at Publix, Party City, Target and Michaels. Go check them out.
I made the banner by using the backside (which was obviously white) of some random banner I found on clearance for about $0.50 and gold glitter letters cut from my Cricut.
I made the fabric strip banner by tearing strips of fabric based on photos I'd seen on Pinterest. It truly is as easy as they make it look. The hardest part was finding cheap fabric that worked with our theme. I wound up ordering satin runners from my tablecloth source because they were so inexpensive and came in colors I needed. Seriously. 70 cents each for a grand total of $2.10. Try finding a large backdrop for less than that!
The other Pinterest project was paper flowers. I will say those weren't quite as easy as I'd hoped, but they weren't rocket science either. I'm a smidge impatient so things like this frustrate me. In a nutshell, if I pulled it off, and you have a morsel of patience, you can do it. I promise. After the party, I decided to put those flowers in my younger daughter's new big girl room because I couldn't bring myself to throw them away.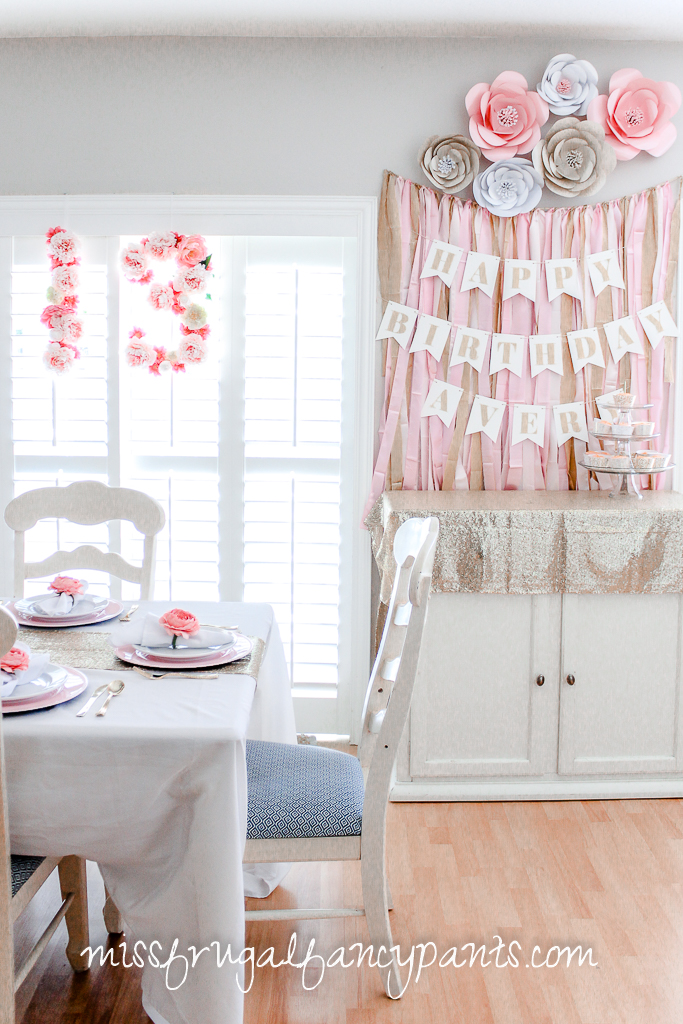 I made the floral 13 from Dollar Tree foam core, clearanced out silk spring flowers I'd been stockpiling for the upcoming Lilly Pulitzer Party and a glue gun. I cut out the numbers (they don't need to be perfect since the flowers will cover them), pulled the flower heads off of the stems, put a dab of hot glue on each stem stub (no clue what to call that piece of the flower that attaches to the actual stem) and pushed the little stem stub nub into the foam core. Does that make sense? After this party, I was able to pull all of the flowers off (the hot glue peels right off) and stick them back on their stems so the flower bunches were good as new.
My daughter's like me in that she's not a big fan of cake so she wanted boxed mix cupcakes. I know, I know, we're nuts. We hate Publix cake. We are in the minority. But guess what? Our preferred $1.79 boxed mix gets eaten up as quickly as a Publix cake, so NAH!
 I cut cupcake wrappers from pretty scrapbook paper but for the record, this would have worked on Publix cupcakes as well. Loud sigh. However, it does make me giggle a bit to look at the wimpy cupcakes that get swallowed up by the oversized cupcake wrappers. Laughing makes me happy so they remained in their wimpy – oversized ratios.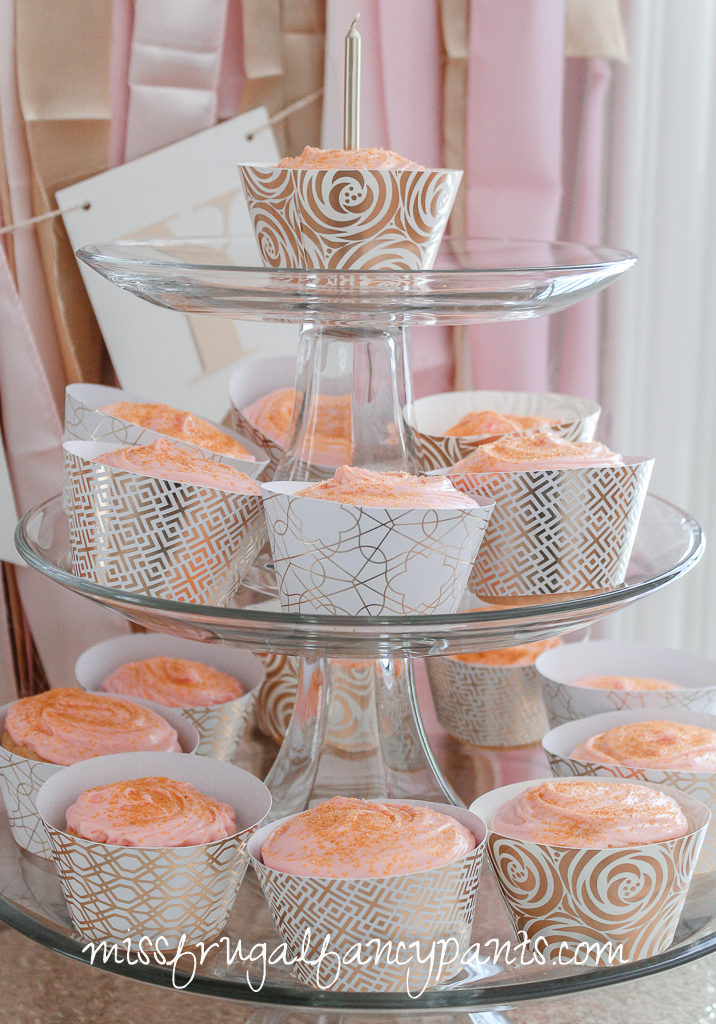 Now that I've gone over all the pretty, fancy and frugal decor, let's move on to the exquisite feast. Naturally, I let her choose her menu. Reluctantly Gleefully, I allowed her to choose Taco. Freaking. Bell.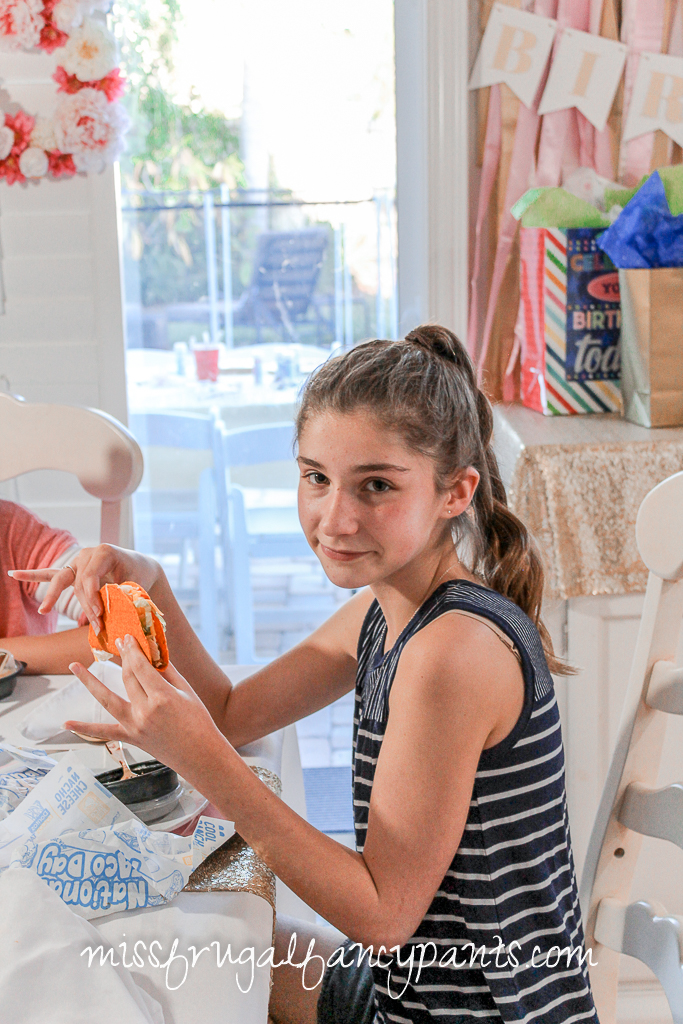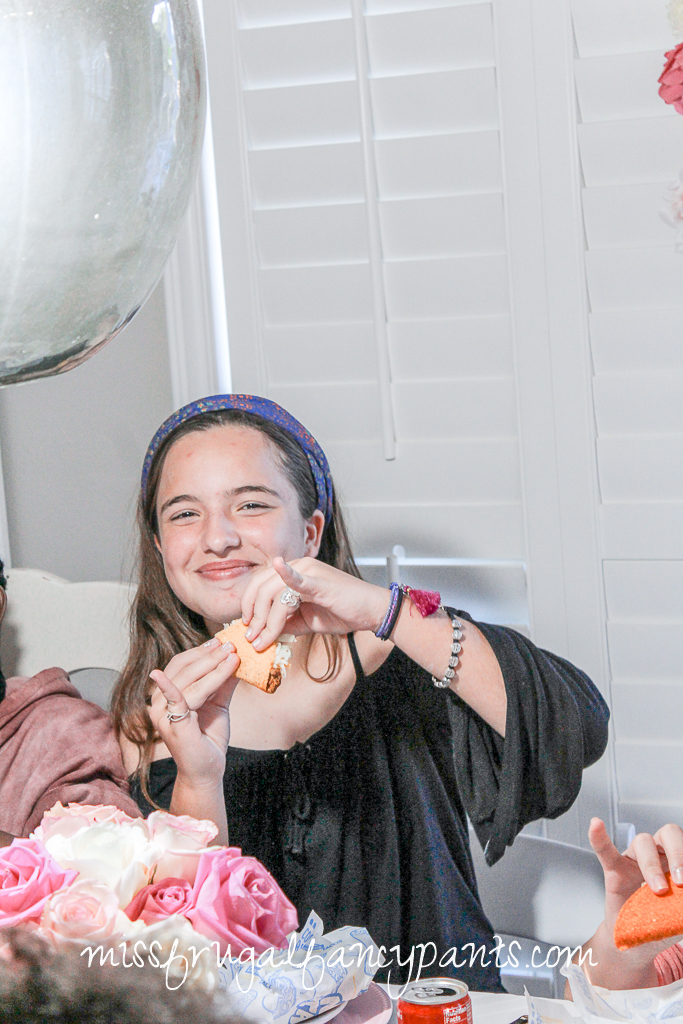 It was comical to serve this "food" but they loved it. Also, was there ever a party with a food budget as low as serving a bag of tacos?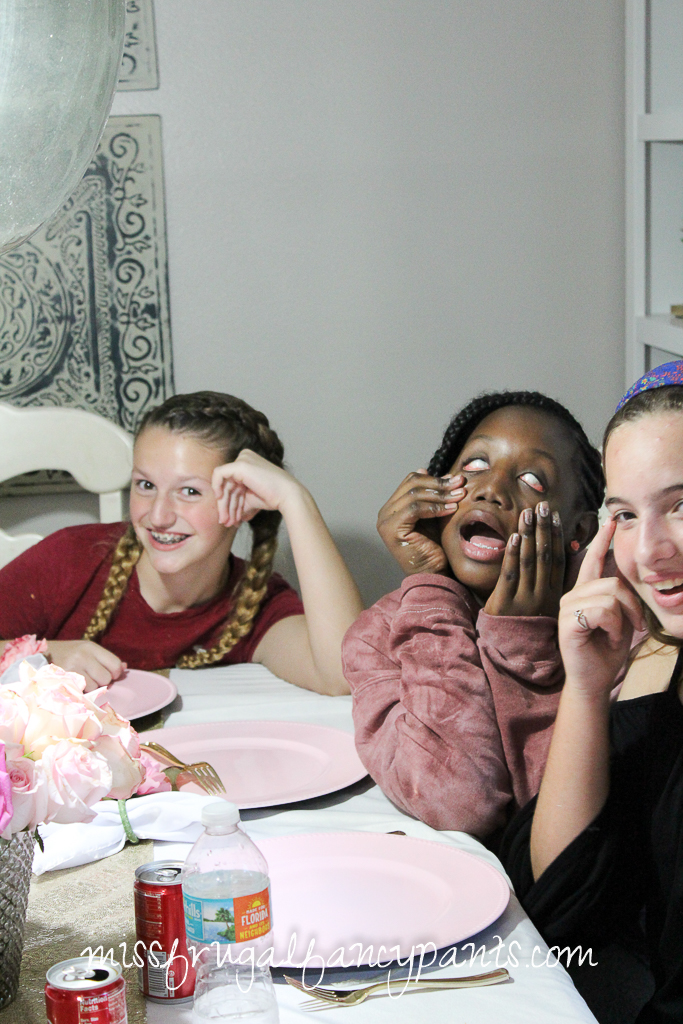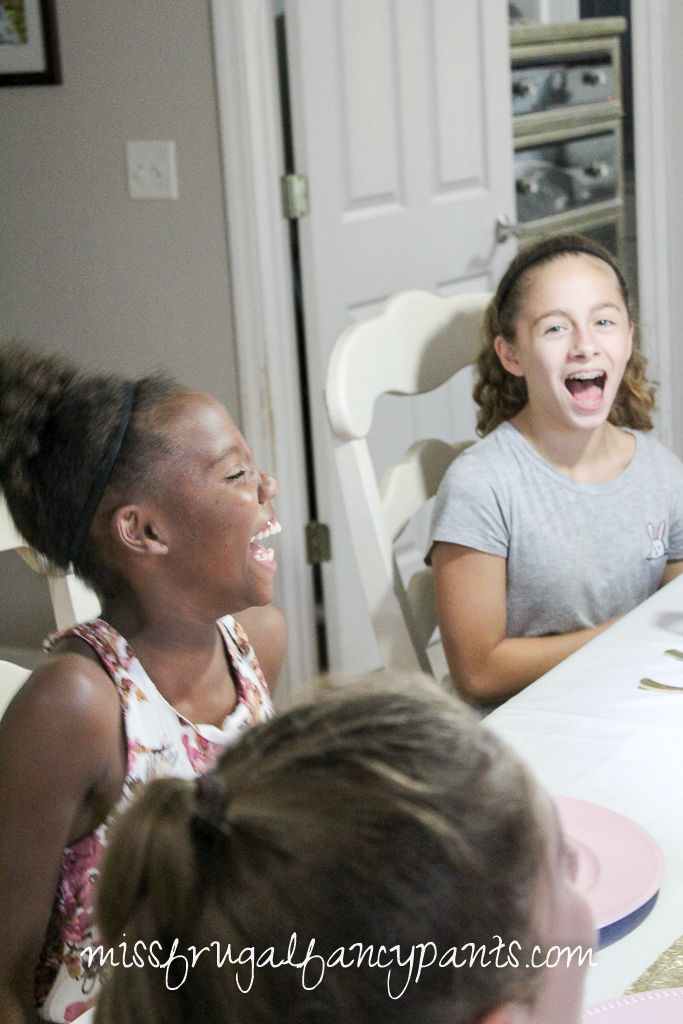 Plus, when girls wanna have fun, girls have fun.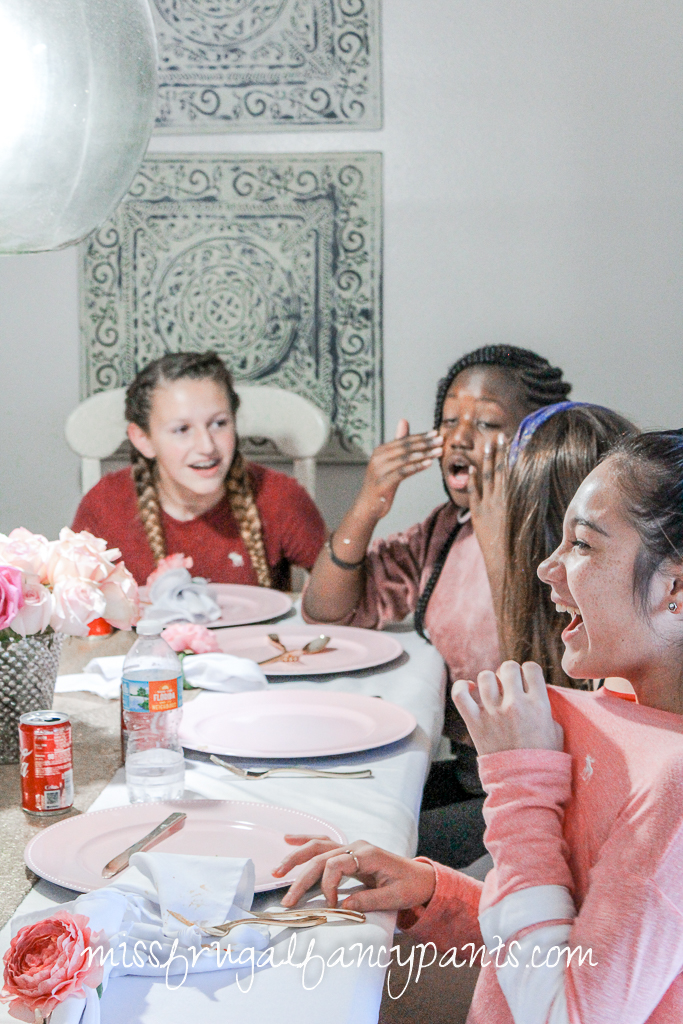 13-year-olds don't really need planned birthday party activities to stay busy but I wanted to give them something to do in case they got bored or if any level of drama surfaced. I bought paper mache letters from Joann's for them to paint and bring home. The only drama at this party was coming from me, watching these girls realize they never learned how to hold a flipping paintbrush! It was both painful and comical to watch them paint.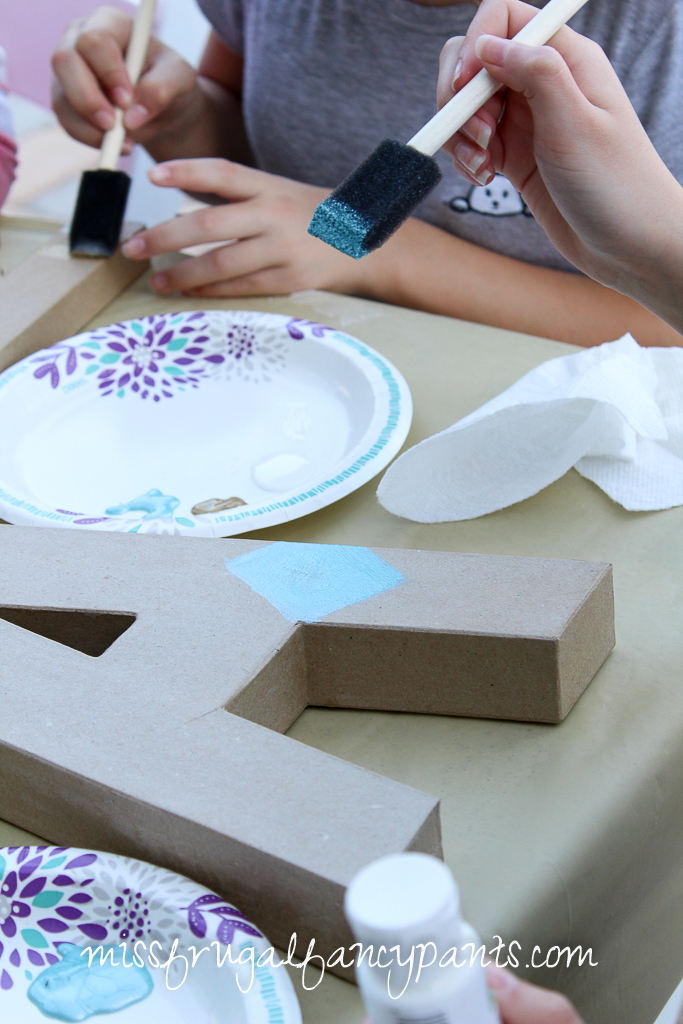 Despite my incessant teasing, they had more fun teasing themselves, and in the end, their letters were all fantastic! My photog skills were not. Don't judge. You get the gist.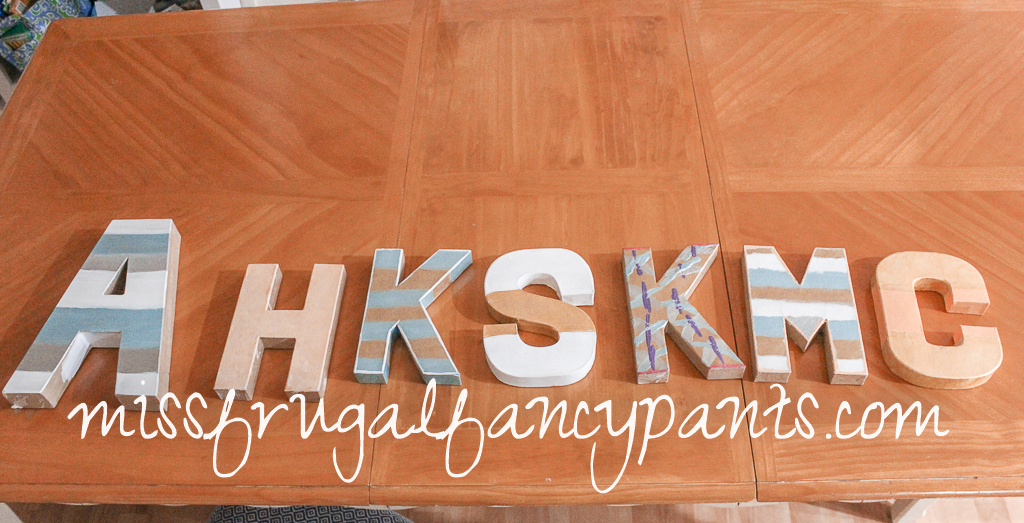 I will say that this was a fun party to create and host. Girls this age can be monsters but when they're in humanoid mode, they are SO funny. My advice is to let your kid roll with their ideas. If they have the right posse, everything falls into place.