I've wanted to do a cabana pool party with Lilly Pulitzer decor for as long as I can remember. My older daughter's birthday is in November so that theme never worked out for her but the little one has a June birthday. I was seeing traditional pink and green cabana decor from the time she popped out! Knowing this party would eventually happen, I began stockpiling random decor over the years whenever I found things on super sale. Target's dollar spot was a serious jackpot for me on more than one occasion. This Lilly Pulitzer Pool Party was so fun to decorate and so funny to discuss because Riley kept calling it her Lilly T. Poler party. 😆 One of my best friends renamed it the Lilly Poolitzer Party. 😉
Lilly Poolitzer Party Round 1
The only issue I had was picking a Lilly Pulitzer pattern. I was torn between a pink and navy palette and the traditional pink and green colors. Just before I finally ordered her invitation, I decided to do a thorough inventory of all the random items I'd been hoarding and realized I'd sort of neglected to stick to either of those schemes and had a hodgepodge of Lilly-esque colors. Fortunately, that actually worked in my favor as I was able to find a multi-colored pattern with flamingos to work with everything I had. The pattern is Peel & Eat and while my end result wasn't anything like my original vision, I was so happy with the outcome!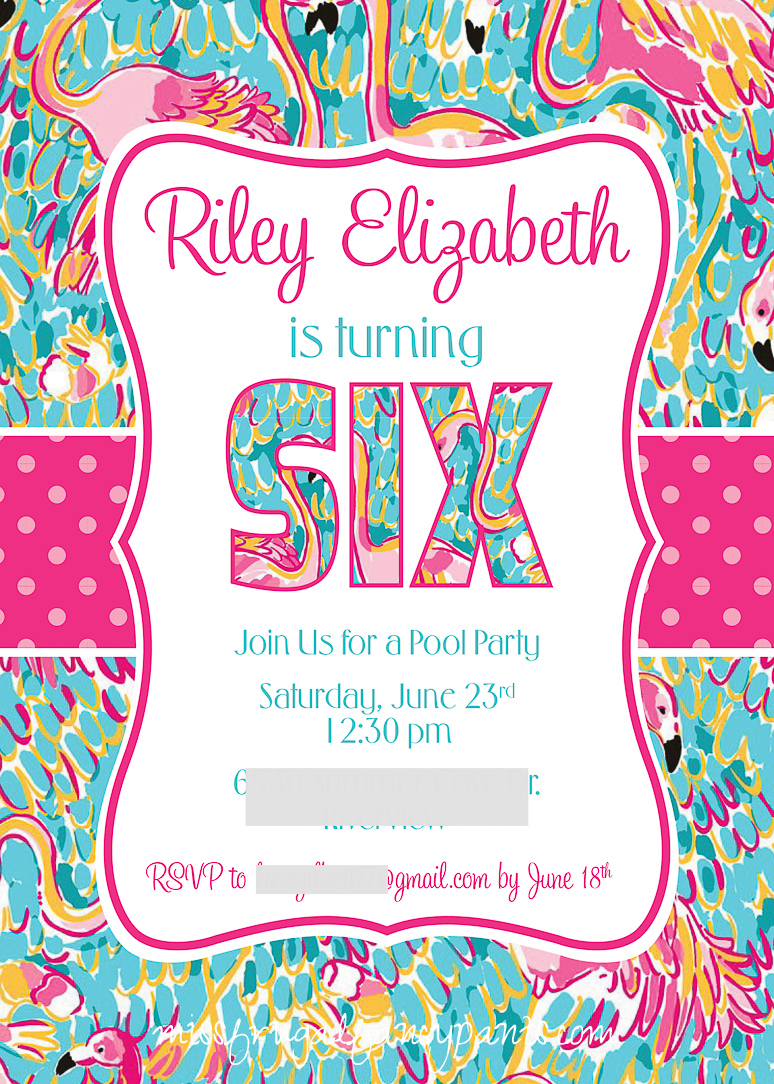 It took me forever to come up with a tropical wreath idea for the front door. I'd just about abandoned the idea when I remembered having a grapevine wreath that I plucked all the flowers off of for another project. I bought a bunch of palm fronds for $6, disassembled them and glued them to the wreath. I had already purchased the WELCOME sign from Michael's and added one of the dollar spot flamingos. Boom. Done.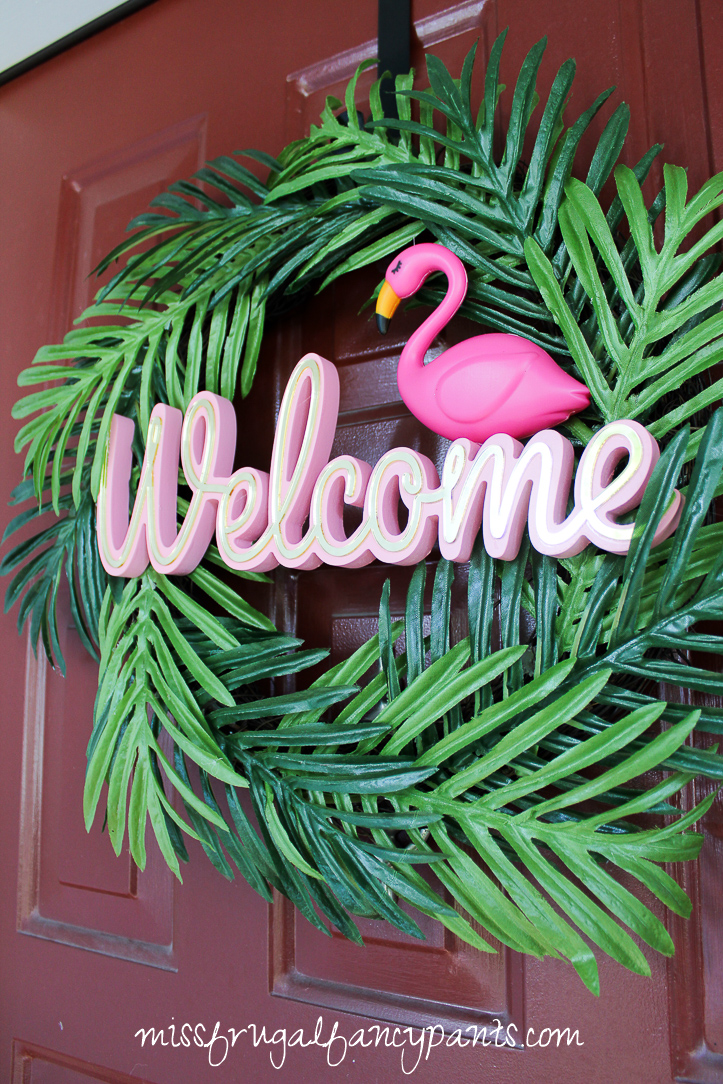 My husband handles all of the gardening and cracks me up that he always plants matching flowers in our front flower pots and our backyard hanging pots. As much fun as he makes of me for being me, he totally still gets sucked into it.
To decorate the cake table, I used some wrapping paper from the coordinated party section of JoAnn's. If you haven't checked out this section (Michael's also has one), I highly recommend you do so, especially if you don't want to think too hard about decorating for an event. I made the banner and ordered the paper fans from amazon, here and here.
I made the flower arrangement for this table and the outdoor table from flowers I'd been acquiring on clearance. I knew I wanted a mix of pinks and greens so they were easy to find in abundance on clearance after spring.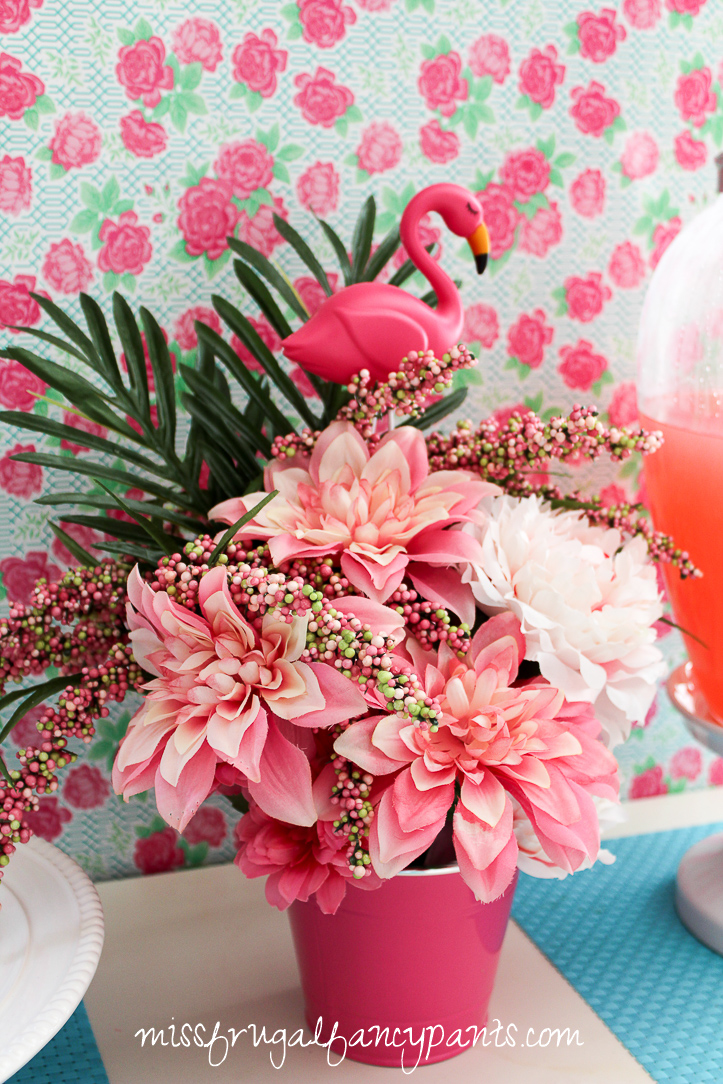 I made the cake topper with my Cricut and after losing my cake lady to retirement and my other cake lady (my niece) to her vacation, I opted for a simple cake and had Publix do it. It was so much larger than I'd envisioned (the photos don't do it justice) but the whole thing disappeared! I couldn't believe we didn't have a ton leftover but we definitely got our money's worth!
The outdoor kids table is always the most fun for me to decorate. I love giving them a crazy, over the top table so they feel like mini fancy pants. This table makes me so happy to look at! Almost everything was from Target's dollar spot! My mom loaned me the silverware and the tablecloth was a disposable one from Target that set me back a whopping $2. Actually, I bought the turquoise one and a pink one so technically they set me back $4. The extra tablecloth turned out to be a good thing as you will see/read at the end of this post.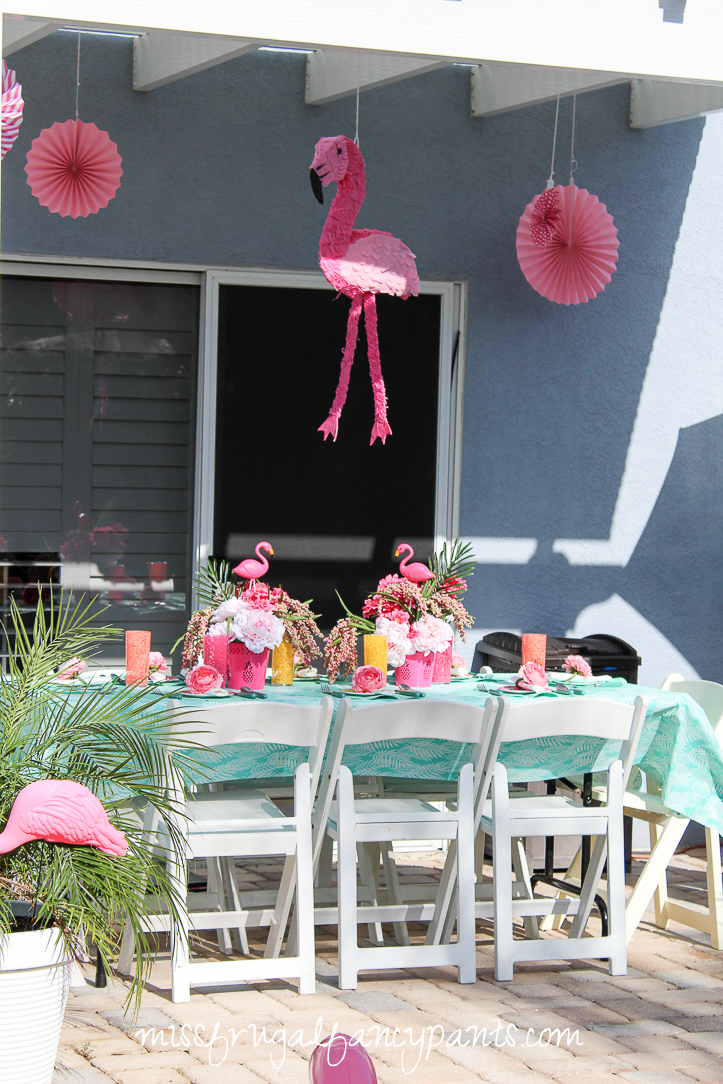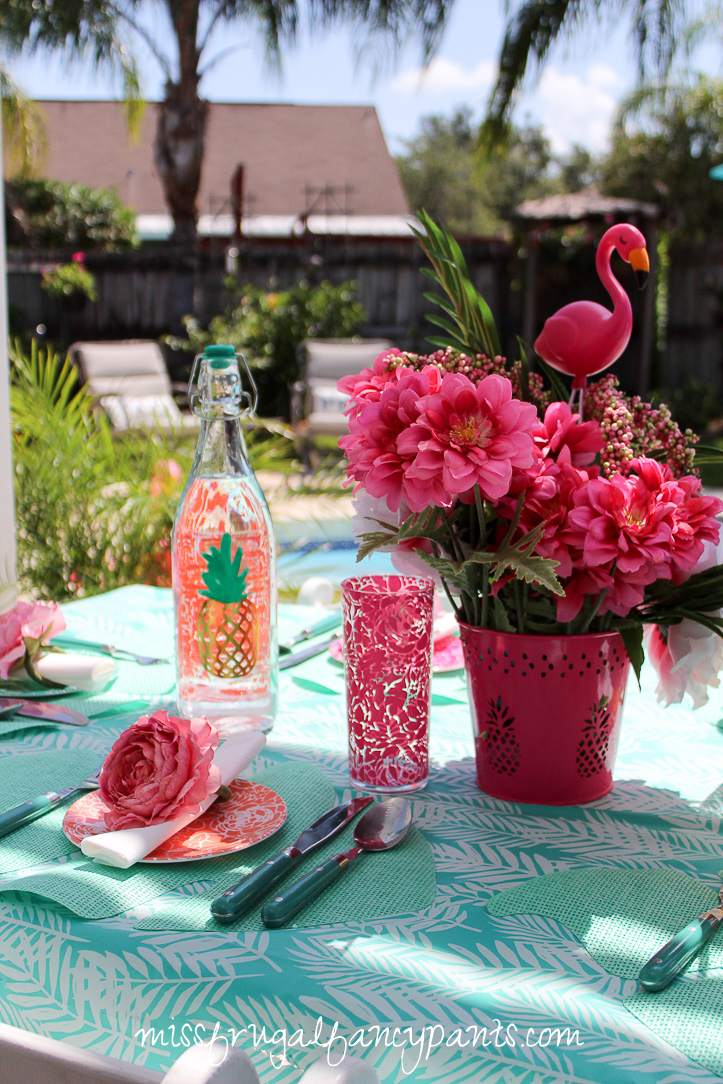 I borrowed my mom's garden cart again (see it in use at this tea party from a few years ago) to put a few poolside treats out for the kids. And yes, it was totally to prevent them from running into the house soaking wet. Guilty. Also, it worked. 😉
The matching popcorn containers were another Target dollar spot find. I told you I hit the jackpot.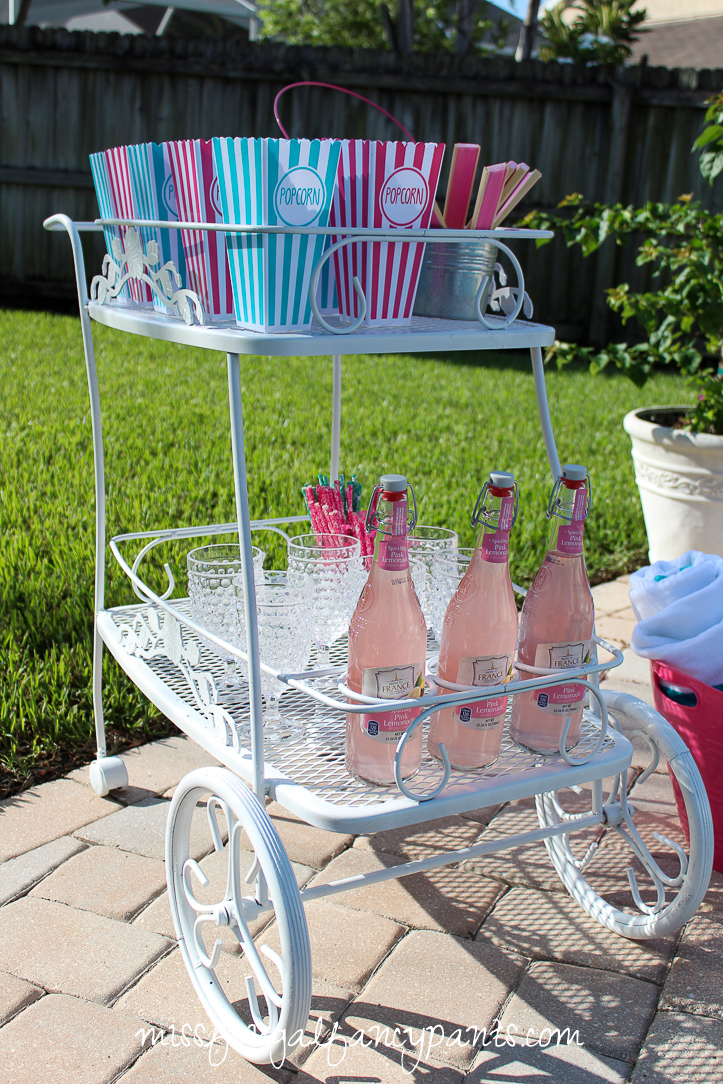 I used my Cricut to add vinyl labels to the "towel" bin and "sunscreen" bucket. I found the Lilly Pulitzer patterned vinyl here. I also used heat transfer vinyl to decorate some plain white Ikea pillow covers I had on hand but didn't get any great pictures of them to show you.
Riley was smitten with the cart and wanted to push it around to serve guests.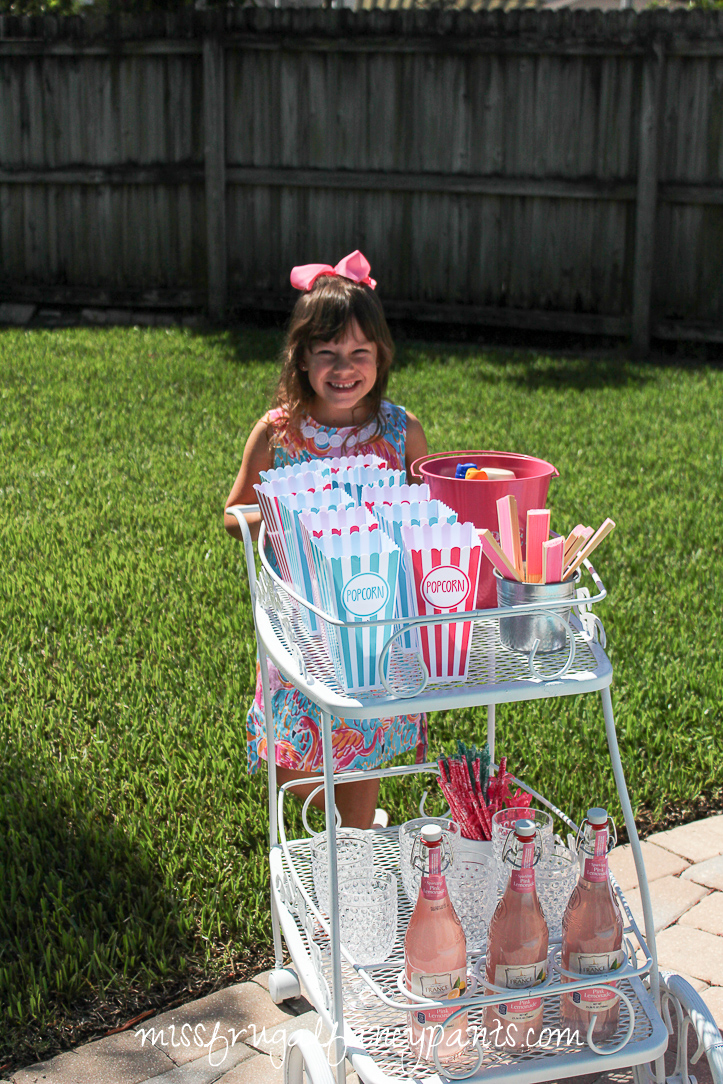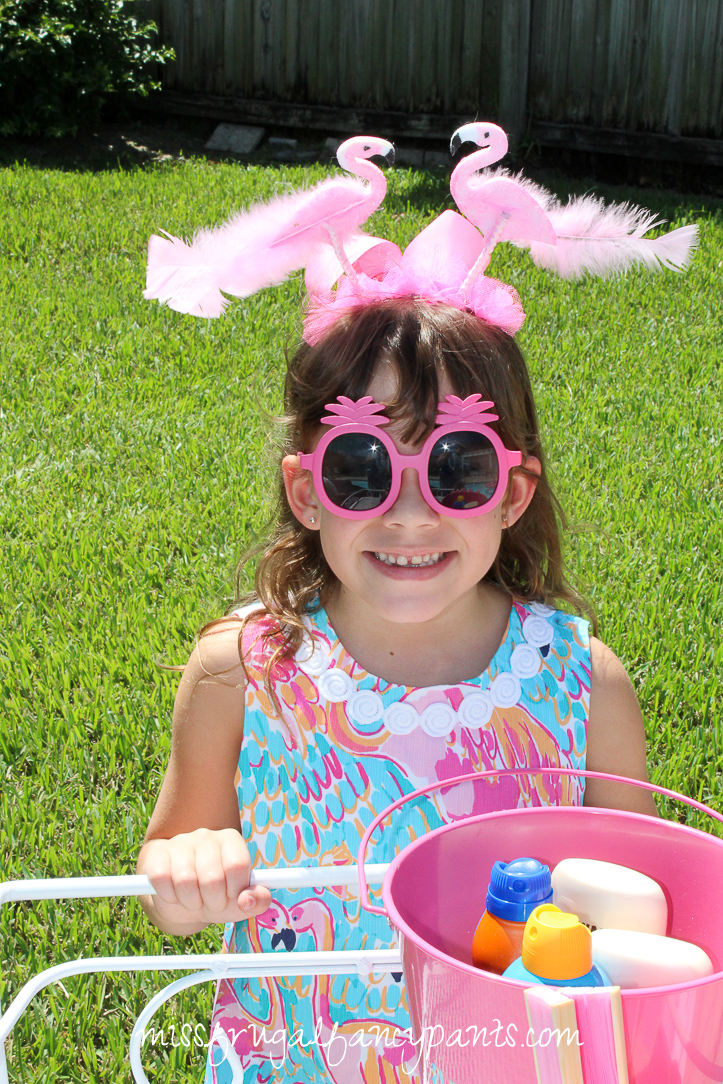 I put some pink paper fans out on the cart in case any adults needed to cool off a bit but they went like hotcakes once the little girls spotted them! I wish I had photos to show you but the ones I took are nothing but blurs. Shocking that I have blurry photos of kids, huh?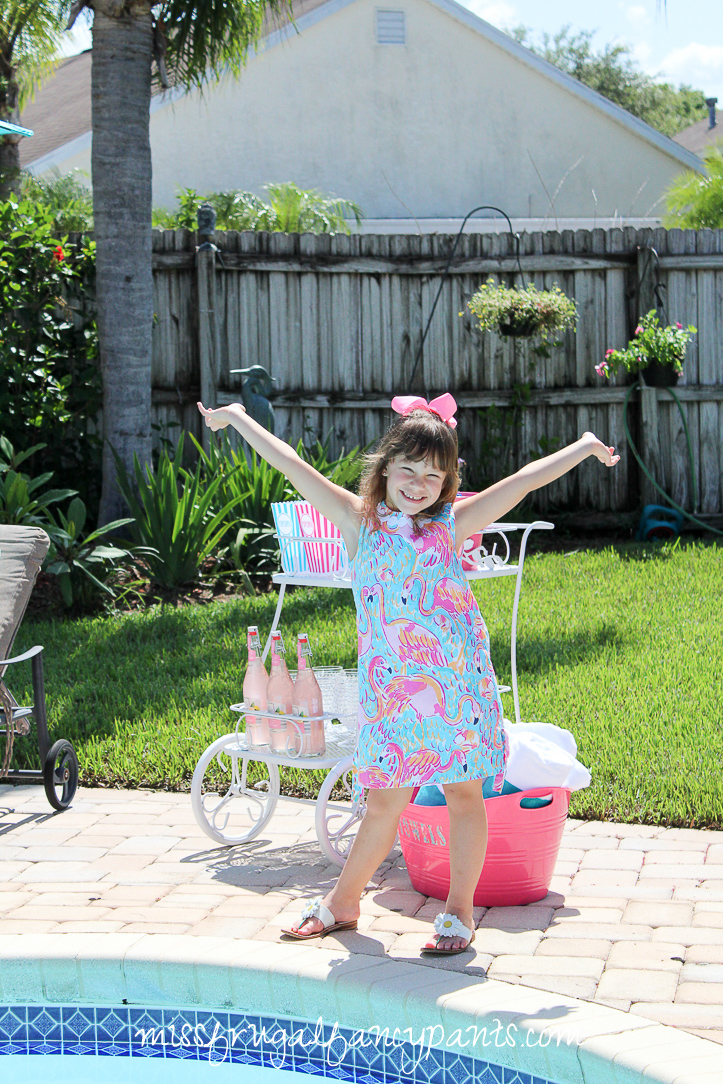 This group is so cute together and they had so much fun in the pool! Also, can I get an amen for having actual swimmers?!?! So nice to let them play while supervising from outside of the pool for once!
And Miss Riley was definitely in her element…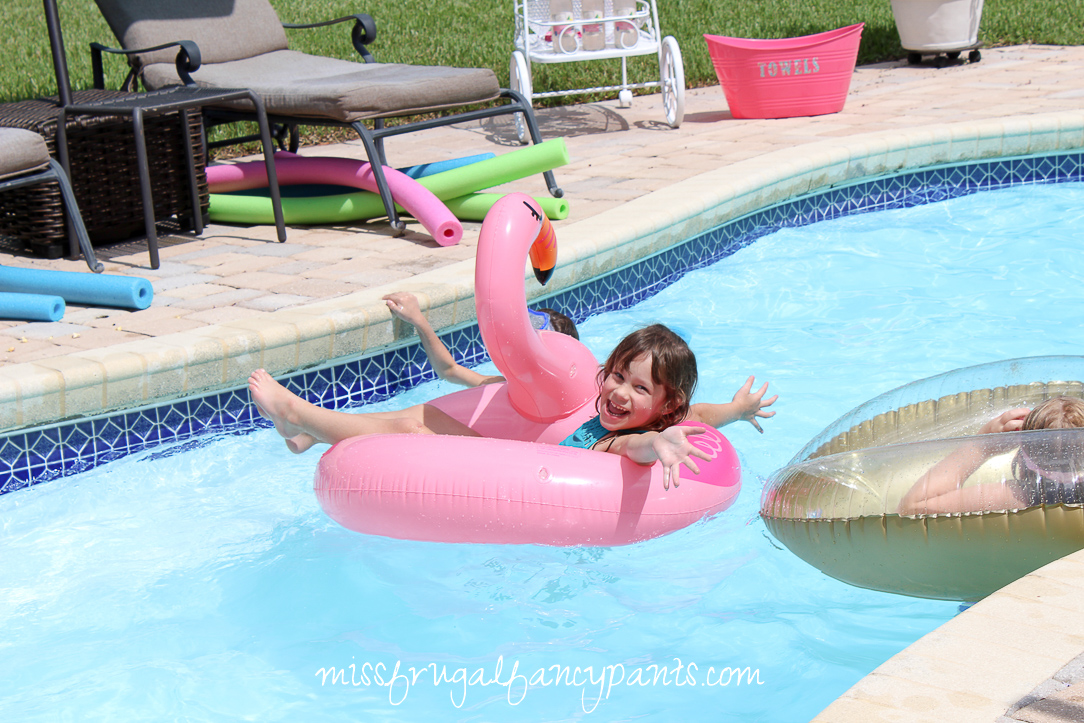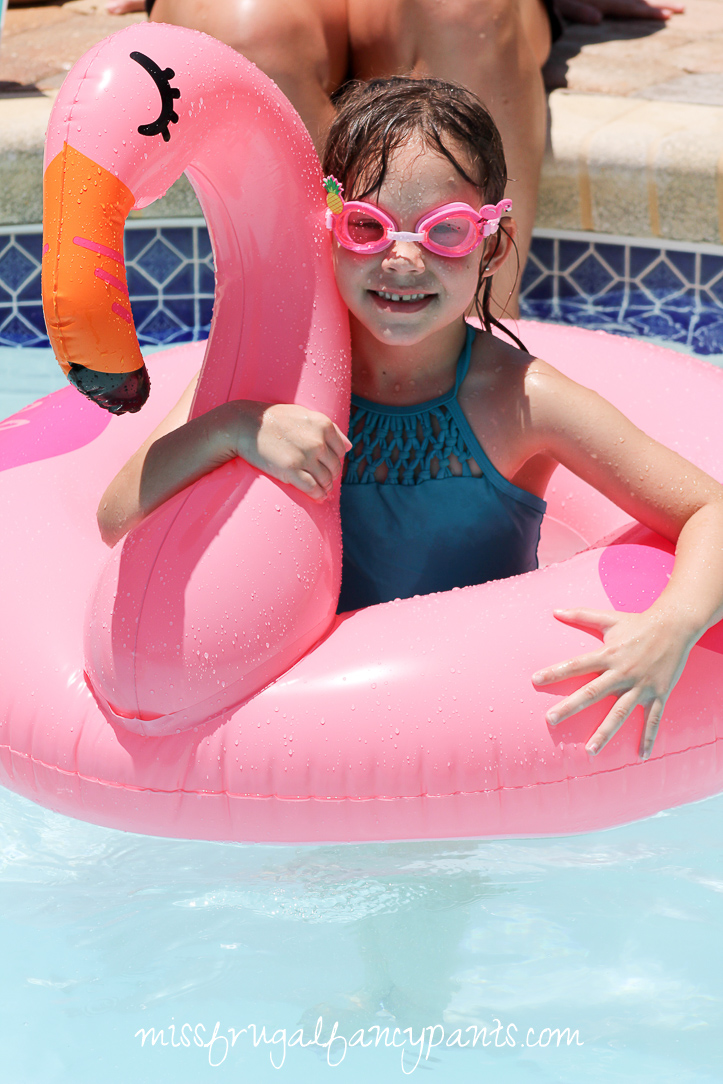 Lilly Poolitzer Party Round 2
Unfortunately, Riley's best friend from school missed her party. In an attempt to make it up to them, her friend came over a few days later for a playdate. I decided to leave up some of the decor and reset the outdoor table for them.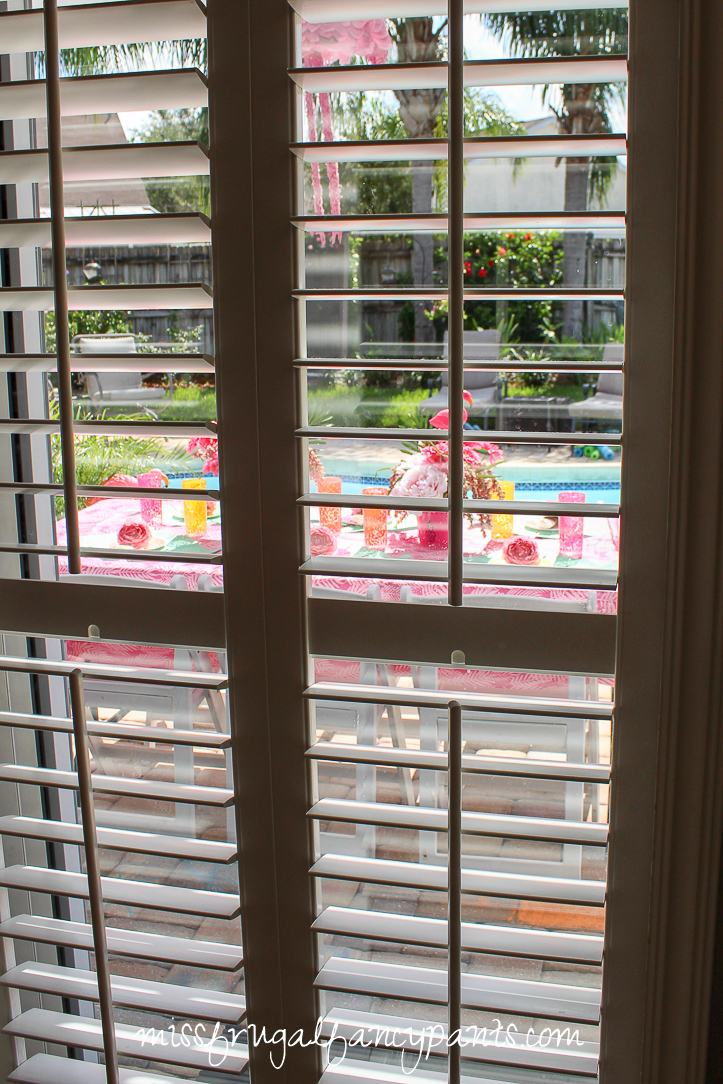 I had already tossed the turquoise tablecloth but since I had the extra pink one, it was no big deal. Of course once I saw the table with the pink one, I couldn't decide which I liked better. Thank goodness I didn't have this dilemma until after the party because I am one indecisive mama and a decision like that would have crippled my party mind. No joke. I totally stress over the dumbest of details. This fact couldn't possibly be why my husband is ready for me to be done with parties. Gasp!
I initially went with the turquoise for round 1 because I thought it was best to break up all the pink but look how pretty it is with the pink. AHHHH!
I love these napkin rings from Pier One. I don't think these exact ones are available anymore but they have a ton of other similar ones and most are on clearance.
I merged the outdoor treat table with the cake table since this round 2 party was obviously scaled down but wanted to show you how cute you can make a single table if you don't want to decorate multiple areas.
I bought cupcakes for their private party and those two little piggies ate them all! Also, the cake topper lost a little of its happiness…it looks sooo saaaaaad now…lol!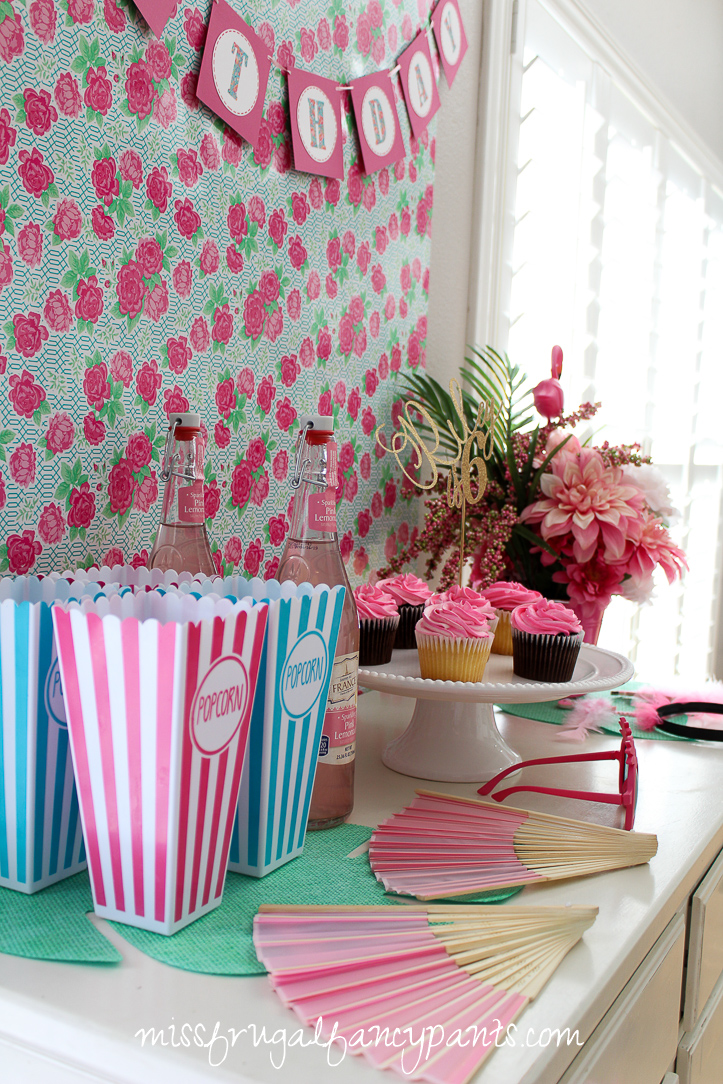 I loved this theme for a pool party so much and am tempted to save it all to put out for future impromptu pool parties. #notcrazyatall