In effort to continue recycling birthday themes, we had tea party, round two this past weekend. While the original plan was to simply duplicate the original tea party from 7 years ago, as I began mentally preparing this party, I decided I wanted to add a little something different and quickly settled on a Vintage Shabby Chic Mad Hatter Tea Party theme.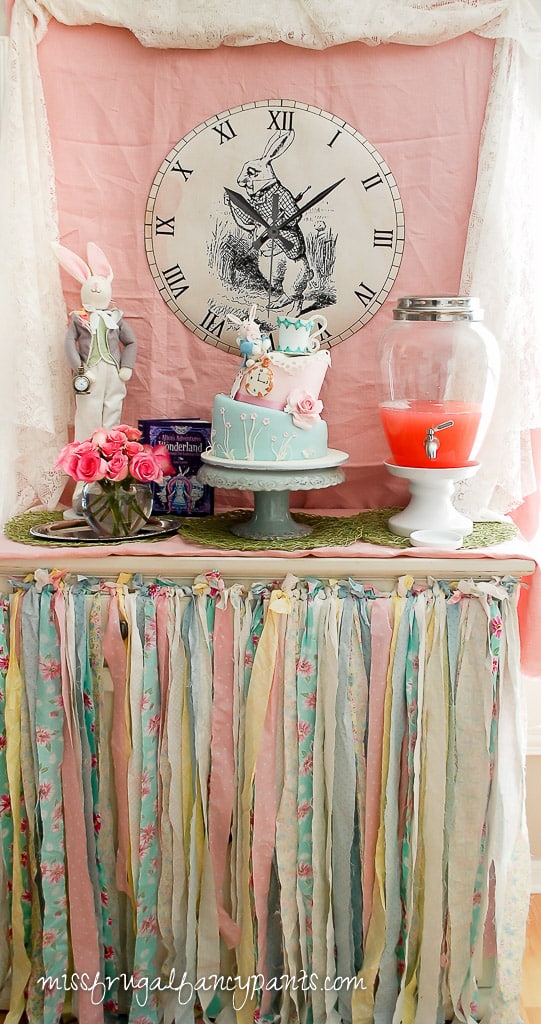 I didn't want it to be an actual Alice in Wonderland party but I was in love with the idea of adding a few simple touches to merge the ideas. Once I discovered this invitation, it was full steam ahead!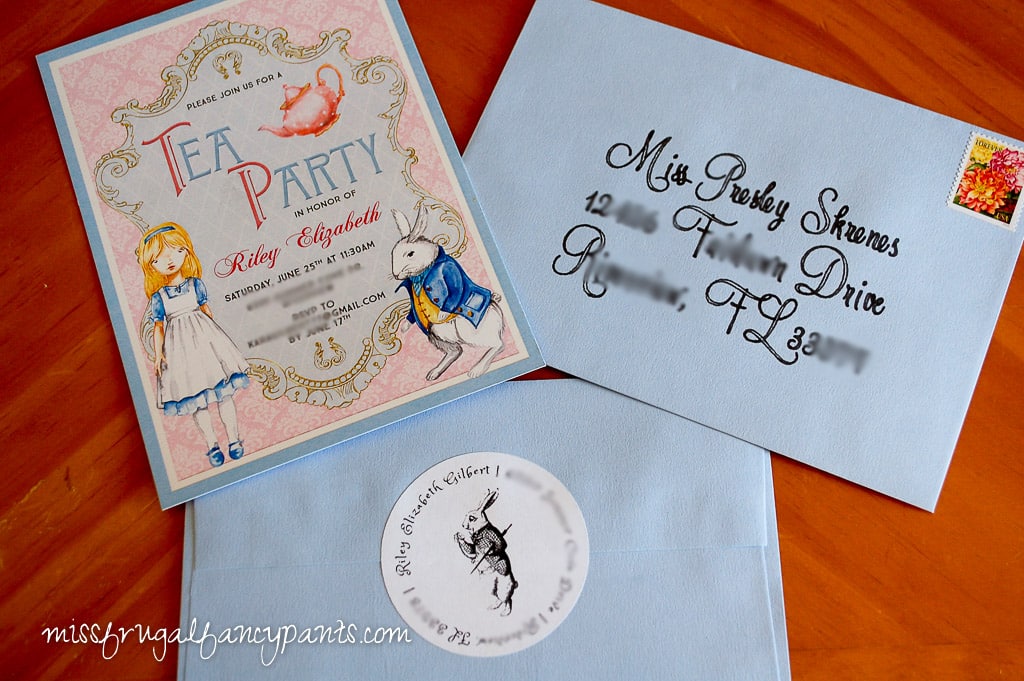 I found those ridiculously cute invitations here on Etsy and I used a combination of Photoshop and my Cricut to make the vintage white rabbit return address labels, which I think turned out great. I also used the same combo to address the envelopes in a fancier script than I'm capable of handwriting but that process was tedious, unimpressive and made me want to speak to the people at Cricut to drastically improve this particular feature as I was pulling my hair out!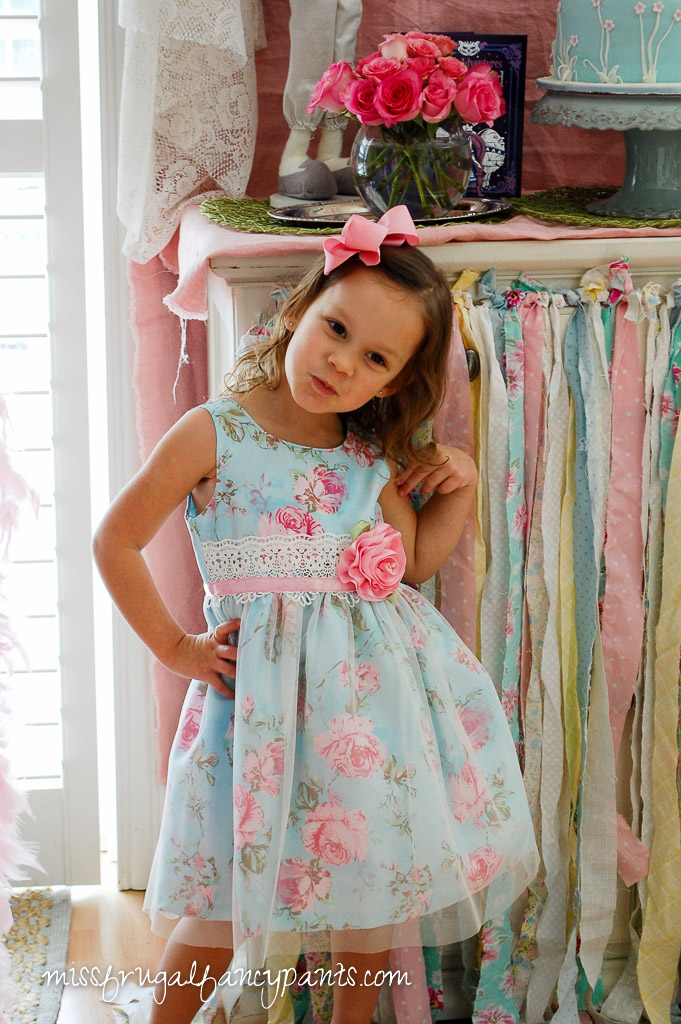 As for the decor, I still had the teacups from our first tea party as well as most of the linens, which were all bought on clearance at Target. I knew I'd need more this time around and found some gorgeous vintage napkins for a steal on Ebay. I also borrowed a ton of items from two of my equally party obsessed friends in effort to keep my spending well within reason. I did purchase a few new items on clearance but mainly used existing items. Oh, and my always amazing ex-boss printed that giant clock for me…she gets major props for it because it was critical in my vision of this table!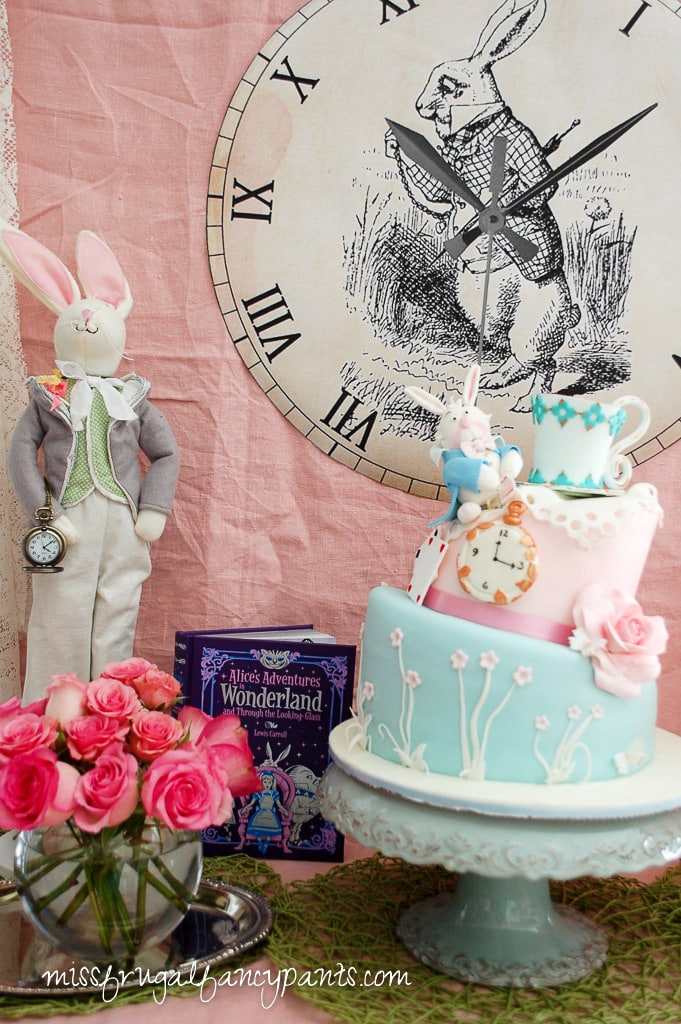 I love how this Easter bunny fit my theme perfectly!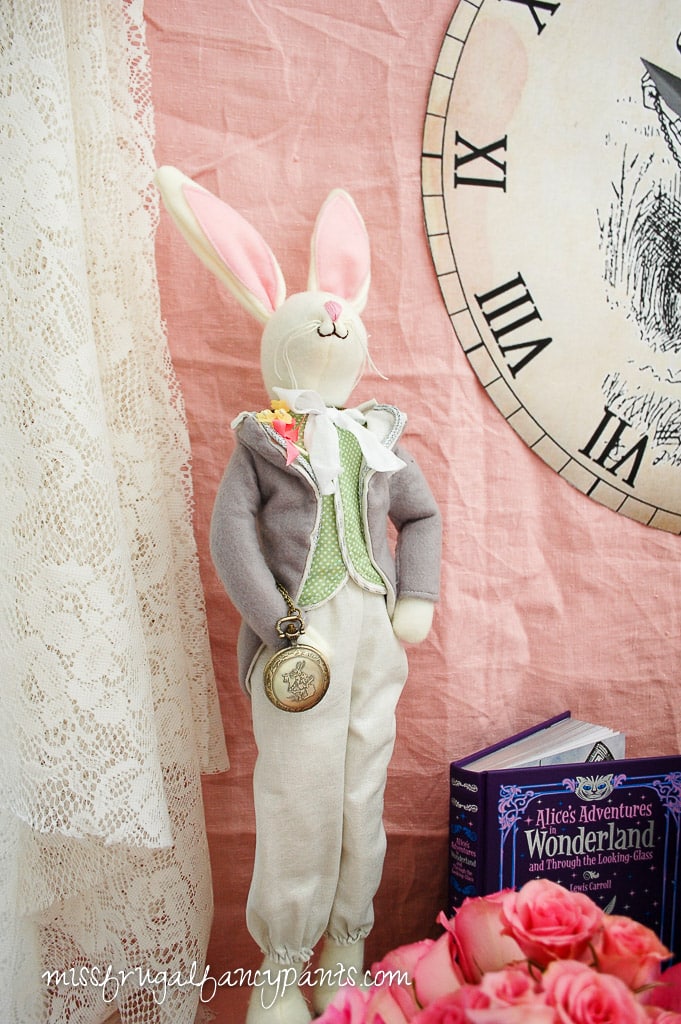 I found that pocket watch on Ebay for a few bucks and my girls are obsessed with it! I'm also gonna take this time to disclaim that while this one, single photo is crisp, my camera is broken and most of my photos are horrible these days! So please pretend you don't notice any blurry photos, K?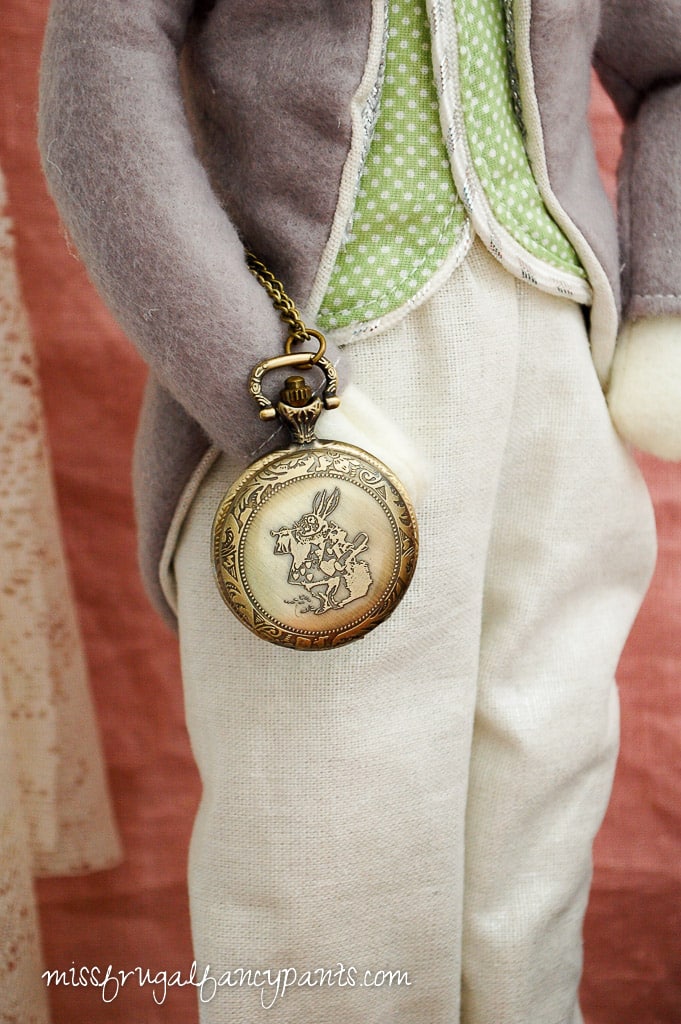 I used the pink linen-like fabric as a backdrop and flanked each side with the lace fabric. Both were borrowed so I didn't want to cut them, which is why they may not look at perfect as they should. But hey, shabby chic, right? 😉 This lovely fabric strip banner was also borrowed and worked out perfectly as a skirt…almost…that bad boy did NOT want to stay in place so we I finally got mad at it and shoved it in the drawers of my "bar" to stay up. Whatever works…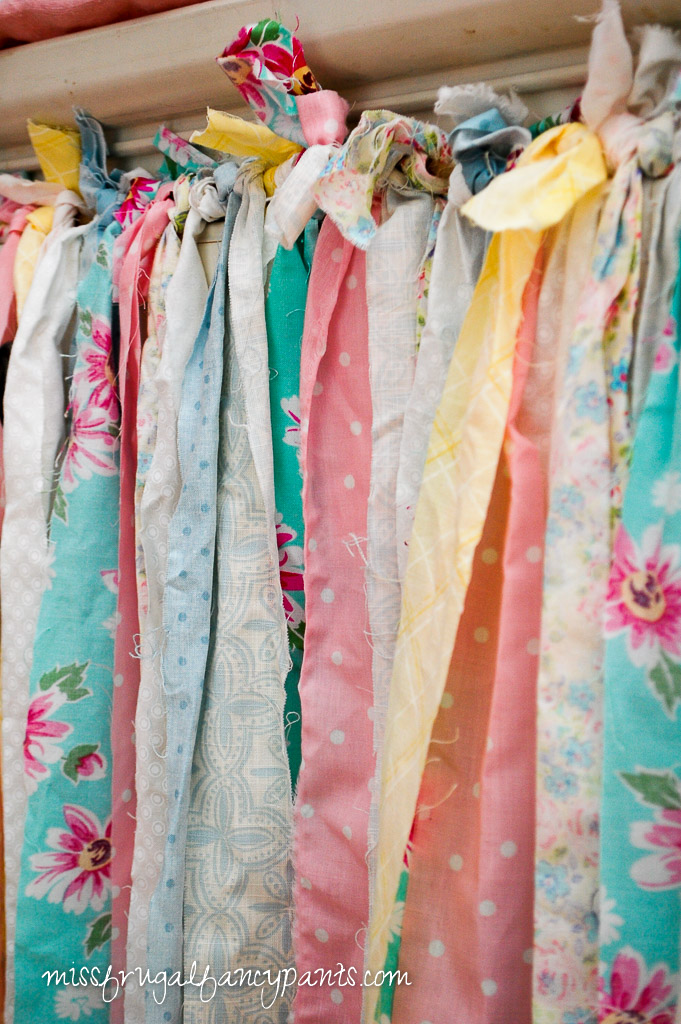 Gotta have pink roses…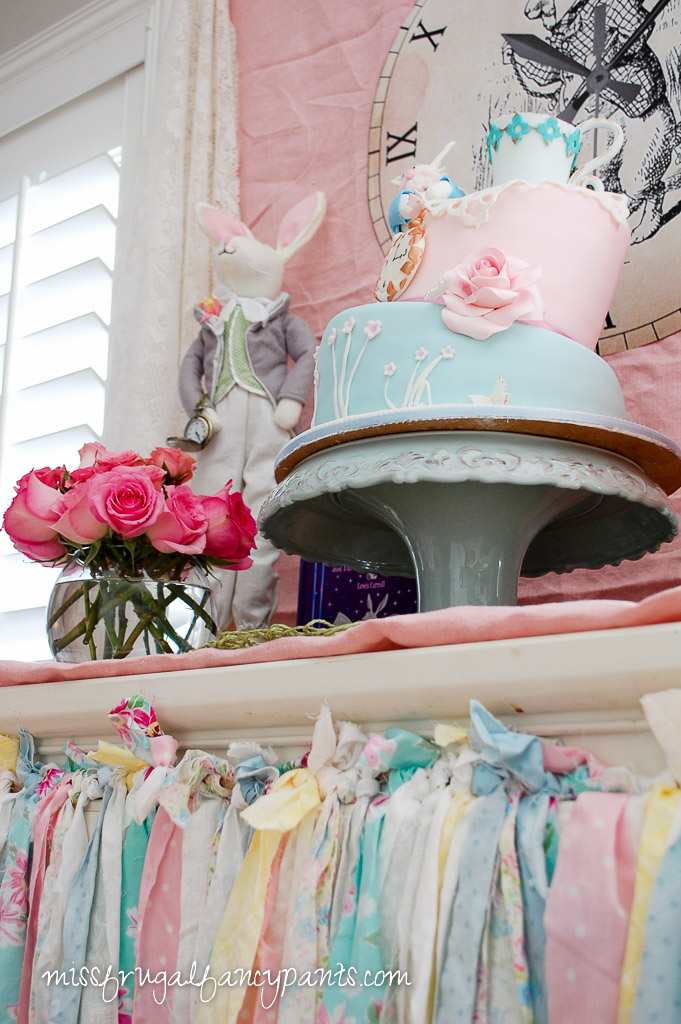 Apparently, light pink roses are non-existent in my neck of the woods in June. Six stores and I was lucky to have anything that wasn't yellow. I went from Fancy to Cranky Pants pretty quickly as I raced around in 100 degree heat!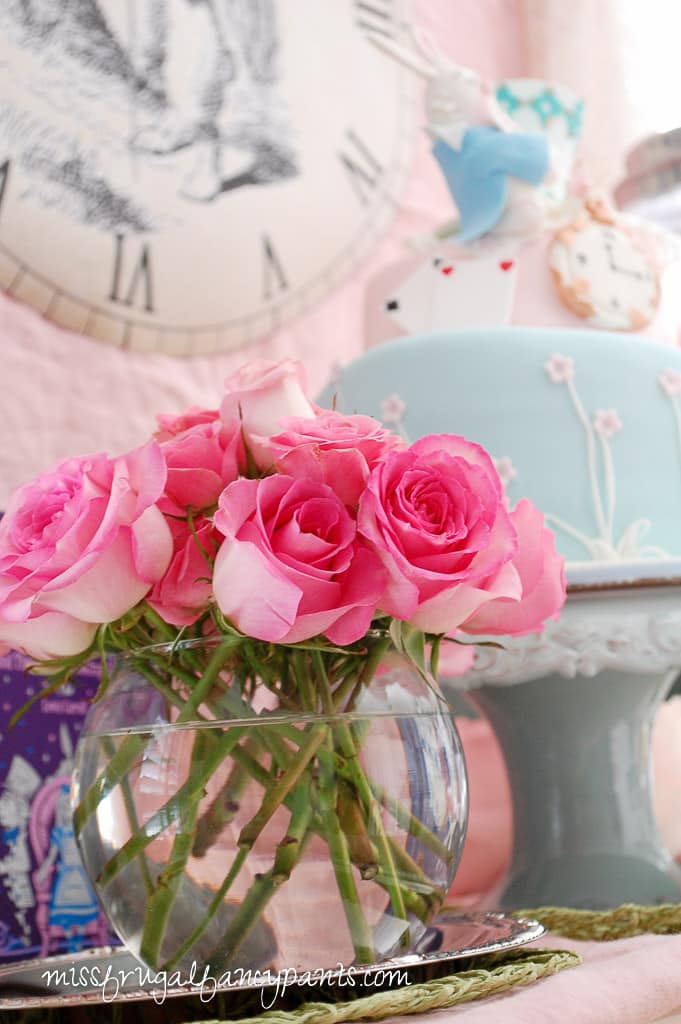 But the cake. Can we talk about this cake?!?!?! I die.
I used a new to me bakery, Heavenly Sweets, and to say they outdid themselves is an understatement! They made exactly what I wanted and I completely embarrassed my 11-year old when I squealed and jumped up and down when they revealed this masterpiece to me. They will definitely get repeat business from this one. Everyone I spoke to was so sweet and helpful, but they truly made the centerpiece for this party!
I bought this book for the birthday girl when I decided to rev up the tea party theme and figured I had to put it on display. Little did I know that so many guests would be so intrigued by it! It was passed around and flipped through so often that we thought the book had legs of its own…which isn't unreasonable given the story…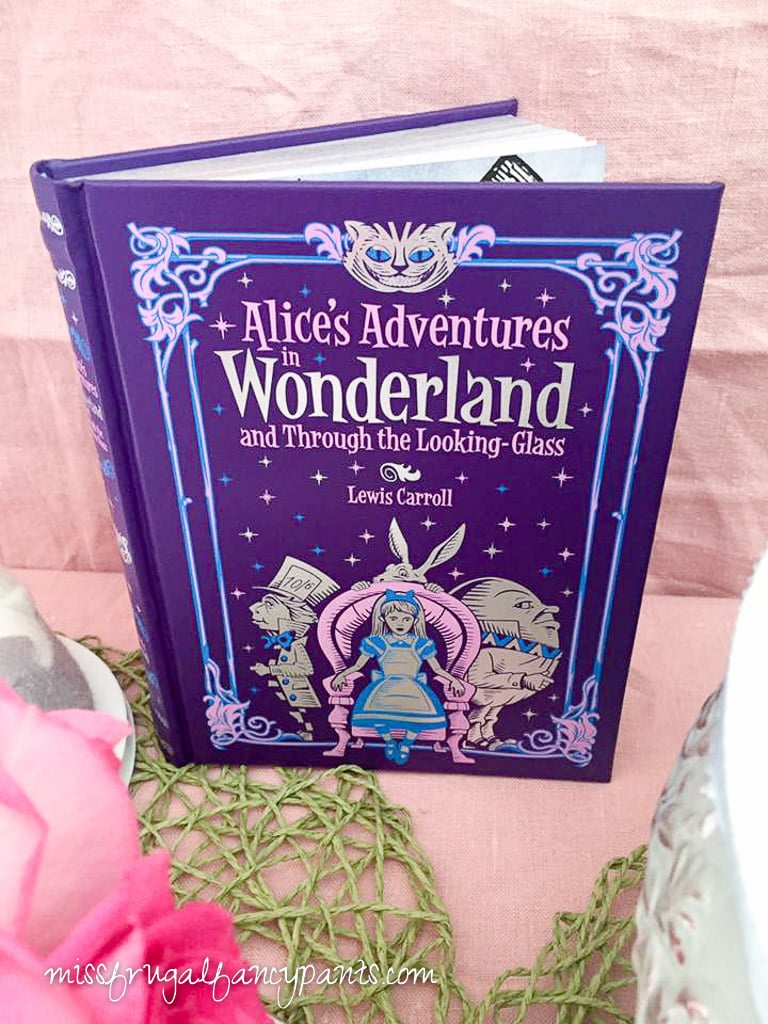 I let Riley choose the artwork she wanted to frame as extra decor and this was her favorite…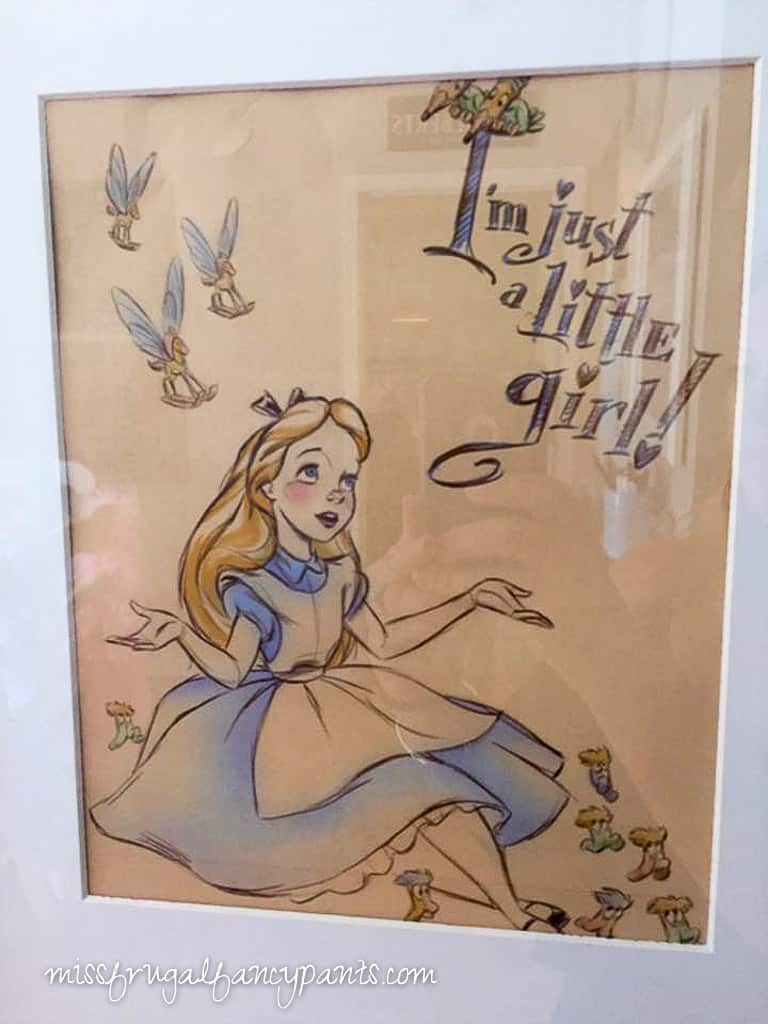 I set up our living room with fun, borrowed items to serve the adult food.
Menu
Fruit Cups: I put blueberries, raspberries and mandarin orange slices in mini cupcake cups
Mini Quiche: The only thing I didn't make. Bought them at Costco!
Chicken Salad Croissants: I make my own concoction with chicken breasts, mayo, tarragon, grapes and almonds
Caramelized Onion & Roast Beef Tea Sandwiches: Recipe Here
Egg Yolk Butter & Asparagus Tea Sandwiches: Recipe Here
Cucumber Tea Sandwiches: I cheated and spread Vegetable Cream Cheese on Bread w/ Sliced Cucumbers
Turkey & Cranberry Tea Sandwiches: Smoked Turkey, Cream Cheese mixed with Dried Cranberries & Spinach
I attempted to take photos of the food but it was flying off the plates too fast to get a photo of anything other than a half empty plate!
My mom recently acquired this outdoor cart in a very rusty state and was kind enough to loan it to me, provided I paint it. Sold!
I generally try to use real plates but I couldn't resist those paper plates. I had to stalk Amazon to find them in the patterns I liked and for what I was willing to spend, but here is a link to ones currently available.
I borrowed all of this gorgeous silver from those two crazy friends and am having a hard time packing it up to return…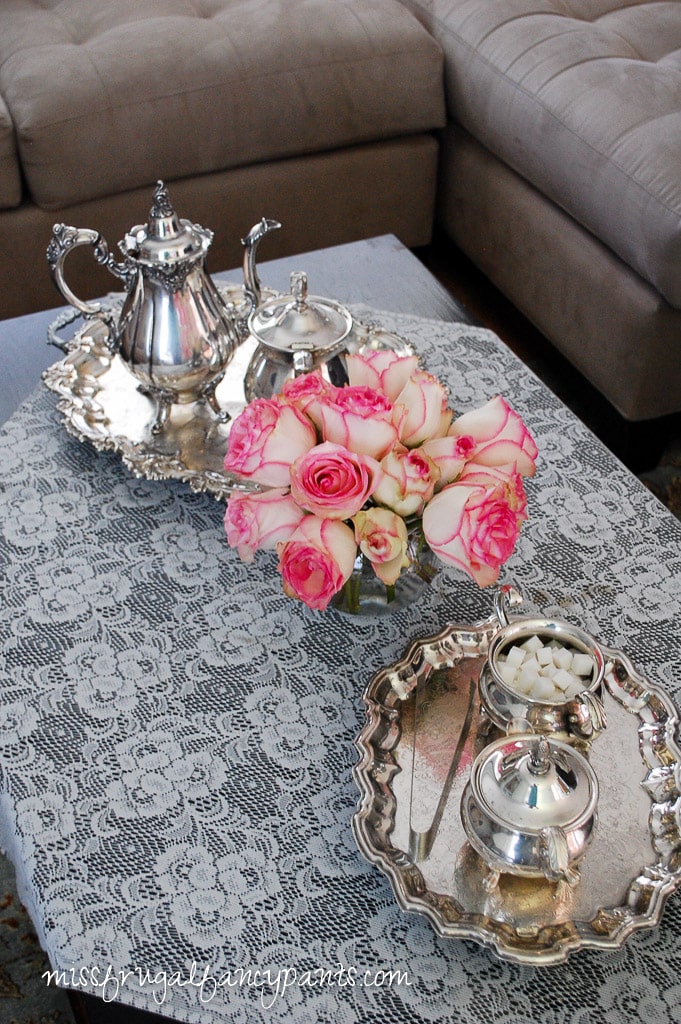 Both of my girls and my mom were kind enough to polish all of the silver for me one day while I was at a doctor appointment. I'm eternally grateful to them because I loathe polishing silver. Loathe.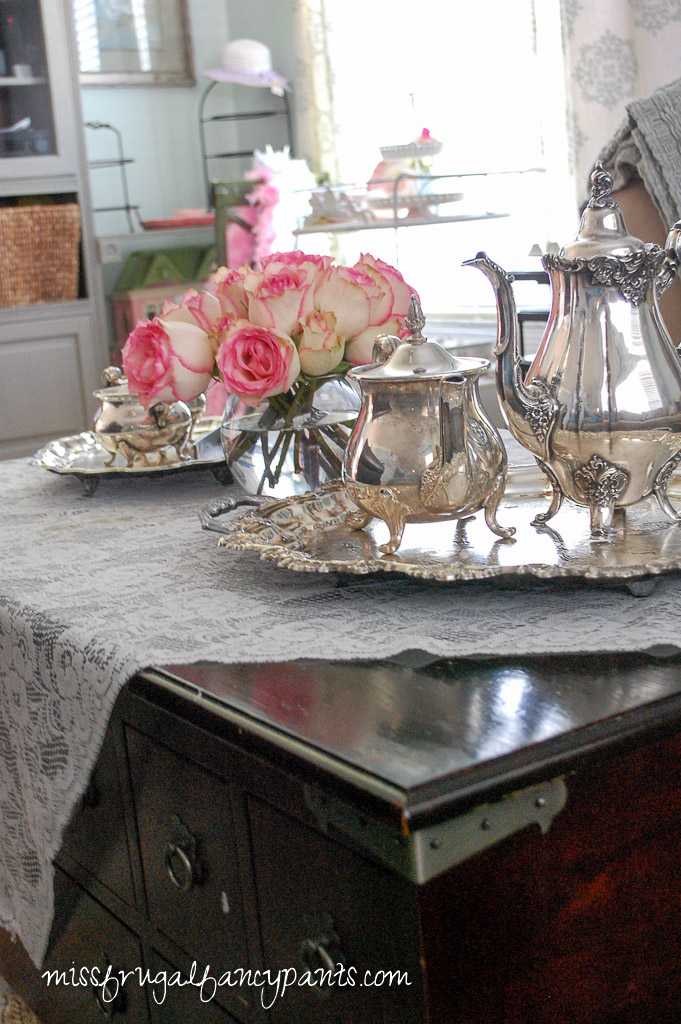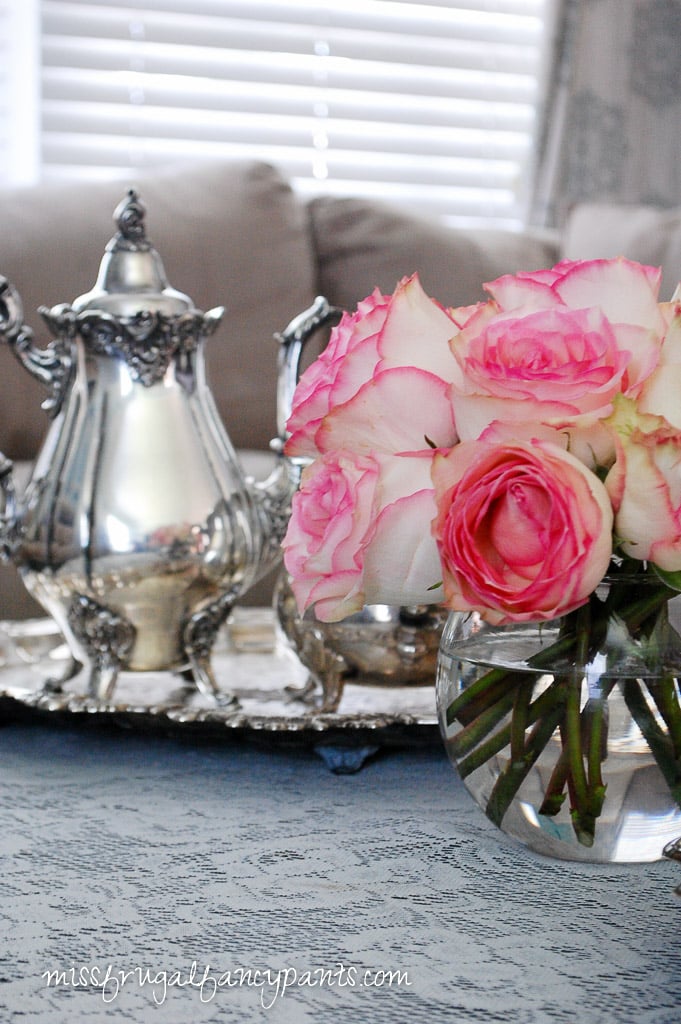 This was my 11-year old's addition to the living room decor…love it!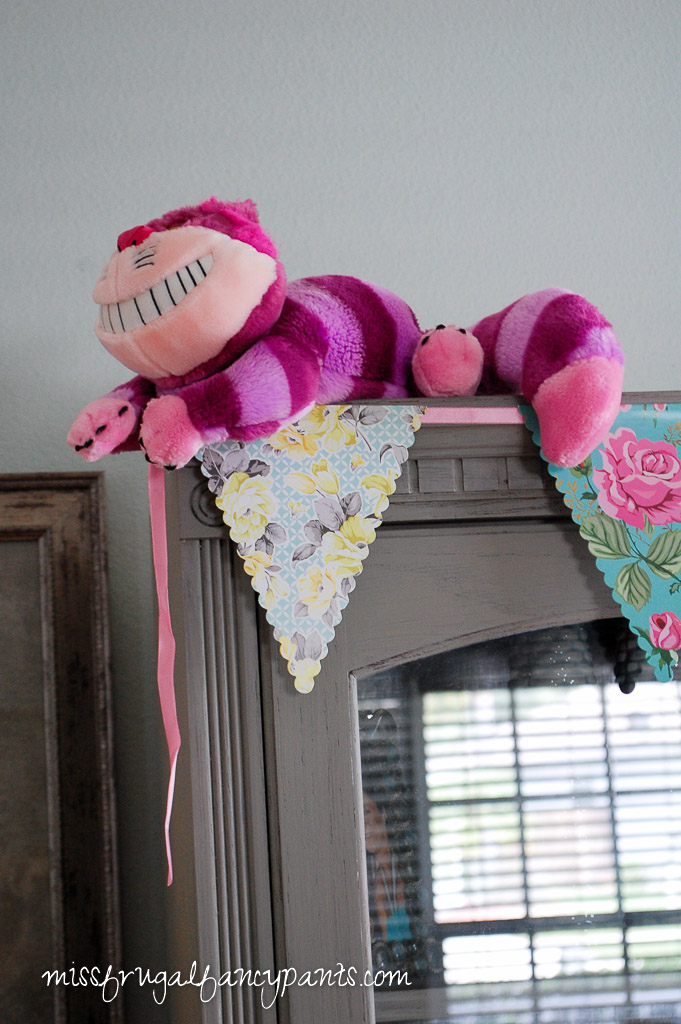 And Mr. FFP insisted we play the movie on a loop.
Those hanging linens are NOT supposed to be there. I hung them up while I tended to something at the last minute and forgot all about them. I didn't even realize they were there until I saw this picture after the party. I love that as obsessed as I am over details, I always do dumb things like this. #adderallanyone?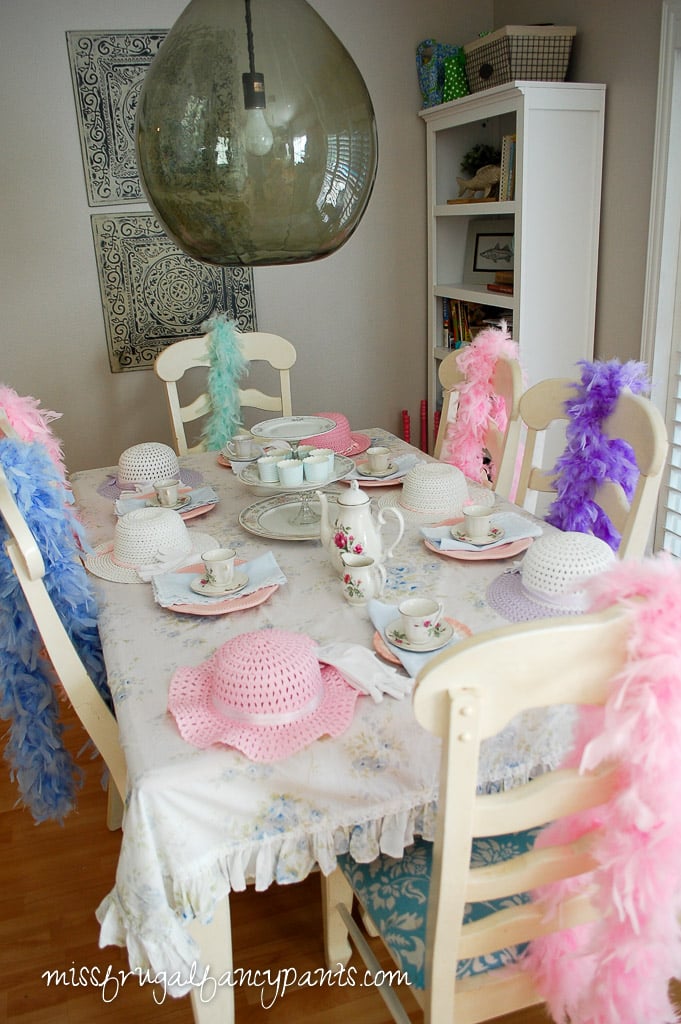 Okay, back to the details. I set the table for the little ones the same way I did last time. I ran around town during Easter to snag all of the hats and gloves from various dollar stores and Target's dollar spot because ordering the same stuff online prior to Easter would have cost me double/triple which was not an option.
I finally found affordable feather boas on Ebay but it took serious patience to find ones in my budget. No clue why those things cost so much these days? And my house looks like a flamingo went bananas in it from all the darn feathers!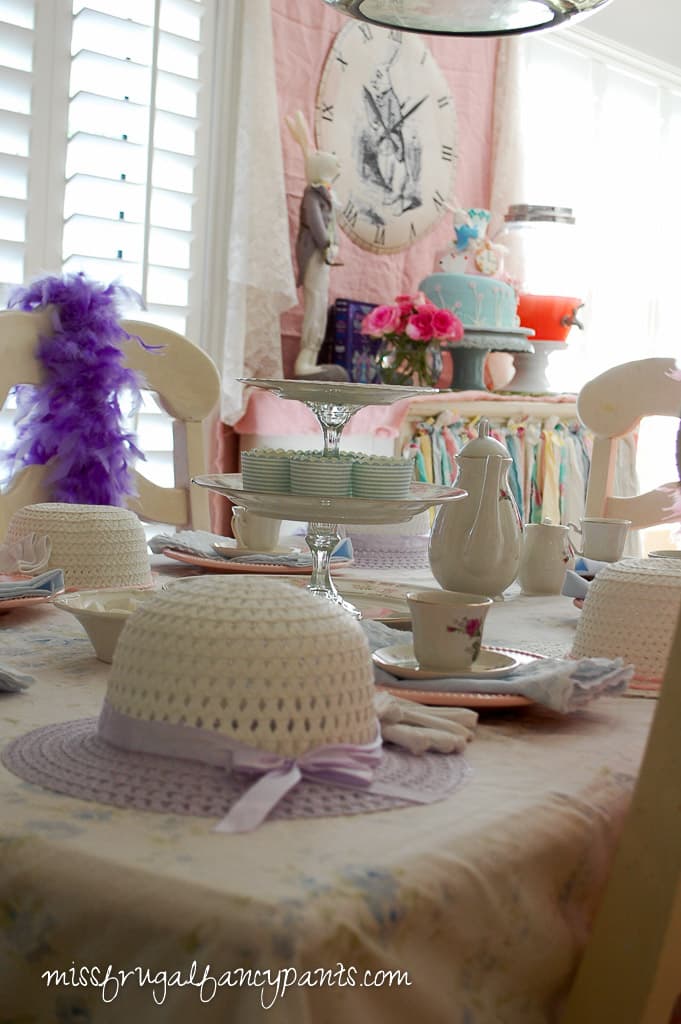 As I'm droning on about what you are looking at, I should add that the birthday girl was beyond smitten with all of these details. She gasped and thanked me no less than a thousand times this past week as she watched me put things out. She's the most grateful child and just melts my heart. She's also the funniest child around and likes to class things up a bit…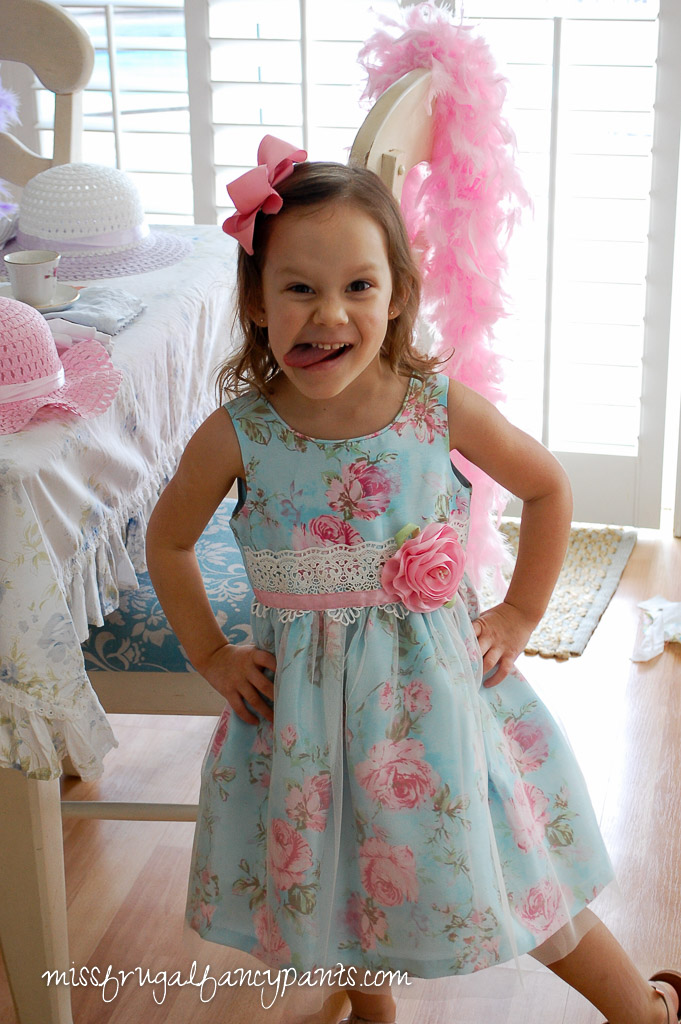 Once the girls were seated, it was pure pandemonium up in here…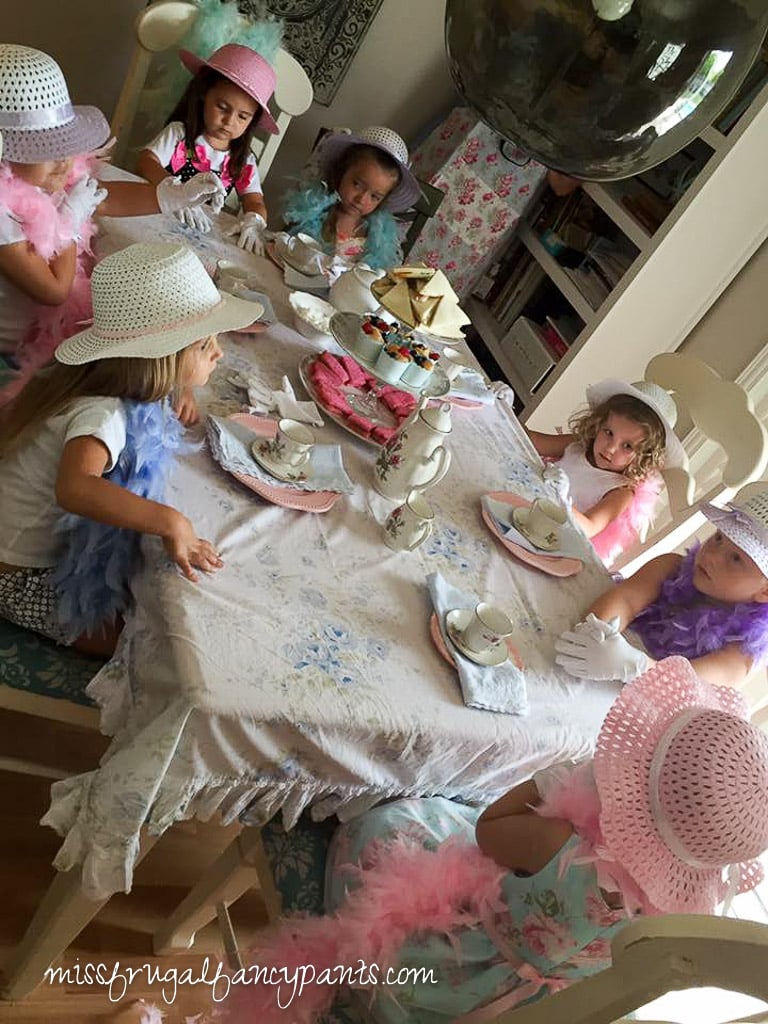 …complete with paparazzi.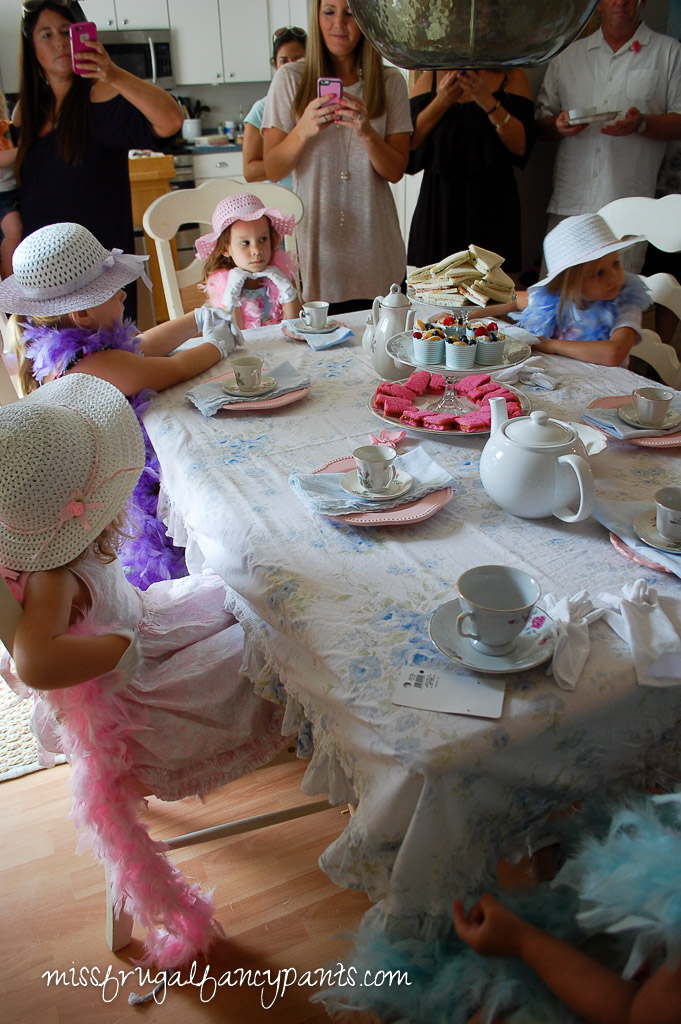 They were so stinkin' cute.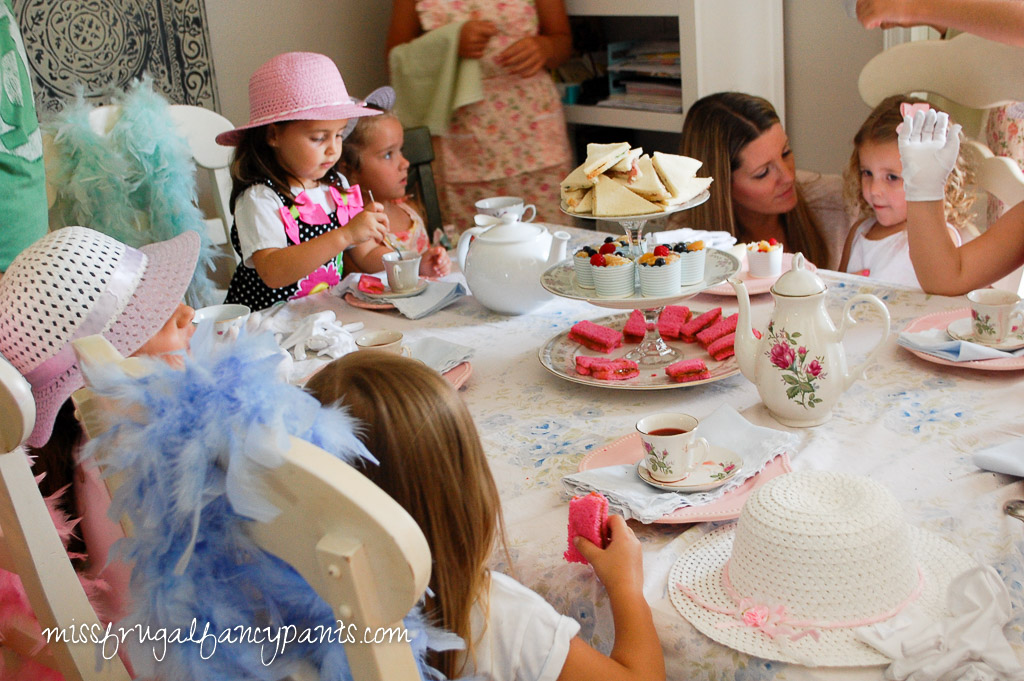 And my child is the queen of poses…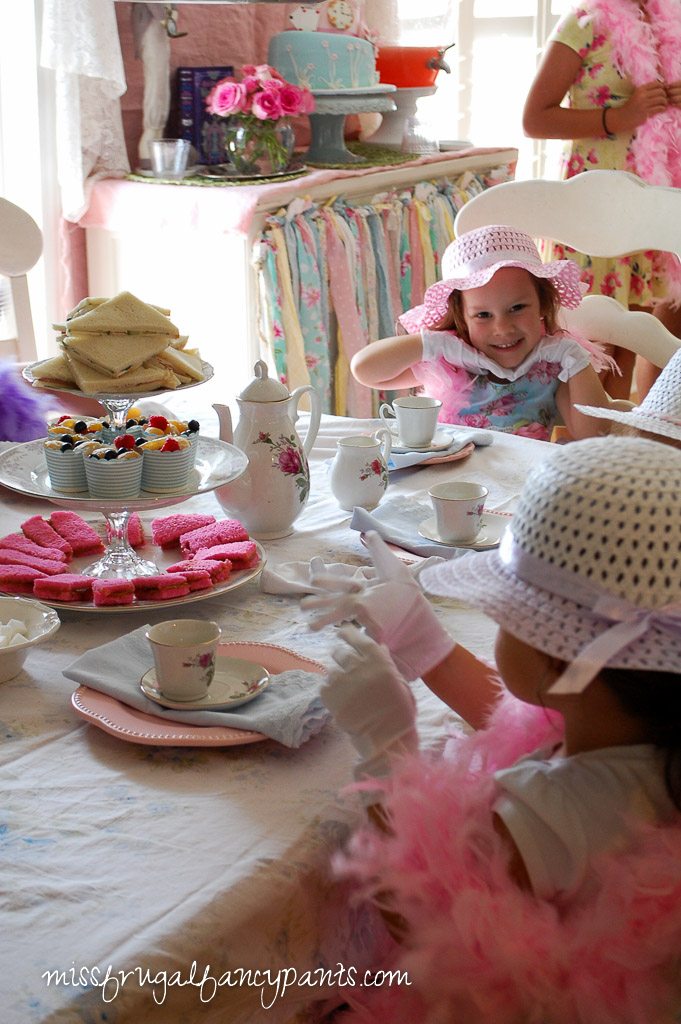 I also managed to convince my 11-year old and her BFF to don these aprons and serve the little ones. They love Riley so it didn't take much convincing.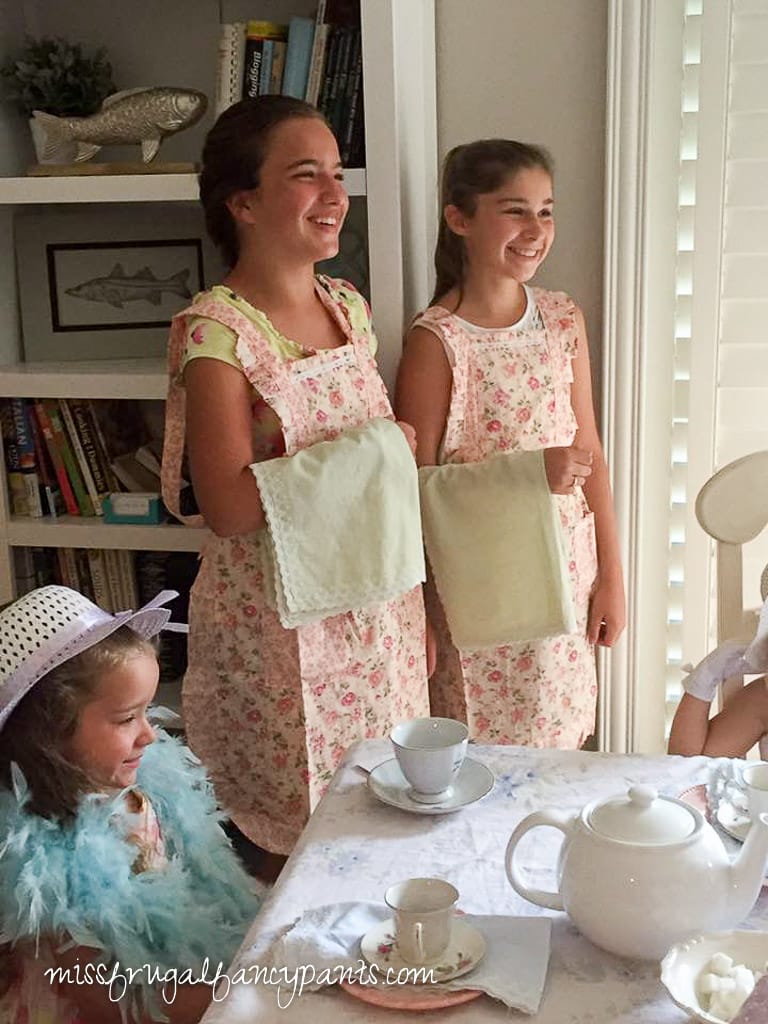 I made simple tea sandwiches for the girls. PB&J (Publix will dye and thinly slice your bread, fyi), cucumber with veggie cream cheese and plain Jane turkey and roast beef to accommodate any picky pants. I got a little flustered as I was trying to get the food out and am still laughing at how upside down and bass ackwards I made this tiered platter for them. #thingsnottotdo #notfancy
But she was soooo happy!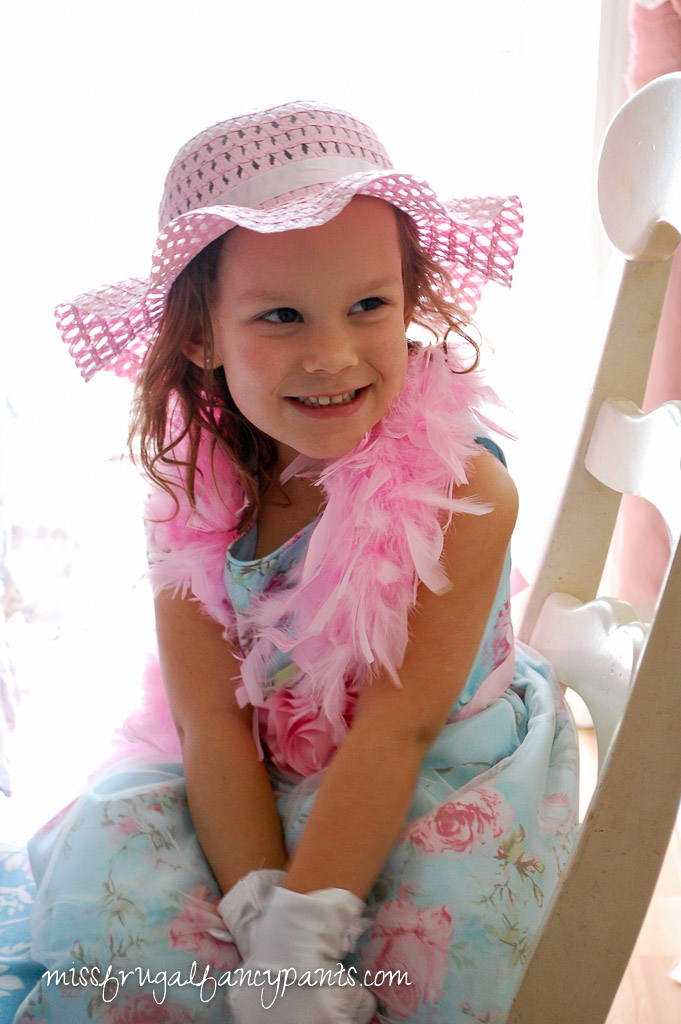 Watching 4-year olds attempt to drink hot tea is hysterical, fyi. One of the littles was caught drinking milky water with approximately 6 sugar cubes. Maybe 16 sugar cubes.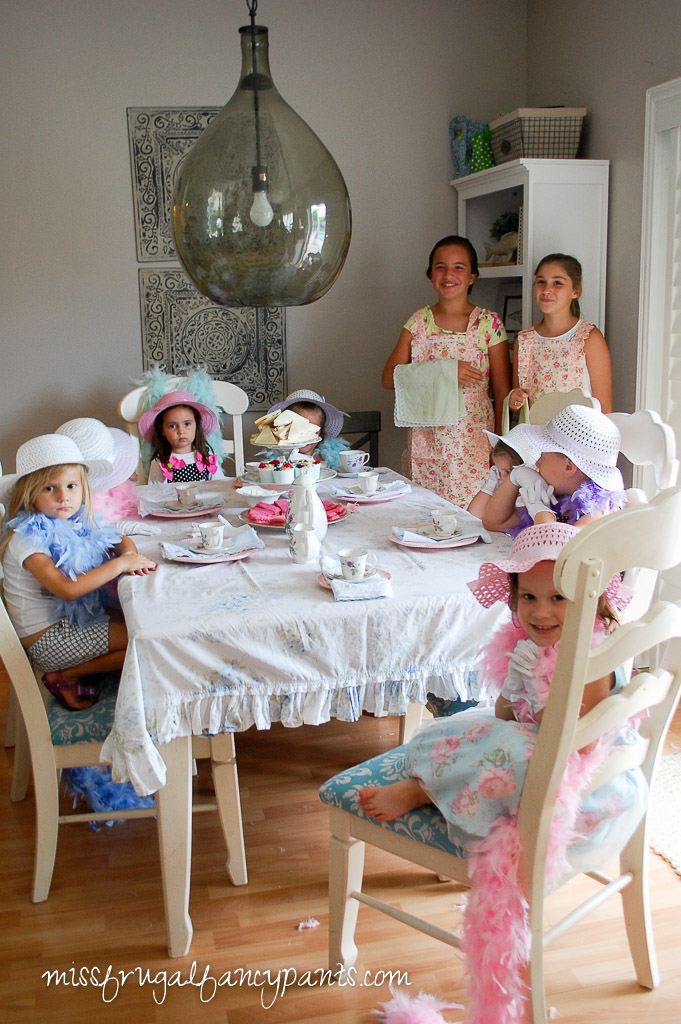 But that cake. Swoon.
Not sure why this photo is so grainy but it's my favorite.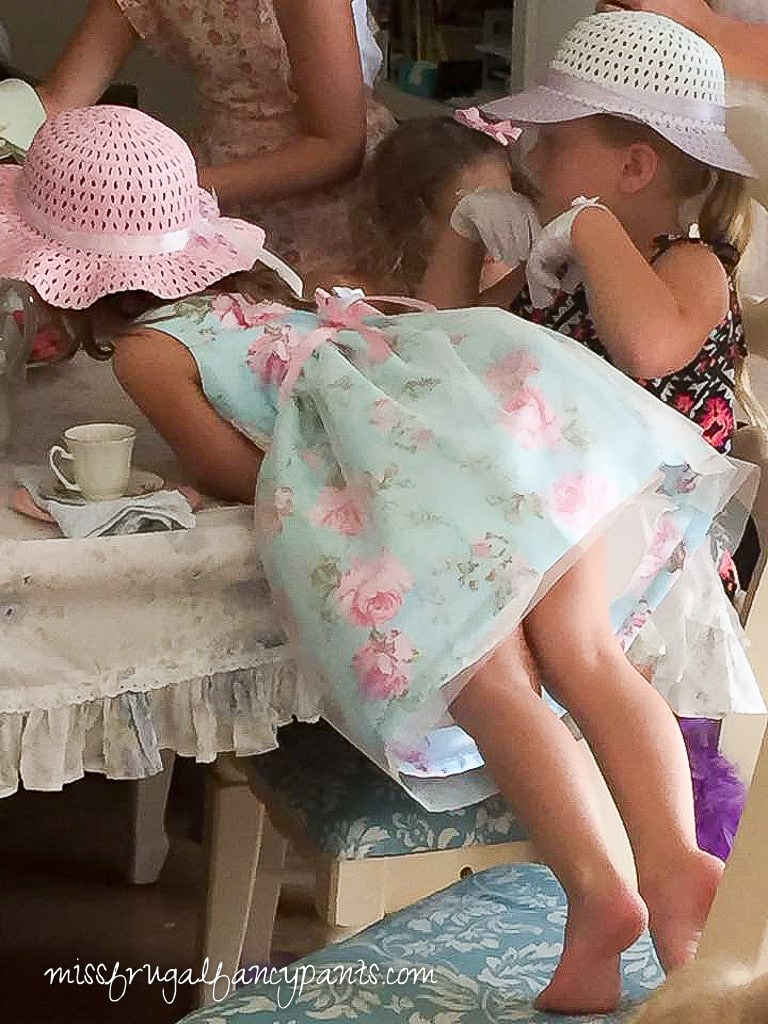 And that's a wrap, folks. Miss Riley was happy as a clam and made all planning efforts 300% worth it!
Happy Tea Time!
{Affiliate links provided for your convenience.}