As much as I love decorating, the frugal side of me prefers to design a room that I'm sure I will love for a long time. I had that exact concept in mind when I decorated my first born's nursery. I was never a fan of character themes and preferred girly colors that could grow with her. The idea of having to redecorate her room every few years, as her character favorites changed, about gave me hives.
I recently completely made over my daughter's room and will post the details on that very soon. But before I post that, I wanted to share the room she's had for nearly 12 years!
When I was pregnant, I went with a pink and light blue, shabby chic theme after I fell in love with the crib bedding at Pottery Barn Kids. I know it was on clearance at the time so it was very affordable and my only regret was not buying the full-size duvet cover to use when we converted her crib to a bed.
Unfortunately, I don't have great photos of the original nursery. In fact, these photos aren't even the final product but you get the idea.
Original Nursery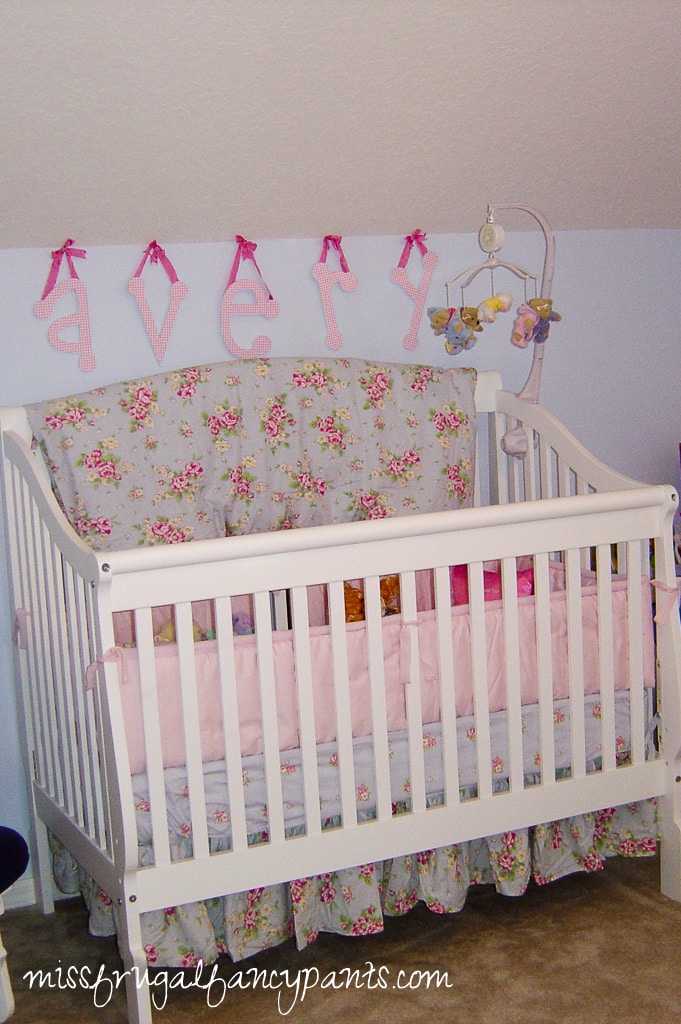 Her crib was an inexpensive convertible sleigh crib from Babies R Us that would later become her full-size bed frame. I had other dreams of the perfect big girl bed for her but the idea of already having a bed frame for the future calmed my financial nerves.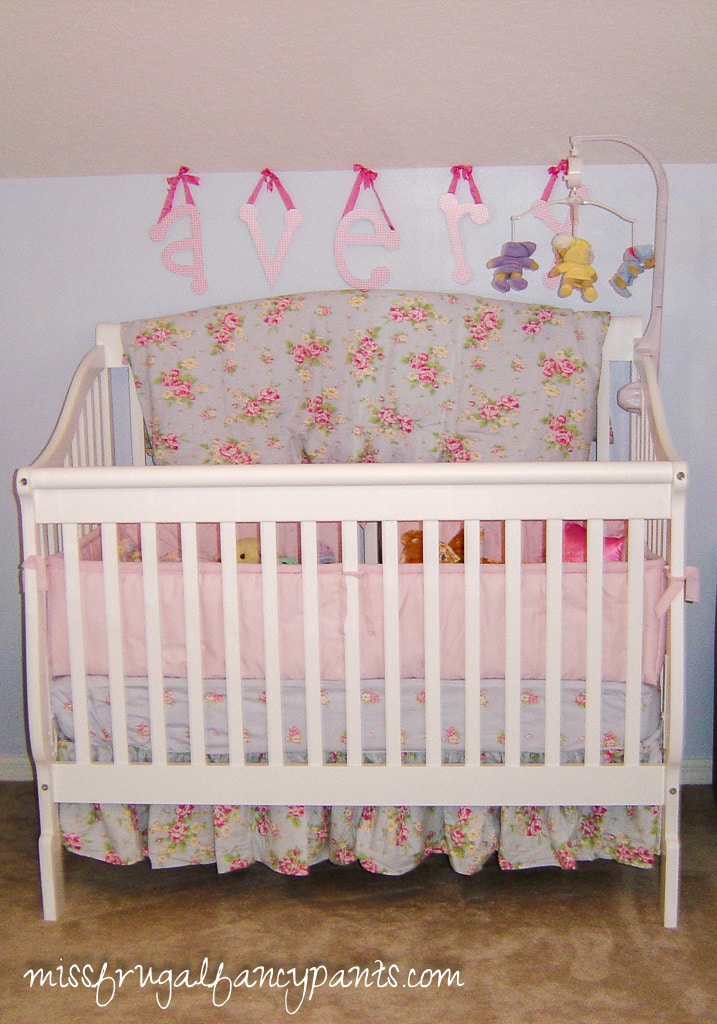 Her dresser and armoire (not pictured) came from American Signature Furniture and has held up incredibly well. The dresser top has a few issues from her leaving opened and forbidden items on it but it'll be an easy refinish job when I ever actually get around to it.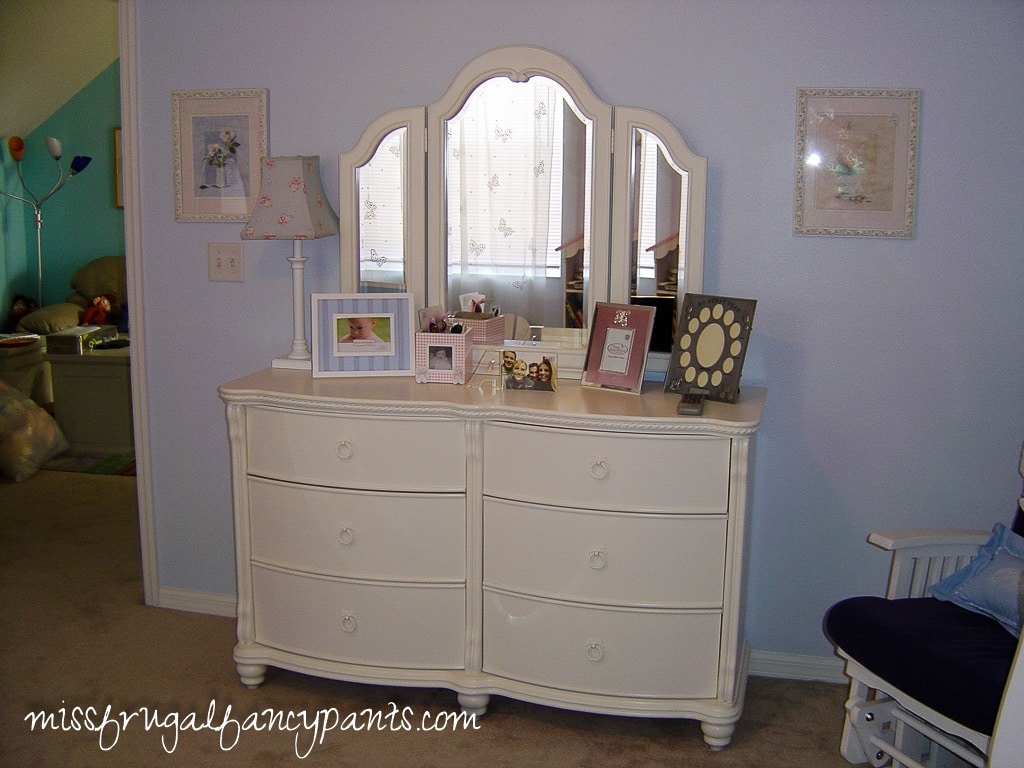 The frames make me laugh. You know how many frames you wind up with at baby and wedding showers?!?!?!? These were just the ones that made the cut and matched her room! Crazy. I spy a seriously outdated floor lamp in the adjoining room…That lamp alone shows how old these photos are! It was 2004.
That glider was a floor sample and I had every intention of recovering the cushion but I wound up replacing it with a Pottery Barn Kids Dream Rocker knock off after finding the deal of the century. The PBK version was over $1100 at the time. I found an exact copycat version including the ottoman for $150 from Kmart.com. It only came with a khaki slipcover but I ordered a pink PBK one from ebay for $50. Boom. We still have that rocker and it floors me that it's just as good as new this many years later!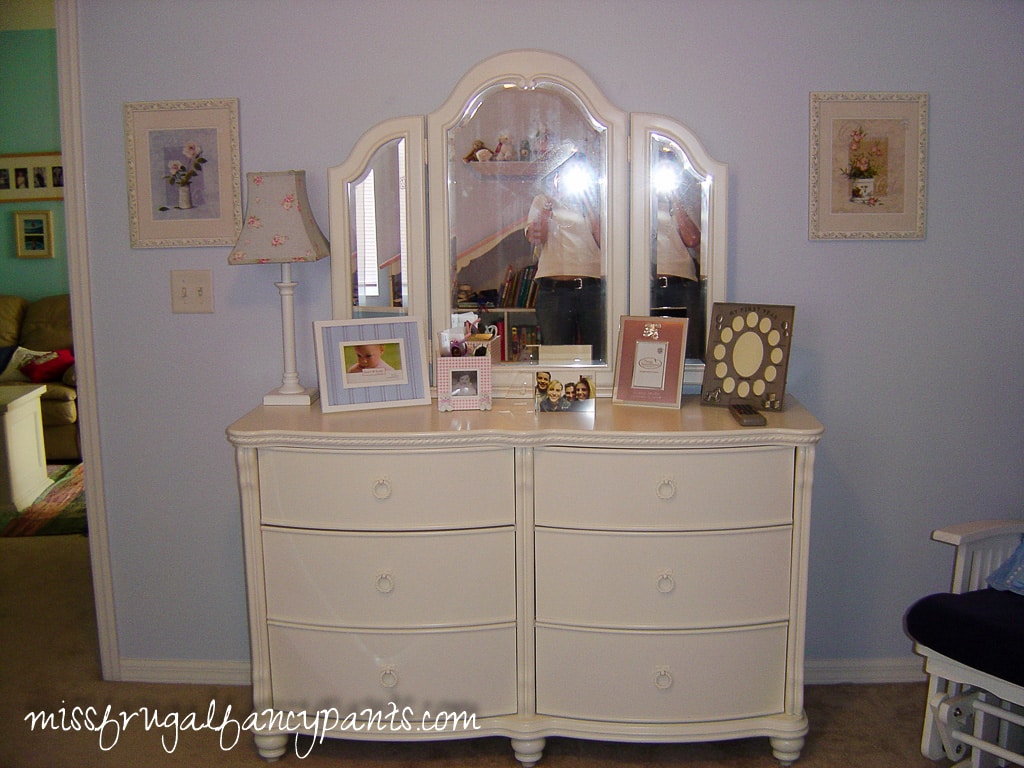 This one makes me laugh and simultaneously confuses me. That's me taking the photo. Do I look pregnant to you?!?!?! I couldn't have possibly gotten that far with the nursery and still have no bump. And I have zero recollection of possessing the ability to wear jeans and a belt anytime soon after having her. I guess this will remain a mystery to me.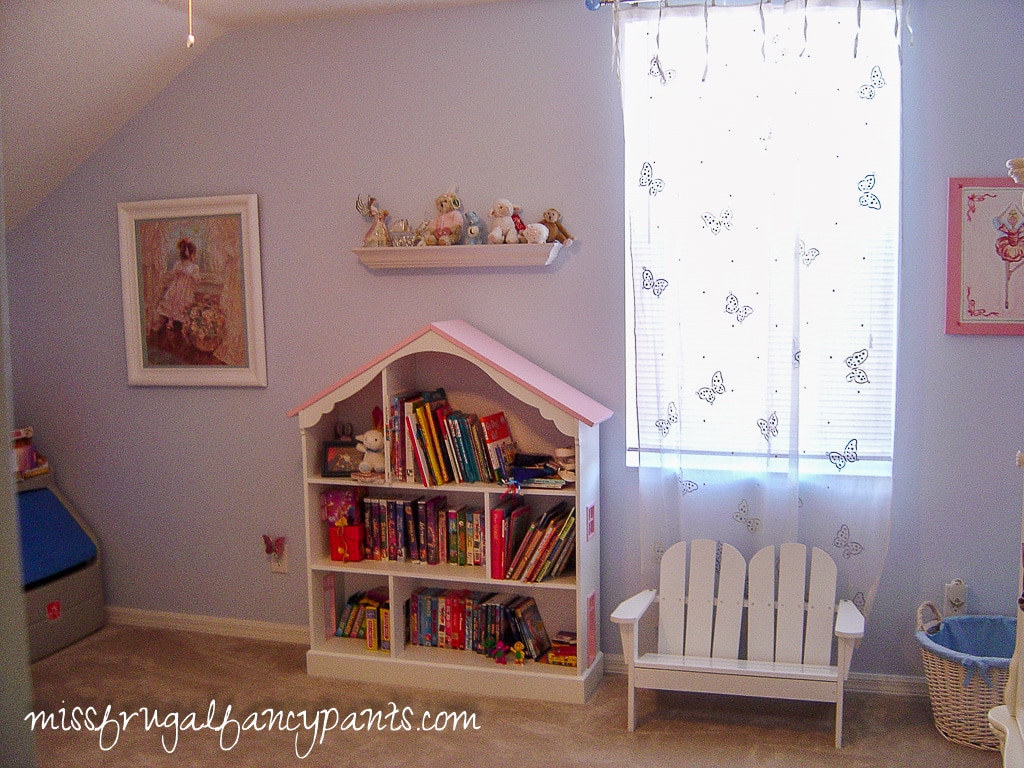 This wall has always irritated me. I struggled with how to make it work then and hated it up until I recently redid this entire room. Good riddance. But I'm showing you because this is essentially the "before post" leading up to this room's makeover.
Back to the original shabby chic theme of this particular post…
Once we converted her crib to a bed (and I kid you not, that child was over 3 years old by the time I took that plunge), I frantically searched ebay for the PBK duvet. I loved the pattern so much and I was determined to keep the room as identical as it was with the crib. Frantic search failed me, but I did find a passable quilt from HomeGoods.
The Mild Transformation into Big Girl Status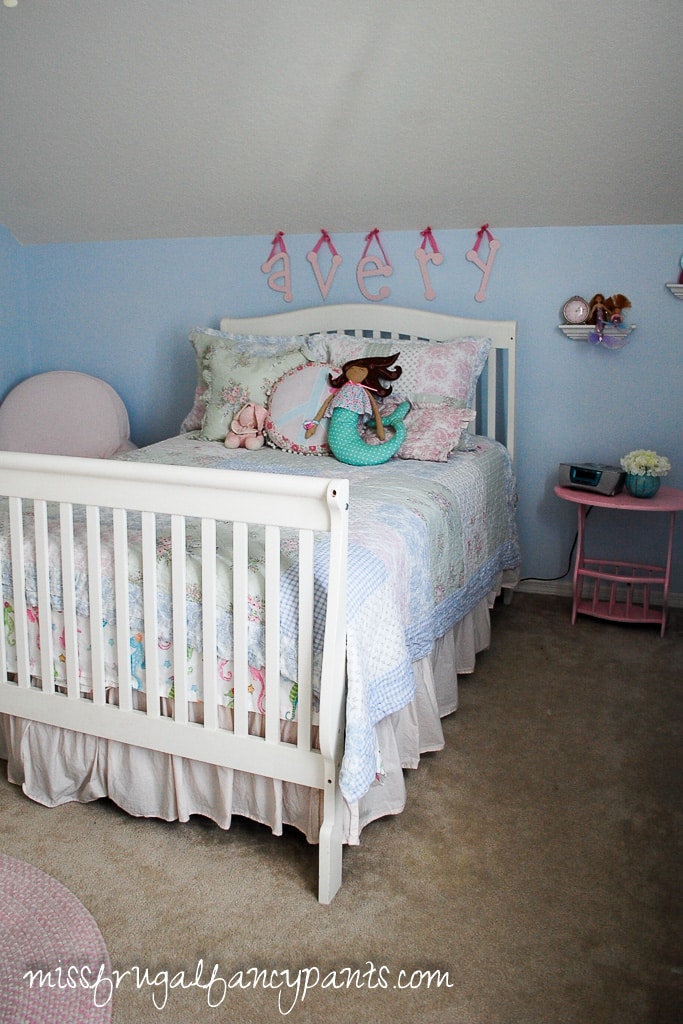 I'm laughing again at these photos. They were taken in a hurry so that I could get busy working on the new room and I'm only just now realizing that a certain little Miss didn't exactly do a stellar job making her bed that day! I'd normally just be thrilled it was made but this isn't cutting the mustard for blog photos, huh? Oh well. Keepin' it real.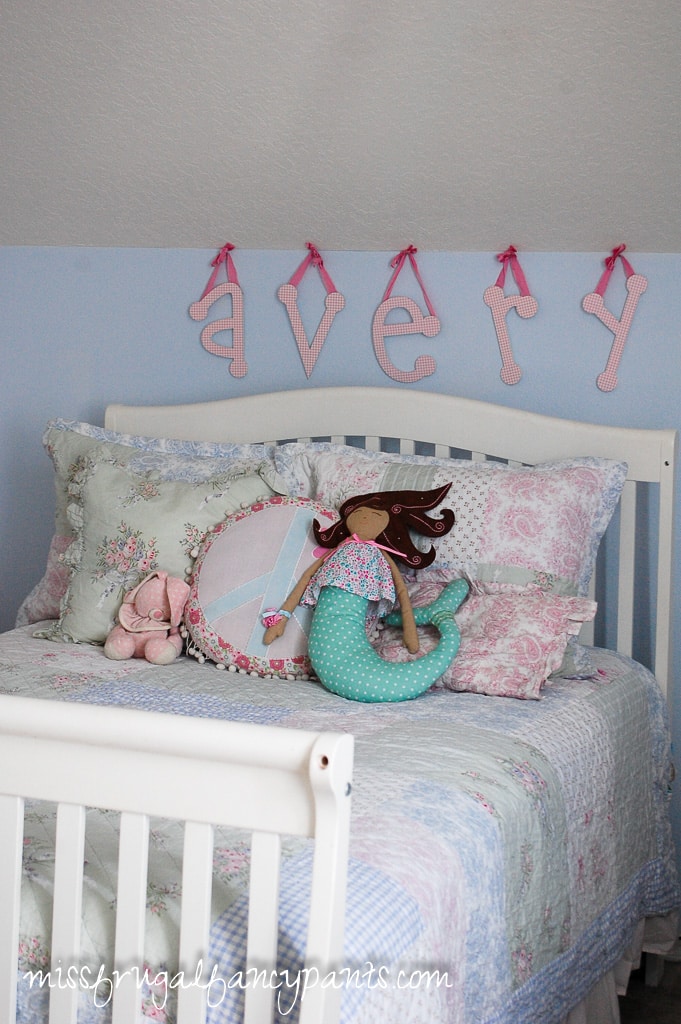 You can see that PBK knockoff chair peeking out in the corner of her room.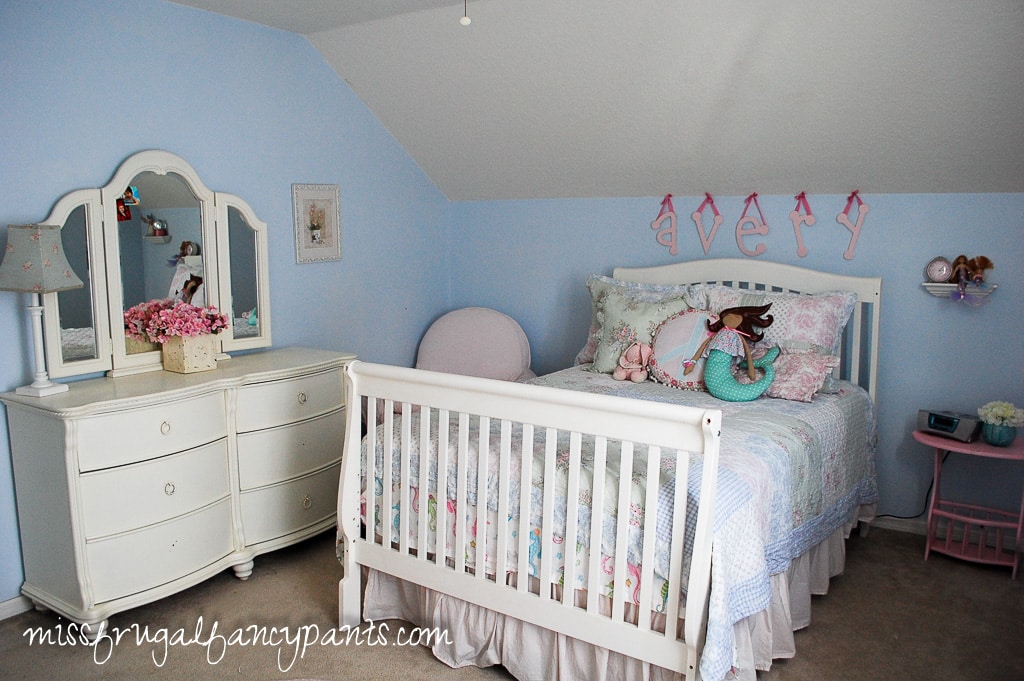 By converting that crib into her bed and adding similar bedding, it was fairly simple to keep the room true to my original vision. We purchased a few minor things over the years but costs were always minimal. That pink side table was a $15 thrift store find that we spray painted. And her original curtain actually shredded. I assume it was from the heat but it was bizarre when I discovered it. I replaced it with ruffled white curtains from Target in lieu of the out of my budget ones that PBK carries. I spy a camera lens cap. #rookiemistake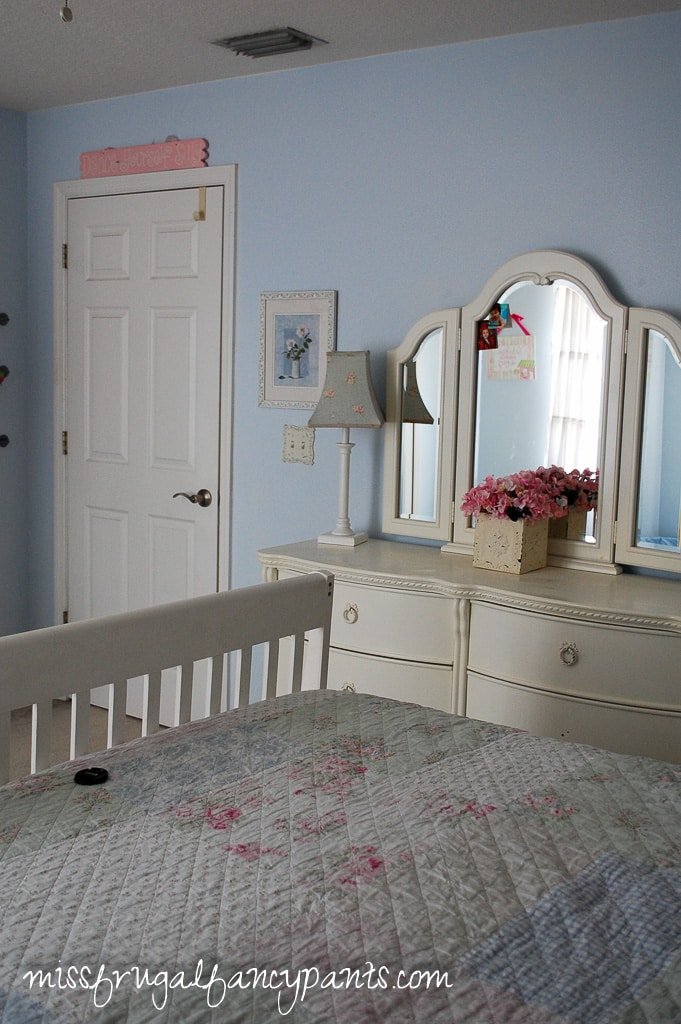 I have to be honest, the type A person I am, cringes at the random stuff kids love (trophies and ribbons and such). I get it. I loved them as a kid, too. But man those primary colors killed my visual happiness in this pastel room. I made it a point to plan a space for her to clutter up when I planned her new room. You live, you learn…and my OCD issues shouldn't prevent her from making it her own space.
I always loved that bookcase but as she got older, it was the one thing she begged me to get rid of. She really wasn't much of a shabby chic girl to begin with so I feel lucky that she was okay in this room for so long. She only recently started to feel like it was too babyish and asked to make some changes.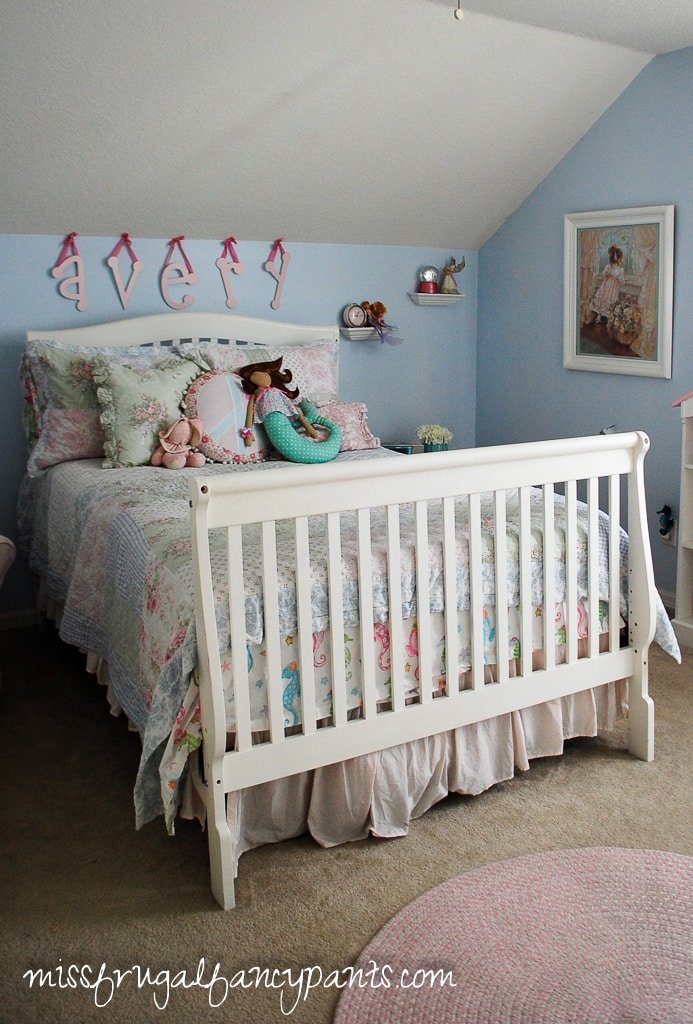 She also wanted that artwork of the little girl gone. And the more time we spent looking at rooms online, the more I realized it was finally time to change her room. I still love that room. It holds 12 years of her life! When I look at these photos, I can still smell her lavender scented hair, right out of the bath, as a baby. #tears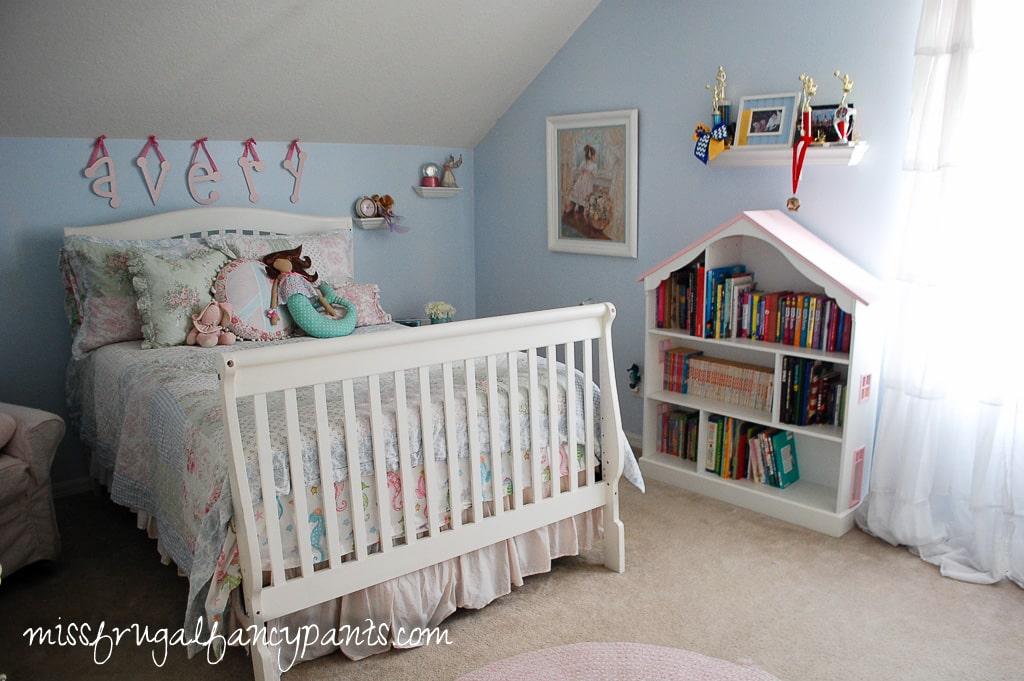 And as hard as it was for me to even begin to plan to remove all of this stuff, to let go of her childhood, and to embrace a new chapter in her life, I was excited. It was so fun to plan with her and to secretly concoct a few fun surprises. I'm proud of her old room and the length of time we made it work for her but I'm also seriously loving her new room.
Stay tuned for the reveal of her new tween room…