If you read my last post here, you saw that I managed to keep my first little girl's shabby chic room the same for 11 years. Eleven. Actually, closer to 12 since she's fast approaching 12 and it was done long before she made her debut in 2004. I'm finally, kinda-sorta ready to reveal her mostly finished tween bedroom makeover to you all!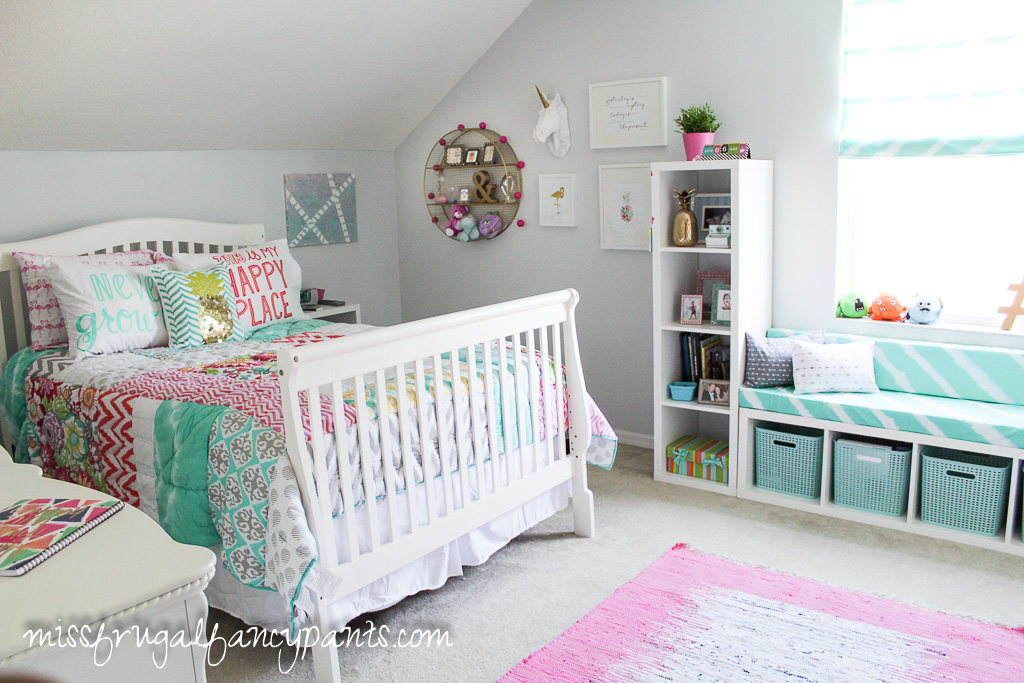 While I love the outcome (can't call it final product because we still have a handful of things left to finish it off), this entire makeover was a comical process. Let's call this her tween, wanderlust, beachy, not beachy, modern, shabby chic, Lilly Pulitzer, light and airy, pizza, cheeseburger, eclectic, DIY youtuber wannabe, big girl room. And if you have anything left in your brain after reading that, I bow to you.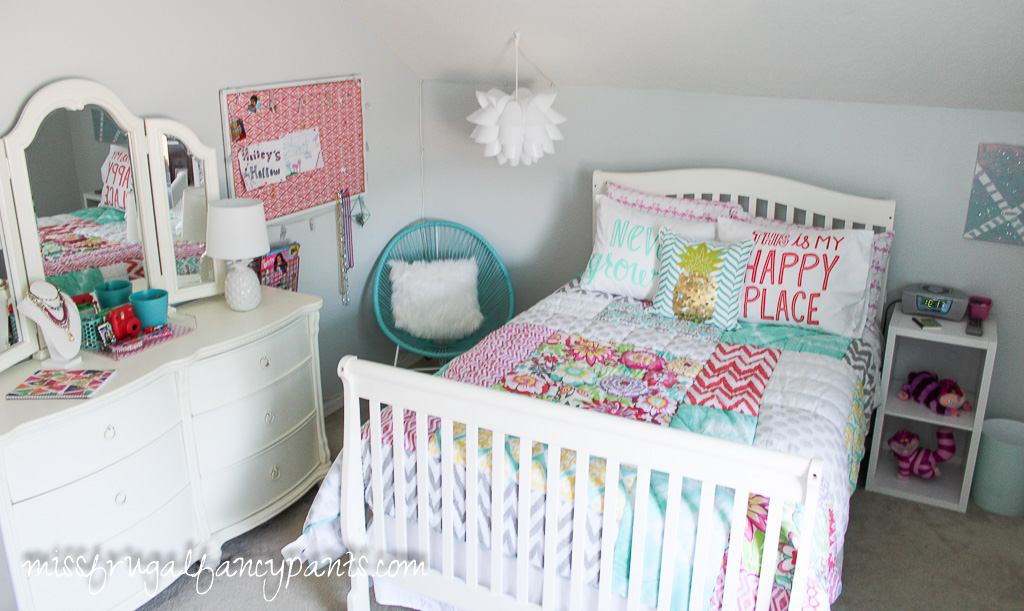 She was always fine with her old room despite her friends getting to redo their rooms eleventy times during her childhood. I'd always explained to her that there were other ways to love our favorite characters or express our current passions. Ways that didn't require mom spending hundreds of dollars for subpar, cringe-worthy bedding and accessories that would all too soon wind up in the donation pile. Hannah Montana, anyone?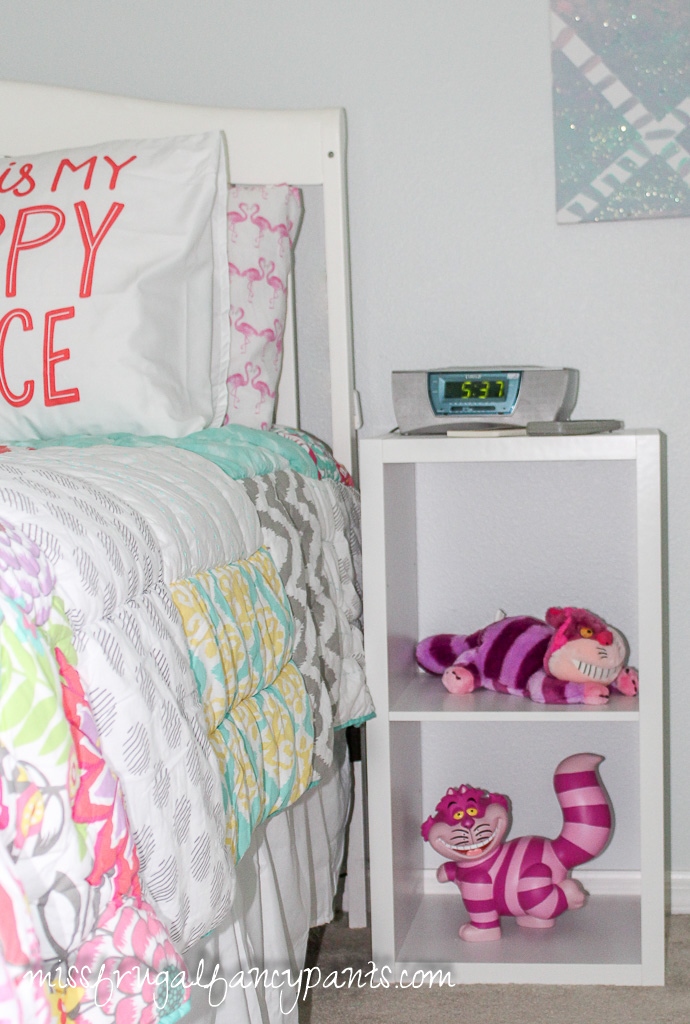 Sadly (for me), she began to feel that a few key elements in her shabby chic room were too babyish for her. And the parts that didn't scream little girl to her simply weren't her style. She likes edgier styles than I. Shocker.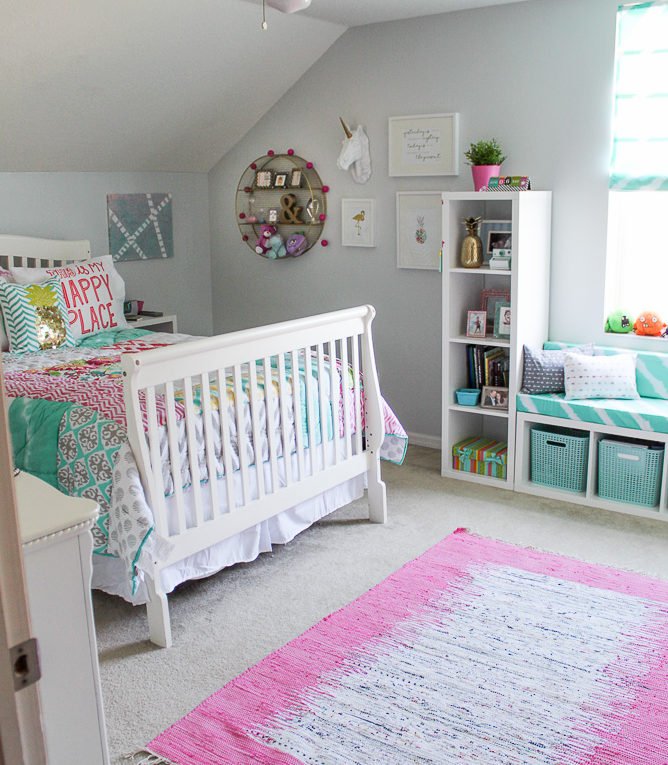 So as painful as it was, we began to strategize her new big, big girl room. Again, keeping in mind that I aim to decorate for decades…
We talked and browsed Pinterest, stores and magazines for nearly a year. We were hoping to move so the original plan was to decorate her room in a new home. Once we realized that was never going to happen, we had to get serious about working with what we had.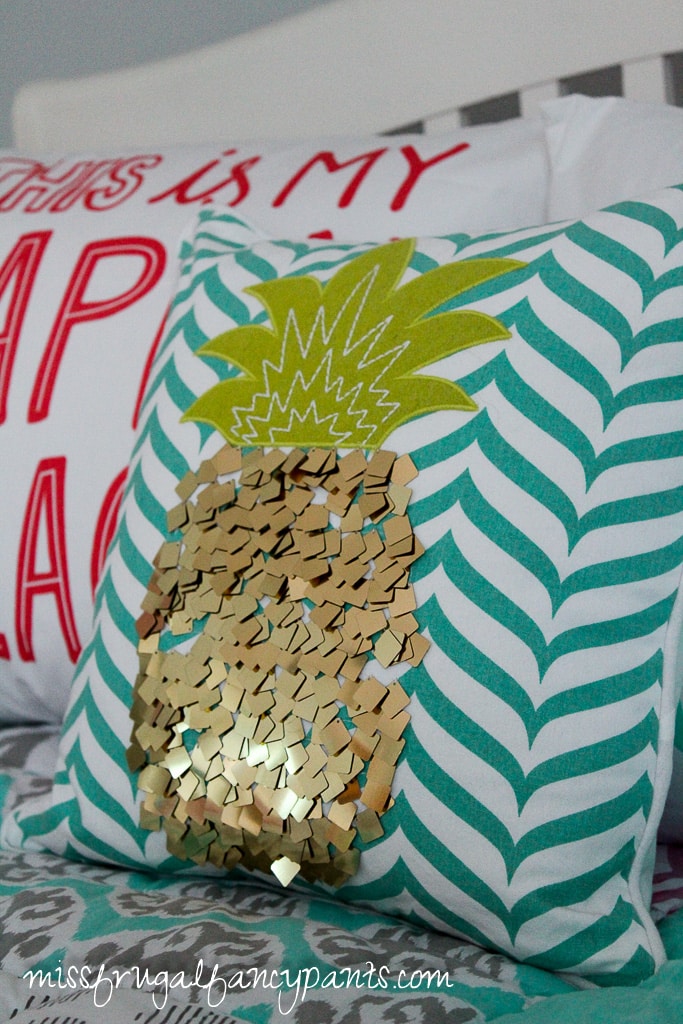 As we'd sit on the couch chatting and pinning away, this child would inform me of her dream room of the day. We started out with pink and orange. And definitely NO beach theme. And then a unicorn head. She had to have a unicorn head. With lots of string lights and very wanderlust. And then pineapples. And flamingos. And pizza. And cheeseburger pillows. And a little mid-century modern. #whattheWHAT #isthisworsethanhellokitty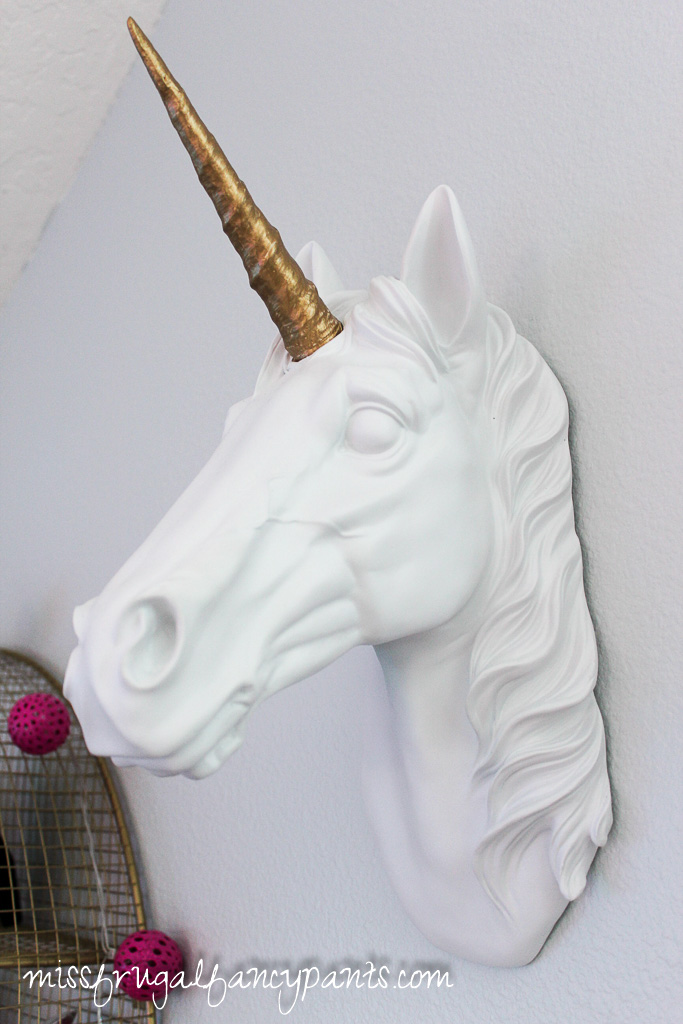 Our saving grace was finding the perfect bedding. We both absolutely loved it and after Miss Frugal sale stalked PBTeen, it finally went on sale, I had a 20% off coupon and knew to call the store directly to save on shipping charges. While it was still more than I would have preferred to spend, I knew it was the main piece we needed to transform her room.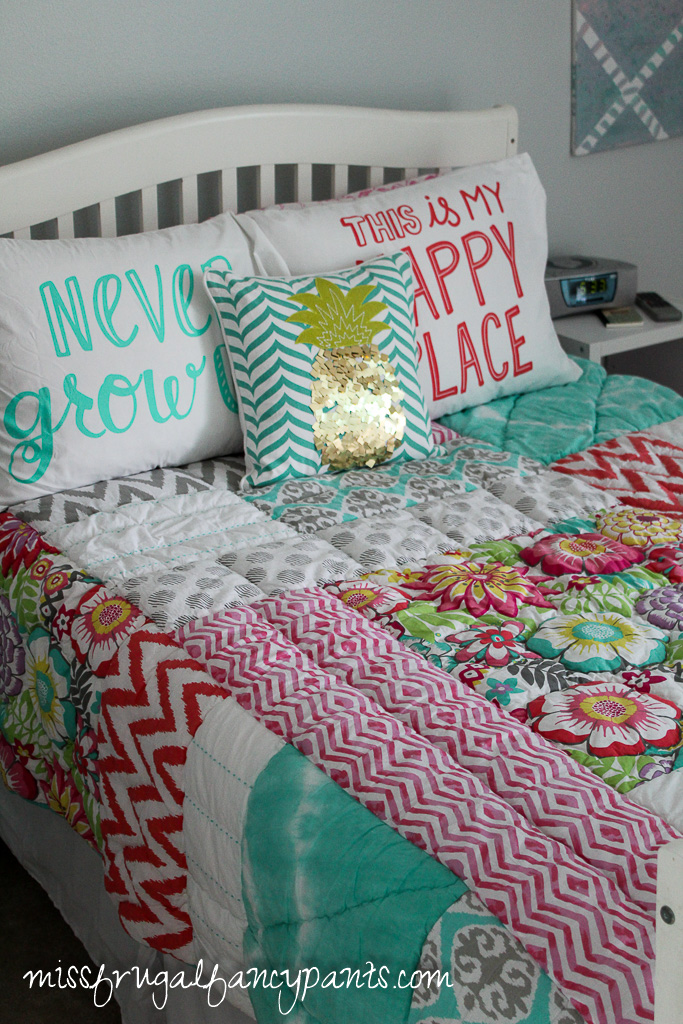 The New Tween Bedroom Plan
New furniture wasn't in the cards so there is still a teeny element of her old shabby chic room. Here is a breakdown of what we planned to do/purchase (prices are what I actually paid and not necessarily current selling prices):
New Reading Chair – $60 from Marshalls
New Bookcases/Storage – $180 Kallax from Ikea
New Area Rug – $56 Safavieh from Target
New Bedding – $165 from PB Teen, Homegoods & Target
New Window Treatment & Matching Seat Cushion – $35 from Joanns & Bed, Bath & Beyond
New Artwork, Frames & Accessories – $98 from Etsy, Ikea, Office Depot, HomeGoods, Target, Joann & Michael's
Corkboard for Tween Fanfare – $6
The main reason I loved the bedding we chose was for its bazillion colors. I knew that we could change things up (artwork and accessories) over time, if need be, and keep more costly items the same. Since the bedding was so colorful, we decided to do a simple, neutral gray on the walls and add pops of color throughout to keep the room lighter.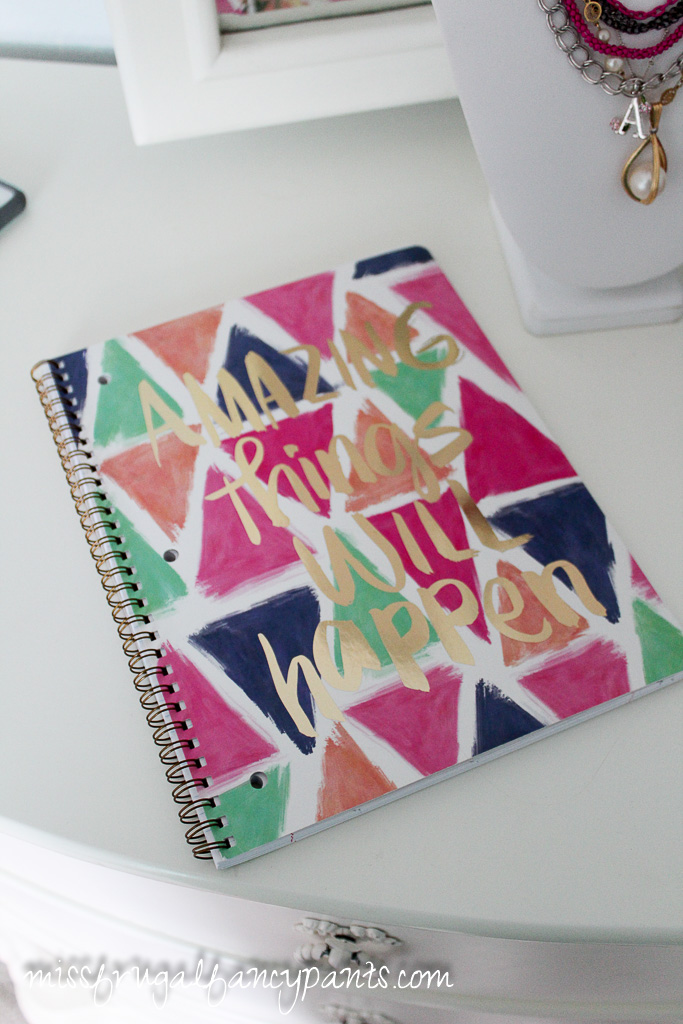 I had ginormous, starry-eyed dreams of putting this pink pineapple wallpaper on the wall behind her bed but much to my chagrin, I could NOT find a comparable and frugal version. This paper was waaaaay out of my budget but honestly, if I had the money to spend, I would. I love it that much. And I don't even like pineapples in decor! #weirdo
Since one of Avery's pleas was to replace the babyish dollhouse bookcase from her shabby chic room, new bookcases were on the must have list. I knew I wanted to use Ikea Kallax pieces but I was all over the place in deciding on the proper configuration. At one point, I was dumb enough to think that one single unit as a window seat would suffice. That was brilliant until I put it together and still had a giant, naked wall with very little storage for all of her crap lovely things.
So, I blew the budget by adding 2 more units to create a bookcase framed window seat. I could have stayed under budget if I'd gone with the giant Kallax unit (and had plenty of storage to boot) but I really wanted the window seat and felt it was worth it. I found the fabric on the window seat and roman shade on clearance at Bed, Bath & Beyond in the form of shower curtains for $5 a piece! I used her old, cheap mini blinds to DIY a roman shade (and realized after the fact that I really need to add a liner). I didn't use all of the shower curtain so that window treatment was well under $5. Even after I add the liner, it will still be $10 – 15 max!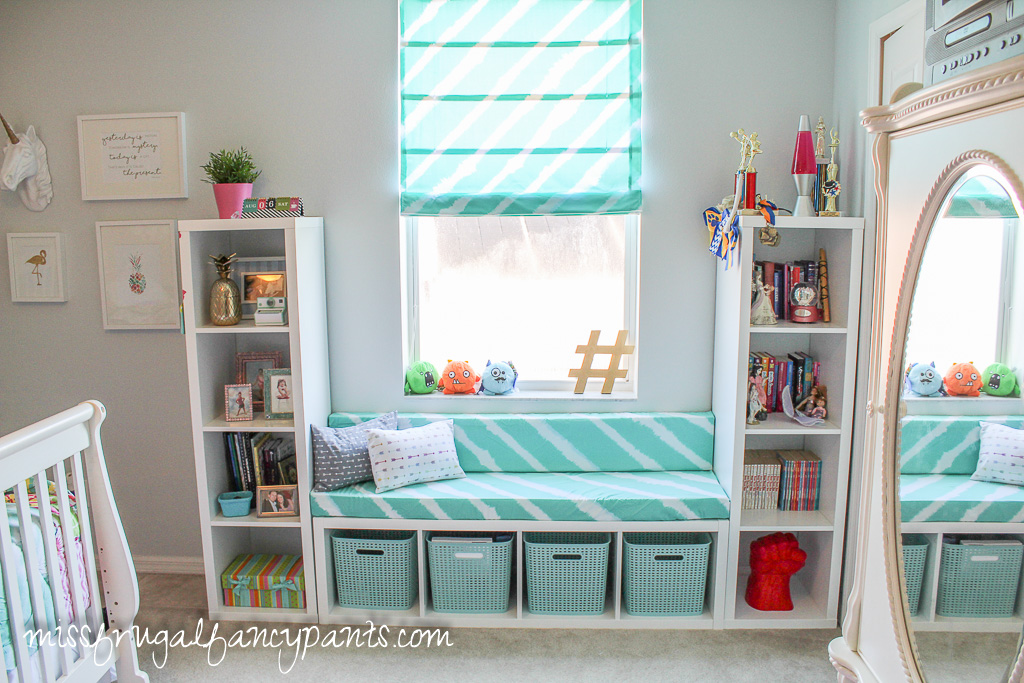 By using that same shower curtain fabric, I made the cushion for the window seat for under $30. Say whaaat??? Insane, right? I sewed a few more pillow covers with very inexpensive fabric from Hobby Lobby for pillow forms we already had and we snagged those baskets for $4 a piece at Office Depot. They were on clearance and buy 2 get 1 free so we threw in a trash can and her little calendar to get the max amount of useful stuff for the least amount of money.
We had to purge a ton of books, which really was a good thing. She hates to read and was never going to reread any of those bad boys from her old bookcase, so they were only taking up valuable real estate. She "styled" her own shelves after we found her beloved pineapple from HomeGoods. What 11-year old goes gaga over a storage pineapple?!?!? Sadly, mine. #bunchafreaksupinhere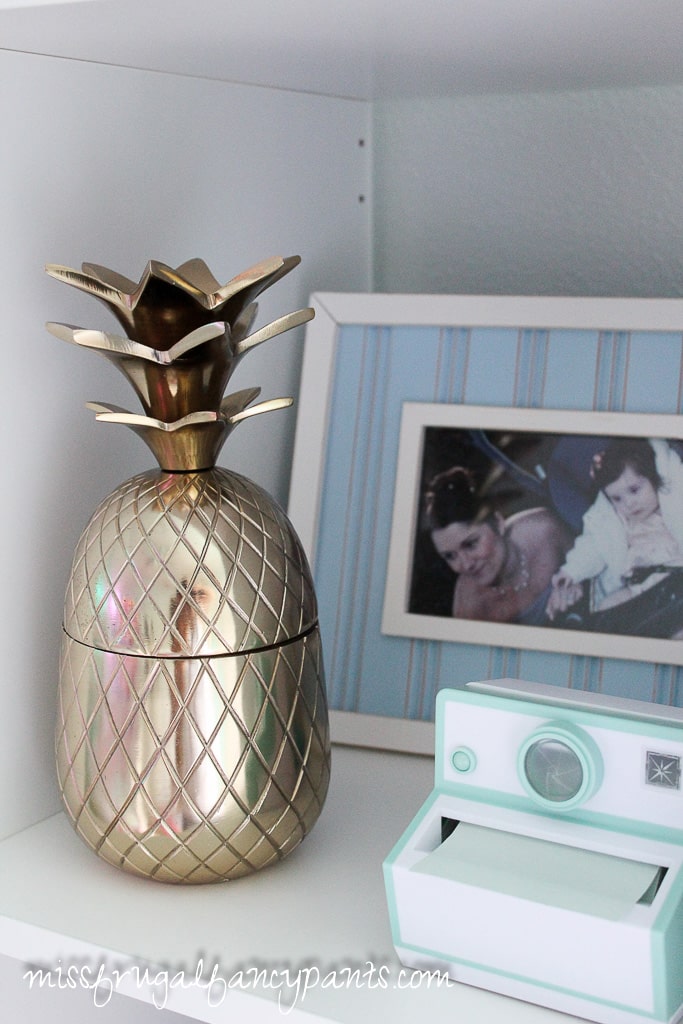 She's got a mile-long list of "wants" that will make Christmas shopping a breeze this year! This bedroom makeover has turned into the gift that keeps on giving!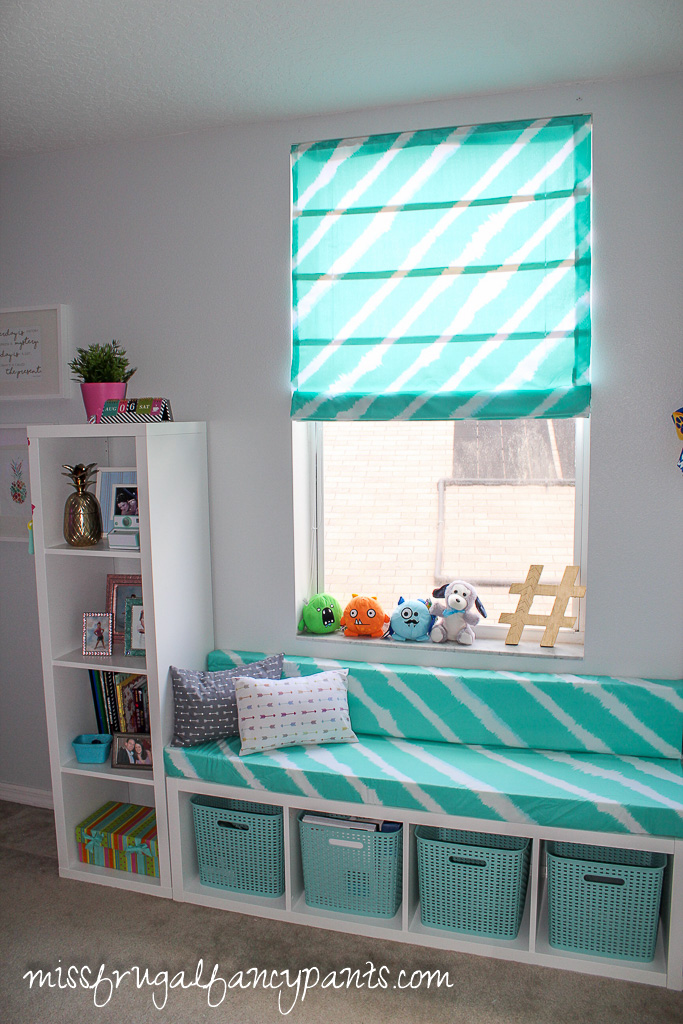 Please forgive the lighting in these window photos. I've made it no secret that I'm a photographer dummy and shooting windows is haaaaard. I still need to add trim to the top of the window to give it a more finished look and will get to that when I add the drapery liner to the roman shade. #sometimethisyear #ornext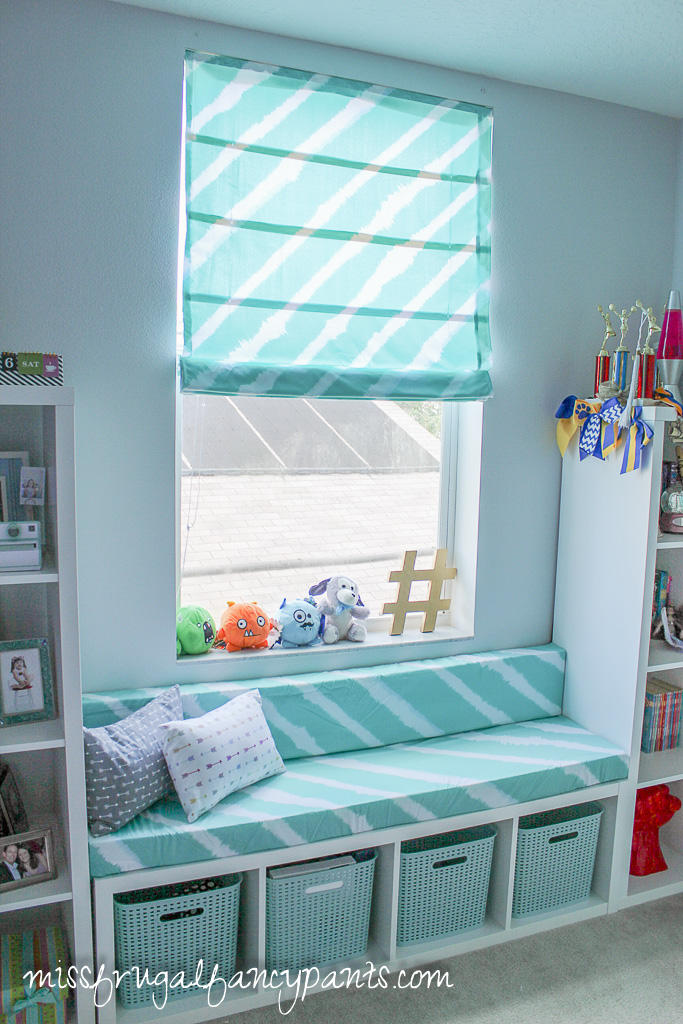 Since she had to have that darn unicorn head, she clearly needed a gallery wall. A gallery wall to incorporate her pineapples, flamingos, pizza and cheeseburgers…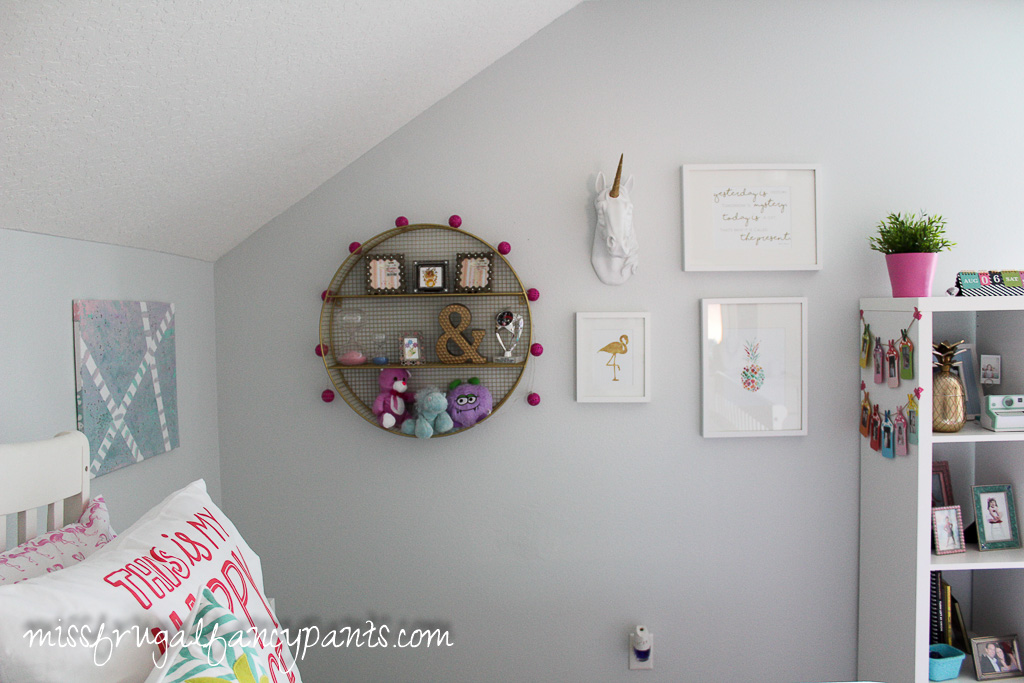 Thank goodness she decided pizza and cheeseburgers were not critical. #canigetanamen
We purchased the flamingo (similar) and pineapple printables from Etsy and framed them in inexpensive Ikea Ribba frames. Avery loved the Eleanor Roosevelt quote so I fancied it up and made this for her. You can now purchase it on Etsy as well here.
The circle shelf is from Target's Pillowloft line. And yes, those are empty picture frames with the price tags still on them. If I kept trying to finish the small details, this post wouldn't happen until I was in a nursing home.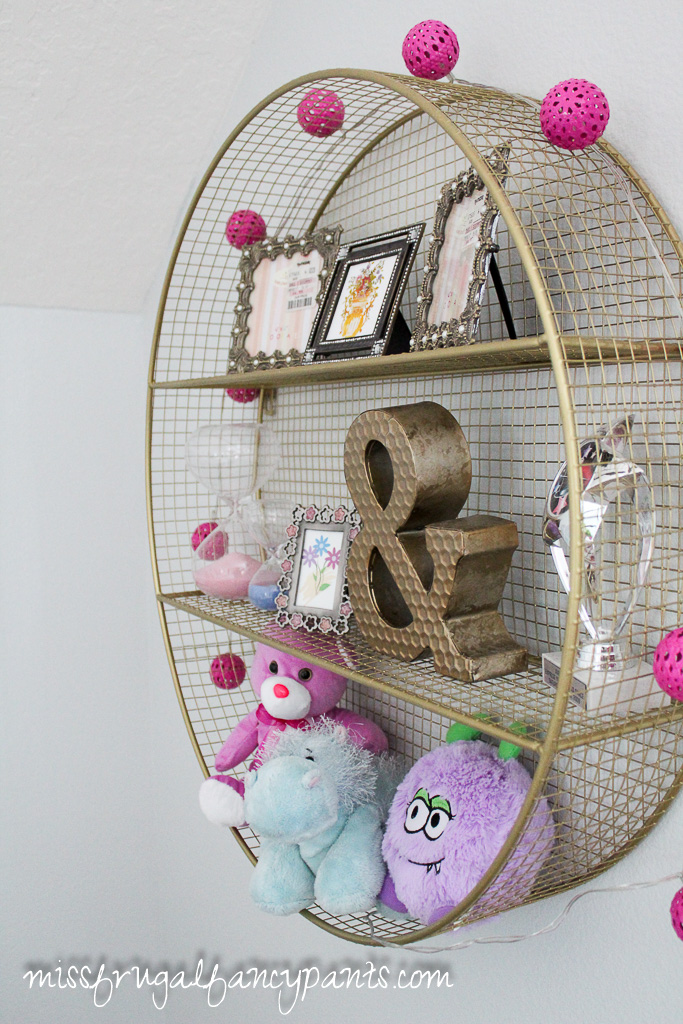 She's also been obsessed with hourglasses so I snagged these on Amazon Prime Day. They are work/play hourglasses and such a great idea! She prefers they be reversed. Duh.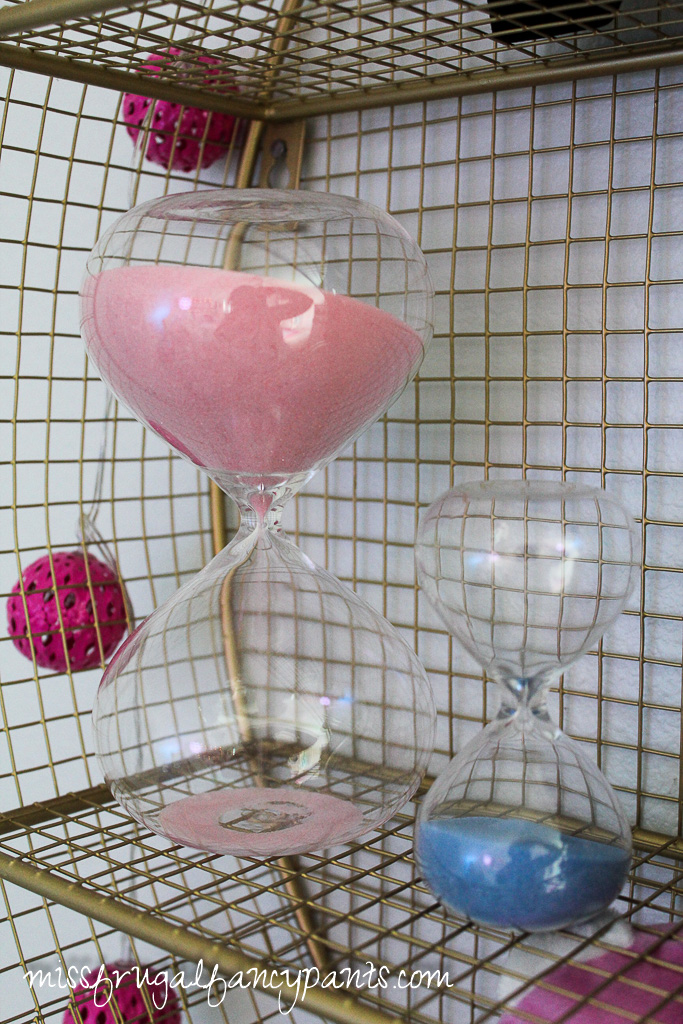 She still hasn't outgrown her love of stuffed animals and sadly, is obsessed with claw machines. Needless to say, we have a ton of those cheap little prizes and having them on the walls vs. all over her bed or the floor are a bonus!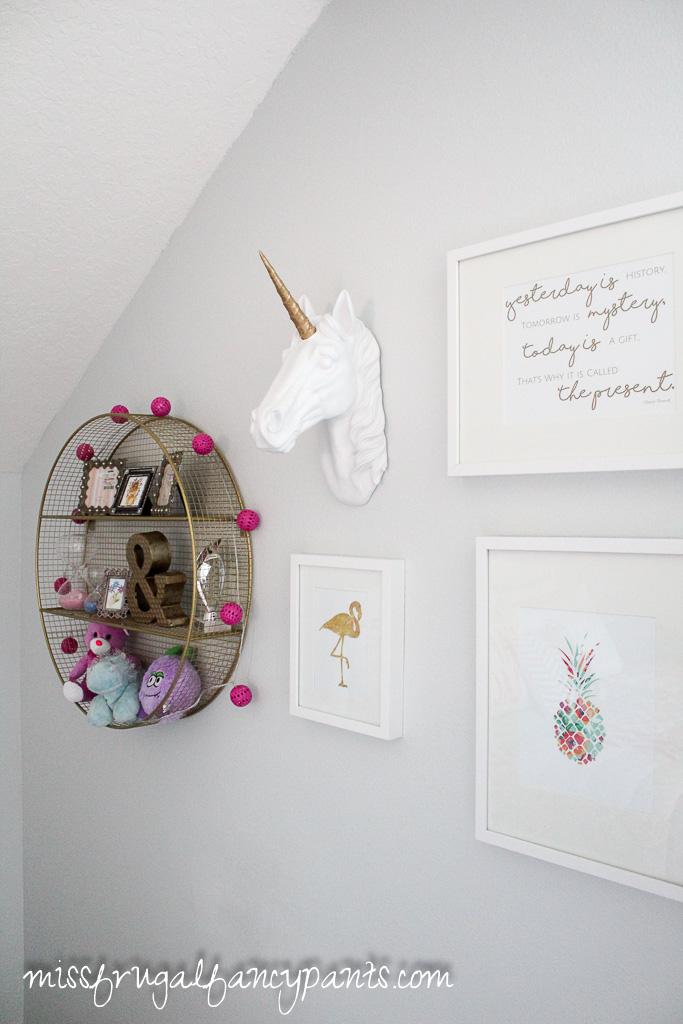 It's been interesting to watch her style her own space and making this a joint effort, with her calling the majority of the shots, hasn't been as painful as I thought it would be!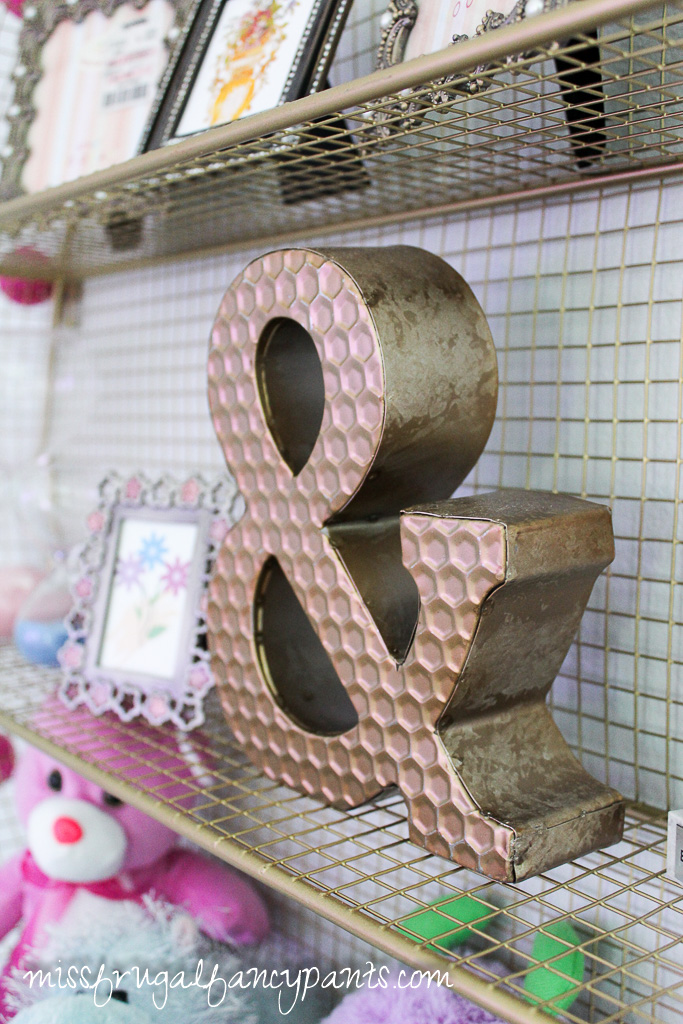 This little Polaroid garland was 100% her creation. I caught myself preparing to secretly remove it until I actually saw it and loved it! Letting go is a learning process. I'm trying…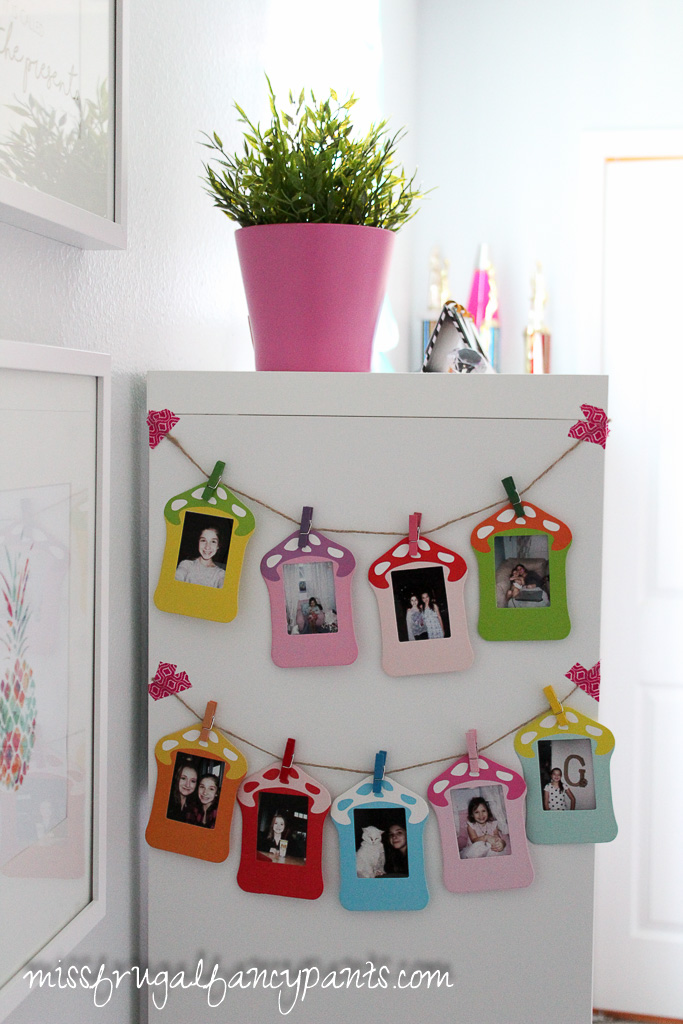 She painted this piece at her bff's house a little while back and we thought it would be the perfect addition to her new room! She claims it's all messed up but I adore it.
She's always had a passion for art so I truly hope she continues to add her own pieces to her room.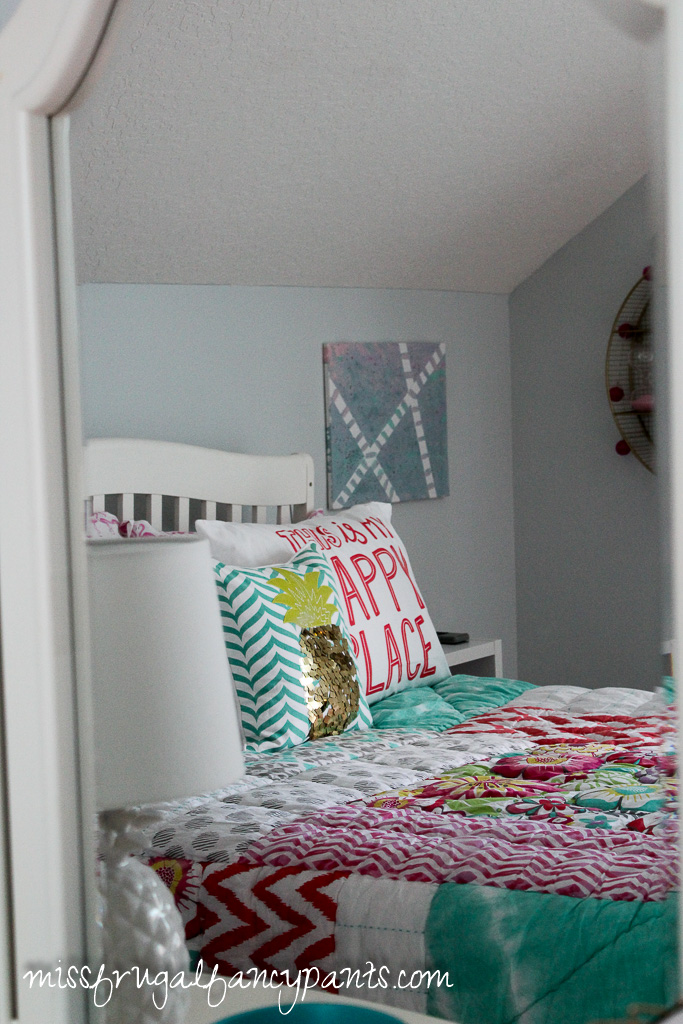 I did a corkboard makeover, which I'll go into more detail in another post, to give her a place to tack up typical tween stuff. I'm not a fan of posters on the walls (probably because I was the worst offender EVER with my NKOTB paraphernalia back in the day) but I understand how important it is for her to be herself in her own room.
Are you kidding me with these adorable pins for her corkboard?!?! She found them at Target and they were must haves!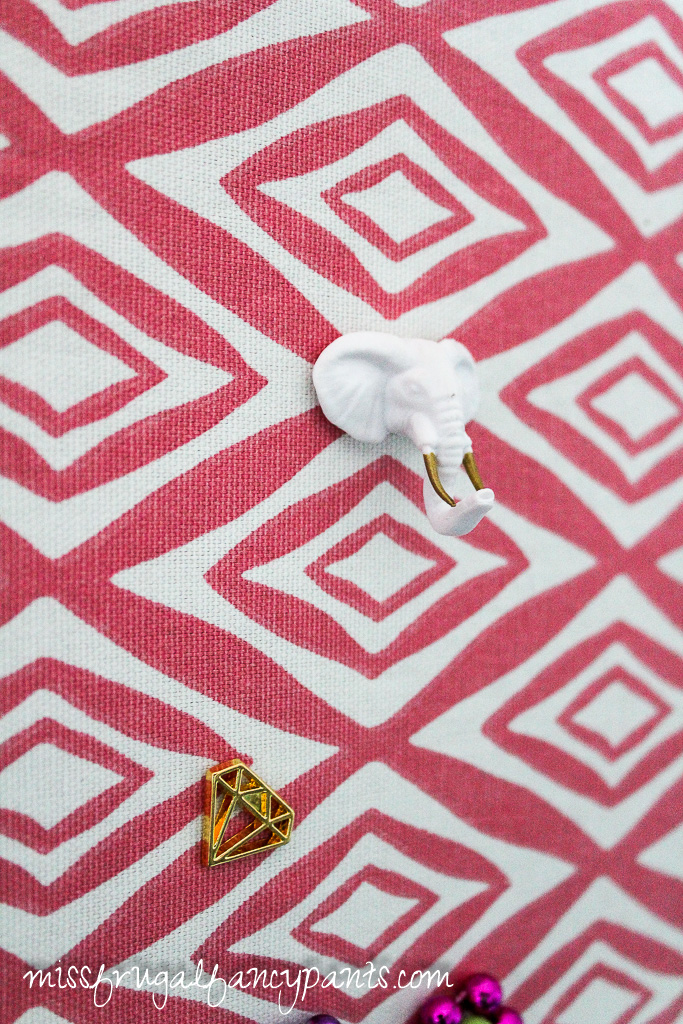 The corkboard is in her reading nook. I'd been eying a few way over budget chairs and found an awesome, comparable one on Craigslist that I'd planned to paint. Right before I painted it, I found this $400 one at Marshalls for $60 and decided to buy it since it was way more stable than the Craigslist find, and it was already the right color and hellooooo….$60 for a $400 chair that I'd already had on our wish list?!?! Still on the fence if I'm keeping the Craigslist chair or selling it so stay tuned.
I sewed the fur pillow cover for $9 since I refused to spend the $30 – 130 for the ones I could find ready-made. My first experience with sewing fur was not easy. Holy moly. Thankfully, I had a friend of a friend send me a youtube video to help, but good lawd. My dining room looked like I massacred a herd of alpaca! Cutting. Cutting it the right way is the trick. Another todo list item is covering that cord for the Ikea Knappa hanging light. #visablecordsarelikevisablepantylines
Speaking of fur, I love that her old robe and boots with the fuuur match her new room!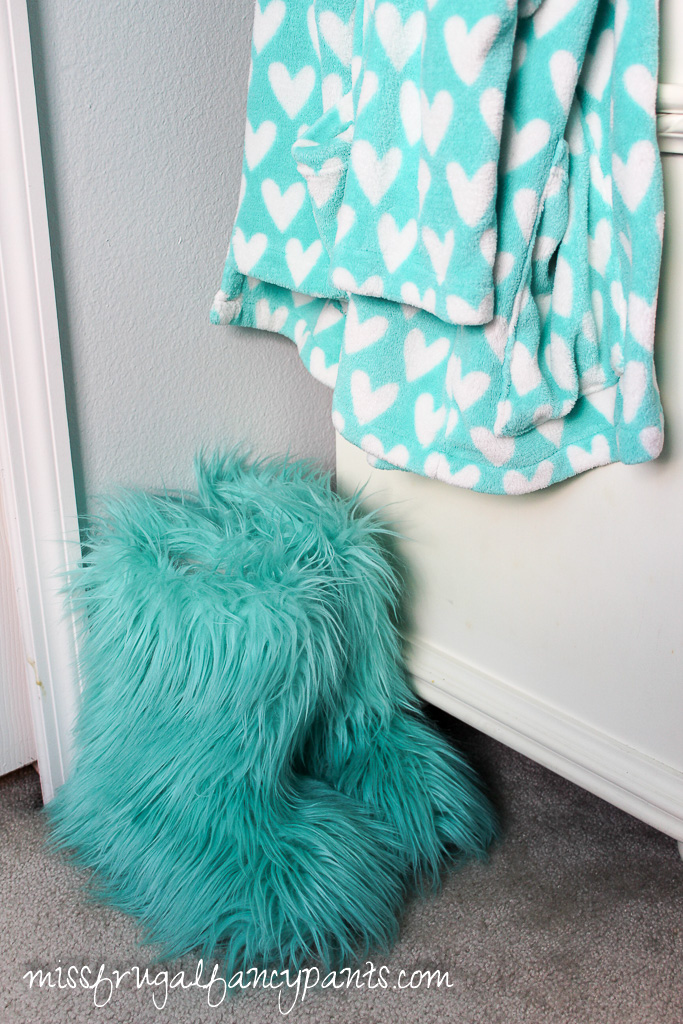 Since we were stuck with the shabby chic furniture, we wanted to modernize her dresser to distract from that. I laminated a piece of scrapbook paper to line an acrylic tray to corral more stuff (and to hide the parts of the dresser top that she ruined years ago).
My mom gifted her that "must-have" bust to hold her necklaces and it's actually been a godsend! She's so excited about it and I'm thrilled that I finally don't go crazy when I open her drawers to find massive tangles of necklaces!!! #nowirehangers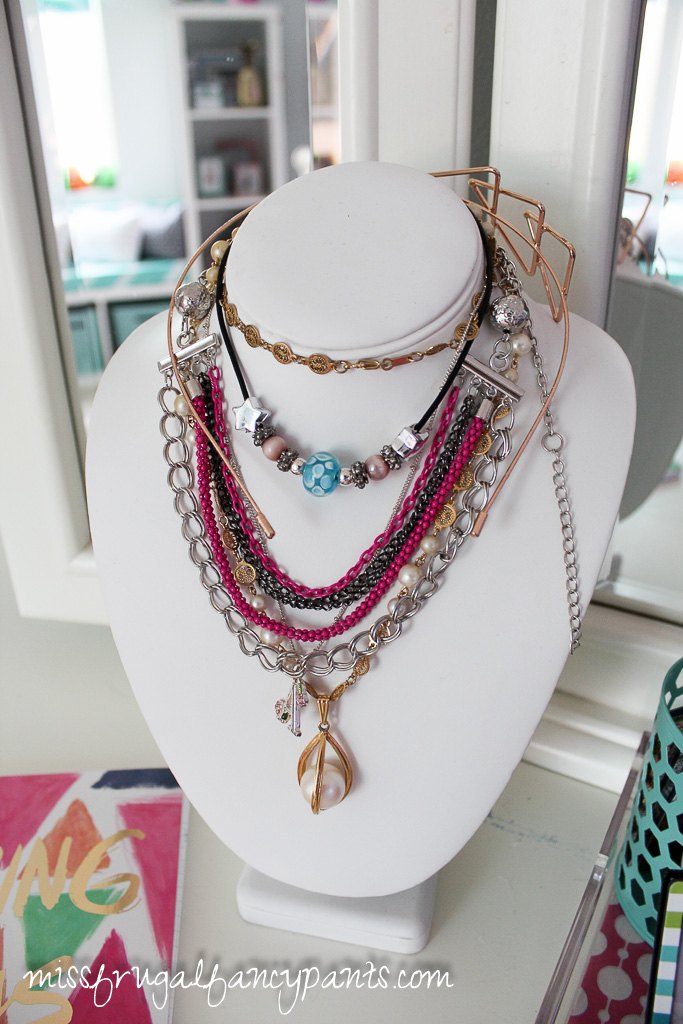 And of course, another pineapple. This time, in the form of a lamp. Also a Target Pillowfort discovery.
We both have a mild infatuation with Lilly Pulitzer so we had to frame these Lilly 5×5's to add a little extra Florida charm.
And lastly, the lighting. I was contacted by the people at LEDVANCE to try out their SYLVANIA LIGHTIFY products. I already had ideas to add fun lighting but I knew Avery would be over the moon with these! I will do another post to further explain how awesome these lights are, but here is a quick glimpse…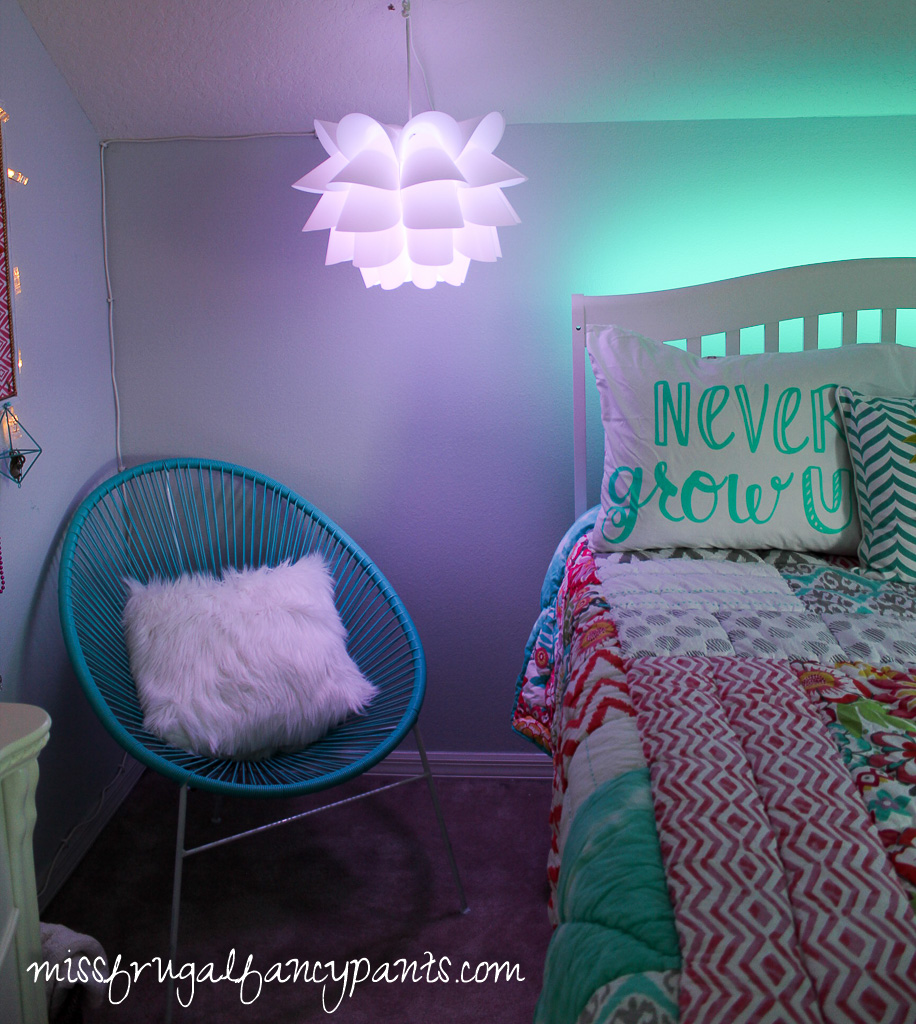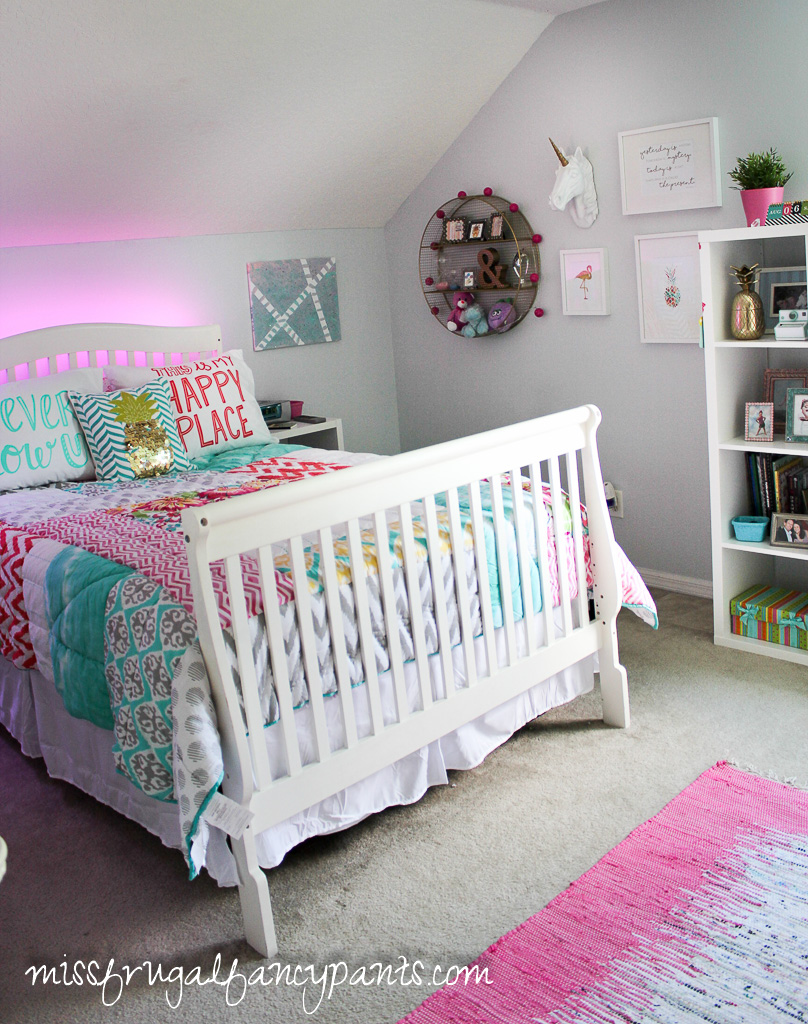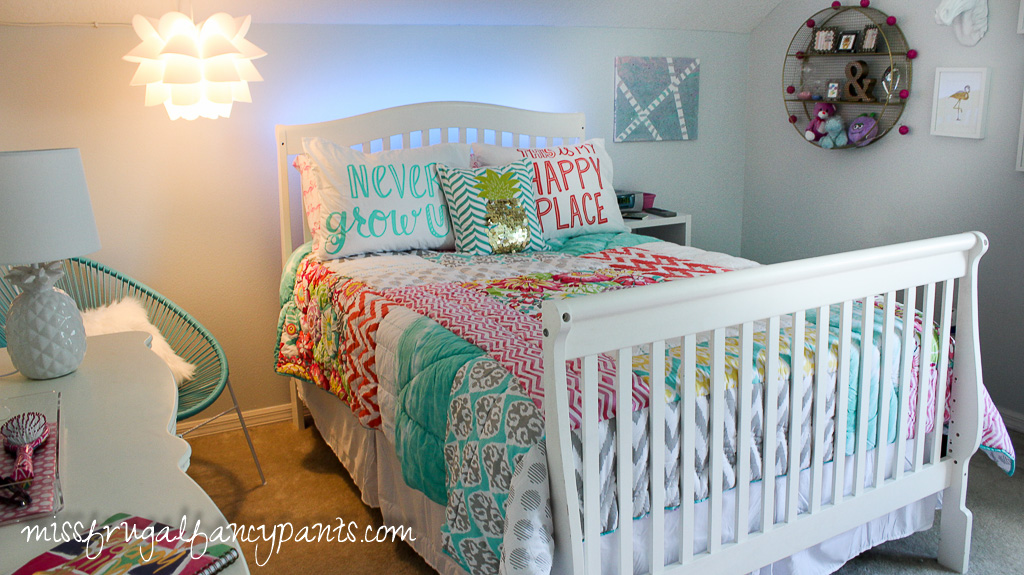 This was so much fun to do with Avery and while we still have some small details to finalize, this is such a great representation of her personality! I can't say enough about finding the right bedding that is flexible to morph into various styles. Our budget was $500 and while I went over by a lot (mainly due to the last minute bookcase/window seat situation), $780 for an entirely different room that she adores, was worth every penny.
*Affiliate links provided for your convenience.