Can you believe we're already into the holiday season?!?! I was at the mall a few days ago and saw Christmas wreaths hanging in Dillards. I had to do a double take because I was sure it was still September. It wasn't. It was totally October 4th; clearly, the appropriate date to begin Christmas decorating. Anyway, the beginning of October does provide proper timing to decorate for … ahem … Halloween.
After getting to play around with the SYLVANIA LIGHTIFY products seen here in Avery's Tween Room Makeover, I knew we could have fun with those Flex Strips for all of the upcoming holidays. I generally decorate our bar since it can handle being overtaken without encroaching on our daily lives. This year, my plan was to simply recreate last year's black and silver Halloween vignette with the addition of the Flex Strip lights, which I added to the back of my bar.
Once I started decorating, I kept hearing little voices inside my head griping about my lack of color last year. I loved it (because I'm still not a fan of Halloween colors) but those darn voices won and I decided to inject a wee bit of color this year. #iaimtoplease #eyeroll
I found those flameless candles on super clearance at Michaels last year and threw in a few dollar spot and dollar store items. I added color into the usual black bouquet of roses but I can't decide if it looks color-appropriate for Halloween or full on Mardi Gras? Potato, po-tah-to.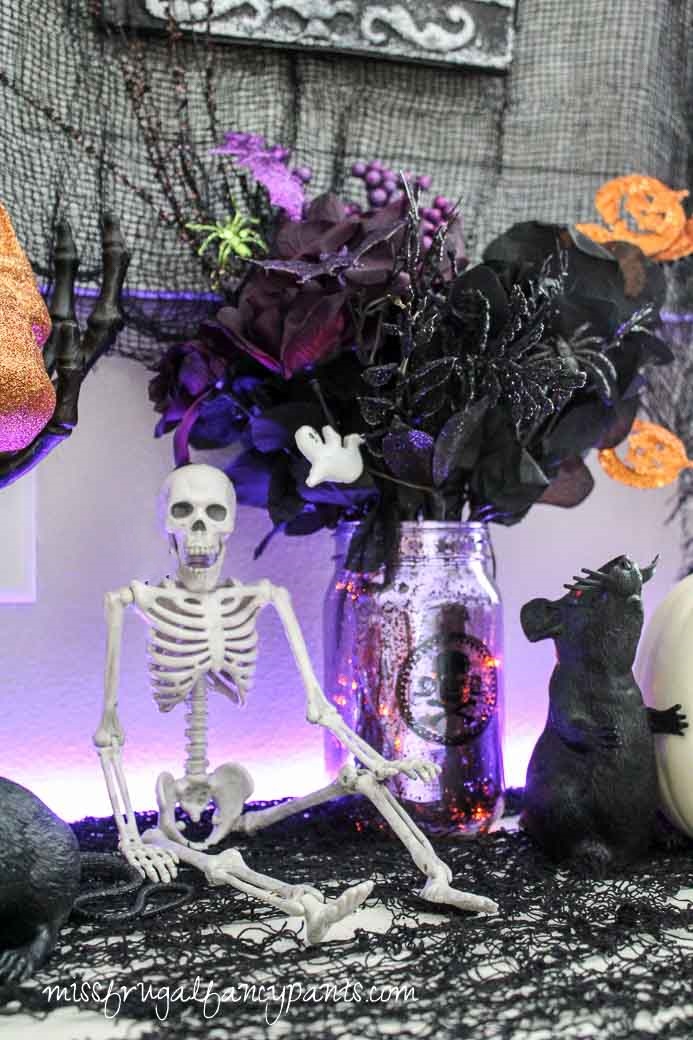 I played around with various lighting colors and started out with purple … These are daytime photos but I'll show you nighttime ones towards the end of the post.
and a little orange …
… and finally a little blood red (which for some reason didn't photograph as red as it really was).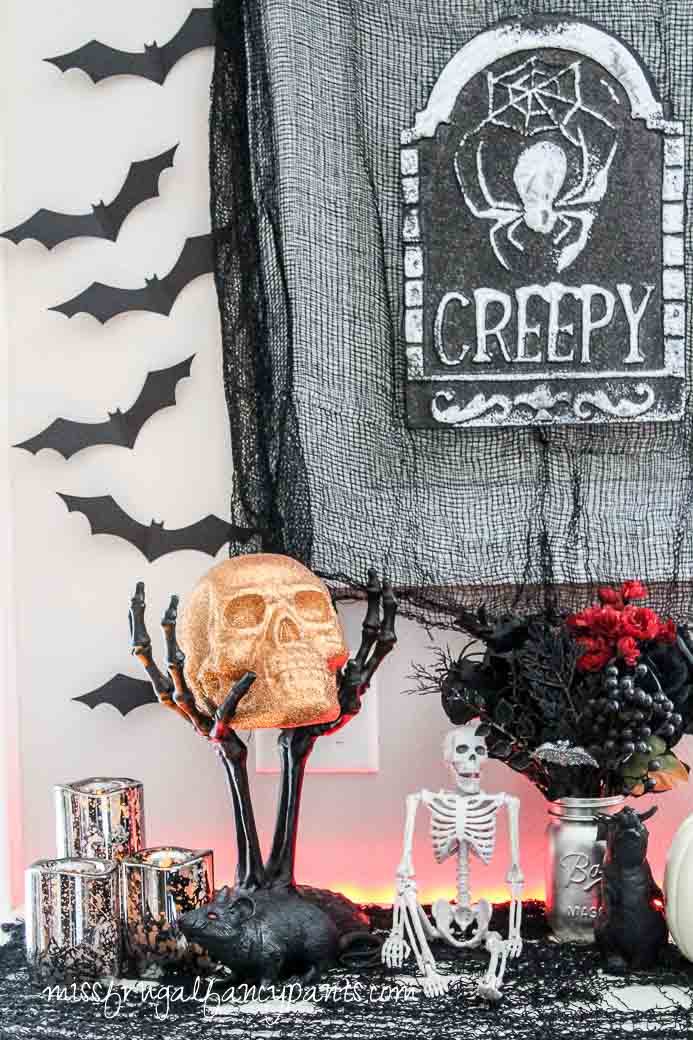 Ultimately, I decided purple was the way to go. This year. 😉
As usual, I'm disclaiming my severe lack of photography skills. #nojudgingplease And my tripod went MIA prior to this shoot which is who/what I'll blame for any blurry photos. No skills + nighttime shots = Nightmare on Elm Street.
That being said, I did enjoy playing around with the nighttime lighting for maximum spooktacular effects. That sounded lame. Sorry. Let's just let the pictures do the talking…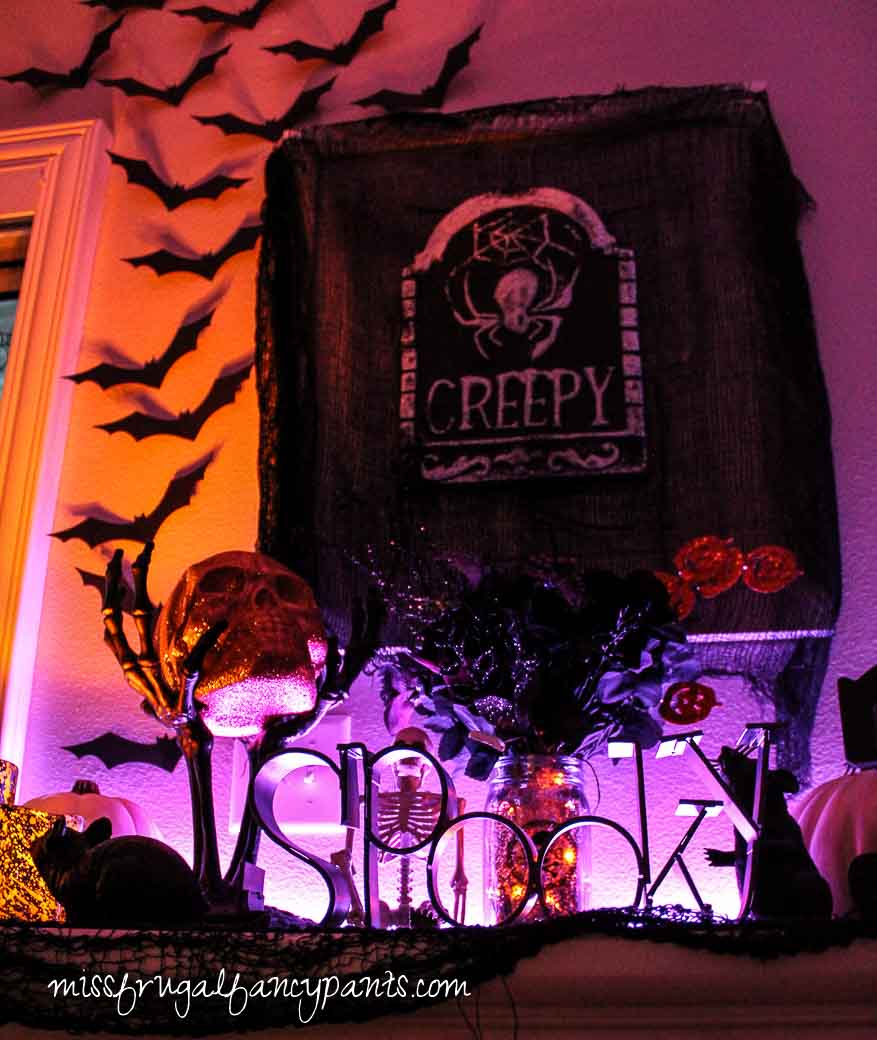 I love that these lights can become whatever color you want them to be! In a situation like this, if I love purple and my daughter prefers orange, it's no sweat off anyone's back to change the colors a hundred times a day! I could actually schedule the lights to be purple when I'm home and change to orange when she's out of school. But that's crazy talk. #andhighlylikelytohappen
Thanks again to the folks at SYLVANIA LIGHTIFY for providing us with the Flex Strips! Looking forward to the next few holidays and playing head lighting technician at Casa de Gilbert. #whileiworkonphotographyskills
{affiliate links provided for your convenience}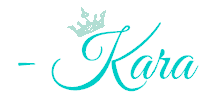 2016 Pinterest Party Fall Blog Hop
This post is part of the Pinterest Party 2016 Fall Blog Hop. The Pinterest Party is a group that helps people grow their Pinterest following. Find other posts in this blog hop below:
Oct 1  How to Create a Halloween Wreath Holly Jolly Holidays (you are here!!)
Oct 2 Easy Fall Cake Decorating Ideas Easy Cake Decorating Ideas
Oct 3 Ideas For Hosting A S'mores And Bonfire Backyard Party  Glitter 'N' Spice
Oct 4 BirdWatching: 5 Useful Tips to Make it Great Grammie Knows How
Oct 5 Fairy or Gnome Garden in a Pumpkin Little Blog in the Country
Oct 6 Autumn Color Birthstones: Beautiful Red, Orange and Brown Birthstones Celebrate Fall Birthstone Magic
Oct 7 Halloween Decor & Lighting  Miss Frugal Fancy Pants
Oct 8 Fit for God
Oct 9 Southern Family Fun
Oct 10 Autumn Placemats – Free Crochet Pattern Olives & Okra
Oct 11 Determined to Shine