Just in case you aren't yet sick of hearing about my dislike of all things Halloween, this post should get you there. A few weeks ago while we were decorating for fall and Halloween, I just couldn't bring myself to put up our usual kid-friendly decorations. All that orange. It's just so unserene to me.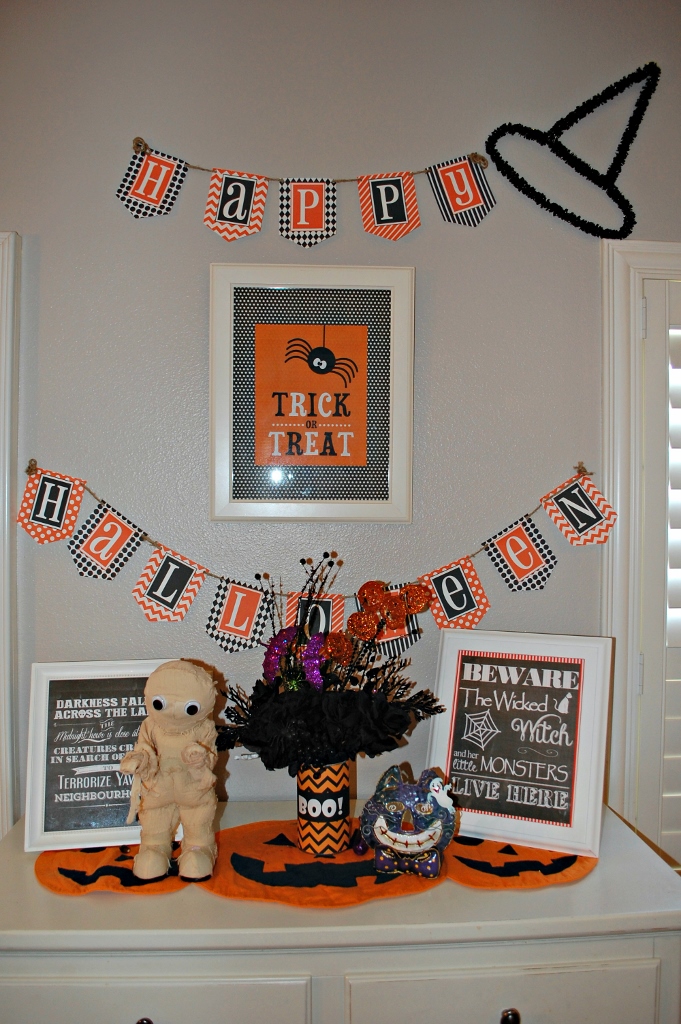 I have no problem admiring traditional Halloween decor in the homes of others. But my life is a little too stressful as it is and I prefer to surround myself with colors that ooze relaxation.
Okay, you get it. No orange this year.
While finishing up our burlap spider Halloween wreath, I did this and wanted to call it a day.
Actually, I did call it a day. That was about as much as I wanted to look at.
But kids. Oh, the kids. My 10-year old is a die hard Halloween fan and was mortified that mom wasn't putting up her traditional decor. She was particularly mortified that I wouldn't have proper decor for our pre-trick-or-treating annual gathering.
Mom guilt. Check.
I began to envision black and white and silver but had zero desire to spend money when I had perfectly usable, albeit orange, Halloween decor. Off to the dollar store I flew!
I wanted to DIY a fun Halloween sign to hang on the wall but to be honest, I ran out of steam and settled on using the tombstone from the dollar store. Perhaps I'll get a second wind and make something more creative…next year.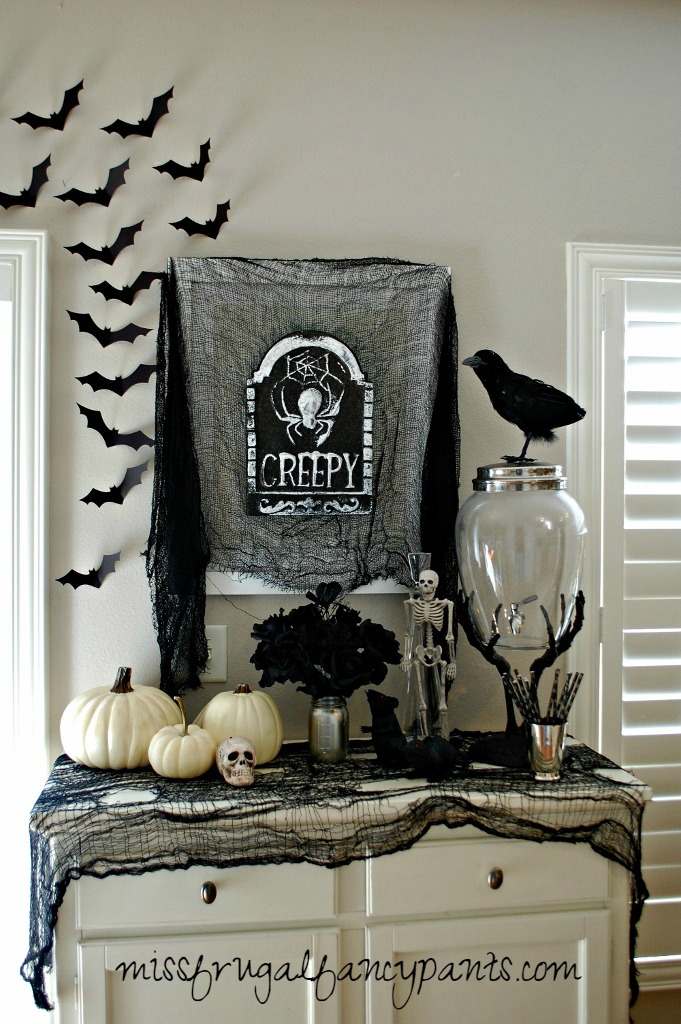 I already had the white pumpkins from Michaels, which were half off when I purchased them a while ago, the pretty awesome skeleton hands beverage dispenser holder from Pottery Barn and the skeleton head and body (although the dollar store also had a similar full body skeleton, fyi).
The dollar store was out of pumpkins, which I had intended to spray paint silver so that addition will have to wait until next year, I suppose. I did snag the black meshy stuff (to creep it up a little), the tombstone, the black roses and the rats for $1 each!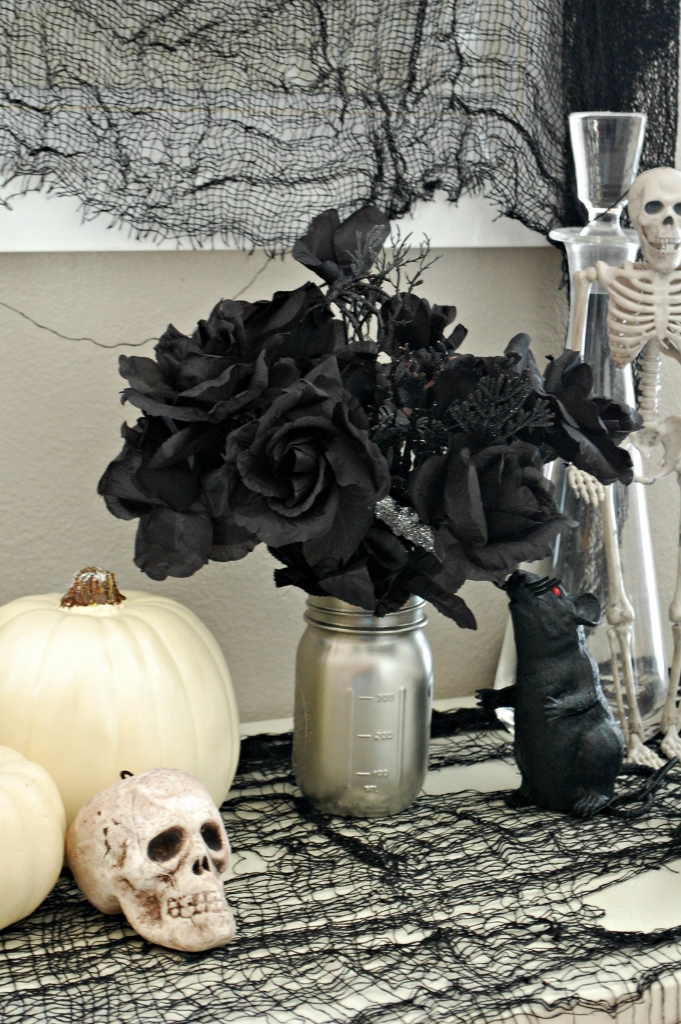 I spray painted a mason jar I had on hand to use as the silver vase and used my Cricut Explore (affiliate link) to cut out the paper bats on the wall.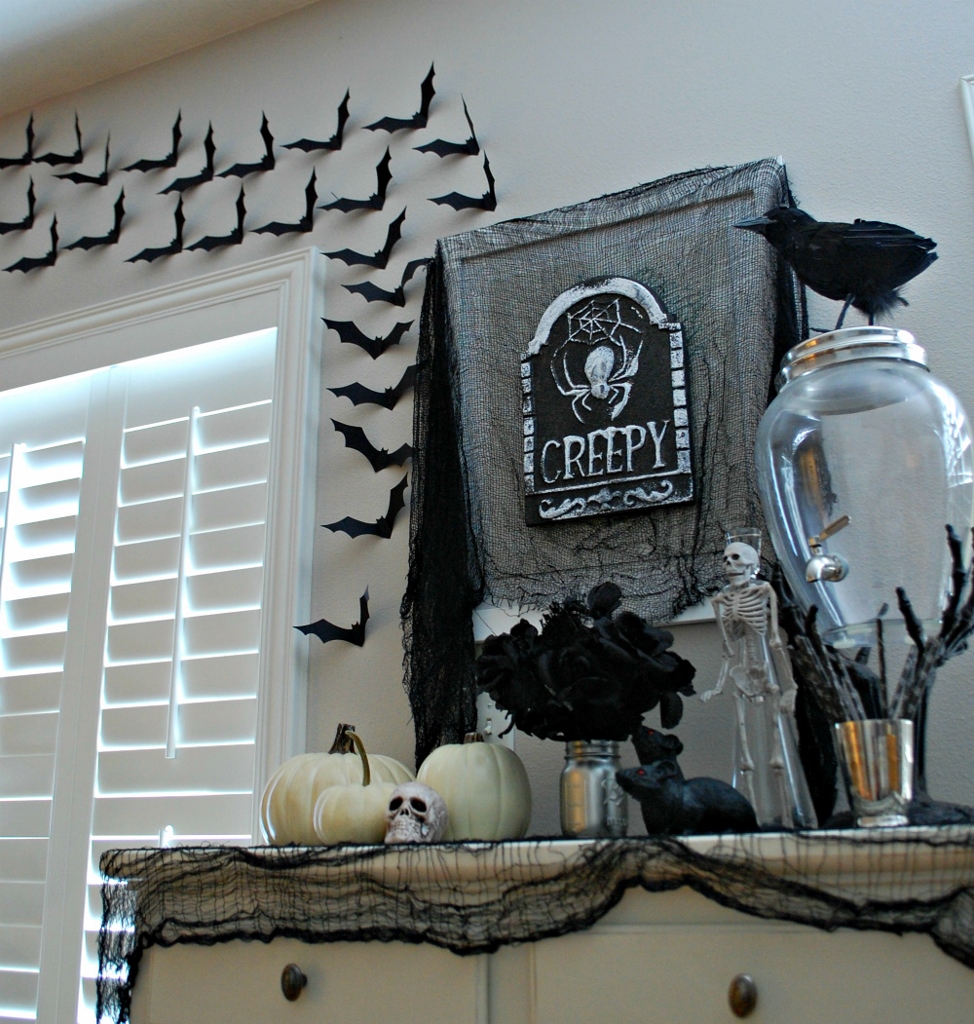 I happened upon the crow on a recent trip to Joanns and couldn't resist. It was on super sale and was missing some feathers so I asked for an additional discount.
It was a fairly easy project to throw together and my daughters love it! And I don't hate it so there's that. 😉