I'm not gonna lie; I hate Halloween. Always have. I can't tell you why, for I have no specific reason but it's certainly a holiday I could live without. And of course, my oldest daughter LOVES it (as will my younger daughter soon enough). Loud sigh. The things we do for our kids… 🙂 )
I'll spare you from any noxious dialogue in this post. Suffice it to say that I made fun food, used free printables and added my crazy fancy touch to show my older daughter that it really IS all about her. Loud sigh again. We generally invite our friends and family to our house for a casual "eat, drink and be spooky" prior to trick-or-treating. Scroll below the photos to find my list of things to do (all frugal, of course), including a few helpful links for your Halloween celebration. And I apologize for the quality of these photos…taken on a cell phone long before I decided they'd be posted on a blog!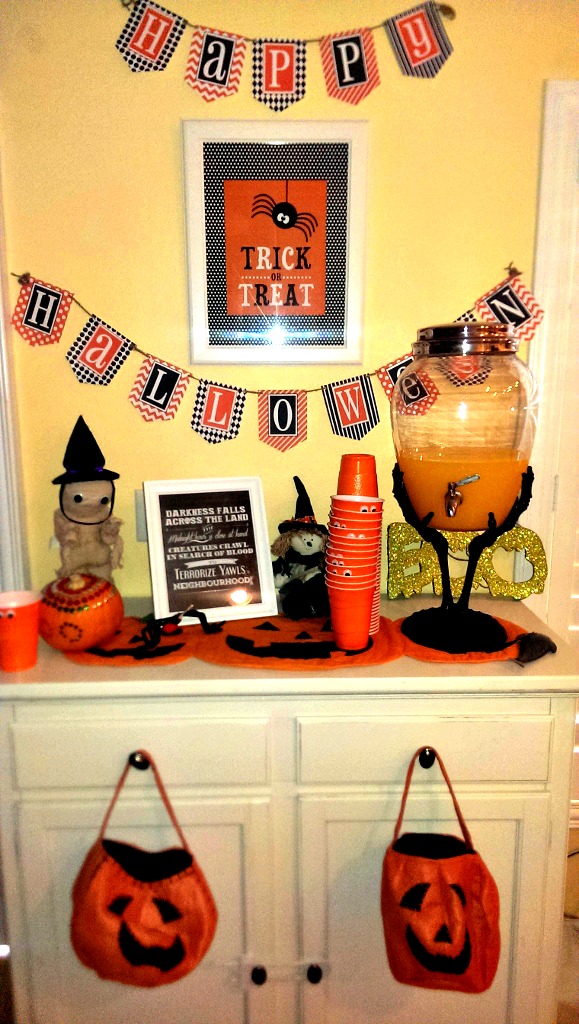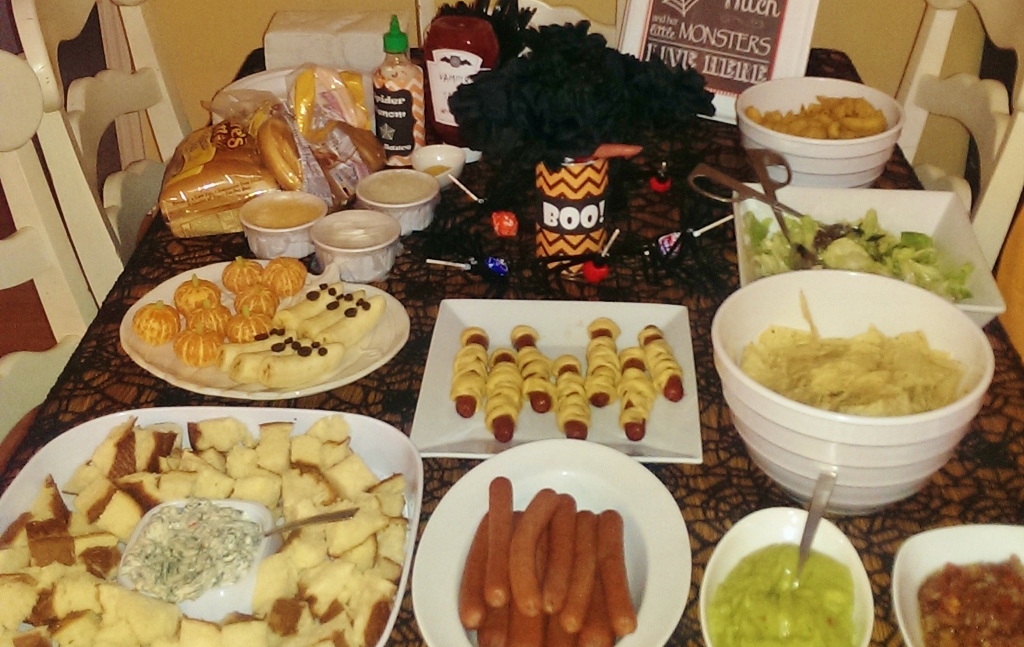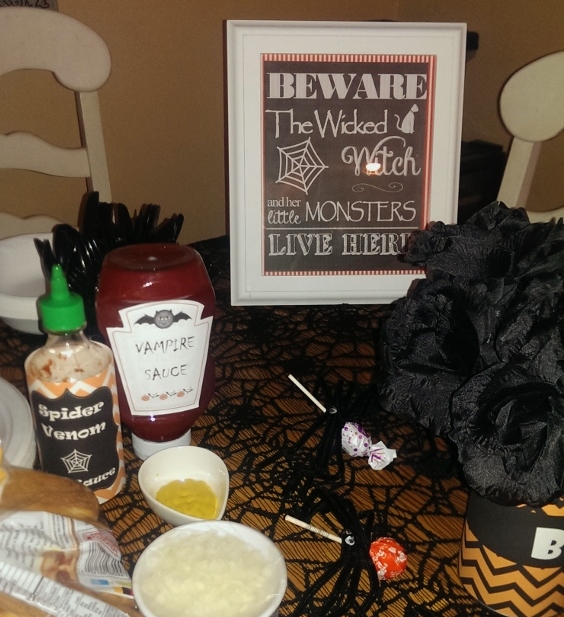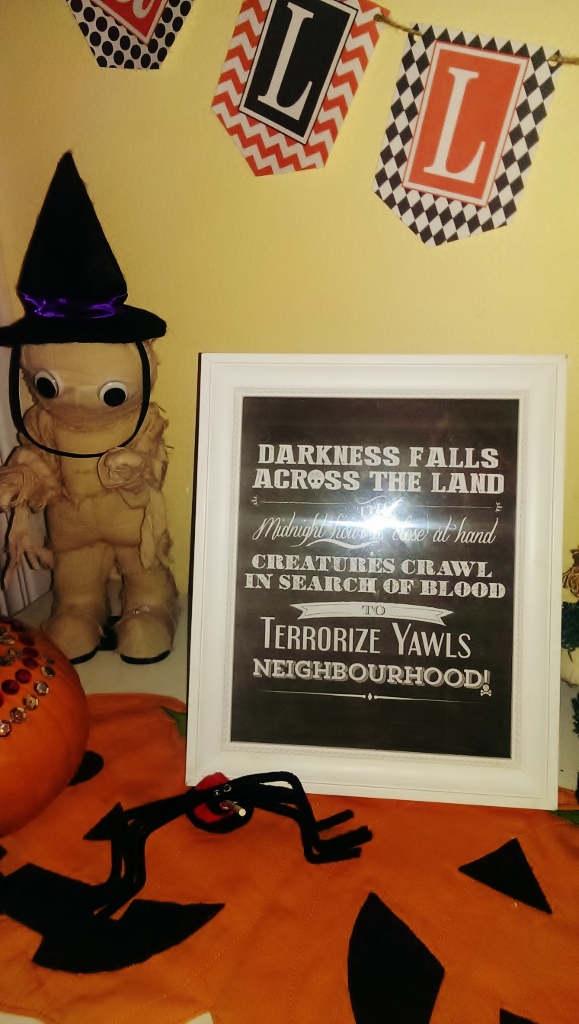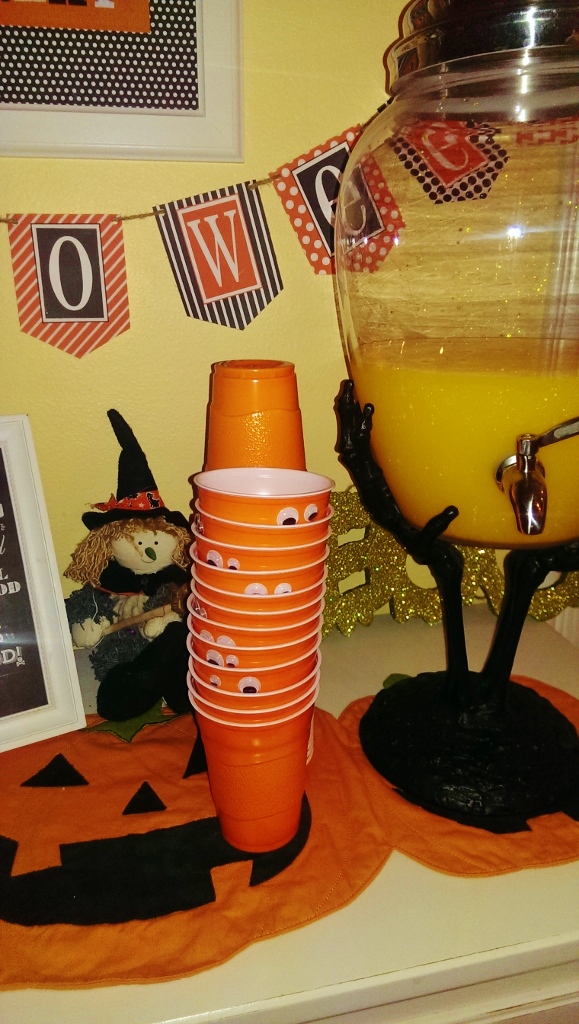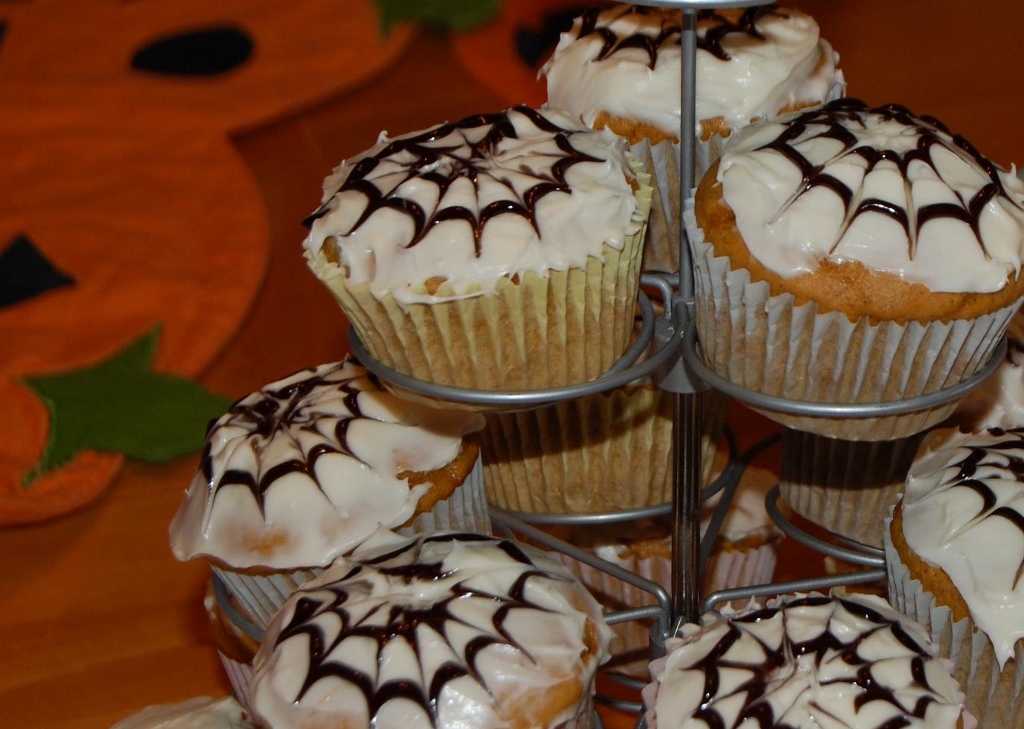 – Mummy Dogs
– Mandarin Oranges with pieces of celery to look like Pumpkins
– Ghost Bananas with Chocolate Chips
– Spider Web Cupcakes – Similar Tutorial Here
– For real food, we like to make a giant pot of chili and put out toppings for guests to enjoy bowls of chili or to top their hot dogs with chili
– Beware the Wicked Witch Inspiration for Sign (I made my own but wanted to give credit where credit is due:))
– Recycled Veggie Can with orange & black chevron "Boo" wrap that I made and filled with Dollar Store black flowers
– Ketchup and Hot Sauce Labels (I made my own)
– Lollipop Spiders (a little project I had my older daughter work on. I had a hard time find a tutorial that wasn't from a suspicious site so I'm not linking to anything here. It's pretty easy to figure out how to do this though and feel free to ask me how.)
– Happy Halloween Banner Printable (Sign up for How Does She's posts and you will have access to lots of adorable and FREE printables)
– Trick or Treat Printable (Sadly, I cannot locate this file nor the the original source but you can find similar printables out there)
– Thriller Printable (My Favorite!!!)
– DIY Orange Soho Cups with Googly Eyes (Buy cups. Buy googly eyes. Hot glue those bad boys on in random and non-matching sizes and VOILA! Scarilicious.)
– Skeleton Hands Beverage Dispenser Stand is from Pottery Barn (I purchased it on clearance a few years ago but I noticed a dragon one for Halloween this year, if you're interested. 🙂 )
I hope you can use some of these ideas to add a little frightful flair to your Halloween!