We were able to host Easter last year and I was SO excited to bake and cook and decorate and craft…Oh the crafting. Please enjoy my Pinterest Fail Easter Craft…
The chunks of glue look nice, huh?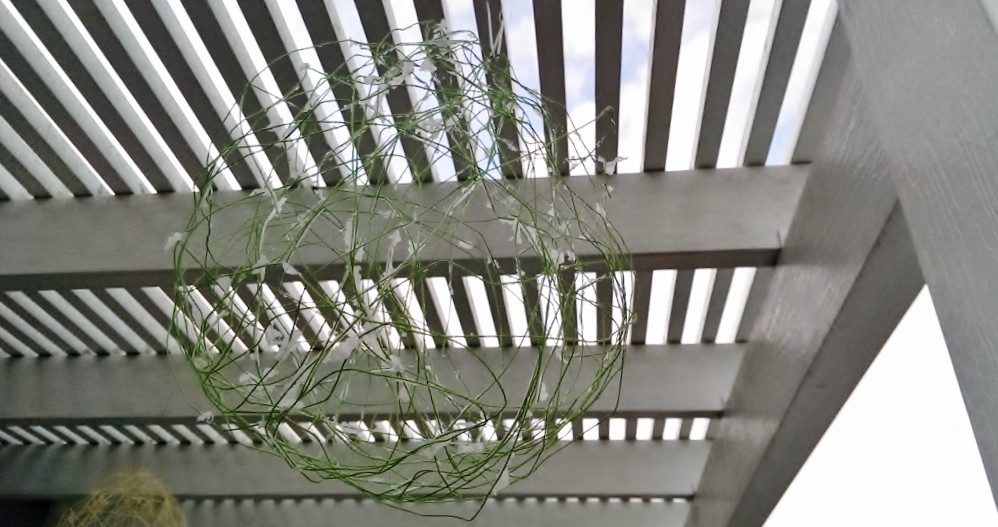 Here is a slightly less pathetic angle…
This was my inspiration found on Pinterest…to wrap an inflated balloon with glue soaked string to create this:
I wanted much larger eggs to hang from our pergola in lieu of paper lanterns and was so proud of myself for this fantastic idea to decorate with hanging eggs.
And of course it was an easy project I could do with Avery…ahem…
Lemme tell ya something…wrangling that much string soaked in glue ain't for sissies. Avery and I were laughing hysterically as we pulled and screamed and untangled and screamed some more. I think we both yelled "OMG!!! WHAT THE HEEEECK!?!?!?" like 300 times.
Certainly, we couldn't be the only idiots that couldn't figure out something so simple…
But we kept plugging along and figured out a slightly better way with each balloon.
So the deal was to wrap that sucker up, let the glue dry, pop the balloon and boom! Perfect Easter egg decor, right?
Wrong.
But before you try to be nice and say, "it doesn't look all that bad…", I challenge you to not giggle when you see this…I've tried my best to edit these photos so you can actually see the chaotic balls of string and am so sad that I never took photos of the original whoa nelly versions. They were soooo much worse than this photo…
And this super funny girl, Heather from craftfail.com,  apparently had the same issues we had…
Even once dry, the glue still sticks to the balloon so the entire balloon sucks in all the string. And because we made them so large, it was a hundred times worse than the "Nailed it!" photo above.
We laughed A. LOT. My husband eventually helped reshape them into more believable eggs and we hung them anyway…mostly to laugh some more. And we did.
I found this tutorial from Lisa at WineandGlue.com which doesn't include glue, but uses liquid starch…and her eggs are perfecto! I will use this as a guideline for our next attempt at the hanging Easter Egg Lanterns and I urge you to follow her lead instead of mine…
Happy Easter and Happy Crafting!