In case you've missed it, I'm a little obsessive when it comes to coastal decor. I get all sorts of giddy when I see my kind of coastal stuff, as evidenced by my favorite Pinterest board, Mostly Coastal for the Home. Sadly, most of the items that make me gaga are way out of our budget. Shocker. One of the out of budget items I pinned ages ago has had me wanting to create a coastal tablescape with wannabe plates. It just so happens I got super lucky and found similar plates at HomeGoods and decided this was the perfect opportunity to create a blue and white coastal tablescape for Father's Day. I found them right around the time Wayfair asked me to participate in a blogger Q&A on tablescapes. #tablescapesonmymind
This was the original plate that gave me heart eyes…
Don't get me wrong, I'd still love a set of those plates for more formal occasions. They somewhat match our china and I love the idea of that type of accent plate amidst fancy schmancy china and crystal. Sort of takes the stuffiness out of a formal setting. And it might make me temporarily feel like Diane Keaton in Something's Gotta Give. #dreamhouse #dreamlife #livinginthewrongstate
Back to reality, I discovered these at HomeGoods. Um, score! They are melamine so they are a double score because we can use them outdoors as well. The tablecloth (also an outdoor find) is from HomeGoods as well, but I actually bought it a few years ago when I hosted my father's celebration of life. He was an avid fisherman and it just felt like THE tablecloth to use for that day.
It also seems fitting that it's the tablecloth to use for a Father's Day tablescape from here on out. I mean, what's more fatherly than fish?!?! And blue. Blue just seems like dad's color, right? Why is that? I feel like fish and blue apply to my dad, my step-dad, my husband, and nearly every guy I know. Am I weird for thinking that?
Anyway, I found those little, blue, wooden seahorses in the dollar bins at Michael's. They were $1.50 for a pack of 4 and already had twine on them so they were perfect for coastal napkin rings.
We already had everything else. We have a pool, so we have an overabundance of melamine plates for outdoor dining. The blue plates are my favorites. Those were a Target, went in for cat litter, came out with $100 worth of pool crap, find from many moons ago. #stilldontregretit
My thrift store maven mom gifted us with that fish platter a few years ago. We are big fish eaters (couldn't possibly be from my dad being a fish nut ;)) so she knew we'd love it. I thought it would make the perfect centerpiece with some simple white mums (or whatever those cheapo flowers are called). I don't know too many dads who go giddy over tulips (like this mama), so I feel like the simple mums are perfect. Not too fussy with a little, "you matter too, dude."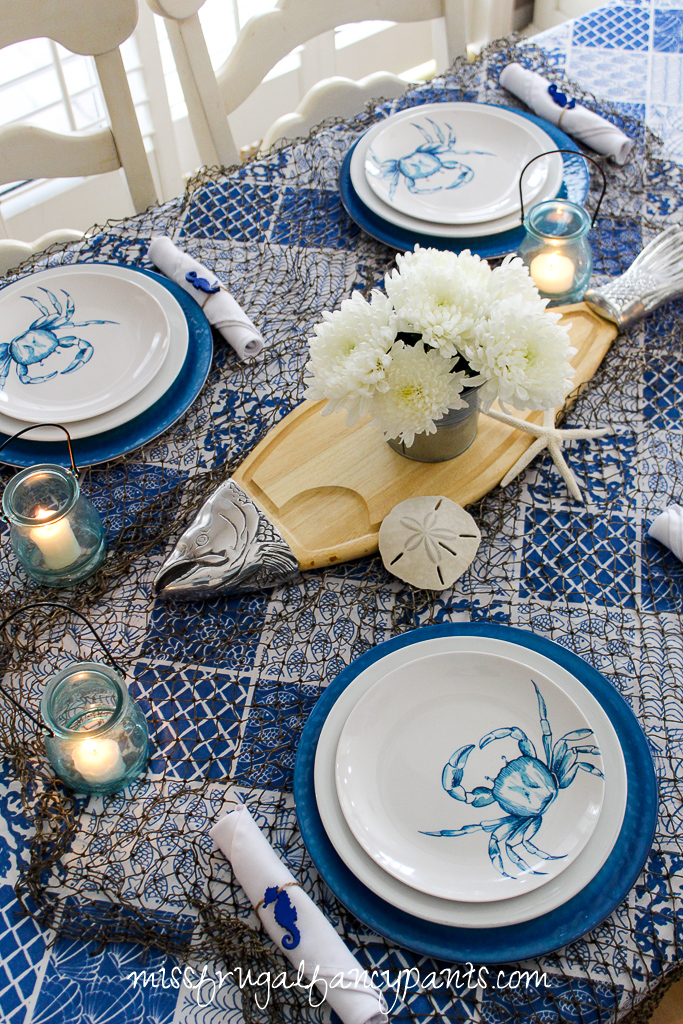 We had the lanterns and fishnet leftover from Riley's mermaid party. I said we'd reuse anything we purchased for that party and by golly, we are!
If you love anything from this look, Wayfair has a great assortment of coastal dining options. I was so honored to be asked to participate in their Blogger Q&A . Check it out here for a plethora of great tips when it comes to creating the perfect tablescape.
I also made this dip-dyed banner (because the party planning psycho in me had to do something abnormal). I saw it in a Michael's email and thought it was gorgeous. I was scared out of my mind to use the dye because I could only envision my 4-year old somehow tipping the bowl over and dying our floors a permanent shade of blue. Fortunately, I convinced her to stand by and watch. I actually wanted to make it for the 4th of July. And to be honest, this entire tablescape has screamed July 4th as I planned it in my head. I had a hard time getting a decent shot to show how it worked with the table but this is as good as it gets. Ha! That's 2 Jack Nicholson movie references in a single post. Random.
What sort of red would you inject to make this coastal tablescape more patriotic?