After our newborn photo shoot with our younger daughter yielded this amazing photo, we knew that her first birthday party had to be a Mermaid Birthday Party. This sweet photo was taken by Marisa at Glow Tampa Photography.
And so my crazy year long mission began. Searching for all things mermaid. In my own color preferences. Driving my husband completely insane.
I fell in love with this invitation on Etsy because it truly captured my vision. I didn't want anything blingy and loved how it was simple, pretty and well…just my style. And my little mermaid, Riley, has a bit of an old-fashioned look which kept me going in my usual direction of muted, tonal colors.
I also added our little family seahorse logo. Yes, we have a logo. For our family. It sort of happened by accident during our intimate wedding planning and once Riley was born, we had it tweaked (by Jenni at Firefly Invitations). I'm a little obsessed with it, if you hadn't noticed.
I found so many ideas on Pinterest for this party that it was hard to narrow things down to a manageable list. I found lots of great deals throughout the year in the clearance sections of TJ Maxx, Marshalls, HomeGoods, Bealls and even a random patio furniture store we wandered into one day. I scored white seashell serving pieces and little fish ramekins for 25 cents a piece. Insanity!
Best. Flag. Ever. This was made possible by my friends at InPlace Marketing.
I love this wreath. I loved making it and I love looking at it. And now I can't wait to paint my front door another color so it doesn't clash with this ugly red that I'm so over. I'm so glad I found the inspiration here.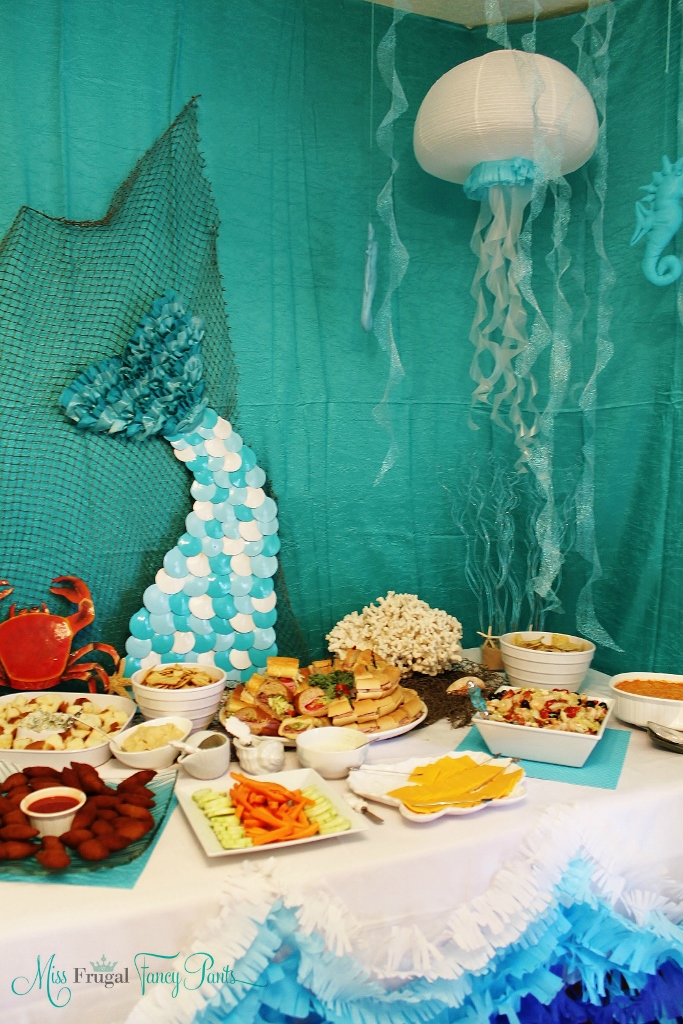 The jellyfish lantern was easy to make. See the tutorial here. My husband loved it so much that he wanted me to make 5 of them to hang from our pergola. Who's going overboard now?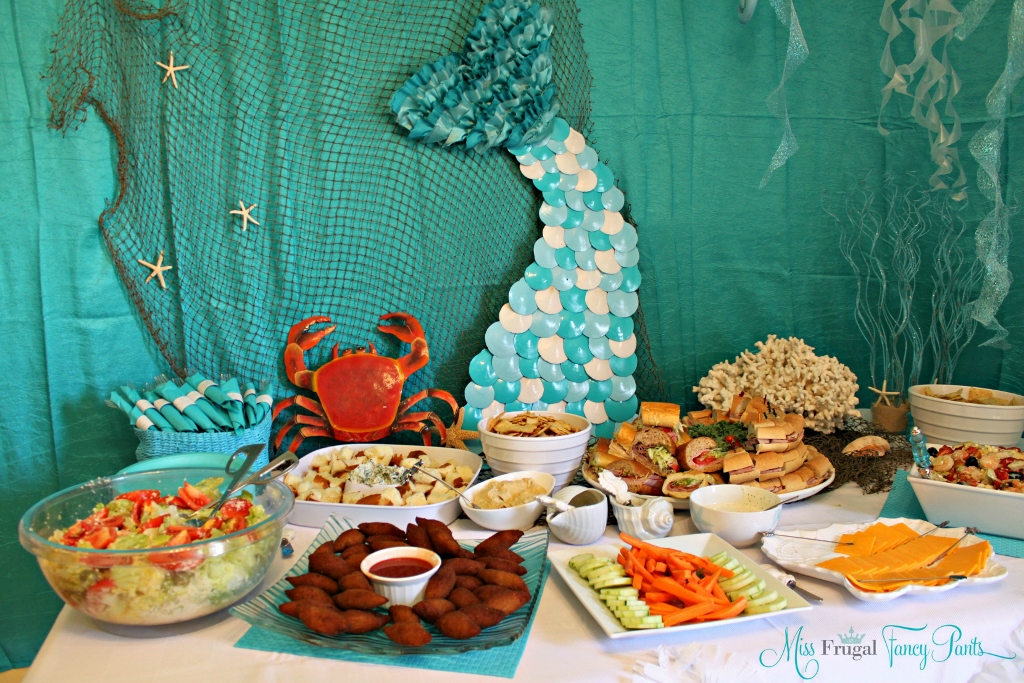 The mermaid tail was another awesome craft project. I was inspired by Kori's creation here. I ordered the shells online and had my husband spray paint them in different shades of aqua (we left some white). My oldest daughter (8 at the time) drew the mermaid tail on a piece of blackboard since she's the artist. 🙂 I cut out her shape and glue gunned the shells in an overlapping pattern. My mother-in-law sewed the ruffled part of the tail but I can't tell you how because I suck at sewing. Suh-uck. I told her what I wanted and gave her approximate measurements and this is what she sent back. Amazing.
As luck would have it, we are beach freaks and happen to have a lot of random stuff in our house (or in storage) that we were able to pull into the decor for this party. That big ole' crab was something my husband refused to part with when we merged households and had been living in a box in the garage for years. But he wouldn't let me spray paint it aqua. Blasphemy.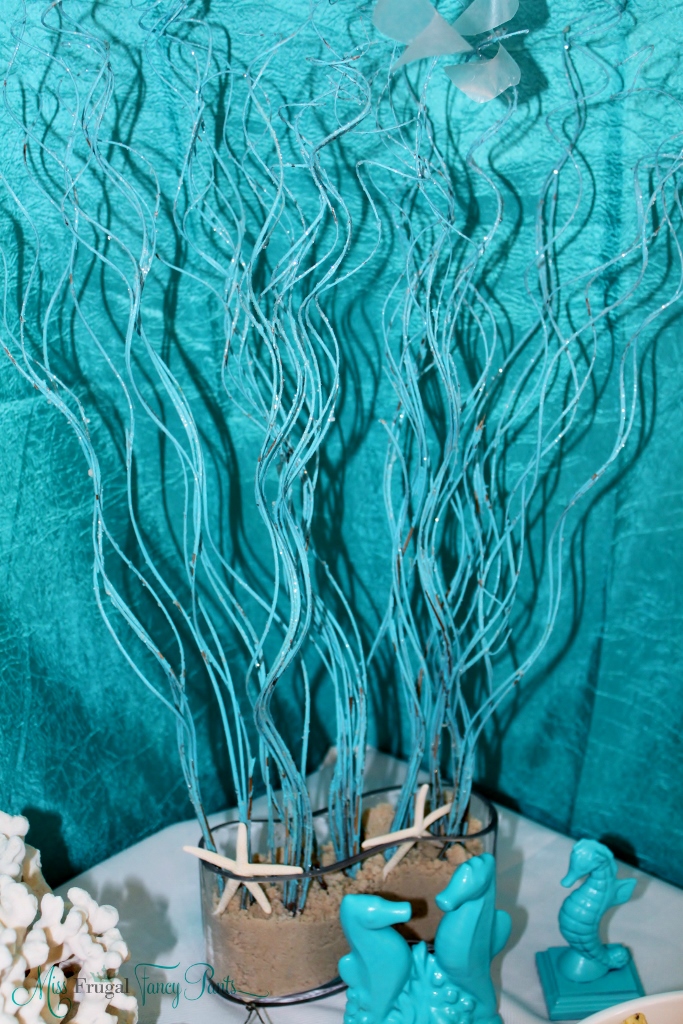 My thrift store maven mom snagged a few items that we spray painted to match. Like those hanging seahorses. They were a special kind of ugly to begin with but worked to fill that corner once painted.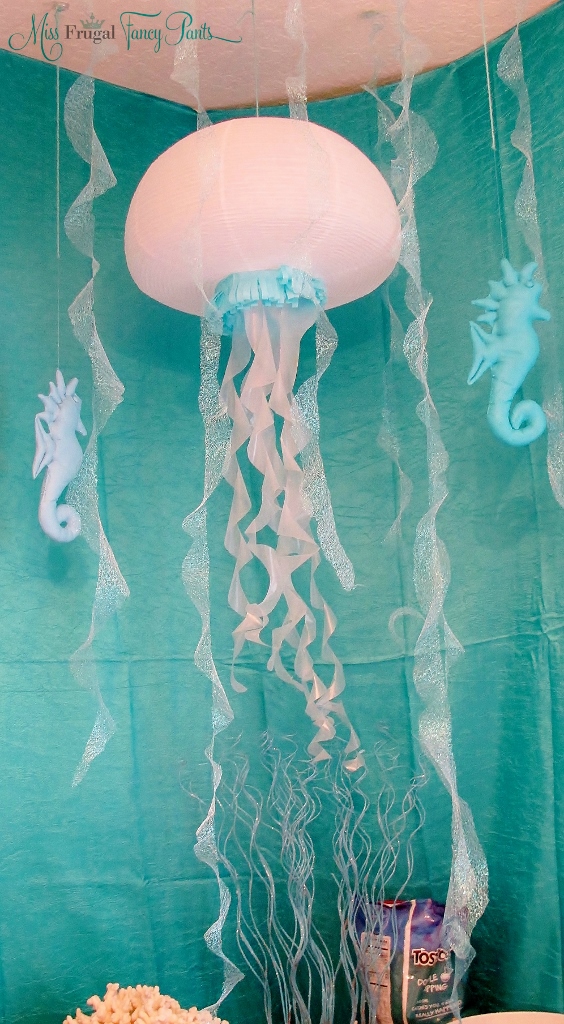 Napkins rings. Only a crazy person like me can get so excited over rolling plasticware into napkins and adorning them with hand stamped, scrapbook paper rings. This was definitely the easiest DIY project for this party and the very last thing I did the night before. It was a bit of a zen activity for me and I may have gotten a little too pleased with myself when they were done. Like, if you didn't notice this random detail and tell me how pretty they were, you hurt my feelings. Okay, maybe you didn't hurt my feelings but still. Napkin rings, folks.
This awesomeness is made out of crepe paper sheets. MarleyDesign had a photo in one of her listings and was kind enough to point me in the direction of this tutorial to make the waves.
This was a thorn in my side. I knew I wanted to display Riley's monthly photos on seashells but as you can see below in the banner photo, aqua does NOT look good against my formerly yellow kitchen walls. Yuk! I covered foamcore with a lacy fabric to minimize the obnoxious contrast but this project never quite amounted to my original vision.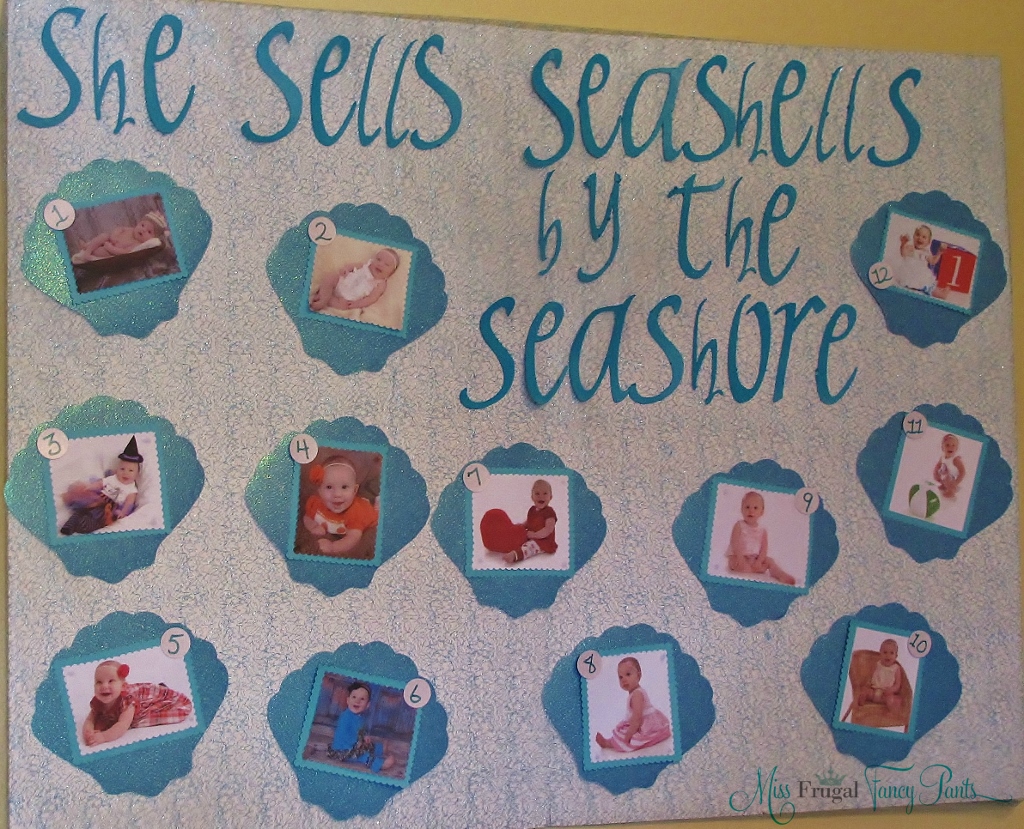 This was my inspiration cake. I wanted it SOOOOO badly and I thought I made it pretty clear to the bakery. You can see there is quite a difference between it and what I got, huh? I did not want a mermaid cake. I wanted a wave cake. But holy mermaid, I did get. (I'm pretty sure she's the reason my older daughter is now afraid of dolls. And eyes.)
The paper backdrop is made up of a ton of paper circles cut with a Cricut (affiliate link). I used sticky tack to hang them one by one on the wall. I loved how it looked like bubbles!
Okay, so this was a splurge for mama. Lilly Pulitzer fabric. With a seahorse. On a dish towel. Yes, please. This came from Hickity-Pickity.
This is a shot of one of the outside tables before it was actually properly set. And I forgot to go back to photograph it later. Oops. You get the point, right?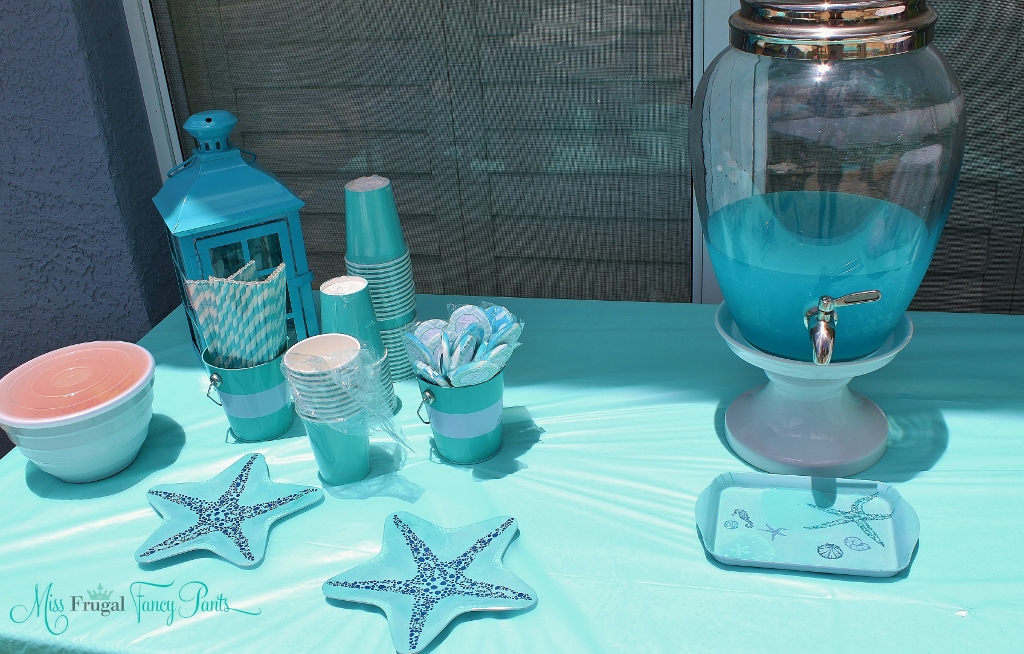 This was a sleepy birthday girl who woke from her nap to a zillion people in her house.
And what better present for a mermaid than a Mermaid Anywhere Chair from PBK? And by the look on her face, she's sleepy enough to pass out in it five minutes ago.
This was a project heavy mermaid birthday party but I have no regrets. I actually enjoyed this crazefest and despite the overabundance of decorations, I didn't spend nearly as much as it appears. My name isn't Miss Wealthy Fancy Pants, afterall.
If you are looking for additional mermaid inspiration, please feel free to check out my Mermaid board on Pinterest.
Follow Miss Frugal Fancy Pants's board Seahorse/Mermaid Theme Birthday Party on Pinterest.