I promised I would go into more detail about my DIY Chalk Paint Entertainment Center Makeover in my previous Mostly Coastal Living Room Makeover on a Budget post, so here goes…
Spoiler alert. I talk a lot so feel free to skim through to see the photos, or read it to possibly enjoy the riveting narration. Your choice.
We had a beast of a television from the dinosaur age (circa 2001) in our budget friendly entertainment center (also circa 2001). When my first husband ordered that monstrosity, I threw a fit because our living room is the first room you enter in our house and I was not a fan of smacking people in the face right off the bat. Clearly, I lost that battle (a rare occurrence, fyi).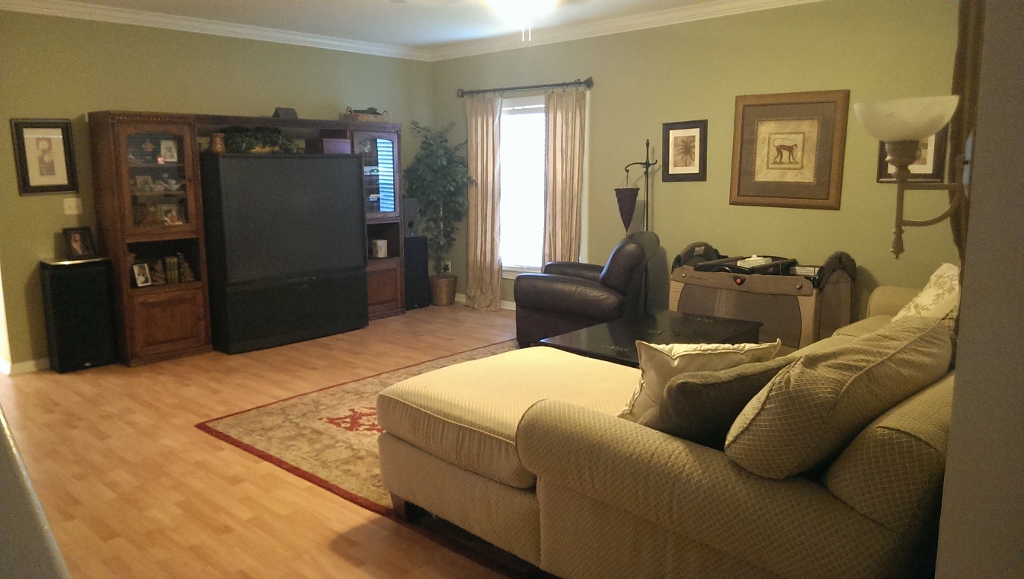 Since I had to (deal) with the decorating faux pas, I, at the very least deserved a high quality entertainment center, preferably with one that had giant doors to hide that beast while it was sleeping.
But alas, this was our first home and a $3800 entertainment center was not in the cards. I eventually decided to explore the unfinished furniture route and found our entertainment center, which included two towers with doors and a lighted bridge, for around $700.
But it did NOT hide the beast and we still had to finish it.
And this was the first experience either of us had with anything other than painting a wall, so staining and sealing was new territory. But how hard could it be?
Um…hard for two super impatient people. (It really wasn't but we were idiots and young and dumb…)
Needless to say, it was the world's worst stain job. Ever.
I hate the grain in oak, which is what our entertainment center is made of. But my plan to stain it a deep, rich mahogany to camouflage said grain, was thwarted by said lazy idiots.
So, we had an affordable beast hugger that we made look super affordable…ahem…cheap. Let's be honest.
Fast forward to our current decade and the combo of the (now dinosaur) beast with the lazy badge of "honor" made me cringe a little each time we had visitors. But a high quality unit was still not in the cards and I knew the beast would meet it's maker soon enough so I hung on a little longer…
And then it happened… homeboy decided to die at the very same time that our fridge, stove, dishwasher, washer AND dryer (and don't get me started on our A/C) all bit the dust. Were they all in the same cult? What the expletive?!?!
"Be prepared for your 10 year anniversary in your NEW home to be akin to a funeral." Pretty sure that's the cult's name, if you are worried and need to do some research.
Translation, there was NO room left in any arbitrary budget for a new entertainment center, or the dreamy built-ins we had dreamed of for so long. Heck, we didn't even have the funds for the replacement beast in the grand scheme of all things cult.
Fortunately, my VERY generous father, who could never resist a bargain, decided to gift us with a new one for my birthday…but not before he made me do the research and provide him all the details and comparisons as to why this one was the best deal out there. Vizio from Sams, by the way. We weren't looking for bells and whistles but wound up with a new, modern beast, with fun features we may or may not use, for way less than almost anything else out there. And we're still very happy with it and have yet to find a flaw (knockin' on wood right now).
However, the dilemma was trying to find something to hold the new beast since the old one was freestanding. Craig's List was kicking my a$$. It made me want to just put the television on the floor and call it a day. My mom loaned us a dresser to avoid that insanity. Not bad, but she wasn't giving it to us so I was still searching.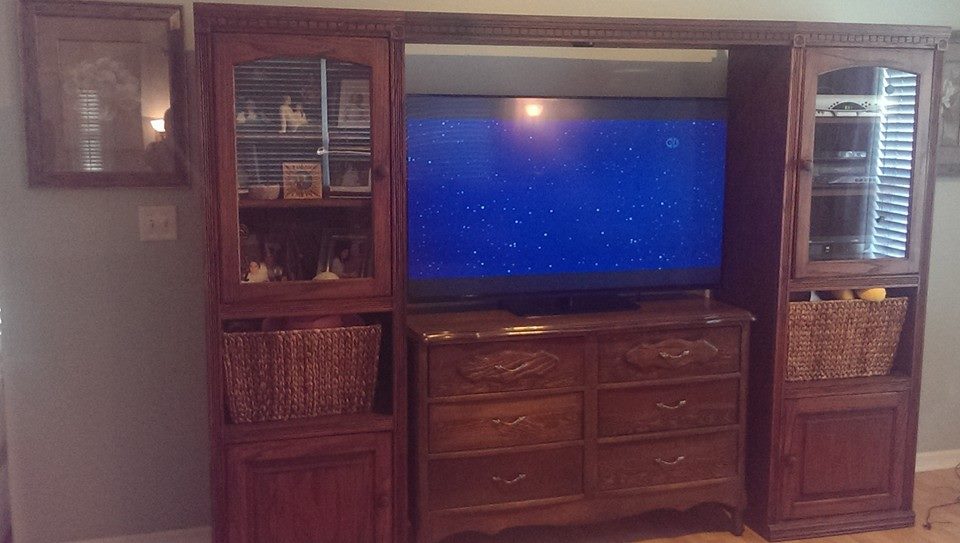 I searched for months to find something that would fit in between our two towers. And I was not willing to remove the light bridge because I'm a weirdo and just wanted it to remain connected. 13 years later the matching piece, which would require me to stain it, and this time in a lazy way ON PURPOSE to match the towers, was going to cost us over $700.
Um….no.
Not spending that much money to add to my embarrassing first DIY project. And nothing else out there was a viable option. Either wrong size or way too expensive.
But one day, I realized we had a piece from my husband's old office lobby that was in storage and was possibly a close fit.
Boom!
Now to make it all match…
Aaaaand back to lazy…
I had ZERO desire to strip, sand, paint, seal, sand, scream, etc. I'm a lazy girl at heart. I secretly long to be Jeannie (I Dream of Jeannie, for those of you born close to the same decade I bought the dinosaur beast). Blinking my eyes sounds WAY more fun than days of labor. Don't judge.
Enter my cousin's post on Annie Sloan's Chalk Paint and how it required zero prep work.
DING DING DING!!!!
Now that I've written WAY more than you really cared to read, here is the summary.
Old entertainment center towers and bridge – Free (repurposed)
+
Old Console table with outdated paint technique – Free (repurposed)
+
New Beast – Free (generous gift)
+
Annie Sloan Chalk Paint & Wax – $73.72
+
Time/Sanity – Under 2 Hours of my Life Lost
=
BEST DIY PROJECT EVER!!!!!
If you are still reading, 1) I love you. 2) Stay strong; there's more. 3) Here are some details…
I had no clue what to expect with this paint. It almost sounded too good to be true, and as we all know…but keep reading…
I originally wanted to go with a shade of blue but knew it would be way too washed out against my blue-green walls so I decided to got with some shade of khaki. Once I saw the samples in person, which appeared quite different from the website's appearance on my computer, I opted for French Linen. It's in the greige family which is another of my current obsessions in decorating.
After some research, I decided to only buy the Annie Sloan Paint and Soft Wax and to use cheapo chip brushes for application.
One post said better quality brushes soaked up too much paint and didn't want to release it and I can attest to this because I tested it out with some of my own good brushes. However, the chip brushes shed, even if you prep them so I wound up using a combo of the two, switching whenever I was irritated enough to throw one through a window. If I'm not being lazy, I get kinda cranky when my Jeannie eyes don't work and I might have an anger management issue on occasion with DIY projects. I repeat…don't judge.
As for the finish, I knew I wanted it to look more distressed and less perfect. I was a little distraught over my inability to distress it but this miracle paint was seriously like Jeannie in an Annie Sloan bottle paint can. One coat allowed the original stain to show through almost exactly how I wanted the finished product to look. Two coats was a little too much coverage so I did a combo of good and lazy strokes varying the brushes (whichever one hadn't been chucked across the room) to achieve the finish I wanted. And that just sounded way more complicated than it really was.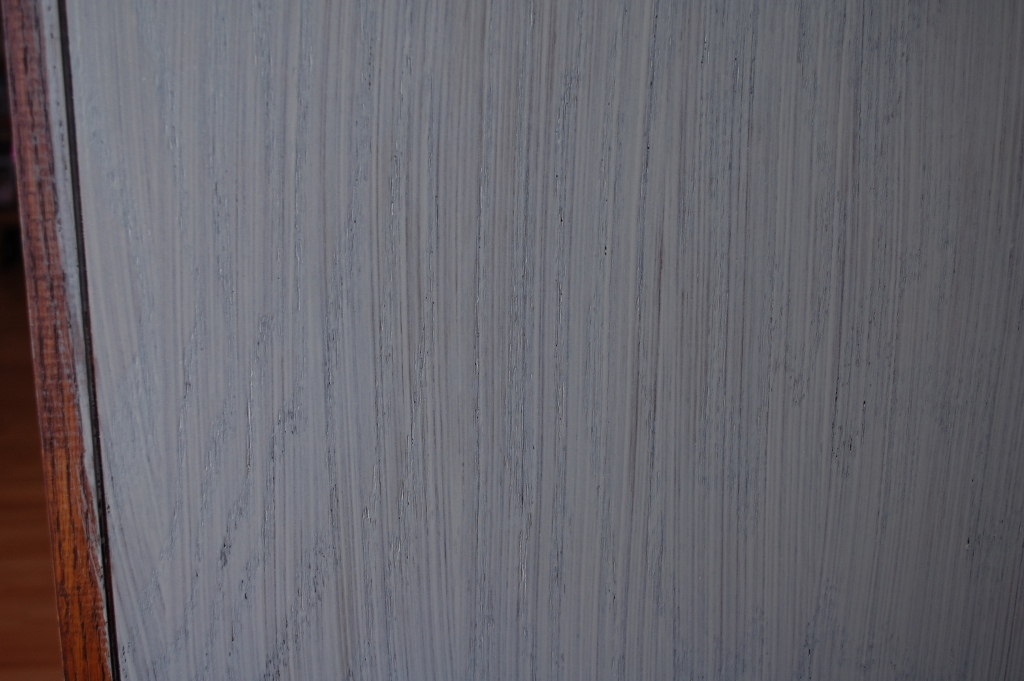 This is my test side that no one will ever see to give you an idea of how I played around with the different brushes and 1 coat vs. 2 coats…While 2 coats was way more coverage than I wanted, it should be plenty for anyone going for a more polished, non-distressed look.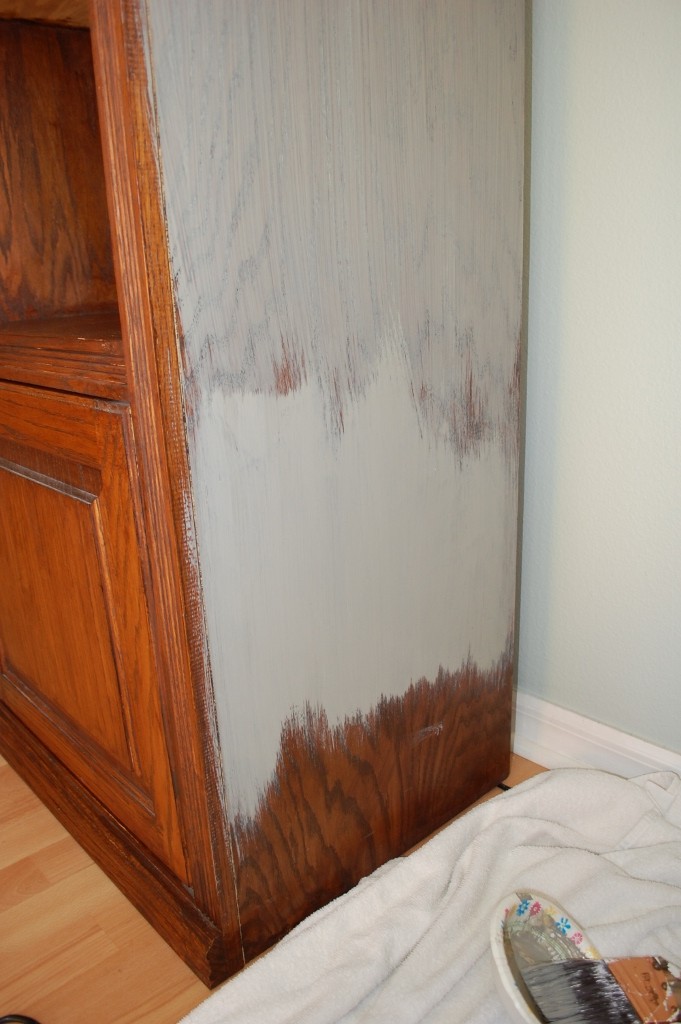 I have finally received my Jeannie powers.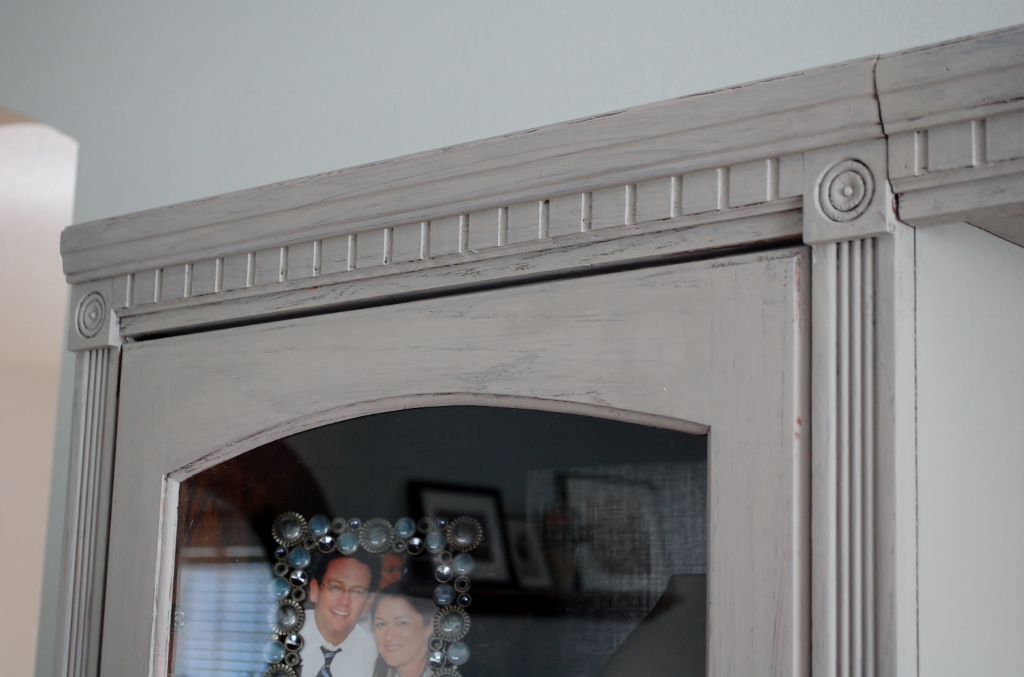 This paint has zero odor and I was able to paint this entire unit in about an hour.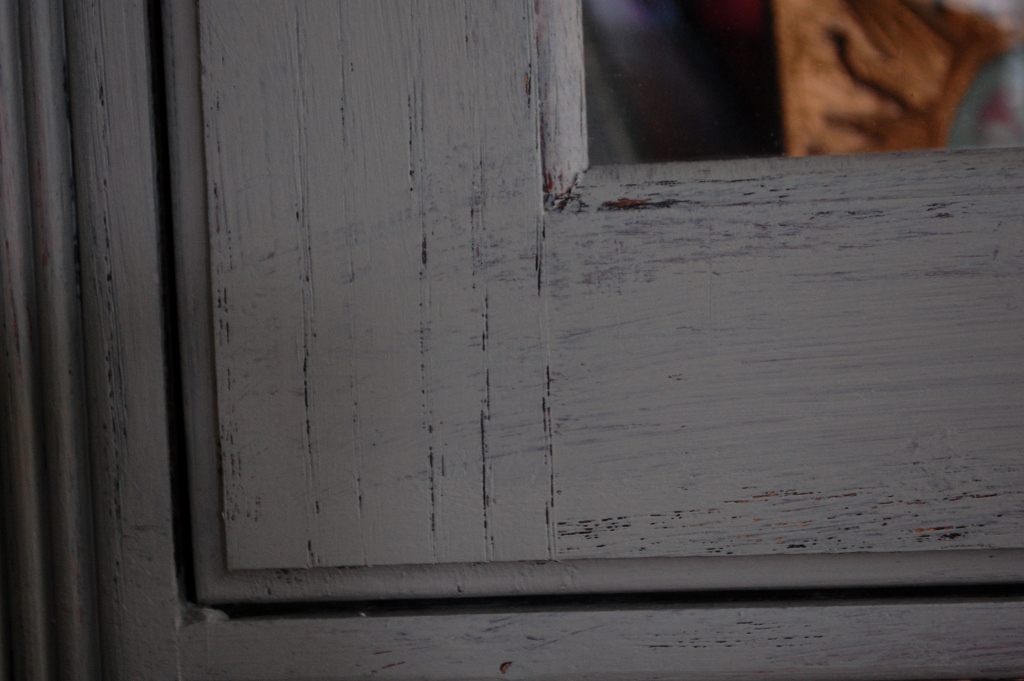 And lazily.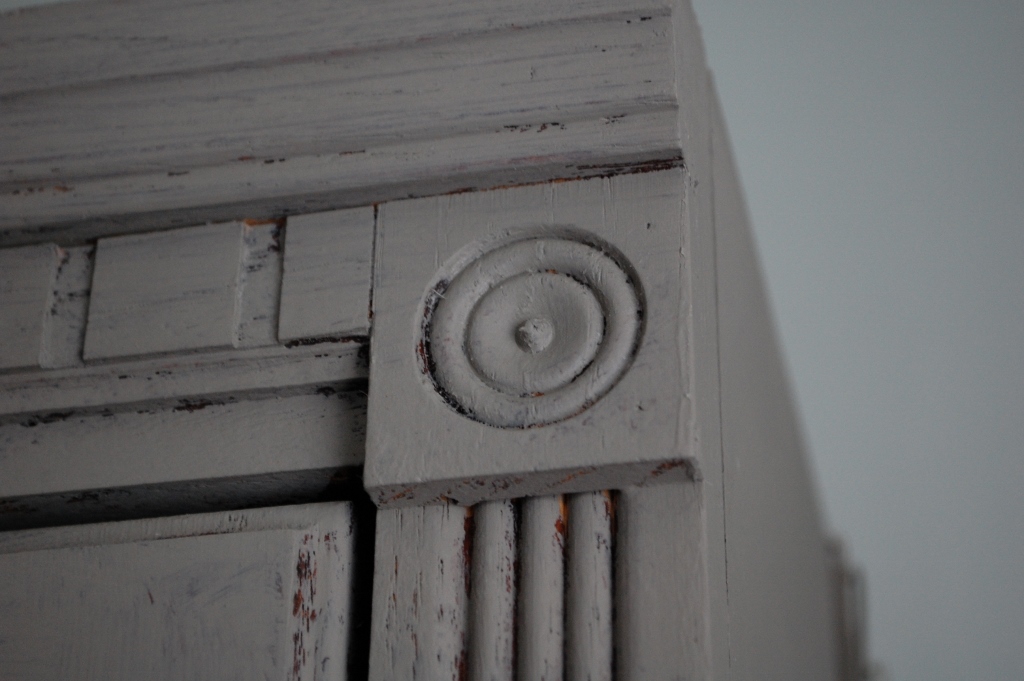 I did have to give the "new" tv stand 2-3 coats since outdated flowers bleeding through wasn't really a look I was going for. But so what?!?! Did you hear the part about NO SANDING?!?!
As for the wax (to seal the Annie Sloan chalk paint), it wasn't difficult to apply but I used a rag and it actually ate through my rag. That was bizarre to me. I wonder what it does to those expensive brushes? But my hands were fine so perhaps it just doesn't like cotton.
I found a knockoff dark wax at Joanns with a coupon for about $5 and decided to attempt an application over the tv stand to mimic the bleedthrough of the towers.
I failed.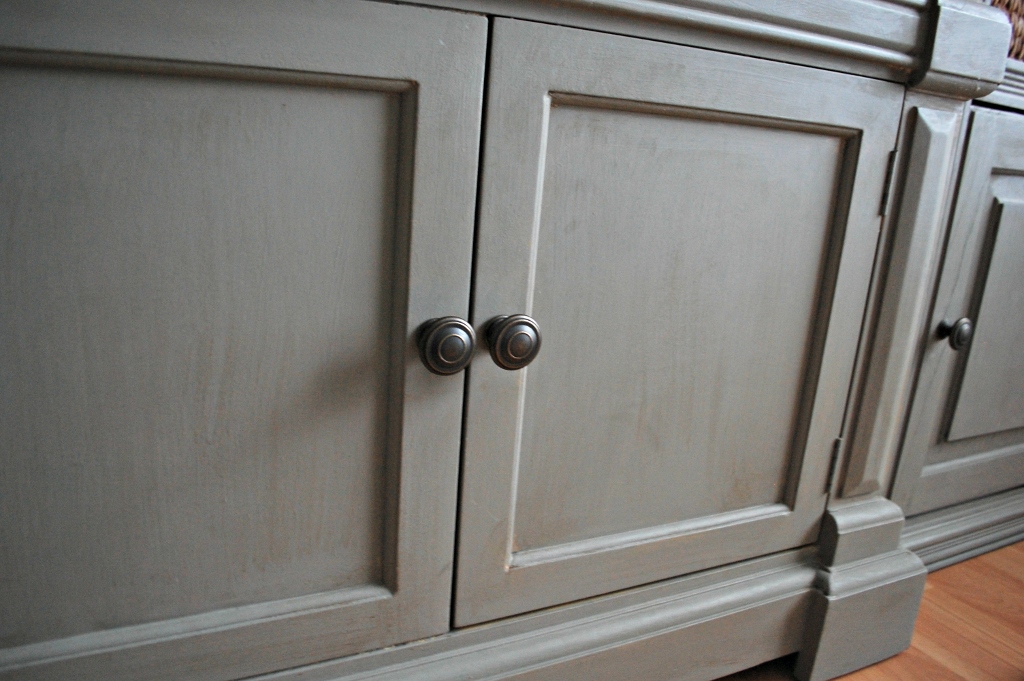 But it's good enough for me to pat myself on the back for a valiant effort and I love that I only had to spend the money on paint and a few hours of not so hard labor while my toddler napped.
P.S. It was dry before she even woke up. How's that for magic paint?!?!
And I got new knobs in my Christmas stocking. No joke, folks. We keep it real in this house.
I also covered some foam core boards I had leftover from my daughter's mermaid party with this pretty silky linen looking fabric that was on super sale at Joanns to put at the back of the shelves behind the glass doors.
Partly because I love this trend and mostly because I was way too lazy to paint the inside of the towers and didn't want to use too much of that pricey magic paint!
That chair is next on my list of things to chalk paint. Stay tuned for that post.
Overall, I am in love with this project and highly recommend chalk paint to anyone looking to give new life to an old piece of furniture.