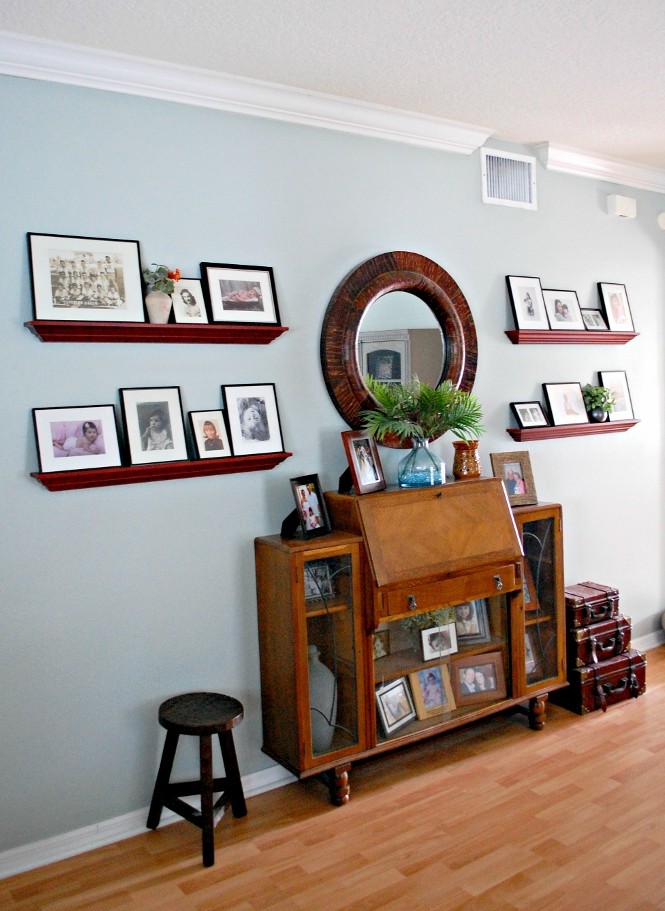 Okay, folks…gonna do my best here to not overshare boring details but bear with me. It's hard when I get excited over two of my favorite things…saving money and decorating!
My old living room was a gorgeous Martha Stewart Fern Green with mahogany wood furniture and my drastically overpriced custom made sectional complete with a red based Pottery Barn rug (warning: I will undoubtedly annoy you with my lifelong obsession with PB).
My husband loathes red. I am not a huge fan either, but when I first decorated this room, the rug was the last thing to go in and I knew it needed a pop of color given my overly neutral tendencies. Fast forward a decade and guess what? Miss "I want my room to be beautifully classic with quality pieces to last a lifetime"…had to call her custom made couch (a NOT so frugal splurge that still makes me cringe) DOA. Such a sad day. My cats had killed it. I could no longer find the fabric to recover the dead cushion and to recover the entire couch would cost more than a brand new one. Kinda bitter, people.
Seriously…I'm growling right now.
We found ourselves all too frequently discussing our mutual desire to convert our darker traditional living room to a more coastal, lighter, brighter living room. However, we were not in a position to drop the kind of cash such a makeover would cost so Miss Frugal Fancy Pants went into action.
(Forgive the horrible quality of the before photos. I swear the room was actually pretty before we redid it despite these grainy photos. And please don't giggle at my jacked up curtains…I attempted to wash dry clean only fabric…MAJOR DIY FAIL!)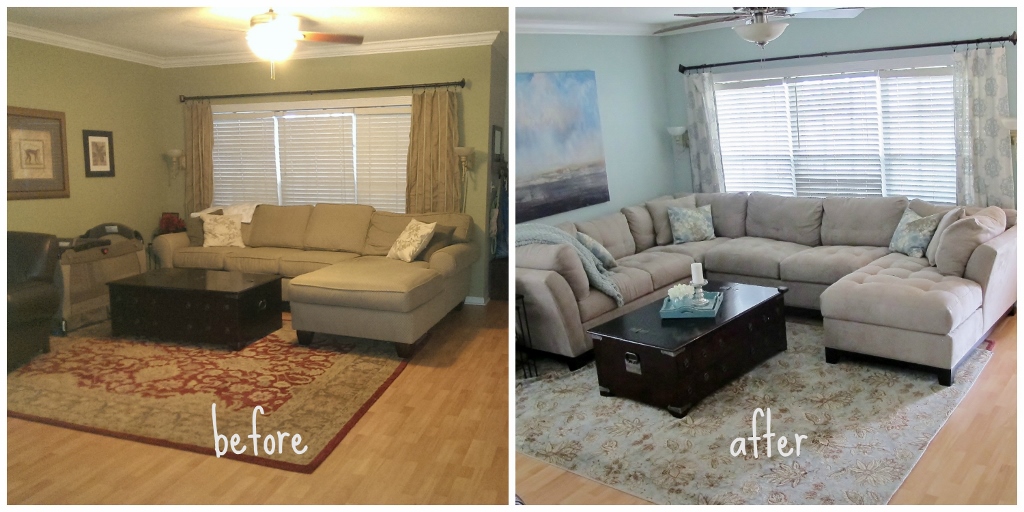 In a perfect world, I wanted to ditch everything and get all new white and blue furniture and create the coastal room of my dreams. (See end of post for link to my Pinterest board)
But the reality was that I needed to make our coastal room work with all of my dark mahogany furniture…and my husband's walnut secretary…and a new sectional that was not purchased for looks, but for functionality (kids and lots of visitors)…and I had to do it for well under $500 (not counting the cost of the new couch).
I found Benjamin Moore Bali in a magazine and fell in love. I ran to the store to discover this pale blue was totally green in person. I was stumped. Luckily, I already had a handful of colors from the big box stores and decided to get sample pots made in 4 colors…including the "green" Benjamin Moore.
I can't stress enough how important it is to NOT skip this step. Spend the money to buy the sample size pots of different colors. Put them on the wall and stare. Stare hard. Stare often. Just stare. And over a 24 hour period.
Take it from someone who painted the exterior of her house close to purple b/c she okayed the blueish gray at 5 pm. Big mistake. The good news is that I love the color of my house at 5pm everyday…
I digress…turns out, the Bali GREEN paint, was our least favorite (like we hated it that night) and then our most favorite in the morning. Yikes. Now what? Spoiler alert: We decided to take the plunge and went for the Bali green.
Best decision possible. We loved it and still do!
Of course, the rugs I loved were all way out of our current budget so I began to scour Tuesday Morning and Homegoods and the internet. I have to admit, I was too scared to order online from any discount rug sites because of the return shipping charges. No way. I know myself too well to take that risk.
Luckily, I found a pretty rug at Tuesday Morning for about $100. Can't beat that for an 8×10! It was a thin rug so I decided to place it over my old pottery barn rug to keep the cushy feel we were used to. That's been a bit of a hassle because all 8×10's are not the same 8×10's. Who knew? (see the little red peeking out from the corner under the chaise?)
But given my toddler's ability to kill things as well as my cat's, I'm pretty sure we'll have to replace it soon enough and I will figure out the best solution when that time comes. In the meantime, the affordable rug looks perfect with our room.
I found the pretty linen and blue patterned panels at Homegoods for $20 for each set of 2 and I made the pillow covers with outdoor fabric for 50% off at Joanns to cover my old Pottery Barn pillow inserts. I was sick of overspending or obsessively looking for deals on the specific ones I wanted. Learning to sew my own covers made me realize I will probably never purchase a pillow cover again.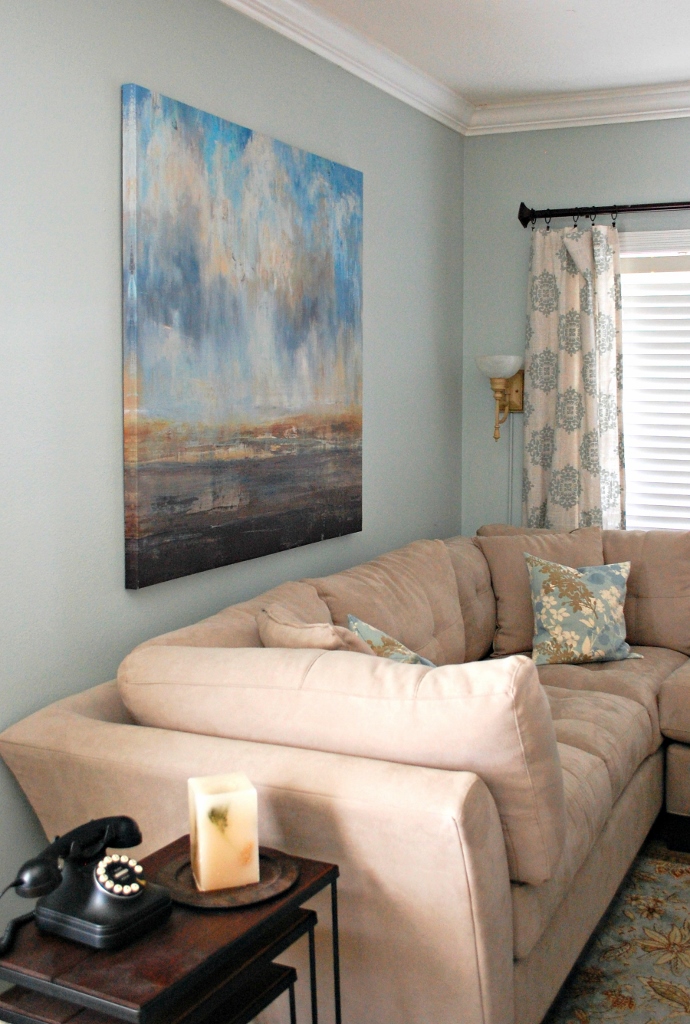 I loved tons of artwork out there but wasn't loving the prices. I found the large canvas on clearance at HomeGoods which was similar to some of the pricey pieces we liked and at $70 for a 4′ x 4′ canvas, we made the decision to go with it until we could afford something we truly loved down the road when the budget permits.
I found these palmy florals at Michael's and love how they add an island vibe.
The round mirror (yes, from Pottery Barn) makes my heart happy that it allowed us to keep all of the random woodtones on the gallery wall by tying everything together with it's own details. We found this when we first incorporated my husband's walnut secretary into the old room and repurposed the old mirror in our master bedroom makeover.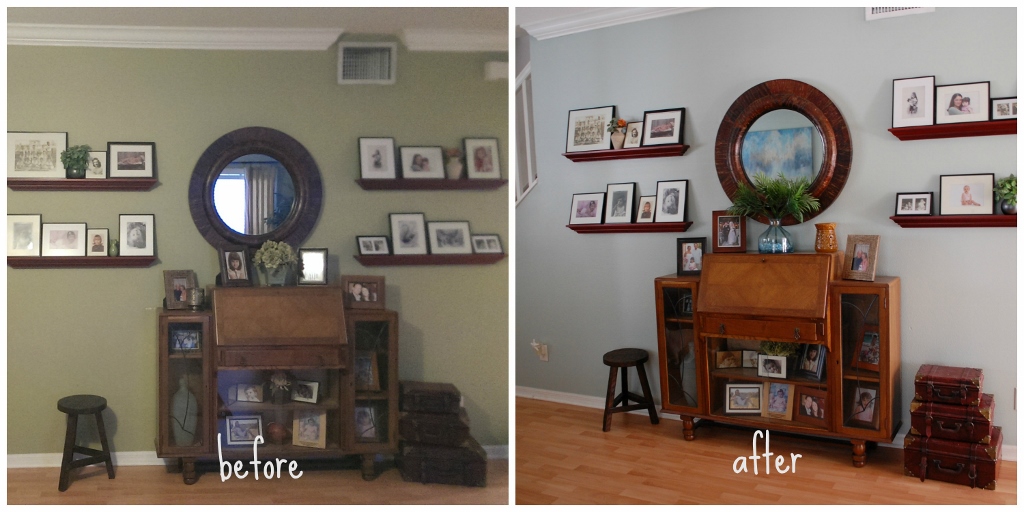 Our old dinosaur television happened to die around this time so I painted our existing entertainment center to match the repurposed center console that holds the new television. We desperately wanted built-ins on that wall but that pesky old budget meant it wasn't in the cards at the time. I'm actually very excited with my refurbished entertainment center and will post details of that transformation soon!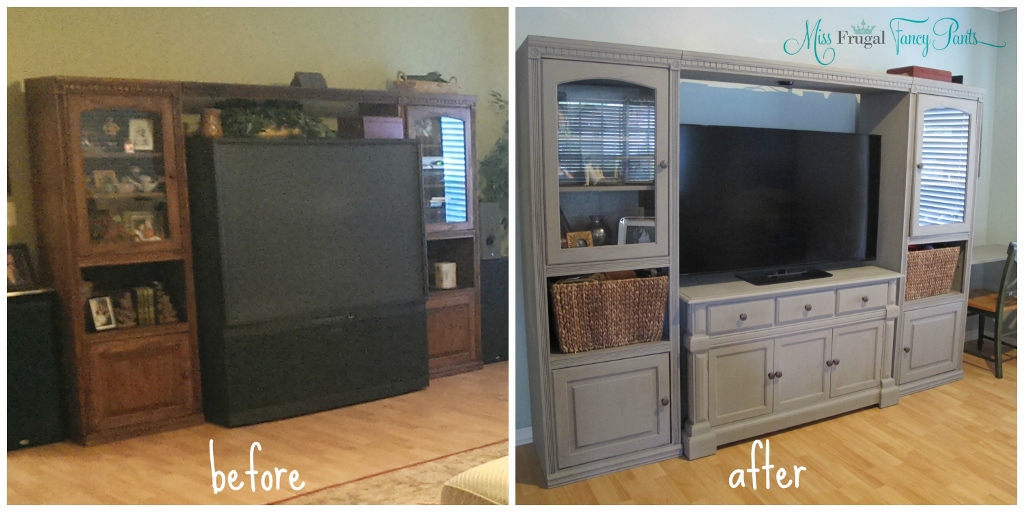 We weren't able to go as coastal as we wanted but I was happy with the new and brighter look. When all was said and done, I realized that I had unintentionally created a bit of a Tommy Bahama room with the light walls and pale blues against the mahogany wood. We love it and are so happy with our affordable, mostly coastal living room makeover!
Please take a look at my Mostly Coastal Living Room board on Pinterest if you are looking for more inspiration!
Follow Miss Frugal Fancy Pants's board Mostly Coastal Living Room Makeover on Pinterest.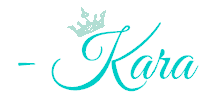 This page is part of the Pinterest Party Home Decor blog hop. Check below for the rest of the posts.
April 13 Paula Atwell  http://decorathome.net/accessories-2/wall-art/standout-wall-decor-for-your-home/   April 14 Mamta Motiyani
http://www.MamtaMotiyani.com
  April 15 Corrinna Johnson http://glitternspice.com/handmade-decor-ideas-for-decorating-a-beach-house/   April 16 Kara Gilbert
https://www.missfrugalfancypants.com/
  April 17 Amanda Brackney – http://www.simplesavingsavvy.net/diy-burlap-charger-for-place-settings-or-centerpiece/   April 18 Diane Clancy
http://www.dianeclancy.com/blog/duvet-covers