After I wrapped up my mostly coastal living room makeover and my favorite DIY project, the chalk paint entertainment center makeover, I got a little overzealous and decided my front door and foyer also needed a little love.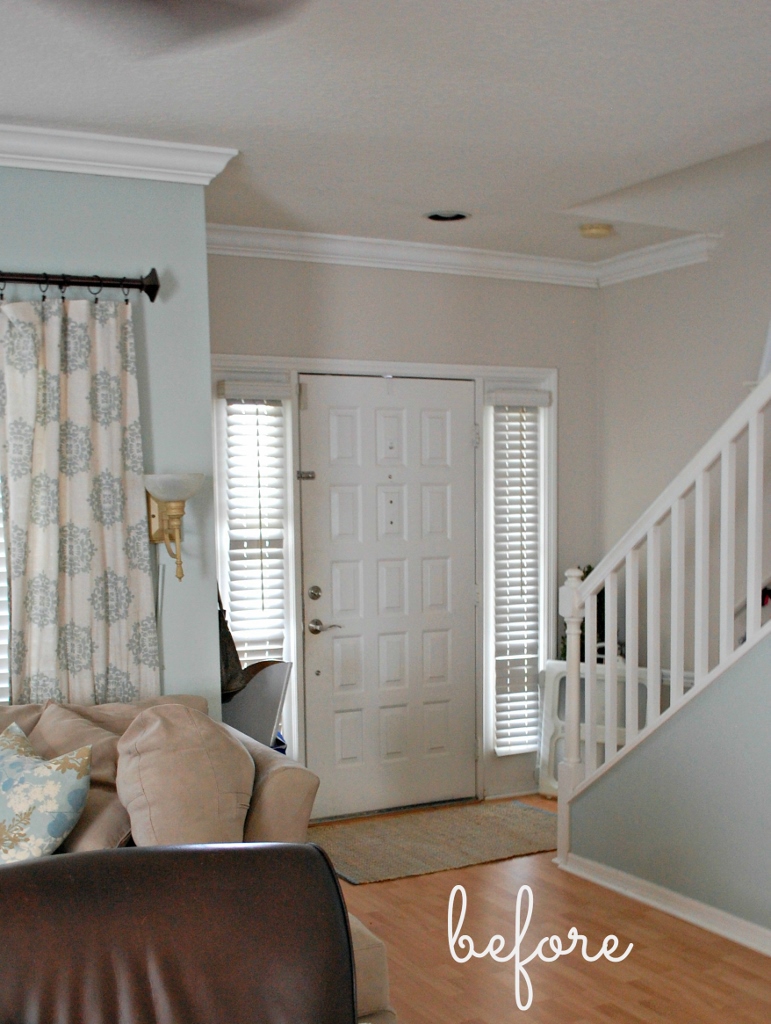 There was nothing wrong with my front door or the foyer but it was about as boring as they come. I had longed for a new foyer light fixture for some time but was having a hard time finding something I really loved.
I wanted that area to lose it's bore factor but primarily, I felt the need for the space to be happy. I had very recently lost my father and it was at that very door that I was notified of his passing. I was having a hard time looking at that plain, boring space without feeling sad and empty and replaying those fateful words.
I decided it was time to refresh that space to give me something uplifting to look at. It's funny how the most random things can affect our moods and trigger memories.
I knew I wanted an aqua door. Such a pretty color that always reminds me of the beach. And once I made the decision to paint the door aqua, I found the perfect light fixture from Pottery Barn but I had promised I would keep the cost of this refresh under $100 and the light was $150. That really wasn't a bad price for the light but a promise is a promise. Loud sigh. I kept waiting for a sale and finally decided to find another light for less money.
And as I type this post, the little sucker is on sale. Ugh! Sale plus a coupon would have gotten me my perfect light. SUPER loud sigh…
Bygones…I went with a retro schoolhouse light from Overstock.com which still gave a slightly coastal vibe for less than half the price of my beloved Pottery Barn light.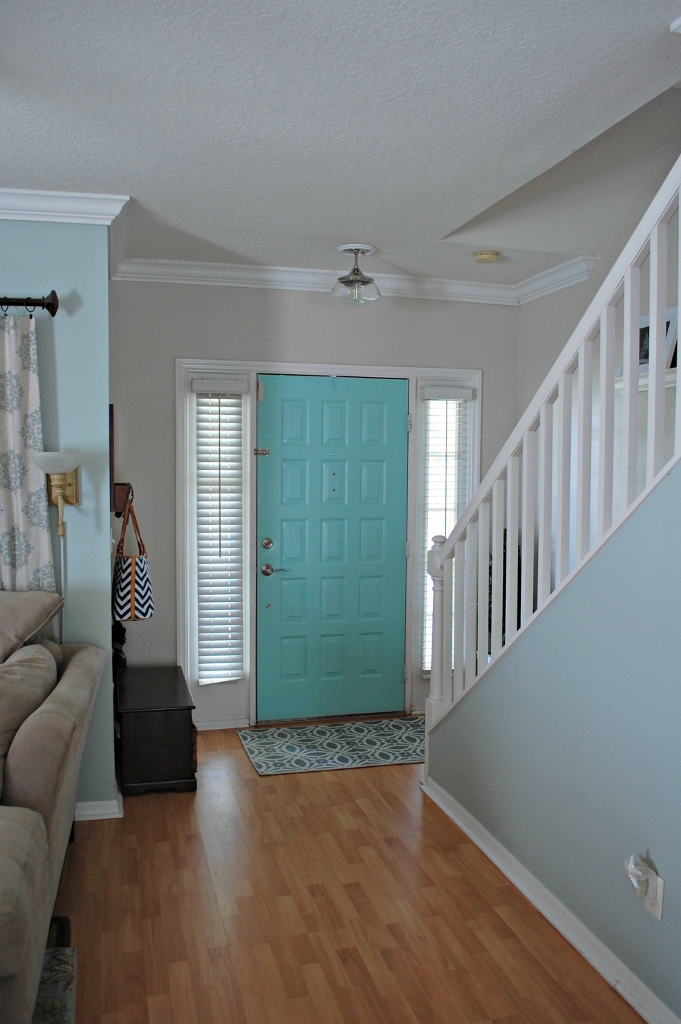 I had planned to show you how I installed that light all by myself…but it turned into a cluster and my step-dad had to save the day. And after the nightmarish installation (even for the king of DIY), I now owe him another home cooked meal to make up for the frustration. No good deed…
The jury is still out on whether this is the right shade of aqua because I love it at certain times of the day yet feel like it slaps me in the face with obnoxiousness at others. I also feel like the very light, neutral wall around the door needs some texture to show off the clear light fixture but I haven't decided exactly what that will be…beadboard seems like the most likely option but the lazy side of me isn't too excited about installing that…so stay tuned…but don't hold your breath…