Hydrangeas are one of my favorite flowers to display in our home. I recently discovered how to double the life of cut hydrangeas and am beyond thrilled to extend the life of my beloved beauties! (And to make the money I spent on them go a little further!)
I love the simplicity of a few blooms in a fishbowl vase. (And that this pic makes them look like a hydra-heart!
But these intricate beauties always seem to turn into this way too quickly for the money I spent…
And it makes me crazy when some of the blooms die while the others are still kickin'. Especially when the removal of the dead ones will make the living ones look so darn lonely. Argh.
I should add a disclaimer here that the two "dead" blooms pictured above didn't die under normal circumstances. Ding dong that I am, cut their stems too short so they were dying of thirst. But generally, this is not the case and I get the same result…a partially dead arrangement through no fault of my own.
Anyway, the fix for this is crazy simple. Take those puppies out of the vase and soak them in water.
No joke. It sounded way too easy to me but I had nothing to lose by testing this method. I filled my sink with enough water to cover the blooms. I've read mixed reviews on warm vs. cold water but I used cold tap water. I also snipped a teeny bit from the stem to allow it to soak in even more water but that was my own recipe and I have no clue if that had any effect or not. #notabotanist
But look at this craziness!
Turns out, one of my blooms was, in fact, dead. I'm a horrible person, I know. But I'm glad it turned out this way so you can see a direct comparison of dead vs. undead! It takes a few hours for them to reconstitute, so be patient.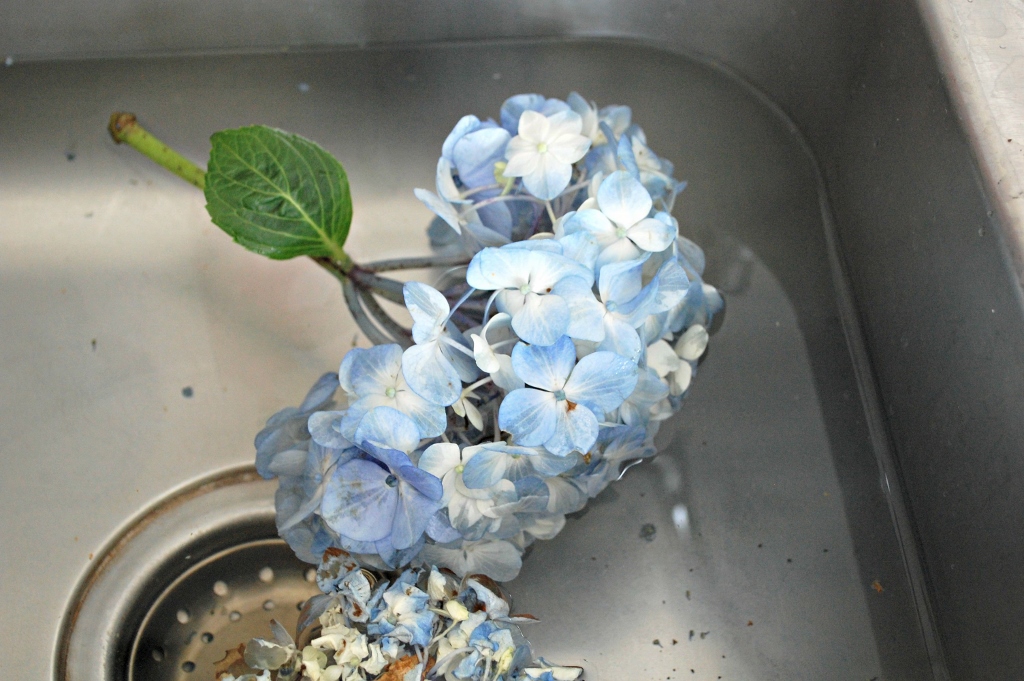 Hydrangeas loooove them some water. Who'd a thunk it? Hydra-whaaat????? Seriously. Sometimes I need a good forehead smack.
And if your blooms are really dead, what do you have to lose by soaking them in water as a last ditch effort to save them? You can always soak them in a bucket instead of the sink and use the leftover water to hydrate other greenery around your home. I just don't happen to have a bucket because I use a steam mop. Trying to be green sometimes bites me in the butt.
Anyway, this is the same arrangement minus one fallen soldier. I can't tell you how happy it makes my heart to give new life to a supposedly dead flower! I get to adore these lovelies a few more days…or weeks!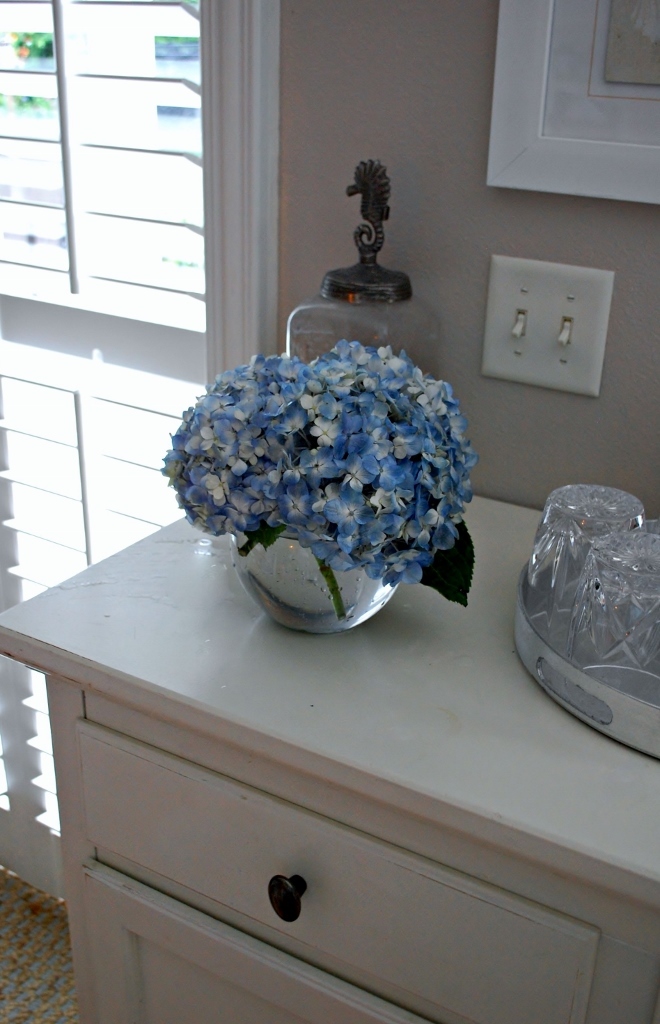 This new (to me) method to reconstitute my blueish beauties has me on cloud nine! I only wish this magic worked with my beloved tulips! And if you know of such a trick, hook a sistah up! Seriously!