My daughter and her friends love JoJo Siwa and of course, all things rainbows, unicorns and donuts! JoJo Siwa birthday parties are definitely a popular theme for 7-year olds! This wasn't exactly my idea of a fun party to decorate for, as I'm not generally a fan of sparkles and unicorns. Crazy, right?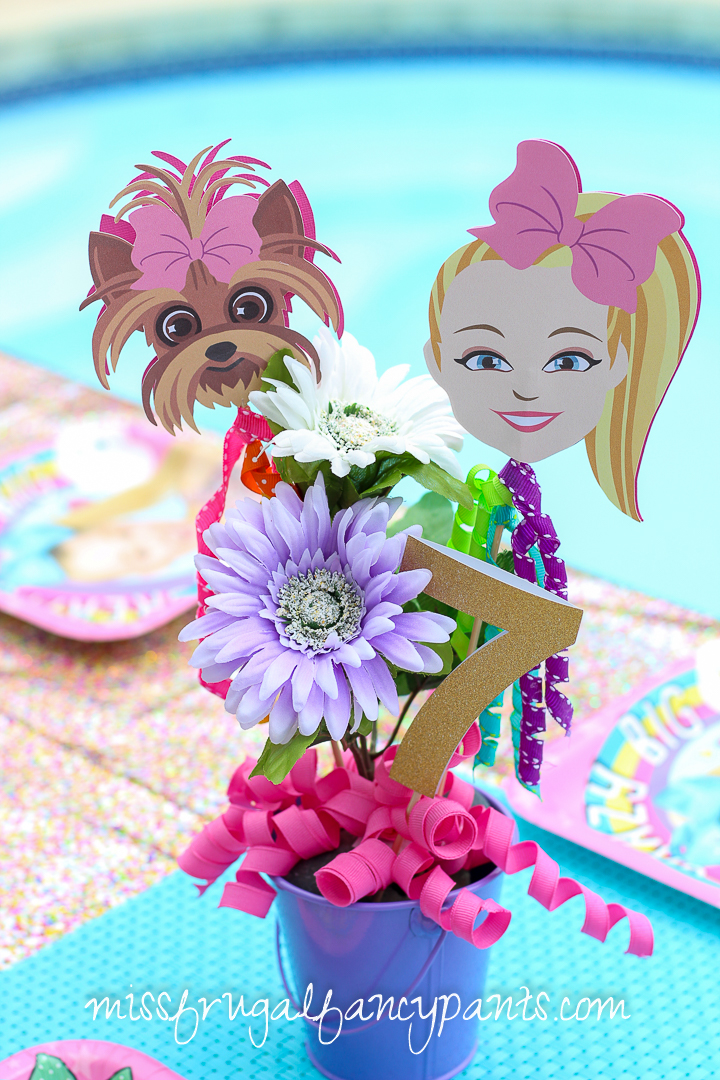 My posts may contain affiliate links. If you buy something through one of those links, you won't pay a penny more but I'll earn a small commission, which keeps the blog up and running and helps support my creative ideas to share with you! Thanks for your support!
The exact invitation we used isn't available anymore but here is a link to a ton of other JoJo Siwa invitations. 
I decided to make rainbow colors the base of the theme to make it easy to mix and match things that came in various colors. The only mildly difficult part of this was that we weren't using the true colors of the rainbow but even with that, things were very easy to find.
I made this wreath for the front door at the last minute out of yarn and a foam wreath form I already had on hand. If I had planned it out, I would have used a larger wreath form but oh well. I also used my Cricut Explore to cut out the JoJo and BowBow shapes, which I purchased on Etsy. Similar JoJo files for Cricut here.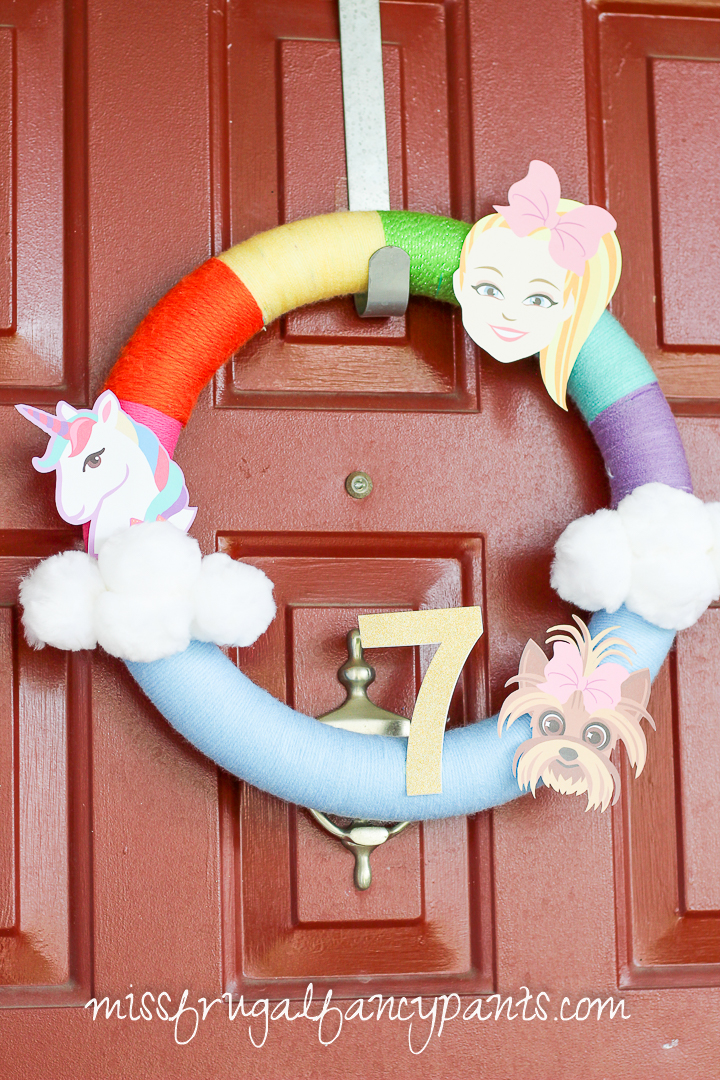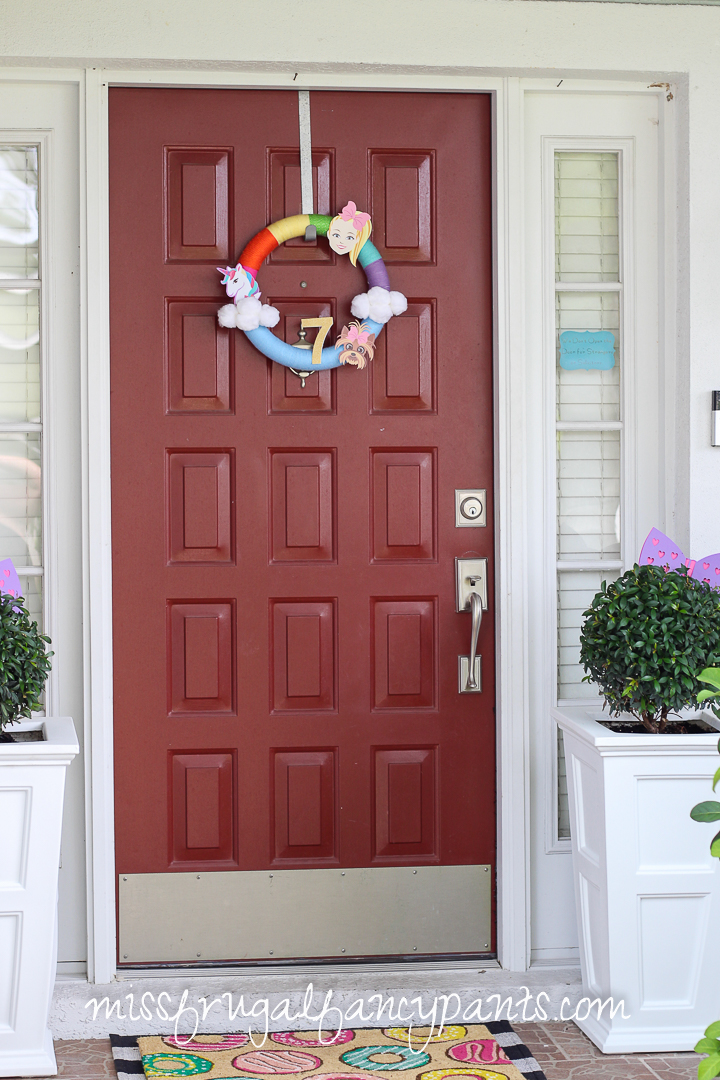 I used my Cricut to cut out the large bows to add to the topiaries we have at our front door. This would also be cute for a Minnie Mouse themed party.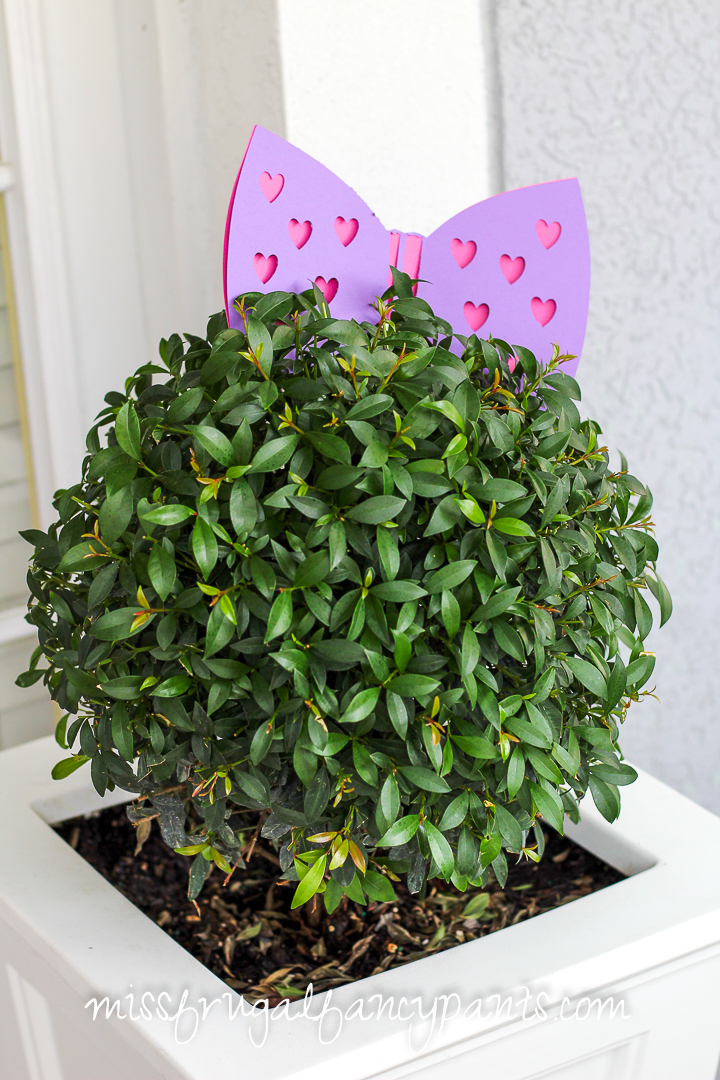 I will admit that I wish I hadn't let my daughter convince me to get this donut doormat. It was cute for the party but it seems like such a silly concept for your front door for any other occasion! I guess I can put it out whenever she has a sleepover? Loud Sigh.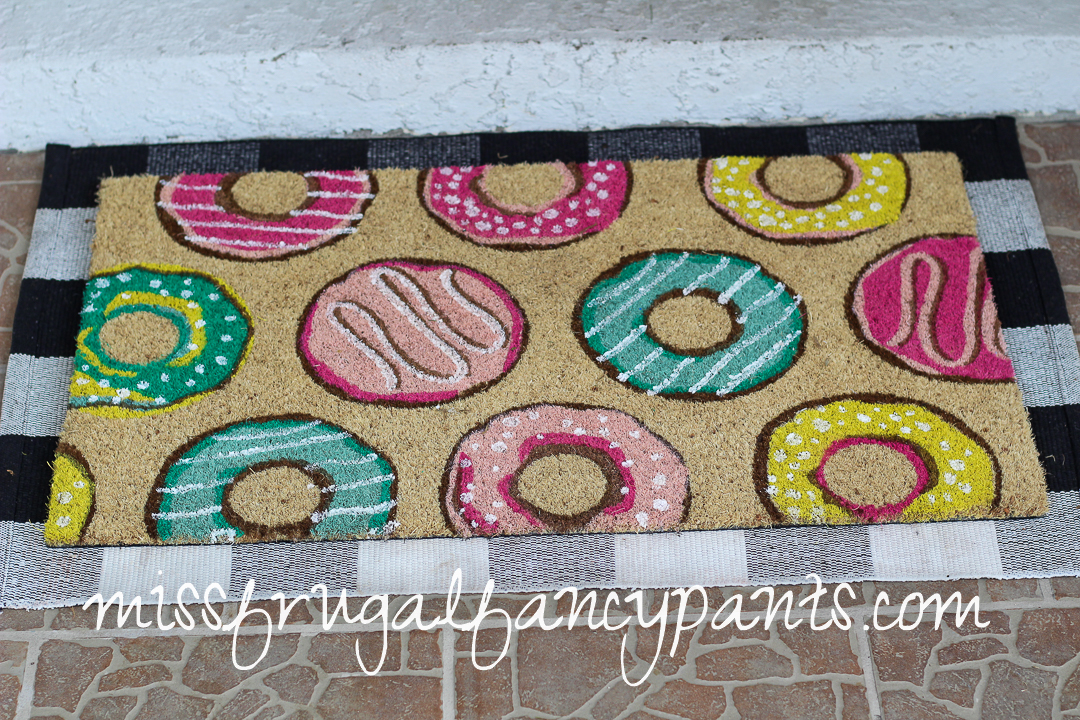 I had this grand vision of a rainbow balloon arch with a giant number balloon and a giant unicorn balloon. I decided I could make the balloon arch myself and while I did, I underestimated the difficulty level of my initial vision. Shocker. To be fair, doing a solid color or maybe a few colors all mixed up wouldn't have been difficult. But my vision of it looking like an actual rainbow was not happening. I settled on what you see here and was totally fine with it. Hanging it on the shape of a rainbow, however, was a whole different story. I eventually gave up and let it hang how it wanted to hang. Pick your battles. All that being said, I'd attempt this again, just with a simpler plan. I used these balloons and this balloon tape to create the arch. You simply blow up the balloons and tie them as you would normally do and then push the knot of each one through a hole in the tape. It's definitely a lot easier than you'd think, provided you don't have grandiose expectations as a novice.
I'm also a little bummed that I had no way to get the entire view in a single shot. ☹ The sunlight coming through the shutters was also not my friend while trying to photograph everything. It's hard to see but I made huge purple bows out of a leftover roll of vinyl table cover to put on the shutters. Whatever, you get the gist of it all, right? ?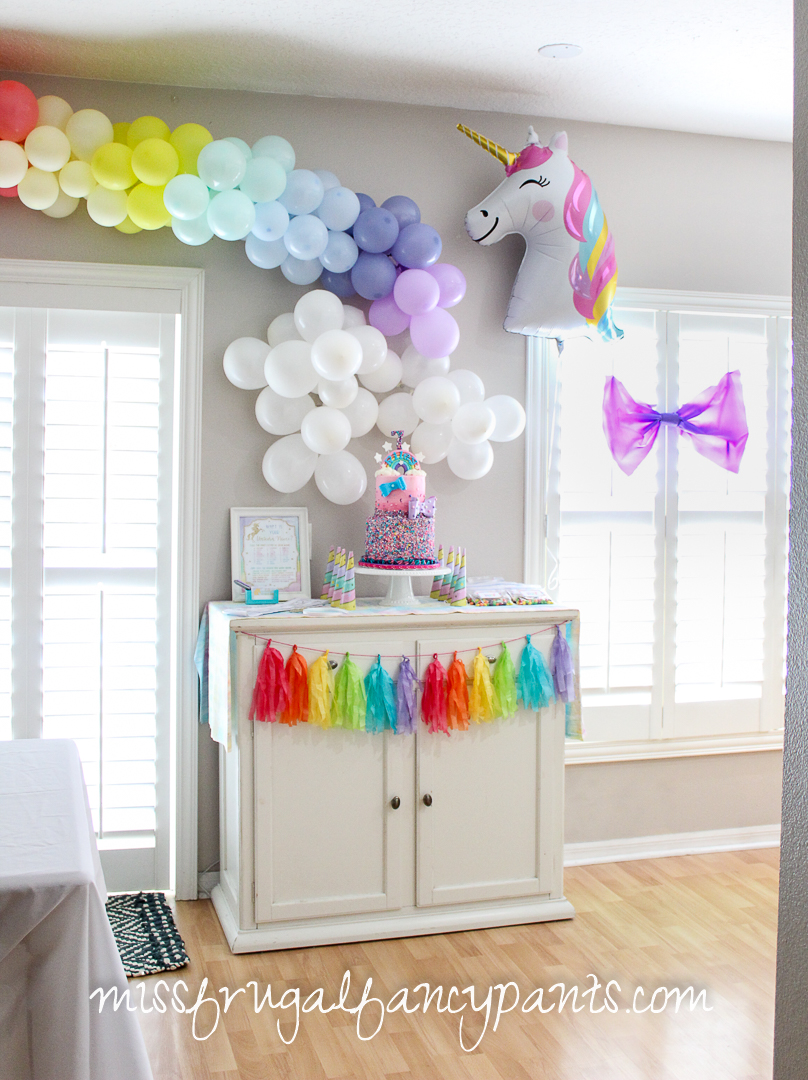 I made the centerpiece for the food table from a stash of faux flowers. I did have to buy 2 colors I didn't already own but this wound up being a very inexpensive idea and I absolutely loved it!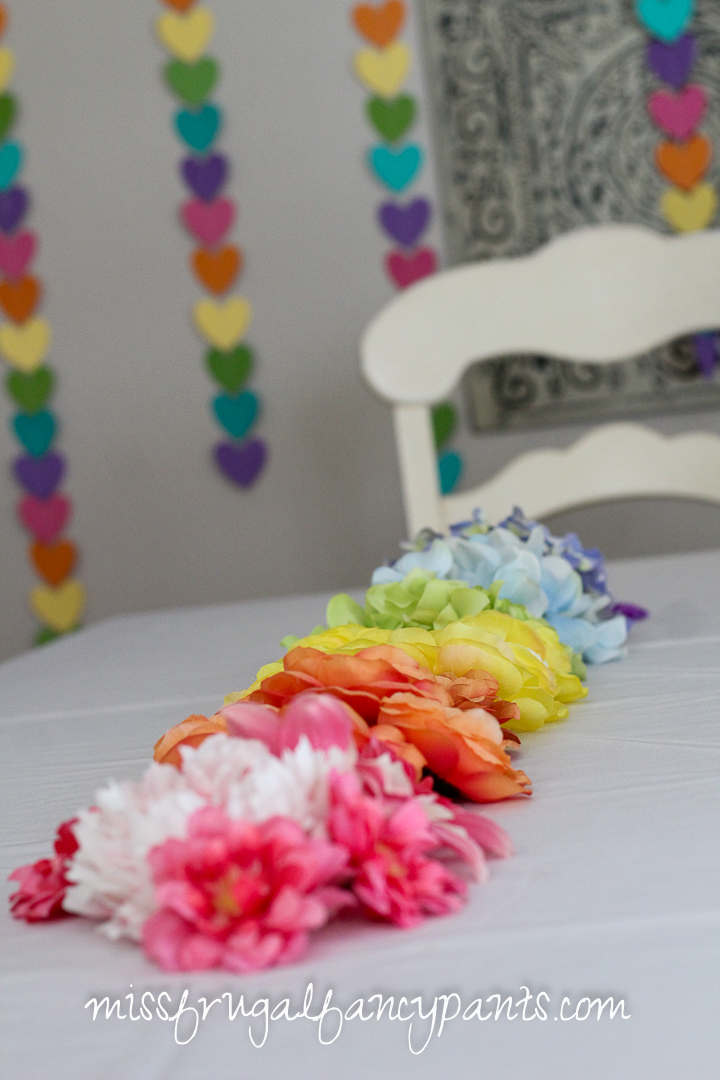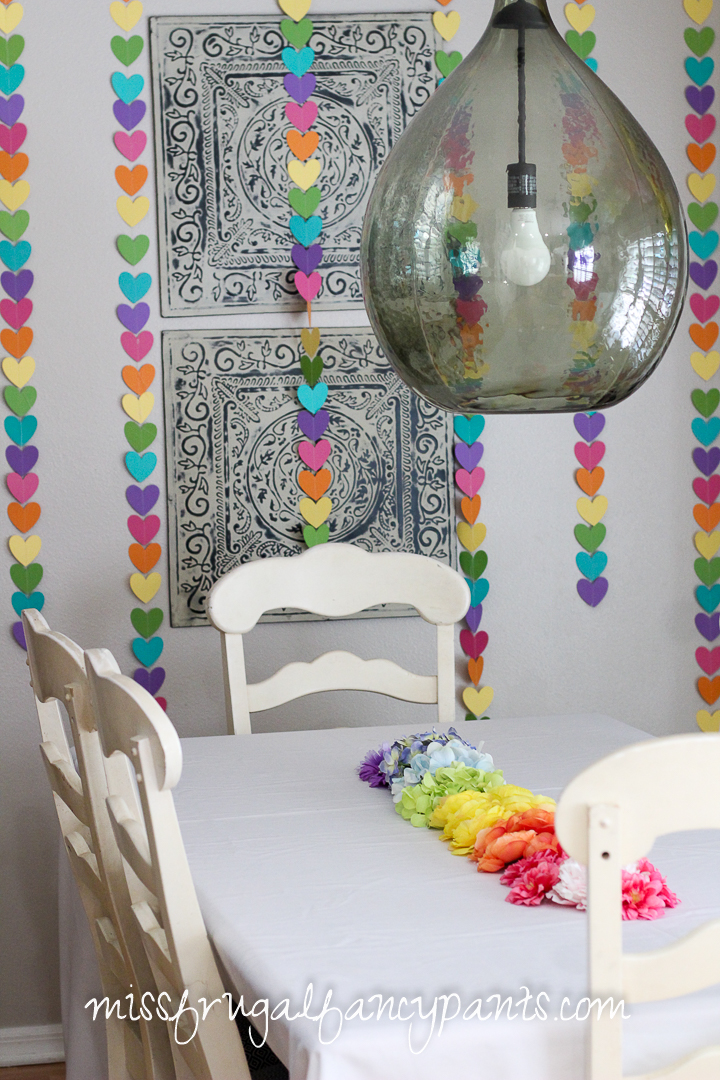 I used the Cricut to cut out hearts to make a hanging garland. I seem to revert to this super easy and inexpensive craft for a lot of parties. I guess I like it!  You can also use a large punch to do simple circles if you don't have a Cricut. I run the shapes through the sewing machine to connect them and voila!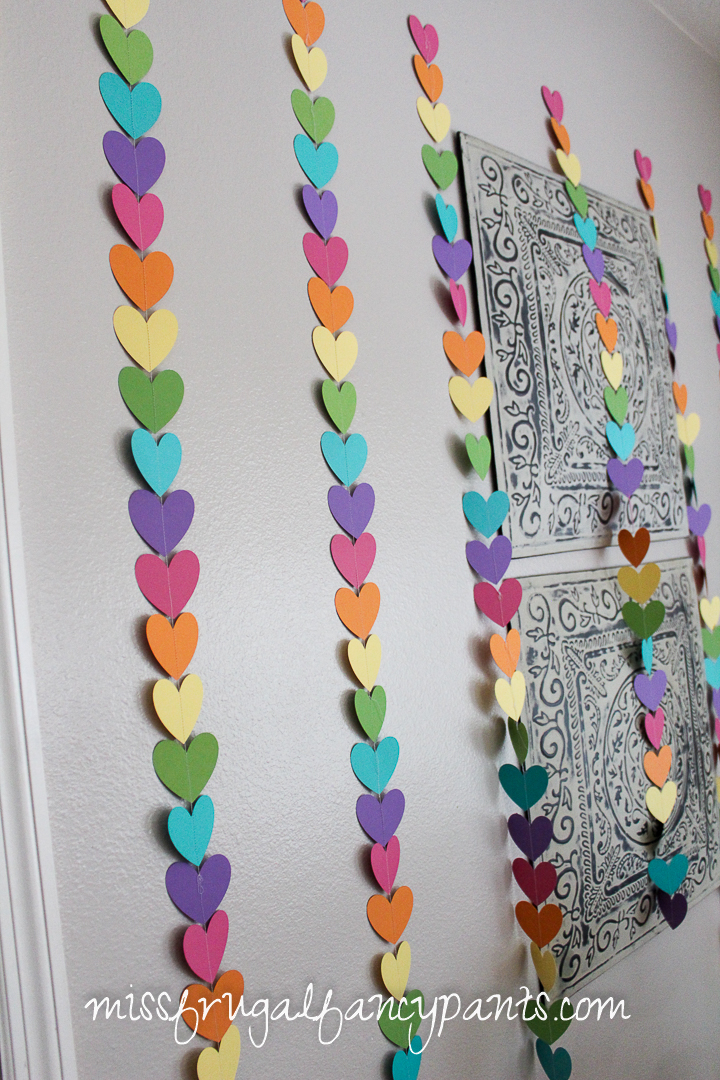 I purchased this tablecloth but had to return it because the colors were a little too neon for our theme. I'm including it because it was so well made and pretty in person! I'd definitely recommend if you aren't as picky as I am about colors or if you have a more neon theme.
I kept the menu easy (for me) this year with chicken and sandwiches from Publix, lots of fruit and veggies from Costco and Sam's (FYI, their cut fruit is much cheaper than Publix), chips, dip, and a pasta salad. I'm a firm believer in making sure there is more than enough food for your guests so I always have more than we need and save the rest for leftovers. I will admit that this year, the adults couldn't stop stuffing their faces with the popcorn chicken from Publix (myself included) and it was the first time we've ever run out of something! However, when each adult eats twice their weight in chicken, it does tend to run out. It was rather comical as we all sat around unapologetically gluttonous and unable to control ourselves.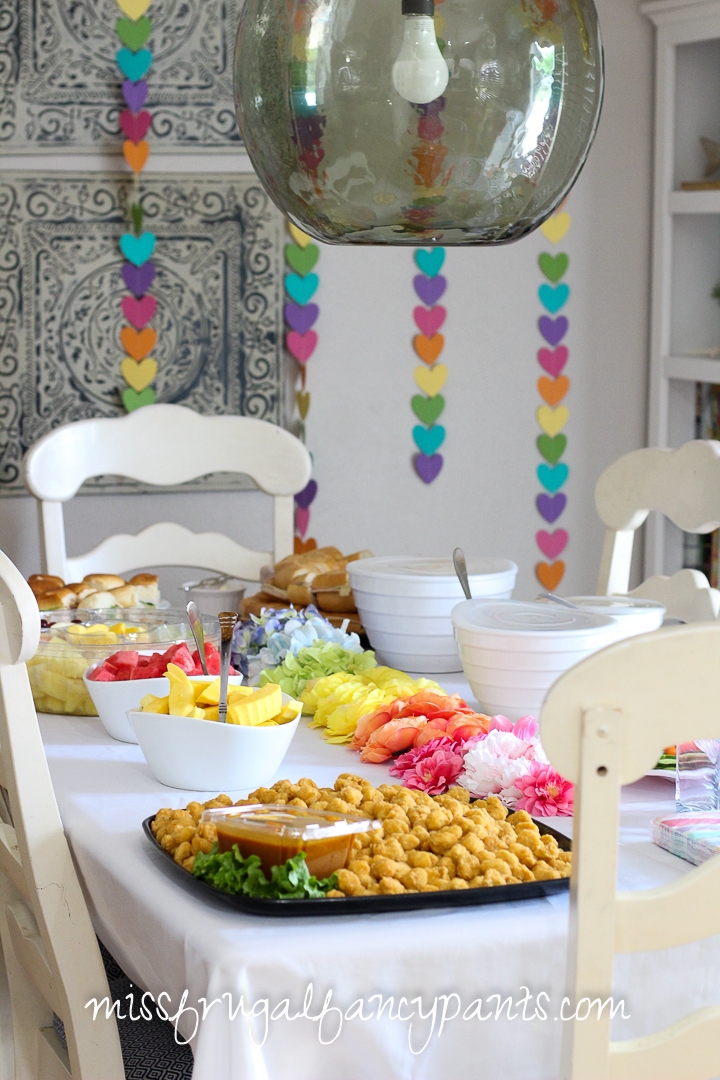 To decorate the cake table, I made a tassel banner from tissue paper. This project is very simple and like the cutout garland I frequently use, comes in handy for just about any party. They're both easy to store for future use as well, so that's a bonus. This is the tissue paper I used and here is an easy to follow tutorial.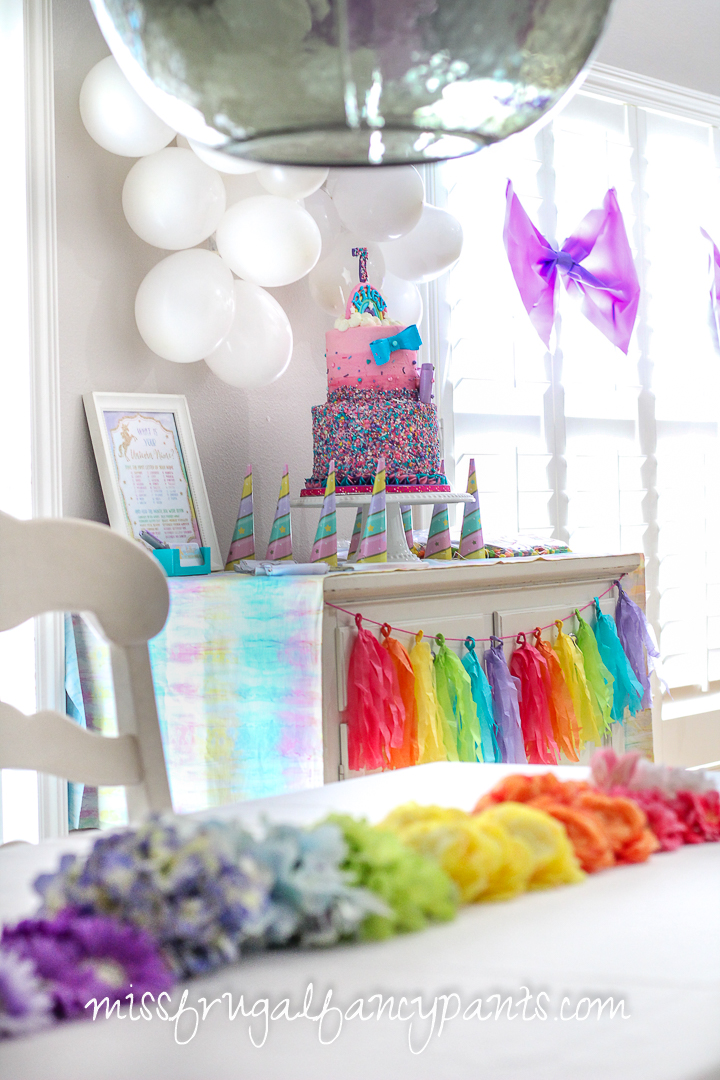 I keep losing my cake people so finding beautiful cakes is getting harder and harder to accomplish! Thankfully, one of my friends had recently discovered someone new and she was fantastic! We had a few cake ideas we'd found on Pinterest and she was able to make it all come together to look exactly as my daughter wanted! The unicorn horn party hats were also a hit. 
My daughter is a little comedian and loves anything involving laughter. When this idea made her laugh, it was a must-have for her party.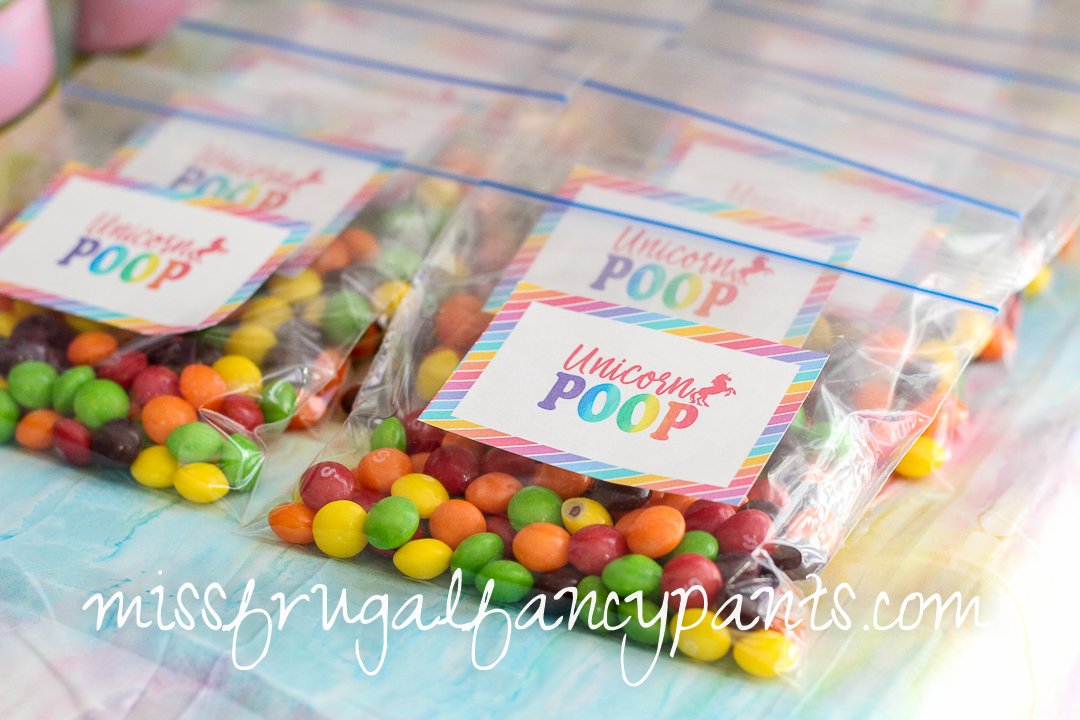 We almost always have pool parties for birthdays which keeps the activity planning to a minimum. Whew! However, once the "What's your Pirate Name?" from her Pirate Party took off, we like to add a version of that whenever we can. The adults usually get a kick out of it, too. I found the unicorn one on Etsy here and loved that it also included name tags!
I bought these for all the kids to play with but they were more like putty and less like slime.
I like to incorporate photos to highlight her personality and while the initial intent is to show how's she's grown, I think it does the opposite and shows how she is still exactly the same! This child was hysterical from the day she popped out, as evidenced by the photos. 
I didn't decorate too much in the backyard this time but did add a few things like the centerpieces and pool floats. I found the glitter float from HomeGoods but the unicorn one was from Amazon. 
I didn't get a photo of it but we hung this pennant banner from our pergola and I can't recommend this enough. We got super duper lazy and didn't take it down for months. In fact, I'm pretty sure it was up for over 6 months and still looked as good as the day we put it up.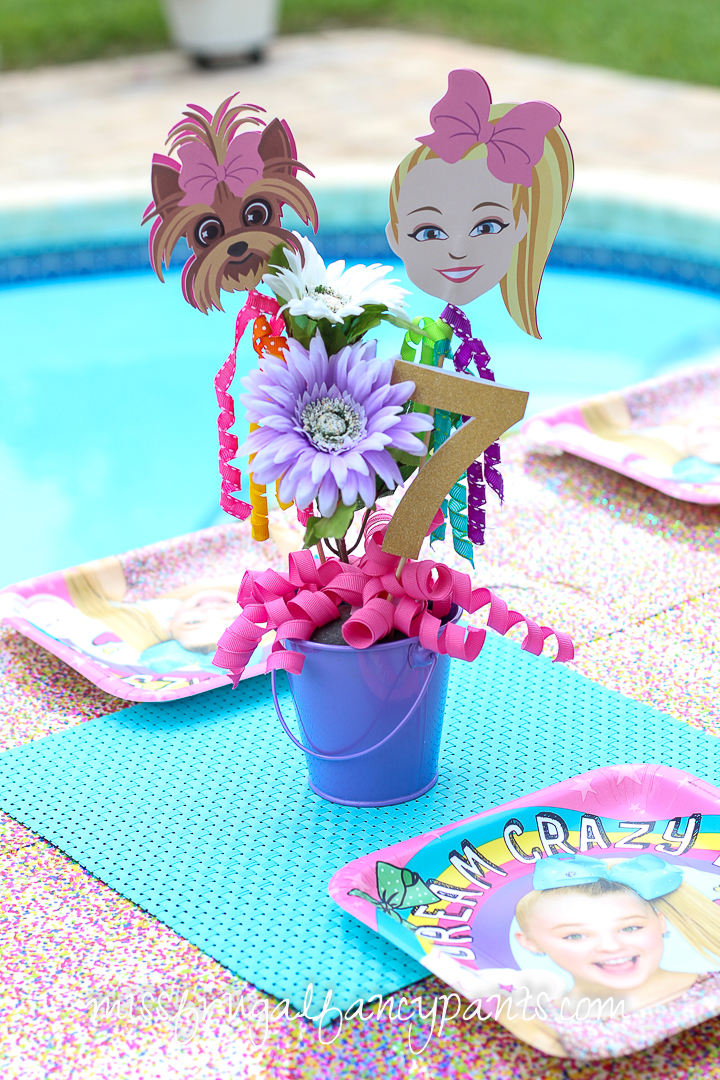 The girls all had a blast but the best part of this birthday came after the party. We surprised the group of best friends (who also happen to be the daughters of my own best friends) with tickets to their first concert to see JoJo Siwa! We found an enormous hotel room with queen bunk beds in Orlando so we could have a massive big girl/little girl sleepover, one of my best friends surprised everyone with a limo to take us to the concert and the experience couldn't have been more perfect!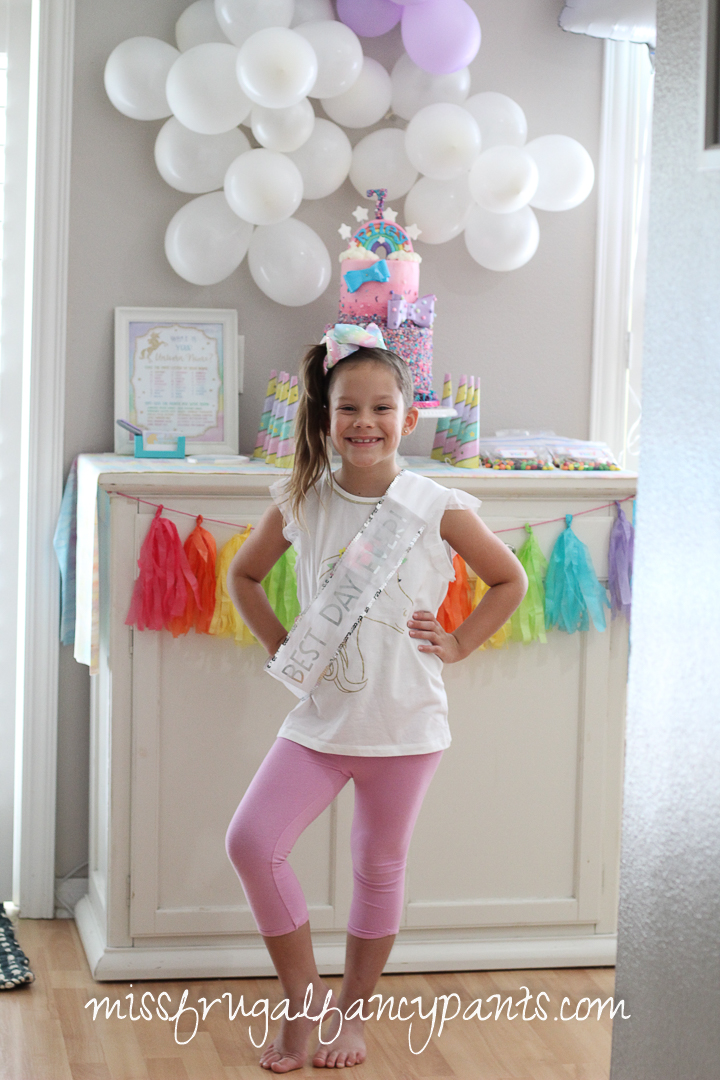 Does your little one also love JoJo and BowBow?